A road trip around North Carolina: where do the crawdads sing?
With the release of the new film, Neil Davey tries to find exactly where those crustaceans get vocal…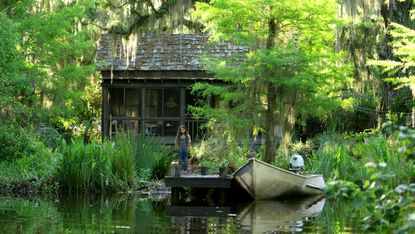 (Image credit: Michele K. Short/Sony Pictures/THA Contributor)
Before we get started, let me clarify. Yes, I know this is a mythical quest. "Where the crawdads sing" is just an expression akin to "o'er the hills and far away" or "the middle of nowhere". There are other reasons this quest is impossible. First of all, Barkley Cove, the setting of Delia Owens's 2018 bestselling novel, is fictitious, an amalgam of places and terrain to give her fictitious heroine Kya a suitably barren, marshland sanctuary in which to hide from the smalltown snobbery that shapes the relationships at the heart of the story. Secondly… well, the film was mostly filmed in Louisiana. Oh Hollywood. You and your irony, eh?
And yet the state still inspired the author so surely, somewhere in North Carolina, that geography exists? And yes. Yes it does. In swathes. There are forests that stretch on seemingly forever. There are myriad waterways, huge skies, intricate coastlines, remote marshlands, pretty small towns, bustling metropolises – if you'll excuse some Hollywood cliché terminology – miles of manicured (and otherwise) farmland and a thousand wonderful different shades of green. It's teeming with wildlife. There's history – good and bad – and forward thinking. There's a deep vein of delightful eccentricity. There's a lot of good eating. In short, North Carolina is the beautiful, charming holiday destination you possibly didn't know you needed.
NoDa, devilish toast and waffles
Things also start rather wonderfully as Charlotte is the slickest, friendliest and quietest airport I've ever been to in the US. Although way back in the cheap seats, I'm the first in the "non-US" queue. The security guard happily chats BBQ while taking my fingerprints and stamping my passport and, for the first time in many, many visits to the US, I'm at the carousel before my luggage and mere seconds behind my travelling companion, Emily, a former North Carolina native. There's also no queue at the car hire desk, where a charming man – southern hospitality incarnate – couldn't be more helpful, to the extent that, when the reserved, small, sensible option isn't available, we have to persuade him NOT to upgrade us to the five-litre convertible.
Subscribe to The Week
Escape your echo chamber. Get the facts behind the news, plus analysis from multiple perspectives.
SUBSCRIBE & SAVE
Sign up for The Week's Free Newsletters
From our morning news briefing to a weekly Good News Newsletter, get the best of The Week delivered directly to your inbox.
From our morning news briefing to a weekly Good News Newsletter, get the best of The Week delivered directly to your inbox.
First stop is an acclimatising night in Charlotte, and a chance to explore NoDa – North Davidson – which, after a far less salubrious past, has become a thriving arts district, dotted with studio spaces and, inevitably, food and drink options, many from the more hipster section of the catalogue. This evening, people are mostly there for craft beers, excellent snacks at Cabo Fish Tacos or to sit in the sun in the sprawling backyard of The Goodyear House. In the early part of last century, homeowners might expand their property in some way if they'd had a good year. This restaurant pays tribute to that notion, and does similar modernising things to classic southern fare, a philosophy that works to best effect in devilish toast, an Instagram-friendly twist on devilled eggs, with Calabrian peppers and dill pickles.
The following morning, at Emily's insistence, I'm introduced to Waffle House, a Carolinian staple. It comes with what is, I hope, a tongue-in-cheek warning to not look at the floor: Waffle House evidently comes in good and bad varieties. The one we pick turns out to be a good one: clean, efficient and friendly and, to my admitted surprise, serving very decent coffee. I still don't "get" waffles, but the cheese-and-jalapeno-topped hash browns and breakfast sausage sandwich are much better than expected and it's decent, good value fuel for the short journey north west to Hickory.
Hunger games in Hickory
While the locations of Where The Crawdads Sing remain elusive (or, more specifically, some 800 miles west of Charlotte and in another state), North Carolina's film and TV heritage is remarkably strong. Hickory is a case in point. Our destination, Henry River Mill Village, is a charming and fascinating example of the state's textile mill history, a restoration project cum labour of love for owner Calvin Reyes and his family.
Perhaps more importantly, certainly for a living museum attempting to generate funds to protect, save and restore the many buildings on the several acre plot, it's best known as District 12 in The Hunger Games. While Henry River Mill only appears for around ten minutes in the first film, it's an appealing hook. And, frankly, anything they can do to generate income is very welcome. While I'm somewhat outside the Hunger Games demographic, the place is still spellbinding. The house used as Katniss Everdeen's residence may have been cleared out – Hollywood brings its own props and furniture – but it gives a clear indication of the size of property available to Henry River Mill workers: particularly with each building containing two separate residences. An estate agent would call them "compact and bijou" of course, but the reality is very, very tiny and basic.
And, should you want to, you can stay in one of these workers' houses overnight. And trust me, you want to. While the untouched buildings are stark and in need of repair, Calvin and family have turned Building 12 into two divine and relaxing Airbnb-style accommodations, each with two beds and two bathrooms, plus a well appointed kitchen/lounge/dining area. While it's more reinvention than refurbishment, it's a sensitive remodel that nods firmly to the mill's heritage, repurposing many industrial items into decorations and furnishings. The project was the subject of a documentary on the US's Magnolia channel and, like us, you can watch it on demand on one of the three TVs in each property. Believe me, it's quite the experience watching the place you're sitting taking shape before your eyes. It's also quiet and wonderfully dark and I sleep like the dead.
A 272-mile diversion… for BBQ
Waking refreshed is quite the win as the following day involves an early start. The plan? To get back on that crawdads trail, and head to the coast and New Bern, North Carolina's former capital. Before that, however, we need to make a small diversion to Ayden and the Skylight Inn.
A mutual friend – Georgia-born and raised on smoked meat – has told us that the Skylight is the best BBQ he's ever eaten, which is praise indeed and all the reason we need to divert. While technically just a small diversion from our planned destination, we decide it's a much better story if we claim to have driven five hours and 272 miles for BBQ. For the record, yes, it was absolutely worth it. It's superb.
As we roll (smelling lightly of smoked pig) into New Bern, we find a town that charms us instantly. The drive from lunch is through exactly the sort of small town Americana I'd pictured reading Owens's novel, and the coastal waters are, again, almost exactly what I'd imagined them to be. The town itself, the former royal capital of the state, wears its history proudly (and efficiently), from the pharmacy where Pepsi was invented to the more colonial such as the Tryon Palace, the official residence and administrative headquarters of the British governors of North Carolina from 1770 to 1775.
Perhaps most intriguing though is New Bern's history of moving house. As in a house that used to be in one location that's since been moved wholesale to another street. At one point in the historic trolley tour we join – a well-judged, efficient introduction to the town's past – it feels like no building is in its original location. Happily, detailed plaques on many of the properties give potted histories of who used to live there, their place in New Bern's history and, yes, in many cases, where the house was formerly located…
Sparks of interest in New Bern
Home for the evening (which, as far as I know, has always been in the same spot) is the utterly charming Aerie Bed and Breakfast, where the warmth of greeting is as large as my bed: I'm around 6ft but still require the step stool to get on it with any sense or grace. It's quite the challenge. New Bern isn't particularly big but Aerie is wonderfully central, a few minutes stroll from the water, local landmarks from Tryon Palace to the former pharmacy where Pepsi was created, and an appealing main drag dotted with shops, bars and restaurants.
Dinner at Cypress Hall Kitchen + Bar turns out to be one of the culinary highlights of the week, a restaurant you could drop tomorrow into New York or Shoreditch and watch it fly, but one which remains true to its southern US roots, from the remarkable pimento cheese (served with pork rinds) to chef Ashley Moser's grandmother's strawberry cake, which is sweet, sticky, and fruity and yet light to the point of ethereal. Oh, yes, and have the brisket burger in-between…
Perhaps New Bern's biggest claim to pop culture however is its presence in several Nicholas Sparks novels – not so surprising given that the author lives here. After dinner, we take a boat tour around New Bern's intricate waterways, which takes us another step closer to those elusive crawdads. We pass landmarks and bridges aplenty and yet it's still all too easy to get turned around on the edge of the marshes, so I'm delighted we have a local to steer us back to dock. And as for that sunset… It's a thing of purple and orange beauty, and an exquisite backdrop to the ospreys, herons, pelicans and other birds that swoop and glide and fish this dusk. We detour – of course – to see Sparks' mansion, which is exactly what you'd imagine the house of a multi-million selling novelist to look like. Our pilot laughs and says "yeah, but you should see his ex-wife's place..."
Onwards to Wilmington
After a solid night's sleep on that very comfortable bed (the altitude suits me apparently) we push towards Wilmington, with a small detour to Airlie Gardens, a Kew-esque collection of manicured gardens and wilder spaces, butterfly houses and gazebos, spread across 67 acres. Once again, there are glimpses of that crawdads feeling, as trees drip with Spanish moss, herons wait patiently for a passing fish and terrapins bask on logs in the sun. The film and TV connection is alive and well here too, as Airlie has appeared in Dawson's Creek, One Tree Hill, Sleepy Hollow, 28 Days, and (of course) Sparks' film The Choice among many others.
And onwards to Wilmington… our home for the next couple of days is The Hive, a property that straddles the divide between suite-only hotel and Airbnb-style private residence. Self check-in, acres of space, a fridge pre-stocked with drinks, a kitchen top pre-stacked with snacks, both healthy and more traditionally American and, conveniently, for someone who'd underestimated North Carolina's heat and humidity and travelling massively undershirted, washing machines and tumble dryers.
As with so many parts of the state, Wilmington has been a popular filming spot, from the (by now predictable) likes of Dawson's Creek and One Tree Hill, to the recent Scream reboot. It even doubled as Florida in Iron Man 3. As fans of Outlander will be aware, Wilmington plays a major part in the show (and the books) from season four onwards and this connection can be explored further at the Burgwin-Wright House Museum, whose assistant manager, Hunter Ingram, hosts a weekly Outlander in the Cape Fear podcast. The building itself, built for local merchant and official John Burgwin, features in the show… but it's not this one. In fact, the house and much of the street have been recreated as a set in Scotland. There's something of an irony that, after serving as a fake Florida, the one time you appear on screen in your own right it's as a set built 3,500 miles away… Regardless, Hunter is an excellent guide and the house is fascinating.
It's also easy to walk from there to, well, anywhere. It's a matter of minutes back to The Hive, or to Wilmington's River Walk, a pleasing collection of markets, boutiques, bars, cafes and galleries, with views over the Cape Fear river. Wilmington's downtown area is also a fine place to wander, with some fine shops, bars, cafes and, in Seabird, a stylish seafood restaurant that, again, could be dropped into a New York or London and not need to change a thing: the cioppino solves problems I didn't even know I have. The town also broadcasts its history well. The streets are lined with signs that tell of former residents (including Whistler's mother), moments in history, significant buildings, and so on.
Requiring a car but more than justifying the rental expense are Wilmington's beaches and State Parks. At Emily's insistence, we head down just before 6am one day as "North Carolina has the best sunrises". As we walk across the beach to the ocean's edge, the sun is slowly peeking above the horizon. "Hmm, yeah, not bad," I think, as we head for a customary paddle. And then, a few minutes later, as pelicans soar above my head and the sky turns bold orange and every photo I take looks like a postcard, I find myself agreeing with my travelling companion.
The spirit of the south
From Wilmington it's a short drive (or even shorter ferry ride) to Southport. We opt for the long way round because that will take us past a Piggly Wiggly, the first self-service grocery stores in the US, the supermarket chain that pops up in so many southern US-set tales, including Crawdads. It is, of course, a little more modern than those that feature in the likes of Driving Miss Daisy and Steel Magnolias but, having never made it to one, it felt right to pay homage. Besides, you can always use car snacks, right?
Southport is a sprawling little town that seems to almost emerge from the surrounding countryside, all spacious streets, charming architecture and, as you approach the water, pastel signs and sun-bleached wood. Lunch at the Fishy Fishy Café is a suitably chilled Carolinian affair of mostly fried seafood and local beers. The whole place feels – perhaps inevitably by now – like a movie set, as boats sail silently past, and the sun glistens off the still waters. There's a very relaxed air – part Caribbean, part living, breathing Margaritaville, perhaps – and some beautiful scenery, particularly the multiple local lighthouses, including one called Bald Head which, obviously, was a selfie waiting to happen. My room is at the comfortable River Hotel, while Emily seeks out somewhere called the Candy Store House. It is a house that, well, used to be a candy store, and now offers knowingly playfully kitsch accommodation. When a storm hits that evening though, my balcony overlooking the water and distant islands is the best place to watch the drama and feel the warm rain.
And with that, we return to Charlotte. Did we find where the crawdads sing? Well, no, not exactly. But we did find where the terrapins bask, where the pelicans soar and where the ospreys fish. We found the spirit of the south, in the warmth of the weather and the warmth of the welcome. And we undoubtedly found the heart of the book in North Carolina's almost endless natural beauty.

Continue reading for free
We hope you're enjoying The Week's refreshingly open-minded journalism.
Subscribed to The Week? Register your account with the same email as your subscription.