Should Theresa May call an early general election?
William Hague warns 'trouble is coming' over Brexit and urges PM to look for bigger majority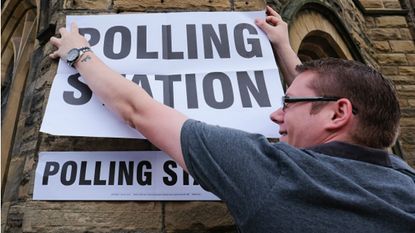 (Image credit: Ian Forsyth/Getty Images)
Sign up to our 10 Things You Need to Know Today newsletter
A free daily digest of the biggest news stories of the day - and the best features from our website
Thank you for signing up to TheWeek. You will receive a verification email shortly.
There was a problem. Please refresh the page and try again.
Election debates: did Cameron beat Miliband in first round?
27 March
David Cameron narrowly beat Ed Miliband in the first of the pre-election "debates", according to snap opinion polls, but it was the Labour leader who appears to have won on style.
The party leaders were separately grilled by Jeremy Paxman and a studio audience during a 90-minute show on Channel 4 and Sky News.
Subscribe to The Week
Escape your echo chamber. Get the facts behind the news, plus analysis from multiple perspectives.
SUBSCRIBE & SAVE
Sign up for The Week's Free Newsletters
From our morning news briefing to a weekly Good News Newsletter, get the best of The Week delivered directly to your inbox.
From our morning news briefing to a weekly Good News Newsletter, get the best of The Week delivered directly to your inbox.
A snap ICM poll showed a 54 to 46 victory for the prime minister, while a YouGov survey gave him a slightly narrower success of 51 to 49.
But The Times suggests this reflects the substance rather than the style of the debate.
Cameron gave "a defensive account of a good case", while Miliband gave a "good account of a weak one", says the newspaper. "The central weakness of the Labour party's campaign – the sense that it cannot be trusted with economic policy – was left intact."
The poll results will come as a relief to many Labour MPs, says Jim Pickard, chief political correspondent for the Financial Times, given that surveys "usually give the Tory leader a huge lead over Mr Miliband on personality and leadership".
The Daily Telegraph's Dan Hodges says Cameron's grilling by Paxman was the "weakest public performance" he had seen from him since he became prime minister, while his colleague Tim Stanley says he half expected Cameron to ask if he could "phone a friend".
"Cameron never really recovered from the shock of Paxman's intellectual blitzkrieg and by the time he faced the audience he looked like a man who just wanted to go home," says Stanley.
"Miliband, by contrast, was light and breezy and charming with Joe Public – and disarmingly frank with Paxman, too. No wonder Cameron didn't want to debate him."
Anne Perkins at The Guardian points out that Miliband did struggle on immigration, the economy and energy policy. "But, the one bit he had word-perfect was the answer to the inevitable question that essentially amounts to 'are you a knob?'," she says. "He does the sincere defence beautifully. He's not quite Clint Eastwood, but he shut Paxman up."
In contrast, Perkins says, it was "novel" to see Cameron "sagging against the rope, spitting out broken teeth". Paxman straightaway "knocked Cameron off his balance with a hard tackle on food banks, and never gave him a chance to get it back", says Perkins.
But The Independent points out that Cameron was much more relaxed on the economy, telling the audience that his government had "turned the economy round" and insisting that it is "jobs that are the best route out of poverty".
Miliband, on the other hand, was unable to explain exactly how he would reduce government spending, saying only that it was "likely" to fall. "Bit of a weasel word, 'likely', isn't it?" said Paxman.
However, the Labour leader managed to bat away suggestions that he would be too weak on the international stage, pointing out that he had stood up to the "leader of the free world", US President Barack Obama, over military action in Syria. "Am I tough enough?" said Miliband, staring straight into Paxman's eyes. "Hell yes, I'm tough enough."
Election debates: what can we expect from live Q&A tonight?
March 26
Prime Minister David Cameron and Labour leader Ed Miliband will take part in the first of the pre-election television "debates" tonight.
The live 90-minute show, to be broadcast simultaneously on Channel 4 and Sky News, has been named "The Battle for Number 10", but there will be no head-to-head sparring involved.
After much wrangling with broadcasters, Cameron has agreed to take questions in the same studio as the opposition leader – but not at the same time.
So what can we expect?
What is the format?
Jeremy Paxman will first interview Cameron individually. Then the Prime Minister will take questions from an audience comprising 100 registered voters, moderated by Sky News anchor Kay Burley. The audience has been selected by polling company Survation to ensure it is demographically representative, with one-third Conservative supporters, one-third Labour supporters and one-third undecided. Miliband will then take part in the Q&A, followed by the Paxman grilling.
General Election 2015: the latest news and commentary
Will tonight's show make any difference to the election?
Faisal Islam, Sky News political editor, thinks it might allow Cameron or Miliband to "grab this election by the scruff of its neck". But others are not so sure. "Is it a debate? Not really," says The Independent. The newspaper points out that Labour is frustrated by tonight's format, describing Cameron's refusal to take questions at the same time as Miliband as "ludicrous".
Nevertheless, one insider has told The Spectator's Steerpike that Miliband is "resting a lot on these interviews and debates as part of his campaign" and hopes to use them to persuade voters he is capable of leading the country. Steerpike claims Miliband has sought advice "improve his public speaking" from an American PR guru who worked closely with Barack Obama.
Meanwhile, some say "one-nation Tory" Paxman is a controversial choice for interrogator, although The Guardian thinks "everything in his personality and professionalism" suggests he will treat his interviewees impartially.
How can I watch it?
'Cameron and Miliband Live: The Battle for Number 10' will air on Sky News and Channel 4 at 9pm tonight. The programme will also be available to view online from both broadcasters' YouTube channels and Channel 4's website.
TV debates row: will leaders agree to election showdown?
March 5
David Cameron has refused to participate in more than one televised party leader debate ahead of the general election, ruling out a second group debate and a one-on-one clash with Labour leader Ed Miliband.
In a letter to broadcasters, Downing Street issued its "final offer", declaring that the prime minister will only take part in one 90-minute debate featuring seven party leaders, which must take place between 23 and 29 March.
His critics have accused him of "wriggling and weaselling" to avoid the televised debates, which Cameron himself has previously described as "vital to the democratic process in the modern media age".
The three televised party leader debates held in 2010, the first of their kind in Britain, were partly credited for the last election's increase in turnout, which rose for the first time since 1992.
So what are the latest developments? And could Cameron really be represented by an empty chair?
What have broadcasters proposed?
The BBC and ITV planned to hold two debates on 2 and 16 April, both involving seven parties: the Conservatives, Labour, Liberal Democrats, UKIP, Plaid Cymru, the SNP and the Greens. Sky and Channel 4 were also hoping to host a third head-to-head debate between Cameron and Miliband on 30 April, ahead of the general election on 7 May.
Why is Cameron objecting?
Downing Street claims the broadcasters' handling of negotiations has been "shambolic", although several media outlets, including The Guardian, say they have simply been trying to adapt their proposals to meet the prime minister's demands.
Initially, Cameron complained that the Green Party had been excluded from one of the debates when Ukip had been included. Now broadcasters have extended the debate to include seven parties, he says the Democratic Unionist Party should also be considered for inclusion.
He has also taken issue with the proposed timetable, telling MPs on Wednesday that televised clashes "suck the life" out of the final weeks of the campaign. He wants any debates to take place before 30 March, when the official general election campaign is likely to start. But, writing for The Week, the Mole says it is no secret that the Tories "have tried everything possible to kill the debates stone dead" fearing that Cameron has nothing to gain and everything to lose.
What can the broadcasters do next?
Sky and Channel 4 are trying to call the prime minister's bluff by offering to stage the head-to-head debate with Miliband at any time of the leaders' choosing, says the Financial Times. In a joint statement, the BBC, ITV, Channel 4 and Sky pointed out that 22 million people watched the debates in 2010. "We believe the debates helped people to engage with the election," they said. "We will respond to the Conservatives' proposal in due course." As the Daily Telegraph says, one option is for the debates to go ahead, with Cameron represented by an empty chair.
What are other party leaders saying?
Miliband has said he will take on Cameron "any time, any place, anywhere" and has challenged the prime minister to "name the day", while former Labour spin doctor Alastair Campbell said Cameron's "wriggling and weaselling" to avoid the debates was "morally cowardly and democratically wrong".
Liberal Democrat leader Nick Clegg has offered to step in to the one-on-one debate with Miliband if Cameron is "too busy or too important" to defend the Coalition's record. He accused the prime minister of holding the broadcasters "to ransom by trying to dictate the terms". The Lib Dems have even created a "David Cameron Debate Excuse Generator" on their website.
A UKIP spokesman said: "After praising what a good thing debates were for democracy as recently as 2014, why is David Cameron now acting chicken and running as far away from them as possible?"
A Green Party spokesman said Cameron's latest "swerve" would damage trust in the political system and showed his "contempt" for the electorate. He added: "People want to see a set of debates between all major party leaders, yet the prime minister is clearly scared of scrutiny."
Continue reading for free
We hope you're enjoying The Week's refreshingly open-minded journalism.
Subscribed to The Week? Register your account with the same email as your subscription.
Sign up to our 10 Things You Need to Know Today newsletter
A free daily digest of the biggest news stories of the day - and the best features from our website