Three new things we learned about coronavirus today
The latest news on the Covid-19 outbreak and efforts to contain it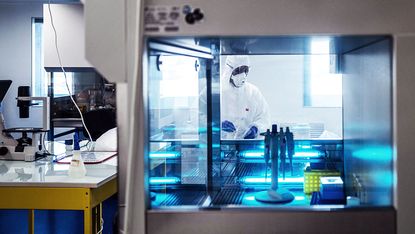 (Image credit: Jeff Pachoud/Getty)
9 April 2020
Peak forecast
Yesterday's grim toll of 938 new coronavirus deaths has apparently dampened hopes that the UK may be just a few days away from seeing fatalities begin to fall. "The virus outbreak's peak could still be ten days away - on April 18," The Sun reports, quoting an unnamed government adviser. A similarly anonymous cabinet minister told The Telegraph that the peak "will happen in seven to ten days". Previously, ministers and officials had suggested that the Easter weekend might be the turning point.
Reading the numbers
Subscribe to The Week
Escape your echo chamber. Get the facts behind the news, plus analysis from multiple perspectives.
SUBSCRIBE & SAVE
Sign up for The Week's Free Newsletters
From our morning news briefing to a weekly Good News Newsletter, get the best of The Week delivered directly to your inbox.
From our morning news briefing to a weekly Good News Newsletter, get the best of The Week delivered directly to your inbox.
Critical treatment
Six Covid-19 patients at high risk of death have been successfully treated for the disease in Israel using placental stem cells. All six had "acute respiratory failure and inflammatory complications" and four "also demonstrated failure of other organ systems, including cardiovascular and kidney failure", reports The Jerusalem Post. Pluristem, the company which developed the treatment, said it worked by helping the body's immune system to regulate itself, reducing the risk of cytokine storm.
__________________________________________________________
Wednesday 8 April
Patient zero?
The likely source of Boris Johnson's Covid-19 infection is the "Cobra cluster" of 23 March, says The Times, when the PM, cabinet ministers and senior government officials gathered to plan the UK lockdown announced that evening. Also present was the epidemiologist Neil Ferguson, who provided "a less than theoretical lesson in disease spread", the paper suggests. "The next day he would announce that he had coronavirus." And though "we will never know for certain if he was 'patient zero' for the cabinet", in the days that followed Matt Hancock, Chris Whitty, Dominic Cummings and the PM himself all started showing symptoms of the virus.
Surveilling sewage
Reading the numbers
Data published yesterday by the Office for National Statistics suggests that about 7% of people who succumb to Covid-19 are dying in social care or in their own homes. Unlike the daily death tolls announced each afternoon, which include only hospital fatalities, the weekly ONS figures include anyone whose death certificate lists coronavirus among the causes. In yesterday's figures, which cover the seven days to 27 March, 38 of the 539 coronavirus deaths had occurred outside hospitals. Of those, "20 took place in care homes, 15 were in private homes, two were in hospices and one happened elsewhere", Sky News reports.
–––––––––––––––––––––––––––––––For a round-up of the most important stories from around the world - and a concise, refreshing and balanced take on the week's news agenda - try The Week magazine. Start your trial subscription today –––––––––––––––––––––––––––––––
Tuesday 7 April
Elusive antibodies
Last month Public Health England suggested it was days away from approving a home test for Covid-19 antibodies, which would reveal who had already had the virus and was therefore likely to be immune. Last night it emerged that all testing kits submitted for evaluation had failed. "The tests we have looked at to date have not performed well," said Sir John Bell, a professor of medicine at Oxford University and a government adviser. "It is essential that the test does not tell you are positive for anti-Covid serology when you are not; otherwise you might return to work when you are not immune." Although creating an antibody test for widespread home use was an "achievable" goal, he said, it "will take at least a month". Chris Whitty, England's chief medical officer, said antibody tests were in any case most useful "at a later stage of the epidemic".
Intensive care
Boris Johnson's arrival in intensive care last night has sharpened the focus on analysis published this morning detailing what happens to patients in a similar condition. "Of 690 coronavirus patients in intensive care with known outcomes, 346 died," the Daily Mail reports - suggesting a mortality rate of just over 50%. But those figures include only patients who have died or been discharged after recovery, and the majority of those sampled by the Intensive Care National Audit and Research Centre (1,559 out of 2,249) are still undergoing treatment. Downing Street says the PM is not on a ventilator and does not have pneumonia, suggesting he is less seriously ill than many patients in intensive care.
Lifting the lockdown
Austria's shops are expected to start reopening next week, after Chancellor Sebastian Kurz announced plans for a phased end to the coronavirus lockdown. Garden centres, DIY stores and small shops will open their doors after the Easter weekend, and higher-risk businesses such as hairdressers will follow two weeks later. Face masks will be made mandatory. "Austria's plan will be intensely scrutinised," says the Financial Times, "seen either as a bold decision to balance public and economic health, or as a gamble that prioritises the latter."
__________________________________________________________
Monday 6 April
Statistical delays
The UK reported a fall in deaths from Covid-19 yesterday - 621, down from the 708 reported on Saturday - but the dip is probably the result of slower reporting at the weekend. A significant number of people who died yesterday or on Saturday will appear in the figures announced today, tomorrow or even later. "It's not uncommon that this happens in a new epidemic," Professor Sheila Bird, a former member of the Medical Research Council, told The Guardian. "Reporting delays are something to be managed, not to be ashamed of. You manage them down but you don't want to do that by making people think they will be blamed for reporting late and therefore run the risk of failing to report. That's the worst possibility."
Japanese surge
Tiger infection
In the first case of its kind, a tiger at Bronx Zoo in New York has tested positive for Covid-19. "Cats, both wild and domestic, are susceptible to feline coronavirus," National Geographic reports, "but until recently, it was unknown whether they could contract SARS-CoV-2 [the virus which causes Covid-19]. A new Chinese study has found that cats may be able to infect each other, and scientists are rushing to learn what other species may be able to be infected by it." The US Centers for Disease Control said there was no evidence that cats can infect humans. Even so, tweeted the journalist Stig Abell, "I'm certainly going to start keeping at least two metres away from tigers from now on."
Friday 3 April
Oxygen warning
NHS hospital bosses have been instructed to limit the number of coronavirus patients on ventilators and other breathing equipment, after a hospital in London "almost ran out of oxygen", The Times reports. Although the number of patients requiring critical care has not yet exceeded NHS capacity - and the opening of the Nightingale Hospital at the capital's ExCeL centre provides an extra 500 beds from today - demand is expected to grow in the coming weeks. In a letter to hospital chiefs, NHS England said managers should keep a tally of patients on breathing apparatus and ensure that the number does not exceed maximum capacity. Otherwise, "there is a risk of rapid pressure drop in oxygen supply pipes" that would pose "significant risk to multiple patients simultaneously", the letter said.
High-speed vaccines
Spanish peak?
A slight drop in Spain's daily coronavirus death toll has fuelled hopes of a continuing decline in fatalities in the European country, which has been the second-highest in the world, after Italy. A total of 932 deaths were reported in Spain on Friday morning, down from 950 the previous day. "It marks the first time the daily death toll has slowed down in over a week," says The Independent. A total of 10,935 Covid-19-related deaths have now been recorded in Spain. Only Italy has reported more, at 13,915, with daily fatalities peaking on 27 March, when 919 coronavirus deaths were reported - although the official figure may be an underestimate (see Tuesday's update, below).
__________________________________________________________
Thursday 2 April
Mask face-off
The World Health Organization (WHO) will reconsider its advice about face masks today, "after new evidence emerged suggesting they could protect people from coronavirus", Sky News reports. It currently recommends that only health workers need masks for their own protection, and that members of the public should wear them only if they have the virus, to prevent themselves from spreading it to others. Professor David Heymann, who chairs the WHO panel that will reconsider the advice, said that although "Hong Kong has provided some evidence that masks may be useful in protecting individuals from infection", uncertainty remains. According to a paper published in The Lancet last week, "improper use of face masks, such as not changing disposable masks, could jeopardise the protective effect and even increase the risk of infection".
Samba success
Amid increasing criticism of the UK's coronavirus testing strategy, a new approach to analysing samples is being used for the first time at Addenbrookes Hospital in Cambridge. "Called Samba Two, it gives a result in just 90 minutes," the BBC reports, "as opposed to the 24 hours tests currently take." The test begins with a nasal swab, like the existing NHS test, but instead of the sample being sent to a lab for analysis it is assessed automatically by machine. Cambridge University says a £2.4m donation from businessman Sir Chris Hohn has paid for 100 of the machines, which have been validated and accepted by Public Health England.
Street testing
__________________________________________________________
Wednesday 1 April
Chemical confusion
The UK's comparatively low rate of coronavirus testing has led to a series of questions at the government's daily press conferences - and in today's newspapers. Ministers and officials have shied away from direct answers, but The Times attempts to explain the combination of factors holding back the process. The first is that the UK abandoned mass testing early in the outbreak, and when it switched back again "found itself playing catch-up in looking to buy diagnostic kits, consumables and the specialist chemicals used in testing". The second is that this equipment is now in short supply all over the world, and the shortage has been exacerbated by a third factor: Public Health England's "tightly controlled, centralised approach". This ensures that tests are accurate, the paper says, but limits capacity. PHE's fears may be well founded, the Financial Times reports: "In recent days, the Netherlands, Spain and Turkey have all claimed that there were problems with products they had imported from China, including masks and tests."
Breathe easy
Better news comes from the engineering company Penlon, which will begin production of a new design of ventilator this weekend. Based in Oxfordshire, the company has worked with the McLaren and Mercedes Formula 1 teams as well as Ford, Siemens and Meggitt to produce the medical device, which can help keep patients with Covid-19 alive. It will deliver 30 ventilators next week and, if trials are successful, a total of 5,000 will follow. It's one of several "fresh orders", The Guardian reports, which will "take the total number of devices in the pipeline to more than 61,000". Of those, 8,000 have been ordered from overseas and the rest will come from a range of UK companies including Rolls-Royce, Dyson and Cambridge-based Sagentia.
Keeping track
The NHS is developing an app that will track users' locations and alert them if they have been in contact with someone who later tests positive for Covid-19. The proposal has led to concerns about privacy and data security, although the government says use of the app will be voluntary. If widely adopted, its ability to analyse interactions will "enable a week's worth of manual detective work to be done in an instant", the BBC reports.
__________________________________________________________
Tuesday 31 March
Revised figures - part one
The government's daily Covid-19 briefings have been underestimating the number of deaths caused by the new coronavirus, according to figures published this morning by the Office for National Statistics. The official death toll, which yesterday stood at 1,415, includes only people who tested positive for the virus and died in hospital. The ONS numbers - which include anyone whose death certificate mentioned Covid-19 as a cause, even if they had not been tested - suggest the true death toll could be 20-25% higher than previously stated. The new figures suggest that 210 people had died in the outbreak by 20 March, by when the NHS had recorded 170 coronavirus deaths in its hospitals. "The 210 figure is likely to rise as more deaths are recorded and registered on national systems, a process which can take some time," says the Financial Times.
Revised figures - part two
The situation in Italy may also be worse than it seems, according to Dr. Paola Pedrini, head of the Lombardy chapter of the Italian Federation of Doctors. "Whoever is handling the numbers is either incompetent or living in a parallel universe," she says, in a quote translated by The Daily Telegraph. Support for Pedrini's argument comes in the Italian newspaper Corriere Dela Sera, which last week published an analysis of death rates in northern Italian towns and cities. Nembro, for example, "should have had - under normal conditions - about 35 deaths" in the first three months of the year, but recorded a total of 158. That's 123 more than expected, even though only 31 deaths have been attributed to the new coronavirus. The most likely explanation for the discrepancy, the paper suggests, is "elderly or frail people who die at home or in residential facilities, without being hospitalised and without being swabbed to verify that they were actually infected with Covid-19".
Ever-increasing circles
UK guidelines suggest that people should stay two metres apart to avoid spreading the virus. That's in excess of the one-metre buffer recommended by the World Health Organization, but a recent study published by the Journal of the American Medical Association suggests that even more social distancing may be needed. "These distances are based on estimates of range that have not considered the possible presence of a high-momentum cloud carrying the droplets long distances," the journal says, referring to the possibility that a cough or sneeze can propel the virus much further than previously thought. "Given the turbulent puff cloud dynamic model, recommendations for separations of 3 to 6 feet (1-2m) may underestimate the distance, timescale, and persistence over which the cloud and its pathogenic payload travel." It says infected particles can travel as far as eight metres (27 feet).
__________________________________________________________
Monday 30 March
Signs of hope
Although UK cases of the new coronavirus are still rising, "we can see some early signs of slowing in some indicators", according to Professor Neil Ferguson, an epidemiologist at Imperial College London. He told BBC Radio 4's Today programme: "If we look at the numbers of new hospital admissions today, for instance, that does seem to be slowing down a little bit now. It's not yet plateaued as the numbers are increasing each day but the rate of that increase has slowed." However, the daily number of deaths caused by Covid-19 is expected to "increase for a week or two", Dr. Jenny Harries, the deputy chief medical officer for England, told Politico last night. Yesterday's death toll was 209 in the UK, bringing the total to 1,228.
The big test
A quarter of the UK population could be tested for immunity to the new coronavirus within the next few weeks, according to the Daily Mail. "Officials have agreed deals to buy 17.5 million kits for use by mid-April," the paper reports. Unlike tests carried out over the past few weeks, used to confirm the presence of the virus in patients showing symptoms, the new finger-prick check will look for Covid-19 antibodies in those who have already had the virus. The German government said today it would issue "immunity passports" to people with antibodies, who would no longer have to self-isolate. "Researchers plan to test 100,000 members of the public at a time, issuing documentation to those who have overcome the virus," says The Telegraph.
High-speed science
Engineers from the Mercedes-AMG Formula 1 team have teamed up with researchers at University College London and University College Hospital to develop a new piece of medical equipment that can help keep seriously ill Covid-19 patients out of intensive care. Unlike a ventilator, the new device can be used without having to sedate the patient, reducing the level of care required and freeing up resources for the critically ill. The medical regulator has approved the device and 40 have been delivered to hospitals in London for evaluation. "If trials go well, up to 1,000 of the machines can be produced per day," says the BBC, "beginning in a week's time."
__________________________________________________________
Friday 27 March
Worst-case scenario
Having told MPs two days ago that UK deaths from Covid-19 could be kept below 20,000, Professor Neil Ferguson of Imperial College London said last night that his assessment depended on "the very intensive social distancing and other public health interventions now in place". Without them, he said, as many as 500,000 people could still die from the new coronavirus in the UK, as the Imperial College model originally predicted. The country's death toll rose to 759 today, a rise of 181 on yesterday's figure.
Model disagreement
Dr Deborah Birx, a member of the US coronavirus task force, has cast doubt on Imperial College's modelling of the outbreak, suggesting that it may be based on incorrect estimates of transmission rate or mortality rate. "The predictions of the model don't match the reality on the ground in China, South Korea or Italy," she said. "When people start talking about 20% of a population getting infected, it's very scary, but we don't have data that matches that." But Marc Lipsitch, a professor of epidemiology at Harvard University, said Birx was being overly optimistic. "It is a fundamental scientific error to take the current success of containment in some places as a sign that permanent containment is possible," he said on Twitter. "We should work to make it possible, but 1918 flu and, frankly, the germ theory of disease show that containment is a temporary victory."
Revised forecast
Imperial College itself published a new model this morning, which raised hopes that UK coronavirus deaths could be limited to 5,700 – fewer than usually caused by seasonal flu. Epidemiologists at the university "emphasised, however, that this did not imply fears of mass deaths were alarmist", says The Times, "merely that the current lockdown strategy was working". The forecast, based on the spread and retreat of the disease in China, paints a gloomier picture for some other European countries. The study predicts 28,000 deaths in Italy and 46,000 in Spain.
Thursday 26 March
The long haul
Lockdowns and other measures introduced to tackle the pandemic will have to remain in place for some time after transmittion of the Covid-19 coronavirus has stalled, in order to limit the risk of a second wave of infections, according to new research. In a paper published in The Lancet medical journal, experts from the Centre for the Mathematical Modelling of Infectious Diseases say that if controls in Wuhan had been relaxed in early March, when new cases dropped sharply, the Chinese city would have faced a fresh outbreak in June. The Chinese government's decision to maintain the restrictions until early April is likely to reduce the secondary peak of cases by 92%, simulations suggests. The UK lockdown announced on Monday is due to be reviewed after three weeks.
Ventilator challenge
Testing times
Hopes have been dampened of an imminent launch of two new tests to identify who is infected with coronavirus and who has already had it, after England's chief medical officer Professor Chris Whitty cautioned that the kits must first undergo stringent medical testing. "I do not think, and I want to be clear, that this is something we'll be ordering on the internet next week," Whitty said last night. He added that "bad tests are worse than no tests", because they could lead to a false sense of security - or unnecessary alarm. Once the tests have been approved, the priority "will be identifying how many people have had Covid-19 without showing symptoms, and which NHS workers are very likely to be immune", Sky News reports.
__________________________________________________________
Wednesday 25 March
A very stable virus
Scientists at Johns Hopkins University near Baltimore say the coronavirus that causes Covid-19 is displaying "a relatively small number of mutations for having passed through a large number of people". This is "encouraging news for researchers hoping to create a long-lasting vaccine", says The Washington Post. Flu, by contrast, mutates more quickly and therefore requires a new vaccine every year.
The Oxford model
Half the UK population may have already had the virus, according to new analysis of transmission rates published last night by Oxford University's Evolutionary Ecology of Infectious Disease group. If correct, this is another piece of good news. The conclusion would "imply that fewer than one in 1,000 of those infected with Covid-19 become ill enough to need hospital treatment", says the Financial Times - and mean that many people already have immunity to the disease. But "the accuracy of the Oxford model has not yet been confirmed", the paper says.
Preparing for the worst
Even the most optimistic forecasters expect a sharp rise in UK coronavirus cases within the next two weeks. Health Secretary Matt Hancock announced yesterday that the ExCeL exhibition centre in London's docklands would be turned into a 4,000-bed hospital to relieve pressure on existing hospitals and called for 250,000 volunteers to help transport food, medicines and recovered patients. Professor Neil Ferguson of Imperial College London told MPs this morning that demand for intensive care is likely to "peak in approximately two to three weeks and then decline". The ExCeL facility, named the NHS Nightingale Hospital, "is expected to be operational from next week", says ITV News.

Continue reading for free
We hope you're enjoying The Week's refreshingly open-minded journalism.
Subscribed to The Week? Register your account with the same email as your subscription.