Five key coronavirus questions that need to be answered
From how the outbreak began to true death rate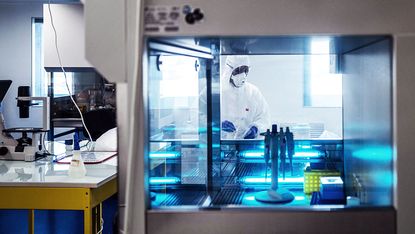 (Image credit: Jeff Pachoud/Getty)
Almost three months have passed since the world's first coronavirus-related death was reported, yet many key questions remain unanswered about the deadly infection and its effects.
As the global total of confirmed cases reaches almost three-quarters of a million, with more than 34,000 deaths, here are five of the biggest mysteries.
What is the death rate?
Subscribe to The Week
Escape your echo chamber. Get the facts behind the news, plus analysis from multiple perspectives.
SUBSCRIBE & SAVE
Sign up for The Week's Free Newsletters
From our morning news briefing to a weekly Good News Newsletter, get the best of The Week delivered directly to your inbox.
From our morning news briefing to a weekly Good News Newsletter, get the best of The Week delivered directly to your inbox.
As of Sunday night, the new coronavirus death rate - the percentage of people who die from the total confirmed to be infected - stood at 4.7%.
"However, 4.7% is not only changeable but frustratingly unreliable," says the Financial Times. "Researchers warn that there are so many uncertainties - not least over the true number of infections - that it remains almost impossible to draw firm conclusions about the death rate."
Without mass testing to find out the true number of coronavirus cases, the data on the virus is "utterly unreliable", says John Ioannidis, a professor of epidemiology at Stanford University.
"We don't know if we are failing to capture infections by a factor of three or 300," he said last week.
Older people are believed to be more at risk of dying from the new coronavirus, which causes Covid-19 disease, but the World Health Organization (WHO) has warned that young people are "not invincible" either.
In Germany, which is leading Europe in testing citizens, the majority of infections have occurred in people aged between 15 and 59, and the death rate is just 0.8% - although experts have pointed out that the country also has a superior healthcare system.
To further muddy the waters, some coronavirus fatalities are among people who would have died from other causes if they had not been infected, says professor Neil Ferguson, director of the MRC Centre for Global Infectious Disease Analysis at Imperial College London.
Ferguson told a UK parliamentary hearing last week that the proportion of new coronavirus victims who would have died anyway could be "as many as half or two-thirds".
Can the weather affect the spread of the virus?
Diseases such as flu and norovirus are well documented as hitting hardest in the winter, while others such as typhoid tend to peak during the summer.
Little data is available about the last big coronavirus outbreak - the Sars epidemic in 2003 - because it was contained relatively quickly.
But a study conducted a decade ago by Kate Templeton, from the Centre for Infectious Diseases at the University of Edinburgh, found that three types of coronavirus showed "marked winter seasonality".
The three viruses mainly caused infections between December and April, repeating the pattern of influenza. A fourth type of coronavirus was far more sporadic, and didn't wax and wane with the seasons.
"There are some early hints that Covid-19 may also vary with the seasons," says the BBC.
A number of new, unpublished studies show that higher temperatures and tropical areas suffer a lower incidence of the new coronavirus.
However, without real data over a number of seasons, scientists are still making educated guesses.
–––––––––––––––––––––––––––––––For a round-up of the most important stories from around the world - and a concise, refreshing and balanced take on the week's news agenda - try The Week magazine. Start your trial subscription today –––––––––––––––––––––––––––––––
Can people be infected more than once?
The question of whether someone who has had the new coronavirus can get infected again has yet to be answered conclusively. In February, reports from Japan suggested that a woman in Osaka might have become reinfected with the virus, and anecdotal stories of reinfection have also emerged from China.
However, a study by the Chinese Academy of Medical Sciences in Beijing found that four monkeys who had been ill with the virus and recovered could not be reinfected with the virus, suggesting they were immune.
But there is no definitive answer on how long such immunity might last. "Some other viruses in the coronavirus family, such as those that cause common colds, tend to induce immunity that is relatively short-lived, at around three months," Peter Openshaw, from Imperial College London, told New Scientist.
"Because [the virus] is so new, we do not yet know how long any protection generated through infection will last. We urgently need more research looking at the immune responses of people who have recovered from infection to be sure."
Why do children appear to be less susceptible to infection?
The vast majority of coronavirus cases recorded to date have been in adults, with children largely avoiding infection, or - more likely - remaining asymptomatic.
In one of the largest studies of the coronavirus's effect on children, Chinese researchers examined infection outcomes in more than 2,000 confirmed or suspected childhood Covid-19 cases. The majority of the children tested had no symptoms at all, or just mild cold-like symptoms.
All the same, coronavirus infections in children do pose a threat.
"As with most things in this pandemic, the idea that coronavirus only threatens older people is an oversimplification," writes Jonathan Ball, a professor of molecular virology, in an article for The Guardian.
"Younger people and children are less likely to die from coronavirus, but their mild symptoms could make them contagious carriers of the virus – and they are more difficult to spot."
How did the outbreak begin?
The new coronavirus is widely believed to have been transmitted to humans from animals, but the exact origins of the current outbreak are unclear.
The beginnings of the pandemic have been traced back to a market in the Chinese city of Wuhan where live wild animals including marmots, birds, rabbits, bats and snakes were traded.
The Telegraph explains that such markets pose a "heightened risk of viruses jumping from animals to humans", because hygiene standards are "difficult to maintain if live animals are being kept and butchered on site".
"Although an initial analysis of the virus that causes Covid-19 suggested it was similar to viruses seen in snakes, the hunt for the animal source of Covid-19 is still on," says Wired.
Bats and pangolins have also been suggested as the origin animal.

Continue reading for free
We hope you're enjoying The Week's refreshingly open-minded journalism.
Subscribed to The Week? Register your account with the same email as your subscription.