General election 2017: Security tight as Theresa May and Jeremy Corbyn cast their votes
The rollercoaster seven weeks leading up to the snap election are almost over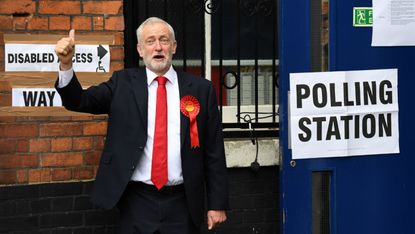 (Image credit: Leon Neal / Getty)
Sign up to our 10 Things You Need to Know Today newsletter
A free daily digest of the biggest news stories of the day - and the best features from our website
Thank you for signing up to TheWeek. You will receive a verification email shortly.
There was a problem. Please refresh the page and try again.
Parliament dissolves ahead of general election
03 May
With less than a month to go until the general election, parliament has been dissolved.
Although political activists have been knocking on doors since Theresa May announced a snap election last month, the dissolution of parliament marks the official start of campaigning.
The Prime Minister will today travel to Buckingham Palace for a private audience with the Queen, after which the race to No 10 begins.
Voters will head to the polls on 8 June, with May seeking to strengthen her mandate ahead of what are widely expected to be tough Brexit negotiations.
What happens next?
While the formalities play out in London, campaigning will continue in earnest across the country.
Political analysts will keep a keen eye on tomorrow's local elections, which some argue could help predict the outcome of the June vote.
The results will be used to calculate each party's "projected national vote share", working out how many people would have voted for each party if every voter had turned out for the local ballots.
However, projected national vote share should not be taken as representative of how people will actually vote in a general election, when they often have different priorities.
Added to that, the first-past-the-post system means vote share does not translate neatly into seats in the Commons.
Key dates between then and next month's vote include an 11 May deadline for parliamentary nominations, as well as the deadline for registering to vote on 22 May.
What are the polls saying?
The Tories are still enjoying a comfortable lead in the opinion polls, although Labour has made some gains.
Britain Elects' current poll of polls gives the Conservatives 46.1 per cent of the vote, Labour 27.3 per cent, the Lib Dems 10.7 per cent, Ukip 7.2 per cent and the Greens 2.8 per cent.
"But opinion polls have been wrong before," writes the New Statesman.
The 2015 general election, the EU referendum and the 2016 US presidential elections "all gave the polling industry a bloody nose", says the magazine. However, it still concludes they are a "fairly reliable guide".
What about betting odds?
Bookmakers are clearly backing May to see off the challenge from Labour's Jeremy Corbyn and the Liberal Democrats' Tim Farron, says the London Evening Standard.
"The Tories have been ruthlessly backed since the early election was announced by Theresa May last month and despite the Conservative leader ducking and weaving out of public view their odds of re-election continue to shorten," Betfair spokesperson Katie Baylis told the newspaper yesterday.
Diane Abbott interview leaves Labour policing pledge 'in tatters'
2 May
Labour has promised to recruit 10,000 more police officers should they win the general election on 8 June, using money saved by reversing Tory cuts in capital gains tax.
However, the Daily Telegraph, says the policy "lies in tatters" after shadow home secretary Diane Abbott "struggled to explain how the party would fund the policy" in an interview with LBC.
Abbott later argued she "misspoke" and said: "I do know my figures. I did seven interviews that morning and that was the seventh and I misspoke but I do know my figures."
However, The Guardian's Matthew Weaver says the interview "overshadowed" Labour's policy announcement.
Elsewhere, former chancellor George Osborne has used his first day in another new job to attack his former Cabinet colleague Theresa May.
"There's nothing wrong with repeating election campaign slogans; the problem comes when the election campaign amounts to no more than a slogan," he says, in an editorial penned during his first day in charge of the London Evening Standard.
The Prime Minister also received bad press during a visit to Cornwall, when local media complained of harsh treatment from No 10.
Labour's election chair Andrew Gwynne said: "Theresa May's campaign is going to extraordinary efforts to avoid any form of public scrutiny."
But Sam Coates, deputy political editor at The Times, argued the net effect of the PM's campaigning style may be marginal.
Elsewhere Caroline Lucas, co-leader of the Green Party, described Labour's decision to not join her party in an anti-Tory alliance as a "betrayal".
She added that opinion polls showing the Tories could end up with a majority of more than 100 seats "ought to be a wake-up call to Labour to recognise that they have a responsibility to protect people in this country from the worst of harsh, cruel Tory policy.
"The fact they won't even sit down and talk about it from the top is a real betrayal of people."
Meanwhile, former Lib Dem leader Nick Clegg, now his party's Brexit minister, took to the airwaves to argue that the PM's condemnation of leaks emanating from Brussels was hypocritical considering he was "on the end of leaks from Theresa May's 'hitmen and hitwomen'" when he was part of the coalition government.
Clegg also found himself in a rather testy exchange with Good Morning Britain's Piers Morgan over his role in the tuition fees increase.
General election 2017: Tories under pressure on economy
28 April
The release of new figures showing that the UK economy has performed worse than expected has proved a boon to the opposition parties today.
Data from the Office for National Statistics shows that GDP grew by 0.3 per cent in the first quarter of 2017. The figure is lower than the predicted 0.4 per cent growth and down from 0.7 per cent in the final months of 2016.
Labour's shadow chancellor John McDonnell says the figures are "really worrying" and proof that a Tory government is a "threat to living standards".
Liberal Democrat finance spokeswoman Baroness Kramer says the data is evidence that "the Brexit slowdown is beginning to take effect". She says the downturn "will only get worse if the Conservatives are allowed to pursue their hard Brexit agenda".
Chancellor Philip Hammond insists that the UK economy is "resilient" and says that five more years of Theresa May's government will "lock that economic progress in".
Theresa May came under fire today after a campaign stop in Leeds where she addressed a crowd of Conservative activists rather than members of the public.
The Prime Minister made her speech at a community regeneration project supporting small businesses and training former prison inmates, but the event's attendees consisted of "an invited congregation of well-dressed Tories," one staff member told The Guardian.
Labour leader Jeremy Corbyn has accused May of avoiding engagement with ordinary voters. "She won't take part in TV debates and she won't talk to voters," he said. "What is she afraid of?"
Ukip launched their campaign today, with leader Paul Nuttall vowing to slash the UK's foreign aid budget, bolster the ranks of the police and armed forces and create an English Parliament.
The party has faced a fight to stay relevant in post-referendum Britain, a struggle exacerbated by in-fighting. There are rumours the party will contest fewer than 100 seats in June.
But Nuttall insists the party will contest around 600 seats, arguing that Ukip still has a job to do to ensure that the government does not compromise on a hard Brexit.
Theresa May is "already beginning to backslide on immigration", he said, adding that Ukip was "determined to hold this government's feet to the fire on Brexit.
The launch was interrupted by heckling from anti-racism activists. "Police were called and stationed in the lobby of the hotel," the Daily Telegraph reports, while Nuttall was "smuggled out" by officers.
Elsewhere, the Green Party has agreed to join forces with the Women's Equality Party in the Yorkshire seat of Shipley. The seat's current incumbent is Conservative MP Philip Davies, known for his outspoken anti-feminist views.
General election 2017: Blair refuses to back Corbyn
27 April
Tony Blair has once again refused to back the Labour leader Jeremy Corbyn - and says Theresa May is on course to win the election.
When asked if Corbyn was the best person to run the country, the former prime minister replied: "If the polls are right we know who is going to be prime minister on June 9. That's not the issue. It'll be Theresa May. If the polls are right."
However the former Labour leader said people should vote for Labour to "provide a strong opposition".
Corbyn, unsurprisingly, disagreed with the assessment.
"I'm out on the streets and the doorsteps and the meeting halls every day and that's not what I'm finding. I'm finding the enthusiasm of people at the prospect of doing things differently to work for everyone and I'm enjoying it," he said.
Corbyn was in Harlow today to launch Labour's housing programme, which promises to build one million homes over the next parliament, half of them council owned.
The event had an inauspicious start however, when a quick-thinking Labour aide had to spin Corbyn round to face the cameras, a move quickly picked up by the Twittersphere.
Meanwhile Boris Johnson's attempt to paint Corbyn as "meandering and nonsensical", while branding him a "mugwump" was "thwarted by a trio of interviews in which (Johnson) was largely... meandering and nonsensical," says the Huffington Post.
In interviews on the BBC, ITV and Radio 4, Johnson's attacks on Corbyn were "drowned out" as he was forced into the spotlight and made to defend "the now-infamous £350 million NHS pledge made on the side of a bus during the EU referendum campaign," the website adds.
The Lib Dems meanwhile are "pinning their hopes that strong feelings about Brexit, in the city where 73 per cent voted remain, will trump past grievances about the coalition," says The Guardian.
Lib Dem leader Tim Farron spoke in Cambridge, a "key target seat", alongside the party's candidate for the constituency Julian Huppert.
"You have two people here, myself and Julian Huppert, who voted against the rise in fees," he said, speaking at the Hundred Houses regeneration site in the northeast of the town.
"It is also important to remember it is young people's futures we are talking about here, 73 per cent of the youngest voters voted to remain.
"This is about what happens in the next 40 or 50 years for our country and at the moment Britain is heading off a cliff-edge towards a very, very hard Brexit without a route to remain, except through the Lib Dems."
Meanwhile, Zak Goldsmith's nomination as the Conservative candidate for Richmond Park has led to the former London Mayoral candidate being accused of "staggering hypocrisy".
Goldsmith stood last year in the constituency as an Independent after he resigned from the Conservative Party over its support for a third runway at Heathrow. His U-turn comes despite the government's continued support for the extra runway.
"Zac Goldsmith's hypocrisy is staggering," Green Party co-leader Jonathan Bartley told The Independent.
"His decision to stand for the Tories again despite their policy over Heathrow remaining unchanged shows he never really cared about the decision or its impact on the people of Richmond. The Green Party will always remain principled in our opposition to a third runway at Heathrow."
General election 2017: Labour promises to increase NHS pay
Labour has promised pay rises for NHS staff if they form the next government. Arguing that staff shortages in England have become a "threat to patients", the party also pledged there would be no tuition fees for student nurses and midwives. The Tories countered that Labour's economic policies would put the NHS at risk. Health minister Philip Dunne insisted that "only Theresa May" can secure funding for the service "and its dedicated staff".
A trio of pro-EU Tories has furiously cut ties with Open Britain over its plans to unseat Brexit-backing MPs, most of whom are Conservative, reports The Independent. Anna Soubry, Nicky Morgan and Dominic Grieve say it is "untenable" for them to support the pro-Remain group after it published an "attack list" of MPs to target, including Iain Duncan Smith. A spokesman for Open Britain said it was "understandable" that political differences become "magnified" during an election campaign.
David Cameron believes a large Tory majority would give Theresa May "more time" to deal with Brexit. Speaking at a tourism conference in Bangkok, the former prime minister said: "It's very good that we are having this election because I think if Theresa May is successful, she'll actually have a larger majority and, potentially, more time to deal with Brexit and its consequences."
Meanwhile, the Green Party says it will scrap tuition fees, bring back maintenance grants and protect students and universities after Brexit. Co-leader Jonathan Bartley said: "Students need a life-raft in the Brexit storm. They are being ignored in the Brexit negotiations, despite having the most to lose. Funding for our universities is under unprecedented threat." The commitments were to be announced during a visit to the University of Sheffield.
Labour vows to scrap 'reckless' Brexit white paper
25 April
Labour will scrap the government's white paper on Brexit and replace it with a new one should Jeremy Corbyn become prime minister in June.
In a speech today, shadow Brexit Secretary Keir Starmer said: "We do not accept that there has to be a reckless Tory Brexit."
He added that if Labour won the election, it would rip up Theresa May's plans for leaving the EU and give EU citizens the right to stay.
"On day one of a Labour government, we will immediately guarantee that all EU nationals currently living in the UK will see no change in their legal status as a result of Brexit and we will seek reciprocal measures for UK citizens in the EU," he said.
In addition, he promised that a Labour government would prioritise the economy over immigration in Brexit talks, although the party accepted that free movement rules had to change, and promised MPs a chance to reject the final deal.
He added: "A Labour approach to Brexit means legislating to guarantee that parliament has a truly meaningful vote on the final Brexit deal."
By promoting a complete overhaul of negotiations, Labour has "dangled the possibility of delaying Brexit" if the deal struck with the EU member states is deemed unsatisfactory by MPs, says The Independent.
Starmer's announcement can be seen as an attempt to cement the party's approach to Brexit, which has so far been perceived as unclear by many, including former prime minister Tony Blair.
Corbyn has been described by the Tories as a "weak leader of a divided party who could not get the right deal for the UK", says the BBC, while The Guardian credits Starmer with "differentiating Labour's position from the government's to an extent", but warns the statements will "probably not" give voters the clarity they need.
Ukip mocked for veil-banning policy and Labour questioned on Trident
24 April
As we head into the first full week of campaigning before the general election, here is a summary of what has been going on over the weekend and today.
Paul Nuttall has announced Ukip would ban a full-face veil leading to accusations by Green party co-leader Caroline Lucas that the far-right party had embraced "full-throttled Islamophobia". Yet the party was widely mocked, with some journalists asking whether the rules would apply to beekeepers and brides, writes The Daily Telegraph. Nuttall has dodged questions about whether he will run as a candidate in the election.
Yesterday Jeremy Corbyn was pressed on his views on BBC1's The Andrew Marr Show on nuclear weapons and said he did not believe Trident would make the UK safer. Defence Secretary Michael Fallon today portrayed Corbyn as a security risk, saying: "He's against the nuclear deterrent; would stop building the submarines which we have already started building; he wouldn't control our borders; and earlier he has even questioned our Nato deployment." Theresa May, Fallon said, would be prepared to launch Trident even if Britain was not under attack.
Meanwhile Corbyn has announced Labour would introduce four new bank holidays "to give workers they break they deserve", reports The Independent.
Tony Blair has waded into matters, calling on people to support whichever candidate is in favour of a softer Brexit, saying this election was a bigger issue than party allegiance, reports the BBC.
Meanwhile a battle has reared between the Women's Equality Party leader Sophie Walker who is attempting to oust Conservative MP Philip Davies from his Shipley seat.
General election 2017: On the campaign trail
21 April
Party leaders hit the campaign trail today as they attempt to gain the backing of Britons with just seven weeks until the general election.
Prime Minister Theresa May visited her Maidenhead constituency, where she told workers at the GSK toothpaste factory they had to choose between the Conservatives and a "coalition of chaos".
May is said to be hard at work on her manifesto, which is expected to be published in two weeks' time.
The document will offer insight into "the mystery of what May stands for", says Total Politics.
However, those holding out for detailed policy plans from the Conservatives may be disappointed, writes Fraser Nelson in the Daily Telegraph.
May is said to be aiming for "clarity of thought but no laundry list of pledges", Nelson reports, by dramatically reducing the page count from predecessor David Cameron's 120-page 2010 manifesto to somewhere in the region of 25.
The Tory campaign was dealt a surprise blow this morning by the sudden resignation of May's trusted press secretary.
Lizzie Louden, a key member of the Prime Minister's inner circle, handed in her notice after nine months in the post, saying she was "honoured" to have worked at Number 10 but "always intended" to move on from government.
After launching Labour's campaign with a fiery anti-establishment speech in London yesterday, Jeremy Corbyn held rallies in Swindon and Cardiff today.
Corbyn focused his message on the education system, pledging more resources for schools and a reduction in average class sizes, The Guardian's Heather Stewart reports.
Angela Rayner, the shadow education secretary, said the current system is "unsustainable", and that the government's preoccupation with free schools has failed to solve the growing crisis of insufficient school places.
Meanwhile, the Liberal Democrat campaign began with the announcement that the party has raised £500,000 in the two days since Theresa May called the snap election. The Conservatives have not revealed their donation tally, but "a similar Labour fund-raising drive is reported to have raised £200,000", the BBC reports.
The Lib Dems are putting Brexit at the front and centre of their campaign as the only major party offering a second referendum on leaving the European Union.
Party leader Tim Farron claimed that dissatisfied Remain voters were "flocking" to join the Lib Dems, with 8,000 new members signing up since Tuesday.
Even so, the party faces an uphill struggle to recover from its decimation in the 2015 general election.
Senior figures, including former Lib Dem leader Paddy Ashdown, have floated the idea of "progressive alliances" with parties like the Greens to keep key seats out of Conservative hands.
Jeremy Corbyn: Tory election landslide 'not a foregone conclusion'
20 April
Jeremy Corbyn has rejected suggestions the result of the June general election is a "foregone conclusion", vowing to "overturn the rigged system".
In his first election campaign speech, the Labour leader said he would defy the predictions of "establishment experts" who foresee a landslide victory for the Conservatives.
Corbyn's first pitch to the electorate was notably light on Brexit.
Instead, the embattled Labour leader "looks set to run an anti-establishment campaign, presenting himself as a champion of the powerless against political and business elites" says the BBC.
In the speech, Corbyn promised to crack down on tax avoiders, improve workers' rights and introduce a £10 minimum wage. "It is the Conservatives, the party of privilege and the richest versus the Labour Party, the party that is standing up for working people to improve the lives of all," he said.
The Labour leader added that dire predictions for his party's election prospects were the result of both the media and the establishment's refusal to accept an alternative vision for British politics.
"We can't win, they say, because we don't play their game," Corbyn said, railing against the "cosy cartel" of career politicians and vested interests who had set up a "rigged system" at the expense of ordinary people.
"We will prove the establishment experts wrong and change the direction of this election."
Politics.co.uk editor Ian Dunt and The Guardian's political reporter Jessica Elgot were among the commentators impressed by Corbyn's official start to the election campaign.
However, The Sun's Westminster correspondent, Harry Cole, was unconvinced by the lack of concrete policy details, while BBC Radio 4's Nick Robinson was also wary of a speech he called "long on passion and short on details".
As Corbyn gave his address, news broke that Fiona MacTaggart will not stand for re-election as MP for Slough. MacTaggart, who says she is "losing her passion for politics", is now the ninth Labour MP to announce she will not stand for re-election in June.
Douglas Carswell, the former UKIP MP turned Independent, also announced this morning he would not be contesting his Clacton seat. Carswell said that victory in the EU referendum was his "job done", and urged his supporters to vote Conservative on 8 June.
General election 2017: Theresa May 'a chicken' for rejecting TV debate
20 April
Theresa May has had an uncomfortable start to the general election campaign after every rival party rounded on her for refusing to take part in a televised debate.
Labour's Jeremy Cobryn, Lib Dem leader Tim Farron and SNP deputy leader Angus Robertson all criticised her decision yesterday - the day MPs backed the Prime Minister's motion to call an election for 8 June.
"If Theresa May is so proud of her record, why won't she debate it?" asked Corbyn.
May repeatedly ruled out taking part in live face-to-face debates in a round of interviews, but her position is looking "increasingly isolated", says the Daily Telegraph.
Both Corbyn and Farron are willing to take part, while a Sky poll suggested 64 per cent of the public believe there should be televised debates between party leaders.
May's refusal also puts her on a "collision course" with the UK's two biggest broadcasters, says the paper. Both the BBC and ITV said they will go ahead with televised debates without her.
"Theresa May is not a huge fan of these sorts of encounters and her team think they open up risks that don't need to be taken," Channel 4 News political editor Gary Gibbon said. "So the 2017 general election will make the 2015 one look like 'access all areas' as far as the Tories are concerned.
"Rather than go down the route of pretending they're longing for such things to happen but the logistics might be tricky they've gone for a more open approach: forget it. Don't expect many press conferences either or extended interviews."
A camera-shy party leader is nothing new - David Cameron refused to debate then Labour leader Ed Miliband during the 2015 general election and also shunned arguing live with the main political parties during the EU referendum. "May is taking this tendency to its absolute extreme, asking the public to vote for her despite her refusal to accept reasonable scrutiny," writes Left Foot Forward.
A Panelbase survey reported by the BBC suggested 38 per cent of voters were influenced by the TV debates in the run-up to the 2015 general election, especially reluctant younger and first-time voters.
Such debates "may be positive for democracy" and May's refusal may be seen as "a bit chicken", but with the Tories so far ahead in the polls, "why would she risk it, and give her opponents a formal platform at the same time?" asks the BBC's Amol Rajan.
General election 2017: MPs back 8 June vote
19 April
MPs have voted in favour of Theresa May's plan for a snap general election on 8 June.
After a heated debate in the Commons, the motion passed by 522 to 13, much more than the two-thirds majority needed to prematurely end parliament's current five-year term.
It paves the way for a ballot that could radically change the electoral map less than two years after the UK last went to the polls.
Although Labour and the Liberal Democrats had pledged not to block the motion, the mood in Westminster was far from united.
Labour leader Jeremy Corbyn seized on May's previous assertions that she would not call an early election as proof she "cannot be trusted".
Speaking during Prime Minister's Questions, he said: "Over the last seven years, the Tories have broken every promise on living standards, the deficit, debt, the National Health Service and schools funding. Why should anyone believe a word they say over the next seven weeks?"
During the debate that followed, Speaker John Bercow was forced to intervene as Liberal Democrat leader Tim Farron was heckled with cries of "Yes or no?" after declining to state whether his party would consider entering another coalition with the Conservatives.
May's decision to bring forward the election by three years has been applauded by the pro-Brexit press, who say it is a chance for the Prime Minister to pursue Brexit on her own terms, unconstrained by so-called "Remoaners".
The Daily Express says an early election will bring Westminster in step with the electorate, says rescuing May from the indignity of "commanding a tiny majority among MPs despite having immense support among members of the public".
Analysts predict the Conservatives could win around 100 more seats, mostly at the expense of the Labour Party, Reuters reports.
Several Labour MPs have already announced they will not contest their seats, including veteran frontbencher Alan Johnson.
What happens now?
The next major step is the dissolution of parliament, which must take place on the 25th working day before any vote, which in this instance is 3 May.
Eligible voters must make sure they are registered before 22 May in order to have their say.
Westminster 'stunned' as Theresa May calls early general election
18 April
What the PM said - and how political analysts responded to news of the 8 June poll
Theresa May has announced she is holding a general election on 8 June – three years before the next one was due.
In an "announcement that stunned Westminster," writes the Daily Telegraph, the Prime Minister held a press conference in front of No 10 in which she called for an end to "uncertainty and instability".
May, who had previously denied she would hold an election before 2020, said she had "concluded the only way to guarantee certainty and security for years ahead is to hold this election".
She "signalled that she will put Brexit at the heart of the election debate", says The Times, saying she was acting now because Labour and the Liberal Democrats opposed the government's plans for leaving the EU.
"The country is coming together but Westminster is not," May said.
"Division in Westminster will risk our ability to make a success of Brexit. Our opponents believe because the government's majority is so small that our resolve will weaken and that they can force us to change. They are wrong."
She added: "We need a general election and we need one now".
Under the 2010 Fixed-term Parliaments Act, May needs a two-thirds majority in the House of Commons in order to hold a snap election.
Labour leader Jeremy Corbyn said his party would agree to an early vote. It will "give the British people the chance to vote for a government that will put the interests of the majority first", he said.
Tim Farron, Liberal Democrat leader, added that the election was a "chance to change the direction of your country".
If the vote passes, parliament will dissolve on 3 May, 25 working days before the country goes to the polls.
Calling an early election was a "smart move", says Nicholas Wapshott in NewsWeek.
The "most likely outcome" will be that the Tories do well, he adds, which will "send a strong signal to [May's] European counterparts that she leads a country wholly committed to the radical course she is taking".
However, says Stephen Bush in the New Statesman, the general public "tend to resent snap elections and turnout may drop".
He adds: "As the Remain coalition tends to vote more frequently than any other, a low poll could advantage the Liberal Democrats.
"That the result is seen as a foregone conclusion by most increases that risk."
Alex Massie in The Spectator believes the general election will first and foremost be a vote on Scottish independence, saying "May cannot win a mandate for herself while then denying a mandate to the party that wins the Scottish portion of this election."
Scottish First Minister Nicola Sturgeon seemed to take on this line of argument by describing May's decision "a huge political miscalculation."
The [b]SNP launched its manifesto[b] today – and the biggest surprise is that the emphasis is not on Scottish independence.
Earlier this year, Scottish First Minister Nicola Sturgeon called for a second referendum on splitting from the UK, saying it should happen before Brexit negotiations ended.
While she still wants the vote to take place, today's manifesto calls for it to happen after "the Brexit process".
It's "extraordinary" and "remarkable", says the [http://www.bbc.co.uk/news/uk-scotland-scotland-politics-40086276] BBC's Norman Smith, and it shows the party has "made the calculation" that it will fare better in the general election if it concentrates on domestic matters.
The nationalist party's manifesto focuses "remorselessly" on opposing Tory austerity, with promises to scrap the two-child cap on tax benefits and invest £118bn in public services.
Another large sum eluded Labour leader Jeremy Corbyn this morning as he spoke to BBC Radio 4's [b]Woman's Hour.[b] Asked how much his party's plan for free childcare for 1.3 million children would cost, Corbyn was forced to admit he didn't know.
As the party was campaigning today on just that policy, it was "astonishing" that Corbyn didn't have the figures to hand, says the [http://www.bbc.co.uk/news/election-2017-40090520] BBC's Laura Kuenssberg.
The Labour leader then headed to a webchat on Mumsnet where he finally had the figures he needed – he said the childcare policy would cost £5.3billion a year.
But he did face accusations of picking the easy questions.
Theresa May, meanwhile, relaunched her campaign with an announcement about tougher sentences for perpetrators of [b]domestic violence against children[b].
Last night, Corbyn and May didn't cross swords with each other on live TV.
The Prime Minister refused to debate the election with the Labour leader, so the two were grilled separately by a studio audience and Jeremy Paxman instead.
Corbyn produced "weak banter" [https://www.theweek.co.uk/general-election-2017/85069/general-election-2017-corbyn-and-may-survive-tv-grilling-but-who-won] while May seemed solidly prime ministerial, says the [ http://www.dailymail.co.uk/news/article-4553414/Jeremy-Paxman-Jeremy-Corbyn-Sky-Channel-4-election.html] Daily Mail.
Not so, says the [http://www.newstatesman.com/politics/june2017/2017/05/seven-things-we-learnt-battle-number-10] New Statesman – Corbyn's was a "bravura" performance. He was "fluent and assured" while the Prime Minister was "nervous and warbly".
On Twitter, the Jeremy who received the most critical reaction might have been Paxman. The Economist's Adrian Wooldridge said it was time the veteran broadcaster was "put out pasture".
Continue reading for free
We hope you're enjoying The Week's refreshingly open-minded journalism.
Subscribed to The Week? Register your account with the same email as your subscription.
Sign up to our 10 Things You Need to Know Today newsletter
A free daily digest of the biggest news stories of the day - and the best features from our website