General election 2017: Security tight as Theresa May and Jeremy Corbyn cast their votes
The rollercoaster seven weeks leading up to the snap election are almost over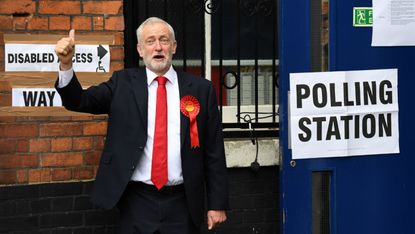 (Image credit: Leon Neal / Getty)
Sign up to our 10 Things You Need to Know Today newsletter
A free daily digest of the biggest news stories of the day - and the best features from our website
Thank you for signing up to TheWeek. You will receive a verification email shortly.
There was a problem. Please refresh the page and try again.
Police were out in force at polling stations across the UK today as Britain went to the polls to vote in the snap general election.
In Sonning, Maidenhead, Prime Minister Theresa May and her husband Philip turned up at a guide and scout hut to cast their votes.
In London, Labour leader Jeremy Corbyn gave a thumbs up to photographers as he left a school in Holloway after casting his vote.
But the most popular photos from outside polling stations are, once again, those of dogs waiting outside.
Polling stations opened at 7am and will remain open until 10pm tonight when the count begins.
The polls, which initially predicted a huge Tory landslide, have become increasingly erratic during the campaign. One YouGov survey predicts a hung parliament.
A final poll has now stretched the Conservative lead to seven points but all is still to play for. Polls are never that accurate, as we know from the 2015 election and the EU referendum.
When voting closes at 10pm we will receive the exit poll results which should give a good indication of who will win.
Whereas the previous polls asked people who they might vote for, the exit polls ask people as they are leaving the polling station who they actually voted for.
In 2015, when everyone was putting their money on Labour being the largest party, the exit polls correctly predicted a Tory win.
If you are planning to watch election coverage through the night, here's a quick guide to the bellwether seats to look out for and the Labour seats most at risk.
General election 2017: Diane Abbott replaced by Labour - but did she jump or was she pushed?
7 June
The final day of campaigning in the General Election has seen a mad dash around the country for all the main party leaders.
But it's the absence of Diane Abbott on the grounds of "ill health" that's dominating today's news after the Labour party announced that she would be stepping aside for the period of her illness and replaced with shadow Home Office minister Lyn Brown.
Describing the shadow cabinet swap as "surprising", Sky's Political Correspondent Tamara Cohen said: "We don't know what the health condition is, although Diane Abbott was suffering from a migraine a few months ago... she hasn't been seen much in the last few days."
Attention quickly turned to the details surrounding her substitution with journalists reporting that Abbott had not been consulted before the news was announced.
It even appeared that news of her demise might have been greatly exaggerated as Abbott tweeted that she would "rejoin the fray soon".
Elsewhere, the Corbyn greatest hits tour rumbled on with more "huge crowds" in Birmingham, Runcorn and Glasgow. This prompting comparisons with political leaders from days gone by.
The Labour leader addressed the throng of supporters in Runcorn telling them he was "very proud of the positive message we've put forward ... And we have refrained from personal abuse because I do not believe that gets us anywhere", which is a message that the Daily Telegraph's Kate McCann believes may be starting to get through to voters.
For Prime Minister Theresa May, the day saw her facing a number of questions over her assertion last night that she would change [b]human rights legislation[b] in order to fight terrorism. Former Lib Dem leader Nick Clegg described her pledge as "crass posturing."
It was "not so much a dog whistle as a foghorn at Ukip voters" said Channel 4's Gary Gibbon.
"Theresa May is signalling to these voters that she shares their instincts and wants that to be the last message ringing in their ears as they walk to the polling station."
But perhaps the day's most foreboding development was when the Prime Minister was asked whether she could "promise us no more elections or referendums for another five years" if she won.
May only said that the Conservatives were opposed to further referendums, but made no mention of elections.
Elsewhere, north of the border, the SNP leader Nicola Sturgeon has said she firmly stands behind her claim that the Scottish Labour leader Kezia Dugdale told her she would drop her party's opposition to a second referendum in the wake of Brexit.
Sturgeon's claims in a live TV leaders' debate prompted Scottish Conservative leader Ruth Davidson to call her a "clype" – a person who tells tales on others.
General election 2017: Tory 'attack dog' unleashed
6 June
It's the penultimate day of campaigning and the knives are out, with Boris Johnson accusing Jeremy Corbyn of siding with the country's enemies.
The Foreign Secretary, who once called the Labour leader a "mutton-headed old mugwump," said today: "For 30 years [he] has been soft and muddle-headed on terror; he has been soft and muddle-headed on defence; he's taken the side of just about every adversary this country has had in my lifetime."
Johnson "has been used by the Tory high command as their leading attack dog against Mr Corbyn during this election campaign", says Sky's Jon Craig.
His speech "felt as it was intended to be the knock-out blow on this theme", says The Guardian's Andrew Sparrow. "But it probably is not having quite the effect intended."
Corbyn himself has been speaking to the Guardian and telling it what he intends to do if he finds himself outside No 10 on Friday morning.
The Labour leader said he would build closer ties with German Chancellor Angela Merkel – by inviting her to an Arsenal match – as well as France's President Emmanuel Macron.
His next phone call would be to Donald Trump, urging him not to withdraw from the Paris agreement and asking him "if he would kindly reconsider" his attacks on London Mayor Sadiq Khan.
Elsewhere, Ukip leader Paul Nuttall says he won't resign if he fails to win the Boston and Skegness seat. "I've only been in the job for six months. Nigel Farage wasn't in parliament and was still the leader," he said.
Electioneering rules have hit street artist Banksy and forced him to withdraw an offer to send a free limited-edition print to voters who didn't vote Tory. The secretive artist said he "regretted" the cancellation of his "ill-conceived and legally dubious promotion".
Meanwhile, an investigation has been launched in Plymouth after hundreds of postal ballots went missing. "We have been contacted by people who have not yet received their packs," a council spokesperson told the BBC. "We are urgently investigating this in conjunction with the Royal Mail."
Finally, ITV's Julie Etchingham has asked Theresa May the most important question of the campaign.
"Diane Abbott's interview with Sky last night was fairly excruciating," says The Guardian, "but it has nothing on this clip."
General election 2017: Corbyn calls for May to resign over security issues
5 June
General election campaigning has resumed after the deadly terror attack at London Bridge on Saturday night, with Theresa May's response to the incident coming under the spotlight.
Delivering a speech outside No 10 yesterday morning, May pledged a crackdown on extremism in the UK and a revision in the way the country tackles the issue, saying: "Enough is enough".
She also took aim at the internet, saying: "We cannot allow this ideology the safe space it needs to breed – yet that is precisely what the internet and the big companies that provide internet-based services provide.
"We need to work with allied democratic governments to reach international agreements to regulate cyberspace to prevent the spread of extremist and terrorism planning."
According to the Daily Express, it was an "empowering" speech, but others accuse the Prime Minister of using a tragedy to push a Tory policy agenda.
The Daily Mirror claims May "spoke for her party, not for the dead", while Charles Arthur in The Guardian says the speech "goes to show that when you need a scapegoat, the internet will always be there".
The possibility of internet regulation "is just not a good enough response", he continues.
Liberal Democrat leader Tim Farron was of the same opinion, writing in the newspaper that May "can't be trusted to get it right on counter-terrorism policy".
He adds: "If we turn the internet into a tool for censorship and surveillance, the terrorists will have won."
May's speech has also led to calls for her to resign as prime minister amid claims that cuts she made to the UK police service while home secretary have contributed in some part to the terror attacks.
David Cameron's former strategy chief Steve Hilton accused May of "blame-shifting" and said she was "responsible for security failures at London Bridge, Manchester and Westminster Bridge".
Labour leader Jeremy Corbyn also said he would like to see May resign.
"There's been calls made by a lot of very responsible people on this who are very worried that she was at the Home Office for all this time, presided over these cuts in police numbers and is now saying that we have a problem," he told ITV. "Yes, we do have a problem - we should never have cut the police numbers."
May defended her record this morning, saying Metropolitan Police Commissioner Cressida Dick "has said that the Metropolitan Police are well resourced - and they are, she has said they have very powerful counter-terrorism capabilities - and they do".
She also confirmed the election would go ahead as planned on 8 June. "Violence can never be allowed to disrupt the democratic process," she said.
However, according to the latest YouGov poll, things are not looking good for May's Conservatives.
It suggests the party could win 305 seats, less than the amount won by David Cameron in 2015 and 21 seats short of a majority.
General election 2017: Migration pledge confusion and the latest campaign news
02 June
Today Craig Mackinlay, Tory MP for South Thanet, has been charged as part of the investigation into alleged electoral fraud. The Crown Prosecution Service is accusing Mackinlay of falsely declaring expenses in the 2015 election campaign, The Independent reports.
It's part of a series of allegations relating to the Conservatives allegedly filing incorrect expenses for its battle bus tour. Some 30 MPs are being investigated, but Mackinlay's case is the only one outstanding after the CPS decided it couldn't prove the expenses were filed that way deliberately.
"We believe that they [Mackinlay and campaigners] have done nothing wrong," a Conservative spokesman said in The Independent. Jeremy Corbyn said the party was "unwise" for commenting on the live case, Sky News reports.
"Nobody should be commenting on the details of an ongoing case. The police must be allowed to act independently to investigate on the basis of any evidence that they have got," he said.
With less than a week before the election, the Tories have also run into confusion over their [b]immigration policy[b] after David Davis contradicted Theresa May's latest promises.
On Thursday May confirmed that her party intended to cut net migration to below 100,000 by 2022. But hours later Brexit secretary David Davis said the party "can't promise" to achieve that within five years and the pledge was not in the manifesto.
"That wasn't actually in the manifesto, it was 'we will bring it down'," Davis told BBC Question Time last night. "We didn't say, we didn't put a date."
On Friday Ed Miliband opened fire on May for not being willing to condemn President Trump for pulling out of the Paris climate change treaty, calling her "weak and feeble and spineless" on the World at One.
Nigel Farage also took a potshot at May's handling of her campaign, telling Sky News that the Tory leader has become a "liability".
"I think as the campaign has gone on, she has gone from being their biggest asset to being their biggest liability. It's quite tough to believe anything she says," he said in Clacton, where he's campaigning for Ukip, although he's not standing himself.
Elsewhere in Toryland, Buzzfeed has published data looking at the Conservatives' Facebook advertising strategy, the "vast majority" of which, it says, "features starkly negative messages and focuses on Corbyn's leadership style, his supposed inability to lead Brexit negotiations, and claims that he is a security risk who would put up taxes".
The ads have been rolled out within battleground constituencies like Wirral West, Bath and Twickenham.
Although all parties are spending money on Facebook ads, "the Conservatives are pioneers in the field and their messaging is more negative and personal than the adverts put out by rival parties," Buzzfeed says.
For Labour's part, the Daily Telegraph reports on an Oxford University analysis that found that of 1.3 million tweets, 21,661 supporting Labour were published by automated accounts known as "bots". Some bots back other parties but to a far smaller degree, the newspaper says.
General election 2017: Corbyn says no deal Brexit would be a 'disaster'
1 June
Today Jeremy Corbyn took on the thorny issue of Brexit, still perceived by many as a matter best handled by a Conservative government.
After striking a chord with the electorate on domestic and social issues, Corbyn headed into the Leave heartlands of Essex to beef up Labour's Brexit credentials.
Corbyn said that failure to reach a Brexit deal by March 2019 would be a "disaster" – a swipe at May's claim that "no deal is better than a bad deal", the so-called "cliff-edge" Brexit.
Outlining an unusually detailed vision of what Labour would seek from Brussels, Corbyn returned to more familiar waters with a promise that a Labour deal would "transform Britain into a country with the strongest rights and protections" for workers.
The Labour leader threw in a sweetener for voters in the commuter belt, promising to knock more than £1,000 off the cost of an annual season ticket over the next parliament.
Corbyn wasn't the only leader venturing into unfriendly terrain. The Prime Minister was in the Labour stronghold of Middlesborough, where she renewed her assault on Corbyn's negotiating chops and called for "national unity".
"He doesn't believe in Britain. He doesn't have a plan. He doesn't have what it takes," May said of her rival.
Meanwhile, the Lib Dem battlebus arrived at Kingston Hospital in south-west London, where leader Tim Farron and former leader Nick Clegg warned of a potentially disastrous Brexit exodus of NHS workers if the government failed to guarantee the residency rights of EU citizens in the UK.
The third party has good reason to be cheerful today. Not only did Tim Farron fire off the zinger of the night at yesterday's BBC leaders' debate…
… but today The Economist threw their support behind the Liberal Democrats.
"Tory and Labour leaders are united in their desire to pull up Britain's drawbridge to the world," the magazine said in an editorial which claims the Lib Dems most closely represent the ideals of an "open, liberal country".
Jubilation at Lib Dem HQ might be slightly dampened by The Economist's caveat, however: "We know that this year the Lib Dems are going nowhere."
General election 2017: Corbyn's surprise answer to TV debate invitation
31 May
Jeremy Corbyn has given a last-minute confirmation that he will take part in tonight's televised BBC election debate, leaving Prime Minister Theresa May the only leader to boycott it.
He will be joined by Lib Dem leader Tim Farron, Ukip's Paul Nuttall, SNP deputy leader Angus Robertson, Green co-leader Caroline Lucas and Plaid Cymru leader Leanne Wood.
Theresa May is sending Home Secretary Amber Rudd to represent the Tories.
Corbyn announced his TV appearance at a rally in Reading, having previously said he would not attend and would send shadow foreign secretary Emily Thornberry in his place.
The Labour leader told the rally: "I believe we must give people the chance to hear and engage with the leaders of the main parties before they vote."
He urged May to reverse her decision too, but a Conservative spokesman said that the Tory leader would not change her plans.
Corbyn's change of heart was commended by other party leaders while May's absence was mocked.
The Guardian suspects that Corbyn changed his mind after performing well in Monday night's Sky News and Channel 4 event.
Meanwhile he may well feel buoyed up by a new poll showing Labour could gain 30 seats in the election, with the Tories missing out on the majority they anticipated.
The YouGov seat projection for The Times predicted a hung parliament, although the projections have been received with caution on both political sides.
Elsewhere, a protest song that will be far from music to the ears of Theresa May has topped the iTunes download chart.
Named 'Liar Liar GE2017', the song by Captain Ska criticises the Prime Minister over the NHS, education and poverty.
In an unambiguous message, the lyrics read: "She's a liar, liar, you can't trust her, no, no no."
Following the tune's quick rise to fame it's set to enter the Official Singles Chart Top Ten this week, but impartiality rules mean it can't be placed on the radio.
The band, Captain Ska, is donating proceeds from the song to food banks around the country and the campaign group The People's Assembly Against Austerity, The Independent reports.
General election 2017: SNP calls for post-Brexit referendum
30 May
The SNP launched its manifesto today – and the biggest surprise is that the emphasis is not on Scottish independence.
Earlier this year, Scottish First Minister Nicola Sturgeon called for a second referendum on splitting from the UK, saying it should happen before Brexit negotiations ended.
While she still wants the vote to take place, today's manifesto calls for it to happen after "the Brexit process".
It's "extraordinary" and "remarkable", says the BBC's Norman Smith, and it shows the party has "made the calculation" that it will fare better in the general election if it concentrates on domestic matters.
The nationalist party's manifesto focuses "remorselessly" on opposing Tory austerity, with promises to scrap the two-child cap on tax benefits and invest £118bn in public services.
Another large sum eluded Labour leader Jeremy Corbyn this morning as he spoke to BBC Radio 4's Woman's Hour. Asked how much his party's plan for free childcare for 1.3 million children would cost, Corbyn was forced to admit he didn't know.
As the party was campaigning today on just that policy, it was "astonishing" that Corbyn didn't have the figures to hand, says the BBC's Laura Kuenssberg.
The Labour leader then headed to a webchat on Mumsnet where he finally had the figures he needed – he said the childcare policy would cost £5.3billion a year.
But he did face accusations of picking the easy questions.
Theresa May, meanwhile, relaunched her campaign with an announcement about tougher sentences for perpetrators of domestic violence against children.
Last night, Corbyn and May didn't cross swords with each other on live TV.
The Prime Minister refused to debate the election with the Labour leader, so the two were grilled separately by a studio audience and Jeremy Paxman instead.
Corbyn produced "weak banter" while May seemed solidly prime ministerial, says the Daily Mail.
Not so, says the New Statesman – Corbyn's was a "bravura" performance. He was "fluent and assured" while the Prime Minister was "nervous and warbly".
On Twitter, the Jeremy who received the most critical reaction might have been Paxman. The Economist's Adrian Wooldridge said it was time the veteran broadcaster was "put out to pasture".
General election 2017: Labour fight back shrinks Tory lead
26 May
Campaigning is back in full flow today after it was suspended in the wake of the Manchester attack on Monday - and the Tories have been stung in the latest polls.
"The first poll since the Manchester bombing is out and it makes for grim reading in CCHQ," says Stephen Bush in the New Statesman.
In YouGov's latest survey of voting intentions,the Conservatives are now on 43 per cent of the vote compared to 38 per cent for Labour, the narrowest the gap has been since before the EU referendum.
A combination of Labour's popular pledge to scrap tuition fees and the Tory U-turn on the so-called "dementia tax" has upset what until now had seemed like something of a one-horse race, says The Guardian.
While the results of a single poll should not be overinterpreted, the paper adds, it "punctures the widespread political assumption that the attack would improve the Tories' standing".
The shadow of the Manchester attack hung heavily over election rhetoric today, with Jeremy Corbyn saying that although responsibility lay solely with Salman Albedi, the sight of armed soldiers patrolling Britain's streets was a "stark reminder" that the current approach was failing to tackle terror.
"We must be brave enough to admit the war on terror is simply not working," he told an audience in London.
"We need a smarter way to reduce the threat from countries that nurture terrorists and generate terrorism."
He added that a Labour government would develop a foreign policy that "reduces rather than increases the threat to this country".
Defence Secretary Michael Fallon said Corbyn's thinking was "muddled and dangerous", while Lib Dem leader Tim Farron, who visited Manchester today, accused the Labour leader of using the tragedy to make a "political point".
Commentators have also been digging into Ukip's manifesto, which was released yesterday.
Along with unsurprising pledges - such as a ban on full-face veils and the reintroduction of blue passports - it also contains plans to abolish the House of Lords, introduce proportional representation and end sex education in primary schools.
In addition, Ukip says that after Brexit, UK fishing vessels should have the right to fish up to 200 miles from the British coast - which, according to The Guardian's calculations, would mean "we could potentially take up a monopoly on fish in Amsterdam's canals".
And in case anyone was still wondering where the party stood on the EU, the manifesto includes a promise to ban the flying of the EU flag from any public building, the Daily Telegraph reports.
General election 2017: Campaigning to resume after Manchester attack
25 May
Local campaigning for the general election resumes today after a break following the Manchester terror attack, with the Tories and Labour resuming national events in earnest tomorrow.
Ukip confirmed it will launch its manifesto today, with leader Paul Nuttall saying the democratic process must continue.
"We cannot be cowed or allow our way of life to be undermined by those who wish to do us harm," he said.
Labour leader Jeremy Corbyn also said terrorism must not "derail our democratic process".
He added: "The British people are united in their resolve that terrorism will not prevail."
Theresa May is at a Nato summit today and a G7 meeting on Friday and will be unable to campaign personally until Saturday at the earliest.
Labour unease
Before the Manchester terror attack, Labour activists felt "they had begun to change the narrative of the election campaign", says the Huffington Post's Paul Waugh.
"The Tories' opinion poll lead had halved in recent weeks and May had on Monday suffered the embarrassment of a major U-turn on her social care policy for the elderly."
Business Insider's Adam Bienkov suggests that "if the Conservatives' campaign is centred around the strength and stability of Theresa May's leadership, and it is, then the past 24 hours have been the most effective 24 hours of her entire campaign".
Images of the Prime Minister speaking on the steps of Downing Street and meeting the emergency services have been beamed around the world, he added.
"At a time when the entire nation is in grief, the PM has offered herself as a reassuring presence for millions," he adds.
Difficulty for Tories
However, the attacks could pose difficulties for the Conservatives when they restart their campaign.
The party has constructed its campaign on raising fears about Corbyn and his past links to the IRA - a topic that may be out of bounds following the attacks.
One lobby journalist, quoted by Business Insider, said yesterday: "If they carry on, it will just look like they're exploiting the deaths of teenage girls."
General election campaigning suspended
23 May
Campaigning for the general election has been suspended in the wake of the Manchester terror attack at an Ariana Grande concert, which killed at least 22 people and injured 59 others.
Theresa May and Jeremy Corbyn, along with the leaders of the other political parties, agreed all national campaigning would be on hold until further notice.
The Prime Minister had been scheduled to speak at a campaign event in south-west England today, but will instead chair a meeting of the emergency committee Cobra this morning at Downing Street.
She also said the bombing of Manchester Arena was being treated by police as an "appalling terrorist attack".
She added: "All our thoughts are with the victims and the families of those who have been affected."
Flags at Downing Street are flying at half mast as a mark of respect.
Corbyn, who was due to speak in the West Midlands, tweeted: "My thoughts are with all those affected and our brilliant emergency services."
In a later statement, the Labour leader said: "I would like to pay tribute to the emergency services for their bravery and professionalism in dealing with last night's appalling events.
"I have spoken with the Prime Minister and we have agreed that that all national campaigning in the general election will be suspended until further notice."
The Liberal Democrats, Ukip, Greens and Plaid Cymru have also confirmed they will suspend campaigning.
North of the border, Nicola Sturgeon has postponed the launch of the Scottish National Party's election manifesto.
General election 2017: Surprise Tory U-turn on social care
22 May
In what The Guardian calls "possibly her worst [morning] as Prime Minister", Theresa May has been forced to climb down from a key proposal in the Conservative manifesto just four days after it was published.
The policy, which would have forced many dementia sufferers to pay for at-home care, quickly became a PR nightmare, with newspapers branding it a "dementia tax".
At a tense press conference on the campaign trail in Wrexham this morning, May announced that the amount that dementia sufferers were expected to contribute to their care would be capped and the threshold for what they can keep will be raised.
The Conservatives insist that the announcement is not a U-turn because the wording of the manifesto didn't rule out a cap, although it didn't mention one either. Many political commentators were not convinced.
Given that Labour's manifesto has already spoken of capping personal care contributions and raising the threshold for how much patients can keep, the PM's announcement "means that the Tories have now on these issues effectively adopted Labour policy," says The Guardian.
In Hull, to announce Labour's plan to invest £1bn in the culture sector, Jeremy Corbyn said the change to the policy was "extremely welcome". The Labour leader could not resist a pot-shot at former chancellor George Osborne, who joined the media backlash against the policy in his new role as editor of the Evening Standard.
"If George Osborne is at last doing something useful in his life of supporting proper funding for social care, then thank you, George, for that," he said.
The effects of the backlash can be seen in some of the most recent polls, which show the gap between the Tories and Labour has narrowed from a peak of more than 20 points to just nine.
Any Labour glee should be taken with a spoonful of realism, however – it may have been a bad weekend for the government, but a nine-point defeat would still be Labour's worst electoral performance since 1987.
The fundamental issue remains that Jeremy Corbyn "is a man not even trusted by many of his own MPs", says the Daily Telegraph in today's editorial: "The fact is that this election is about leadership."
With the furore over the Conservatives' plans for social care still fresh, there couldn't have been a better day for the Green Party to launch their manifesto, which focuses on a "caring" Britain.
Among the policies unveiled by co-leader Caroline Lucas today are nuclear disarmament, a shorter working week and a universal basic income. The party is also promising a second referendum on Brexit.
"I feel so let down that Labour has not been a rigorous opposition when it comes to Brexit," Lucas said at the launch event today. "We want as close a relationship to the EU as possible."
Tonight is the deadline to register to vote. Find out how to sign up here.
General election 2017: Poster problems and May's Scotland speech
19 May
Last night was the ITV Leaders Debate, or 'leader-lite' as The Guardian called it, after Theresa May and Jeremy Corbyn refused to take part.
The televised debate failed to spark much interest, with critics calling it "dull". While the other leaders criticised Conservatives and Labour for not showing up, it remains to be seen whether May and Corbyn's absence will impact negatively on their parties.
Theresa May, meanwhile, is in Scotland today to launch the.
May and Scottish party leader Ruth Davidson told the audience in Edinburgh they would stand up to the Scottish National Party and its "tunnel-vision obsession with independence". The Scottish manifesto includes a review of the national curriculum, support for the shale gas industry and pressure on the Scottish government to raise the higher rate of income tax to £50,000, reports the BBC.
Shadow chancellor John McDonnell went on the Today programme to deride the Tory manifesto. He claimed taxes would go up under a Conservative government and called May's social care plans "a complete lottery". Later at a Labour press conference, McDonnell unveiled the party's new 'triple whammy' campaign poster attacking Tory policies – but it didn't quite wow everyone.
Meanwhile an investigation has been launched into a 'fake' NHS poster distributed by Labour activists that warns the NHS will not be free next year.
The London Evening Standard reports that the poster was shared by grassroots campaign group Labour Future.
In London, mayor Sadiq Khan has weighed in on the Tory manifesto, calling it a "kick in the teeth" for the capital.
He says a hard Brexit with no access to the EU single market will harm London, while plans to reduce immigration will "cause huge damage to our city's economy".
General election 2017: Tory manifesto and a spat with Sky
19 May
Theresa May took to the stand today to unveil what the Conservative Party is promising in its general election manifesto.
"We must take this opportunity to build a great meritocracy in Britain. It means making Britain a country that works, not for the privileged few, but for everyone," the Prime Minister told an audience in Halifax.
Tory pledges on social care made the front pages of some papers today, but the consensus was split on whether the plans were positive or not.
May confirmed they would stick by their pledge to reduce net migration to the UK to fewer than 100,000 people a year and announced that businesses that hire immigrants would face extra taxes.
Other headline policies include scrapping the triple lock on pensions, universal free school dinners and winter fuel payments for all but the poorest pensioners.
However, it's how the the party campaigns that has been of concern to Sky News.
A spokesman for the broadcaster told Buzzfeed that ministers were avoiding having their policies scrutinised on air.
According to Buzzfeed, there has been a "number of confrontations" between Sky and May's team, including journalist Adam Boulton reportedly angering May's co-chief of staff Fiona Hill last month by speculating on air that the Prime Minister's surprise announcement - which turned out to be the snap election - could be that she was suffering from ill health.
Hill immediately sent a text message saying: "You might want to tell Bunter [Boulton] that he should watch what he is saying about my boss's health, utterly unfounded and untrue" - which he then read out live on TV, further angering the political aide.
North of the border, it turns out the Scottish National Party are not pro-independence enough for one group. Scotland's Independence Referendum Party (SIRP) has written to First Minister Nicola Sturgeon telling her to withdraw the SNP candidate in Edinburgh West constituency.
According to SIRP leader Mark Whittet, Toni Giugliano has no chance of winning the constituency so should step aside and let another pro-independence MP in, reports Buzzfeed.
And political parties targeting voters through personal data analysis might be breaking the law, writes The Guardian.
The Information Commissioner's Office has launched an investigation into how parties use social media to win votes. "If political campaigns or third-party companies are able to gather up very precise digital trails to then individually target people, that is an area [where] they are going to be outside the law," said information commissioner Elizabeth Denham.
General election 2017: Lib Dem manifesto and another Boris gaffe
17 May
It was the Liberal Democrats' turn in the spotlight today as the party launched its manifesto.
At the centre was the official confirmation of their long-awaited promise to hold a second EU referendum on any future Brexit deal.
The party believes "there is no deal that could be as good as continuing EU membership," and would campaign accordingly, says the BBC.
Leader Tim Farron unveiled the pledge at today's launch event, saying: "You should have your say on the Brexit deal in a referendum. And if you don't like the deal you should be able to reject it and choose to remain in Europe".
Other policies include subsidised bus fares for young people, restoring housing benefits for under-21s and legalising marijuana, which the Lib Dems say could raise £1bn of tax revenue for the government.
Meanwhile, Unite chief Len McCluskey was scrambling to line up behind Labour after suggesting yesterday that the party could not win next month and would be lucky to hold on to 200 seats.
Saying his comments had been "slightly taken out of context", he said he was "full of optimism" about Labour's chances and there was "everything to play for".
On the surface, Theresa May and Philip Hammond's joint press conference today was relatively uneventful, with both the Prime Minister and the Chancellor sticking to the party line.
However, the New Statesman's George Eaton and the Daily Telegraph's Asa Bennett thought there was more interest in what they did not say:
Reporters will have to do less reading between the lines from tomorrow, when the Conservatives launch their manifesto.
Elsewhere, Boris Johnson, ran into a spot of trouble on the campaign trail, reports BBC Bristol's Pete Simson.
The Foreign Secretary, not known for his cultural sensitivity, apparently made a "sensational gaffe" during a visit to a Sikh gurdwara in the city.
General election 2017: Labour's manifesto and mapping campaigns
16 May
Labour leader Jeremy Corbyn has officially unveiled the Labour manifesto that the party hopes will prevent a Tory landslide.
At the centre of it all is an eye-catching figure – £48.6bn. That's how much Jeremy Corbyn claims he could raise through a series of tax reforms, which would include setting the lower threshold for the 45p top rate tax at £80,000 and introducing a levy on 'excessive' pay packages.
Other headline-grabbing proposals include re-nationalising rail and water companies and scrapping tuition fees. "Our manifesto offers hope," Corbyn said in his launch speech in Bradford. "Our manifesto is for the many, not the few."
Among the fans of the manifesto is Green party co-leader Caroline Lucas, who responded with a pointed tweet congratulating Corbyn on including "so many Green Party policies from 2015".
Treasury minister David Gauke, however, has dismissed Labour's programme for the UK as "nonsensical", claiming the sums "don't add up".
Some analysts say that Labour's plans would make the government highly reliant on tax revenues.
Labour is not the only party to launch its manifesto today. Plaid Cymru, which is hoping to capitalise on gains in the local elections, unveiled its own programme to combat what its leader Leanne Wood described as a "cruel and reckless" Tory government.
The ambitious, outward-looking manifesto includes pledges to abolish business rates, open a publicly-owned bank and protect the rights of EU nationals living in Wales.
Unsurprisingly, the Conservatives are not trying to compete with Labour's manifesto launch. Instead they are keeping a relatively low profile on the campaign trail with a visit to Birmingham Ladywood, traditionally a safe Labour seat.
Compare the campaign routes undertaken by Corbyn and May and a glaring fact emerges, says BBC Newsnight policy editor Chris Cook: "Labour and the Conservative Party appear to be running two entirely unconnected election campaigns".
While May "is spending the bulk of her time in front line seats," Corbyn has visited only three battleground seats, spending far more time in safe Labour constituencies – perhaps an attempt to bolster internal party support for the inevitable post-election leadership battle, says Cook.
General election 2017: Voter tells May she is 'best of a bad bunch'
15 May
With just over three weeks to go before election day, the "bidding war for working-class voters," as The Guardian calls it, is continuing to heat up.
Labour is positioning itself as the saviour of an imperilled NHS. Speaking at the Royal College of Nursing's conference in Liverpool, Jeremy Corbyn promised a "new deal" for the health service based around an additional £37bn of funding. The party says the investment will enable it to cut NHS waiting lists by one million over the next parliament and keep all A&E waiting times below four hours.
A "new deal" was also Theresa May's watchword, as the Conservatives turned their focus to employment and workers' rights.
One especially eye-catching proposal would compel employers to reveal how much they pay employees of different races, a scheme similar to legislation introduced earlier this year aimed at exposing the gender pay gap.
May says that racial pay disparity is "an injustice which cannot be allowed in 21st-century Britain".
The government will also commit to increasing the national living wage in line with average earnings. The pledge is not as dramatic as Labour's promise to raise the minimum wage to £10 an hour, but the Tories are hoping it's more believable.
Under the raft of new proposals, workers would be able to leave their jobs for up to a year to care for a family member will an illness, although they would not be entitled to any pay during the sabbatical.
But not all voters are convinced of Theresa May's social care credentials. On a rare public walk-about in Abingdon, the Prime Minister was confronted by a woman who criticised changes to disability benefits, which she claimed had left her with only £100 a month to live on.
The PM also faced a grilling on the government's scheme to encourage home ownership, which one disgruntled voter said had been exploited by the wealthy.
Another local told May she was "the best of a bad bunch", the Evening Standard reports, to which the PM answered: "I'll take that as flattering."
The Liberal Democrats got back to their roots in classical liberalism, decrying the "Orwellian nightmare" of mass state surveillance.
Home affairs spokesman Alistair Carmichael, who is standing for re-election in Orkney, says the so-called Snoopers' Charter, the Investigatory Powers Act, "has laid the ground for a full frontal assault on our privacy and civil liberties".
The party has promised to roll back the legislation, which gives British authorities the broadest surveillance powers over its citizens in the western world.
General Election 2017: Corbyn unveils plan to 'reshape' foreign policy
12 May
If Theresa May's catchphrase is "strong and stable leadership." Jeremy Corbyn's today was "ethical foreign policy".
In a speech at Chatham House today, the Labour leader outlined his position on foreign affairs, military intervention and Britain's place in the world.
Corbyn spoke of the failure of western-led "regime change" wars and accused Theresa May and Donald Trump of creating a "coalition of risk" by taking a "bomb first, talk later" approach.
But the Labour leader, who announced plans to create a 'minister of peace' if he is elected, insisted he was not a pacifist.
"Party strategists are keen to avoid the perception that Corbyn would refuse to use armed force in any circumstances," says The Guardian, with the Conservatives ready to seize on any sign that Corbyn is "soft" on defence.
Theresa May and her battle bus were in Berwick-upon-Tweed and Felton as the party seeks to break open the traditional Labour stranglehold on north-east England.
May's stump speeches were the latest in a string of carefully managed appearances in front of Tory activists, and the PM took no questions from the press.
Boris Johnson, on the campaign trail in south Wales, another Tory target, was more forthcoming, telling reporters that some of Corbyn's viewpoints left him "genuinely worried".
The Foreign Secretary said that during a time of "great uncertainty in the world" it was vital for the UK to have "very robust response to the threat of terrorism".
The Liberal Democrats, meanwhile, unveiled a policy which would guarantee working fathers a month of paid paternity leave.
Former Lib Dem MP Julian Huppert, who is standing again next month, also indicated that the party would legalise and regulate cannabis. Huppert told BBC News that police were currently wasting their time "nicking somebody for having a spliff".
"I don't want criminal gangs deciding who gets this and what they're going to get," he said.
North of the border, the election campaign is looking very different, says BBC Scotland editor Sarah Smith.
"If it's a Brexit election down south, it's an independence election up here," she writes. The question of a second Scottish independence referendum is "dominating" the discourse between the ruling SNP and the Scottish Tories, currently enjoying a modest resurgence.
General election 2017: Labour and Greens hit by leaks
11 May
Today's election coverage is dominated by Labour's draft manifesto, which was leaked to the public before many of the party's candidates had even read it.
It hit the press hours before the final draft was to be approved, causing outrage and confusion within the Labour ranks and leaving flustered politicians to brush off reporters' questions about how the information got out.
Shadow chancellor John McDonnell did speak up, however, to defend Labour's proposals from claims they would take the UK "back to the Seventies".
"It is a transformational programme that will modernise our economy and it will ensure that everyone shares in the prosperity of the country," he said.
Political reporters and analysts pored over the document, examining key pledges such as plans to phase out university tuition fees, build 100,000 new council houses per year and establish a state-owned energy firm to compete with private providers.
The fall-out from the leak overshadowed the day's campaigning. Theresa May was to make a stop in Southampton this afternoon, but - keeping with previous form - local radio reported she "won't be talking to the regional media".
Meanwhile, the Liberal Democrats focussed on mental health, with a pledge to invest £1bn in improving care.
Health spokesman Norman Lamb also vowed to end the "intolerable practice" of sending vulnerable mental health patients hundreds of miles away from home for treatment.
In addition, Tim Farron's party outlined its response to the refugee crisis, saying that under a Lib Dem government, the UK would take in 50,000 Syrian asylum seekers over the next parliament.
Elsewhere, the Greens continued to face pressure over a £250,000 donation reportedly offered to the party when it agreed not to stand in the Richmond Park by-election last year, when Lib Dem Sarah Olney won a surprise victory.
Although the offer was rebuffed, text messages from party organisers have called into question party co-leader Caroline Lucas's claims it was made after the decision not to contest the election had been made, The Guardian reports.
General election 2017: Education and expenses
10 May
It was education, education, education today as both Labour and the Liberal Democrats promised windfalls for schools should they come into power on 9 June.
Labour leader Jeremy Corbyn announced a cash injection worth £20bn, funded by raising corporation tax by a third, while the Lib Dems promised to ring fence £7bn to ensure "no child loses out" from the "biggest cuts in a generation".
The Independent says Corbyn's policy "throws down the gauntlet to Theresa May", adding the Prime Minister also faces a "Tory rebellion" over school funding.But it wasn't all good news for Labour as shadow education secretary Angela Rayner became the latest of its candidates to slip up during an LBC interview.
Sticking with the theme of education, shadow chancellor John McDonnell was filmed on the stump in Mansfield promising to scrap tuition fees if Labour are elected.
Such an announcement is a surprise - until now, "the party has remained tight-lipped over whether or not [tuition fees] would form part of Labour's election platform", says PoliticsHome.
Elsewhere, Theresa May and the Conservatives were breathing a huge sigh of relief as the Crown Prosecution Service announced it would not be charging the vast majority of MPs for their mishandling of election expenses during the 2015 campaign.
But the Prime Minister faced criticism for misrepresenting the CPS's decision during a Q&A in Nottingham, saying: "What the CPS has decided - they are an independent body, they have decided that no charges will be brought against any candidates in this matter. Candidates did nothing wrong."
Reporters twice challenged her on the claim, saying that the CPS saying it did not have sufficient evidence to prosecute, was not the same as clearing people of blame - a notion the PM dismissed.
North of the border, Scottish Tory leader Ruth Davidson was once more under intense pressure over the so-called tax credits "rape clause", a provision introduced by the UK government saying that women who have a third child as a result of being raped will only receive the benefit if they can prove the assault.
Davidson said she was"open to reviewing" how the clause worked, but has been accused of electioneering and not defining her view clearly enough.
Elsewhere, the Twittersphere was still reeling from the appearance of the Prime Minister and her husband on BBC's The One Show last night.
The Lib Dem Press Office condemned May's definition of gender roles within her household...
… while The Guardian's Owen Jones considered one story the Prime Minister told to be too bizarre even for satire.
General election 2017: Tories propose energy price cap as Corbyn suggests Brexit reversal
09 May
Theresa May's Ed Miliband impression is coming along nicely, with the Tory leader announcing a cap on energy prices that looks remarkably similar to a 2015 Labour manifesto pledge.
Pre-empting the release of the full election manifesto, the Prime Minister wrote in The Sun: "I am making this promise: if I am re-elected on June 8, I will take action to end this injustice by introducing a cap on unfair energy price rises."
Quizzed on whether she was "living in a Marxist" universe - as David Cameron said about Miliband when he suggested the policy - May said: "No. First of all, we are Conservatives. We believe in free markets and competition, but we want to see competition working."
The PM also faced further scrutiny on Twitter for her vetting of questions from factory workers during a Q&A in West Yorkshire.
Elsewhere, at what The Guardian's Andrew Sparrow described as possibly "Jeremy Corbyn's best speech as Labour leader", May's rival was in Manchester, in "full-on socialist populism, depicting Britain as a country, where politics and the economy are rigged in the interests of the few".
"It will be seen as one intended to shore up the 'core vote', probably with a view not just to what happens on 8 June, but to what happens afterwards," said Sparrow, referring to Corbyn's previous assertion to Buzzfeed News that he would stay Labour leader regardless of the election result.
However, the politician's big speech appeared to have been slightly overshadowed by the release of an interview transcript showing him repeatedly avoiding giving a straight answer when asked if the UK was certain to leave the EU if he were to become Prime Minister.
Lib Dem leader Tim Farron provided the day's levity with a trip aboard a hovercraft while out campaigning in Burnham-on-sea.
Having survived the experience, he told reporters a "Tory landslide was likely" and urged voters to elect Lib Dem MPs to provide an "effective opposition."
General election 2017: Parties tease manifesto pledges
08 May
With days to go until the main parties reveal their manifestos for next month's general election, Labour offered a glimpse at its plan to "make Britain's children the healthiest in the world".
It plans to reduce young people's exposure to junk food by banning TV ads promoting products high in sugar, salt or fat before the 9pm watershed, putting sweets and crisps on the same level as swearing and nudity.
Labour senses an opportunity to take the initiative on combating childhood obesity after the Tories' own plan was criticised as "weak" and "watered down" by the health select committee and anti-obesity campaigners.
Meanwhile, Theresa May is on the campaign trail in London and south-east England – although commentators noticed something interesting about the banners on either side of the stage as she addressed candidates and activists.
In what could be a hint at a "more presidential tone", says the BBC, "the word 'Conservatives' is minute in comparison to the main message: 'Theresa May's team'".
Polls show May is considered strong and trustworthy and the party will be hoping her personal brand will help them to break through in areas traditionally mistrustful of the Conservatives.
The party hopes to bolster support in one of their traditionally "strong" areas, immigration . Despite mixed messages from ministers in recent days, it is being reported that the Conservative manifesto will stick with the party's pledge to cut net migration to the UK to the "tens of thousands".
It is a popular policy with some of the electorate, but business leaders have criticised the idea as impractical, unworkable and a risk to economic stability. Seven years after David Cameron first promised to get net migration below 100,000, estimates put the figure at 273,000.
Ukip leader Paul Nuttall said his party offered the only "honest, clear commitment" to cutting immigration.
In the aftermath of a resounding rejection in last week's local elections, in which the party lost all but one of its councillors, Ukip has doubled down on its hardline stance towards immigration and said it would implement a strict "one in, one out" policy to bring net migration to zero.
It has been a rough morning for Liberal Democrat leader Tim Farron, who was first forced to admit that he had a poster of Margaret Thatcher on his bedroom wall as a teenager, before tripping up on camera as he welcomed Sky News to his mobile HQ.
He will be looking for a gaffe-free afternoon as the Lib Dem battle-bus heads to Scotland, where the party's pro-EU stance should meet with a friendlier reception than south of the border.
The party has also unveiled its official campaign team, which includes an all-star line-up including Vince Cable, Jo Swinson and Ed Davey - although some analysts wonder if any of the so-called "big beasts" will actually make it to Westminster.
Continue reading for free
We hope you're enjoying The Week's refreshingly open-minded journalism.
Subscribed to The Week? Register your account with the same email as your subscription.