The secret history of the gay soldiers who served in the First World War
Discrimination and persecution has led to gay soldiers of the Great War being seen as tragic figures, but this was not always the case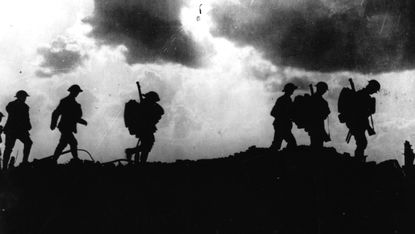 (Image credit: Getty Images)
When you make a purchase through links on our site, we may earn a commission
The Royal British Legion is launching a campaign today to mark 100 days before the 100th anniversary of the armistice that ended the First World War.
It will be revealing a 3D "Thank You" installation on London's Southbank before embarking on a national city tour to "thank the First World War generation who served and sacrificed to benefit generations to come".
Subscribe to The Week
Escape your echo chamber. Get the facts behind the news, plus analysis from multiple perspectives.
SUBSCRIBE & SAVE
Sign up for The Week's Free Newsletters
From our morning news briefing to a weekly Good News Newsletter, get the best of The Week delivered directly to your inbox.
From our morning news briefing to a weekly Good News Newsletter, get the best of The Week delivered directly to your inbox.
The centenary has also offered an opportunity for the less well-known figures of the war to be discussed, including women, black and minority ethnic people and homosexuals, many of whom faced discrimination despite serving their country.
Sexual acts between men often resulted in corporal punishment or imprisonment, and thus accounts of gay servicemen from this time are rare.
Nevertheless, the impact that they had on changing social attitudes was immense. Today, the British armed forces welcome people of all sexual orientations, recruiting in gay magazines and organising LGBTQ pride celebrations.
How many gay soldiers served in the First World War?
A 2001 paper by army historian A.D. Harvey claims that homosexuality was "not exactly unknown" in the British Army during the First World War.
Homosexuality was not only illegal in the UK at the time, but there were also "strong social currents, particularly among the upper classes, opposing same sex relationships", East Sussex WWI says.
As a result, Harvey writes that "at least 230 soldiers were court-martialled, convicted and sentenced to terms of imprisonment for homosexual offences".
How were homosexual soliders treated?
Experiences were mixed. Many gay men were ostracised and were reported to their superiors for "indecency".
Stephen Bourne, author of Fighting Proud: The Untold Story of the Gay Men Who Served in Two World Wars, points to Edward Brittain, a soldier from Macclesfield who earned the Military Cross for his "gallantry" in the Battle of the Somme.
He was killed by Austrian gunfire in 1918, but after the war his sister Vera revealed that the previous day he had been accused of homosexual activity after a letter of his was opened by a censor. Experts now believe Brittain walked into enemy fire to commit suicide.
Although many gay servicemen could be considered "tragic" figures, Bourne says this need not be the case.
"When I started to look closely at the experiences of gay men in the war, I found that, despite homophobia, there were many who were integrated," Bourne told The Week.
"They were lads and comrades and pals. The experiences of gay men were as diverse and different as their heterosexual comrades. Some were accepted, some were not.
"As a gay man, that was a really empowering and emotional discovery."
Did they ever reveal their sexuality?
Although many gay men quietly outed themselves and were accepted by their comrades, efforts would have been taken to hide this fact from superiors.
This struggle is evident in cryptically phrased letters from the frontline.
For example, celebrated poet Wilfred Owen, who never came out but is believed by some to have been gay, wrote to his cousin in 1918: "There are two French girls in my billet, daughters of the Mayor, who (I suppose because of my French) single me for their joyful gratitude for La Déliverance.
"Naturally I talk to them a good deal; so much so that the jealousy of other officers resulted in a Subalterns' Court Martial being held on me! The dramatic irony was too killing, considering certain other things, not possible to tell in a letter."
What impact did the war have?
The First World War "sparked the modern gay rights movement", writes Laurie Marhoefer, an assistant professor of history at the University of Washington, on The Conversation. "Gay soldiers who survived the bloodletting returned home convinced their governments owed them something – full citizenship," he says.
In Germany, organisations sprang up calling for LGBT rights, including the League for Human Rights, which drew 100,000 members.
Nevertheless, the UK's persecution of homosexuals perservered through the Second World War - where many men felt forced to hide their orientation.
And, even then, it took until 2000 for the British armed forces to accept openly LGBTQ people, marking a dramatic shift in attitudes.
"Now, there's equality. Heterosexual senior officers are concerned about saying the wrong things - can you imagine?" Bourne concludes. "I think in my lifetime it's wonderful to have seen that. I never thought I would see it happen."

Continue reading for free
We hope you're enjoying The Week's refreshingly open-minded journalism.
Subscribed to The Week? Register your account with the same email as your subscription.