Can lone-wolf terrorist attackers be stopped?
Eight dead, 11 injured in New York truck attack near 9/11 memorial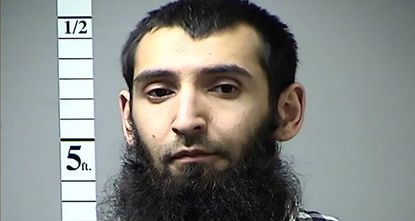 (Image credit: Credit: ST. Charles County Dept. of Corr/AFP/Getty Images)
New York Governor Andrew Cuomo says a suspect who carried out a Manhattan terrorist attack yesterday appears to be a "lone wolf" unconnected to a wider network.
Eight died and 11 others – including two children – were injured when a truck drove into a cycle lane in Lower Manhattan, close to the National September 11 Memorial, on Tuesday afternoon. Five friends from Argentina and a Belgian national are among the dead; two other victims have yet to be identified, the BBC says.
The suspect, Sayfullo Habibullaevic Saipov, was shot by police and was reportedly in a critical condition last night.
Subscribe to The Week
Escape your echo chamber. Get the facts behind the news, plus analysis from multiple perspectives.
SUBSCRIBE & SAVE
Sign up for The Week's Free Newsletters
From our morning news briefing to a weekly Good News Newsletter, get the best of The Week delivered directly to your inbox.
From our morning news briefing to a weekly Good News Newsletter, get the best of The Week delivered directly to your inbox.
Saipov, 29, a truck and Uber driver who has addresses in both Tampa, Florida, and New Jersey, moved to the US from Uzbekistan in 2010, CBS News reports.
There were conflicting reports about whether material in the rented van used in the attack indicated Saipov was a follower of Islamic State, says The Guardian. There is no indication as yet that he was operating as part of a wider network.
"All the evidence we have suggests that he was acting alone," said Governor Cuomo. "The so-called Lone Wolf syndrome."
The lone-wolf phenomenon
Lone-wolf terrorism may not be a new phenomenon but the number of people acting without a network appears to be rising.
In October, more than 50 people died and at least 400 were injured when a gunman opened fire at a country music festival in Las Vegas.
In June, a 48-year-old man was arrested after a van collided with pedestrians Muslim worshippers leaving the Finsbury Park Mosque, in north London, killing one person.
In May, a suicide bomber suspected of acting alone killed 22 people in Manchester, while in March, a man drove a car into pedestrians on London's Westminster Bridge, killing four people and stabbing a police officer to death outside of parliament.
Meanwhile, in the US in 2016, a man pledging allegiance to the Islamic State attacked a gay club in Florida, killing 49 people.
Police and intelligence agencies have struggled for years to keep this form of extremism under control, hampered by unpredictable patterns of behaviour and irregular communication data. But is tracking lone wolves a lost cause? And if so, how can we mitigate the prospective damage of such attacks?
Safe or sorry?
The internet can play a pivotal role in any counter-terrorism operation. Intelligence agencies can use it to track the movements and online behaviour of almost anyone, allowing for a better understanding of the time frame, methods and even motive behind an attack.
After the London Bridge attack that left eight people dead, Prime Minister Theresa May suggested tighter regulation of the internet might be necessary to stop future terrorist attacks. There was a need to "deprive the extremists of their safe spaces online", she said.
However, Tim Farron, the former Liberal Democrat leader, suggested increased surveillance of the internet would be an encroachment of civil liberties.
"If we turn the internet into a tool for censorship and surveillance, the terrorists will have won," he said.
Others question whether internet regulation would even work against lone-wolf attackers - after all, they argue, if a terrorist has no need to communicate with others, what use would it be to track their movements online?
Radicalisation
Islamic State, which claims responsibility for many major terrorist attacks in Europe and the US, is said to use forums and social media to radicalise users so monitoring networks and those who associate with them may be helpful in tracking lone wolves. They "may be encouraged by online operatives or post their intentions online as a form of bragging and belonging", according to the Brookings Institution.
Such attackers "may be encouraged by online operatives or post their intentions online as a form of bragging and belonging", according to the group.
CNN reports that the UK and "have recognised the importance of identifying such individuals before they can do harm".
One British scheme "includes behavioral therapy, education and jobs training, and drug rehabilitation to help at-risk individuals, and frequently links them with role models," adds the broadcaster. Canada, meanwhile, has developed a series which describes real stories of radicalisation used "to initiate conversations with community groups".
Not foolproof
Lone wolves can slip through the net, however. The New York Times highlights one particular case - that of Farhad Jabar, a 15-year-old who shot dead police department employee Curtis Cheng outside a police station in Australia in October 2015.
According to the paper, the attack "stunned the police, who'd never heard of Mr Jabar".
It added: "Nothing in his social media use indicated a greater interest in politics than in pop stars, and he might have been radicalised in a matter of weeks."
Friends and Family
Some programmes designed to filter out lone-wolf terrorists have started collaborating with mental health authorities. "Whether these young men acting alone (and they are almost always men) should be better described as lone-wolf terrorists or deranged criminals is debatable," says CNN.
As such, rather than arresting suspects, some counter-terrorism programmes take leads from friends and family and may send individuals to mental health professionals.
According to Mick Fuller, New South Wales Police Commissioner, in about 80% of cases of lone-wolf attacks "a family member or a friend noticed a significant change but didn't have the confidence to call anyone to report it", reports The New York Times.
When all else fails
When online surveillance and preventative measures are ineffective, police and intelligence agencies may consider physical options.
The clearest form of protection against a vehicle-ramming attack - such as those in Berlin and Nice in 2016 - are known "anti-ramming landscape features" which can be integrated permanently into the structure or design of a building. In the UK, parliament is surrounded by black barriers to prevent a high-speed attack, while the Emirates Stadium contains letters spelling "Arsenal" in concrete on the concourse, helping slow or stop an attack.
In the US, the FBI follows the "Cooper's Colors" system for attack response and readiness. Most people stay in a range of "white" - unaware and unprepared for an attack - but former FBI agent James Gagliano says they should be in a constant state of "yellow" at the moment - "you remain relaxed, but are aware of who and what is around you".
Even with firepower, barriers and an extensive network of online monitoring, lone-wolf terrorism will likely never be totally controllable, however. The unpredictability of online behaviour, combined with transient communication and the fear of family members to report suspicious activity, mean they may remain the most untraceable terrorists around.

Continue reading for free
We hope you're enjoying The Week's refreshingly open-minded journalism.
Subscribed to The Week? Register your account with the same email as your subscription.