What happened to Madeleine McCann? A timeline of her case
Prime suspect claims prosecutors have run 'public campaign of prejudice' against him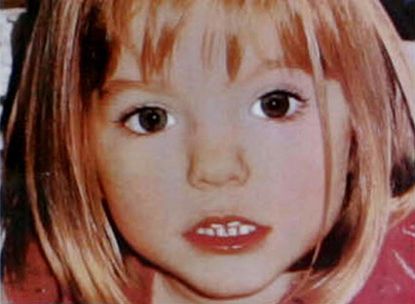 Sign up to our 10 Things You Need to Know Today newsletter
A free daily digest of the biggest news stories of the day - and the best features from our website
Thank you for signing up to TheWeek. You will receive a verification email shortly.
There was a problem. Please refresh the page and try again.
Madeleine McCann: TV show claims 'major breakthrough'
21 April
A team of Australian documentary-makers claim they have uncovered "major" new evidence in the disappearance of Madeleine McCann.
Investigative series Sunday Night will delve into previously unreported details of the search for the toddler in what broadcaster Channel 7 is calling a "landmark television event".
Subscribe to The Week
Escape your echo chamber. Get the facts behind the news, plus analysis from multiple perspectives.
SUBSCRIBE & SAVE
Sign up for The Week's Free Newsletters
From our morning news briefing to a weekly Good News Newsletter, get the best of The Week delivered directly to your inbox.
From our morning news briefing to a weekly Good News Newsletter, get the best of The Week delivered directly to your inbox.
Madeleine vanished from her family's holiday apartment in Praia da Luz, Portugal, shortly before her fourth birthday in May 2007.
Forensic scientist Dave Barclay tells the documentary it is "the most baffling" case he has ever encountered.
The programme will also feature input from former Portuguese lead investigator Goncalo Amaral and US criminal profiler Pat Brown, who has previously claimed that Madeleine is dead, The Sun reports.
Brown tells Sunday Night that her parents, Kate and Gerry McCann, are "lying and concealing guilt".
Last week, a childminder employed at the resort where Madeleine went missing recalled joining in the search for the child with the McCanns, who she described as "crying" and "very distressed".
She added that there was "not a chance" the couple were involved in the disappearance.
Sunday Night will be broadcast in Australia on 23 April.
Madeleine McCann: Nanny breaks silence over night toddler vanished
18 April
A nanny who looked after Madeleine McCann at Portugal's Praia da Luz has broken her ten-year silence to reveal what happened on the night the toddler went missing.
The child minder, who has not been named, was working for travel firm Mark Warner at the Ocean Club resort in the Algarve where Madeleine's parents, Kate and Gerry McCann, were staying with their three children in May 2007.
After being alerted to reports of a missing child, the woman realised it was Madeleine when she spotted her distraught parents searching for the child.
"[Kate] was pacing up and down. The worst possible thing had just happened to her," she told the Daily Mirror.
"She was crying, but almost in a catatonic state, and Gerry was very distressed. That's the one thing I really remember from him, looking under the cars."
The former nanny said she tried to comfort Kate McCann, who cried: "They've taken her."
She added that she spent the night with other staff combing the resort and surrounding streets in search of Madeleine.
"We were told to start looking in bins in case her body was in there. It was at that point we realised this was serious," she said.
She was also critical of the response of the Portuguese police, who she claims took 90 minutes to arrive at the resort after Madeleine was reported as missing, during which time people went into the McCann's apartment, contaminating a potential crime scene.
"The police didn't get there for ages, maybe an hour and a half," she said.
"I know I didn't step into that apartment but pretty much everybody else did. So, evidence gone, nothing. There was nobody there to say, 'We need to lock this off now.'"
In addition, the nanny claims her original four or five page statement was abridged to a two-page version for the Portuguese detectives, cutting out "whole chunks of information".
She also said that Madeleine, then three, was a favourite among the nannies at the resort, describing her as "a real cutie and a real sweetheart" and dismissed rumours that the McCanns were involved in her disappearance.
Both the timing of the night's events and the sincerity of the couple's reaction left her convinced there was "not a chance" that they had anything to hide, she said: "There's no way at all."
Madeleine McCann: 'Someone is protecting abductor'
27 March
A retired police detective who led a three-year investigation into the disappearance of Madeleine McCann claims someone may be hiding the identity of her abductor.
Dave Edgar, a retired detective inspector who served in the Royal Ulster Constabulary, was chosen by the toddler's parents Kate and Gerry McCann to oversee a private investigation into her disappearance.
He told the Daily Mirror that his findings led him to conclude that Madeleine was most likely the victim of a well-planned abduction with a sexual motive, but that the child, who would now be 13, could still be alive.
Edgar also said he believed the kidnapper had confessed his involvement to at least one person.
"Someone knows what happened and it's time they came forward," he said. "If anyone confided in you, now is the time to come forward. They can't keep it to themselves and research has shown they always confide in someone else."
Madeleine was almost four years old when she went missing from her family's holiday apartment in Praia da Luz in 2007 while her parents were having dinner at a nearby restaurant.
Kate and Gerry McCann have been dogged by allegations and insinuations that they were somehow involved in Madeleine's disappearance, but Edgar says his investigation uncovered "no shred of evidence" connecting her parents to the crime.
"If I found any evidence against Kate and Gerry I would have given it to the police immediately," he said, saying the couple would "expect no less".
Edgar told the Mirror that the culprit or culprits behind Madeleine's disappearance could one day expose themselves if they are caught attempting a similar crime.
"It's the type of crime they cannot help themselves [from doing], certainly if it was sexually motivated," he said.
The Metropolitan Police investigation into the child's disappearance, launched in 2011, has been scaled down over the years. It was due to wind down this year.
But earlier this month the Home Office extended their funding to allow detectives to keep working on the case until September 2017, bringing the total spent on the search to more than £11m.
Madeleine McCann 'died in apartment', claims crime expert
17 March
Portuguese investigator Moita Flores says it would have been 'impossible' to abduct the three-year-old
A Portuguese crime expert says he has "no doubt" that Madeleine McCann died inside the holiday apartment where she was sleeping.
Criminal investigator Moita Flores, who was once affiliated to the Portuguese police body involved in the search for the toddler, said that was the only conclusion as she could not have been abducted.
"It would have been impossible to get through a window with a child," he said. "Maddie died in that apartment, I have no doubt."
He added that a reconstruction was the "only way to resolve the case", reports The Sun.
McCann spokesman Clarence Mitchell said Madeleine's parents Kate and Gerry "will not be fuelling any of this pure speculation with any comment whatsoever".
Three-year-old Madeleine went missing ten years ago from an apartment in Praia da Luz in Portugal while her parents dined nearby. The couple say they will never give up hope of finding her.
This week, British police were given a further £85,000 by the Home Office to extend their investigation into her disappearance by six months.
Madeleine McCann search extended after police funding boost
13 March
Police have been given an extra £85,000 to continue their investigation into the disappearance of Madeleine McCann for an extra six months.
The Home Office confirmed the search, known as Operation Grange and led by detectives from the Metropolitan Police, will continue until September.
A government spokesperson said that "following an application from the Metropolitan Police for Special Grant funding, the Home Office has confirmed £85,000 in operational costs for Operation Grange for the period 1 April until September 2017".
They added: "As with all applications, the resources required are reviewed regularly and careful consideration is given before any new funding is allocated."
To date, a total of £11.1m has been spent on the official search for the toddler, who was three when she vanished, reports the BBC.
Operation Grange was launched in 2011 as a counterpart to the Portuguese authorities' search for Madeleine, who went missing from a holiday apartment at a resort in Praia da Luz, Portugal, in May 2007, while her parents, Kate and Gerry McCann, ate with friends at a nearby restaurant.
"Dozens of theories about Madeleine's disappearance have been explored," says the Daily Telegraph, including the possibility that she was abducted by human traffickers or killed during an attempted break-in, but so far the case remains unsolved.
The taskforce was scaled back from 29 full-time officers to four in October 2015, which was widely perceived as an indication that the investigation was being wound down.
Last April, Metropolitan Police commissioner Sir Bernard Hogan-Howe said detectives only had one remaining line of inquiry to pursue and that these final investigations could be over within a few months.
However, in December, the Home Office agreed to extend funding of Operation Grange until April 2017 while detectives re-examined a previous theory that Madeleine could have been abducted by a European human trafficking gang.
The Met did not state whether or not the £85,000 would be used to explore this theory or an alternative line of inquiry, saying they could not comment on an ongoing investigation.
The McCanns said they were "incredibly grateful" to hear the search would continue, reports the Telegraph.
Madeleine McCann: 'Important' new lead points to trafficking gang
5 December
Scotland Yard's investigation into the 2007 disappearance of Madeleine McCann has received additional funding to examine an "important" new lead, shortly before the case was due to be shelved.
Operation Grange, which was set up in 2011 to investigate the three-year-old's disappearance, is re-examining a theory that suggests Madeleine could have been abducted by a European human trafficking gang.
"The development is being taken so seriously that senior Whitehall officials have been briefed by the [Metropolitan Police] on its progress," the Sun on Sunday reported.
Madeleine went missing in May 2007 while on holiday with her parents, Kate and Gerry, and twin siblings, Amelie and Sean, at the resort of Praia da Luz in the Algarve.
Soon after, private detectives hired by the family found a witness who claimed a man had been taking photos of Madeleine on the beach before her disappearance.
In 2008, the Met received a tip that "a Belgian paedophile ring had placed an order for a 'young girl' just three days before Madeleine vanished", the Sun reports, leading to speculation this unknown man could have been working as part of a human trafficking gang.
The theory is the "last roll of the dice" for the nine-year investigation, says the Daily Mirror.
Scotland Yard in April received £95,000 from the Home Office to fund another six months of investigation. In August, police commissioner Sir Bernard Hogan-Howe said work on the case was likely to wind down within a few months.
Following the new lead, however, the Home Office has now agreed to extend funding until April 2017.
A Home Office spokesman confirmed that funds have been provided to allow Operation Grange to continue "until at least the end of this financial year", after which the case for any future funding will be considered.
Madeleine McCann: British police stop forensic work
8 August
British police searching for missing Madeleine McCann have reportedly called a halt to forensic work on the case.
The final scientific tests, which failed to take the investigation forward, finished three months ago, according to the Sunday Mirror.
Madeleine disappeared during a holiday to Portugal in 2007 when she was three years old.
Scotland Yard's £12m Operation Grange inquiry, prompted by a personal request from David Cameron five years ago and funded by the Home Office, is said to be under pressure as police face budget cuts in other areas.
A source told the Mirror: "The final forensics were carried out about three months ago but, sadly, they didn't take us forward. There are no plans for any further forensic work to take place."
Operation Grange is "expected to be shelved in the autumn amid concerns about its spiralling cost while other areas of policing face budget cuts", says the newspaper.
Madeleine's parents, Kate and Gerry, have refused to give up on finding their daughter. "Until we have answers, until there is news, there will always be hope and we will do everything we can to help find Madeleine," they said.
The number of officers investigating Madeleine's disappearance was cut last year after the vast majority of the work by Operation Grange was completed. At that point, detectives had reviewed more than 40,000 documents, took 1,338 statements and investigated more than 60 "persons of interest".
However, the Mirror says "police privately concede they are no closer to finding Madeleine".
Madeleine McCann's parents 'horrified' by Clement Freud child abuse claims
15 June
The parents of Madeleine McCann are said to be "horrified" by the sexual abuse allegations against Sir Clement Freud, who befriended them in Portugal after their daughter disappeared.
The broadcaster, writer and Liberal MP, who died in 2009, has been accused of sexually abusing two girls between the 1940s and 1970s.The claims will be aired tonight in the ITV documentary Exposure: Abused and Betrayed – A Life Sentence.
According to the Daily Telegraph, Freud had a villa in Praia da Luz, the Portuguese resort where Madeleine disappeared in 2007, and offered support to her parents, Kate and Gerry, in the weeks after she vanished.
They went to his home on two occasions and kept in contact by phone and email.
The McCanns are said to be "horrified" by the revelations and detectives investigating Madeleine's disappearance have been informed. However, his family have said he was not in Portugal at the time the three-year-old went missing.
Freud had a long career in television and radio, regularly contributing to BBC Radio 4's Just A Minute and appearing on shows such as Have I Got News For You.
One of Freud's accusers, Sylvia Woosley, told the ITV Exposure programme that she first met Freud when she was ten and that he abused her for years after she went to live with him when her parents' marriage broke down.
"I just want to clear things up before I die… I want to die clean," she said.
Another woman, who does not wish to be named, says Freud began abusing her in the 1970s, when she was 11, and raped her when she was 18. By this time, Freud was a Liberal MP sharing an office with Cyril Smith, who was named as a prolific paedophile after his death.
Freud's widow released a statement after two of the couple's children previewed the documentary.
"This is a very sad day for me. I was married to Clement for 58 years and loved him dearly. I am shocked, deeply saddened and profoundly sorry for what has happened to these women. I sincerely hope they will now have some peace," she said.
Madeleine McCann: UK police down to last line of inquiry
26 April
British police have just one line of inquiry left to investigate in the case of missing Madeleine McCann, Metropolitan Police commissioner Sir Bernard Hogan-Howe said.
Madeleine went missing from her family's Portuguese holiday apartment on 3 May 2007, aged three. No trace of her has ever been found.
Hogan-Howe told LBC Radio that the UK-based investigation could finish in the next few months. "There's been a lot of investigation time spent on this terrible case. It's a child who went missing - everybody wants to know if she is alive and if she is, where is she. And sadly, if she's dead, then we need to give some comfort to the family," he said.
"It has needed us to carry out an investigation together with the Portuguese and other countries have been involved. There is a line of inquiry that remains to be concluded and it's expected that in the coming months that will happen."
After that, he said, the investigation, called Operation Grange, would likely come to an end.
However, Hogan-Howe added: "If somebody comes forward and gives us good evidence we will follow it. We always say that a missing child inquiry is never closed."
According to the BBC, the remaining line of inquiry is "centred around a letter asking for assistance sent from UK investigators to the Portuguese Public Prosecution Service in July 2015".
Madeleine McCann: Police chief wins libel appeal against parents
20 April
A former police chief in Portugal has won an appeal against a court ruling that he libelled Kate and Gerry McCann, the parents of missing toddler Madeleine.
Goncalo Amaral, who led the search for Madeleine, wrote a book in which he claimed the McCanns were involved in their daughter's disappearance in the Portuguese holiday resort of Praia da Luz in May 2007.
Last year, a Portuguese court ruled in favour of the couple, who were awarded €500,000 (£395,000) damages. The verdict also saw copies of the book seized.
This week's appeal decision means Amaral's book can now be sold again, says the BBC, although the McCanns plan to challenge the ruling and bring the case before Portugal's Supreme Court.
The book's publisher welcomed the verdict, citing its author's constitutional right to express his opinion.
According to The Sun, Amaral's lawyer said he is also planning to sue the couple for damages to recoup alleged losses caused by their year-long action.
"We are going to advance with a compensation claim against the McCanns," he said. "My client has suffered years of prejudice and losses."
Madeleine McCann 'could still be found alive'
19 April
The head of Scotland Yard's homicide squad still thinks Madeleine McCann could be found alive, almost nine years after she went missing in Portugal.
Madeleine was three years old when she disappeared from a holiday apartment in the Algarve in May 2007.
Detective Chief Superintendent Mick Duthie, who leads the Metropolitan Police's homicide and major crime command, says the hunt is "ongoing", despite the investigation being scaled down last year from almost 30 officers to just four.
"There is always a possibility that we will find Madeleine and we hope that we will find her alive," he told the London Evening Standard.
"That's what we want and that's what the family and the public want and that is why the Home Office continue to fund [the British investigation]. There is work that needs to be done still."
The Home Office has granted Operation Grange, which was set up in 2011, a further £95,000 to cover another six months of the inquiry, but Duthie said his team would request more money if inquiries were not finished by then.
"There is a missing girl and if she has been murdered and if we think we have got justifiable and reasonable lines of inquiry to pursue then they should be dealt with," he said.
Detectives have taken at least 1,338 statements, collected 1,027 exhibits, considered 650 sex offenders, investigated more than 60 "persons of interest" and looked at 8,685 potential sightings of Madeleine around the world.
Continue reading for free
We hope you're enjoying The Week's refreshingly open-minded journalism.
Subscribed to The Week? Register your account with the same email as your subscription.