Will Israel's election see return or retirement for Bibi Netanyahu?
Dramatic comeback for longest-serving prime minister could prolong political deadlock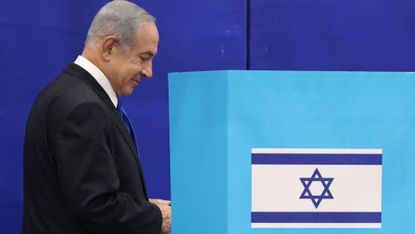 (Image credit: Ronaldo Schemidt/AFP via Getty Images)
Israelis go to the polls today in the country's fifth election in less than four years, with former prime minister Benjamin Netanyahu looking to pull off one last dramatic comeback.
Bibi, as he is commonly known, has dominated Israeli politics since he was first elected prime minister in 1996.
The 73-year-old is the country's longest-serving leader, having been in power for 15 of the past 26 years. But since he was charged with bribery, fraud and breach of trust in 2019 – all of which he denies – the country has been "locked in an unprecedented period of political stalemate", said the BBC.
Subscribe to The Week
Escape your echo chamber. Get the facts behind the news, plus analysis from multiple perspectives.
SUBSCRIBE & SAVE
Sign up for The Week's Free Newsletters
From our morning news briefing to a weekly Good News Newsletter, get the best of The Week delivered directly to your inbox.
From our morning news briefing to a weekly Good News Newsletter, get the best of The Week delivered directly to your inbox.
He was finally forced from office last summer after an unlikely coalition, including for the first time an independent Arab party, banded together to remove him.
Now he is staging what has been described as a make-or-break final act that could see him either returned as prime minister at the head of a coalition of ultra-Orthodox and extremist nationalist parties or finally forced to retire from frontline politics.
Pre-election projections suggest neither Netanyahu's right-wing religious bloc, nor the opposing centre-left group, will win enough seats to form a government, but with polls so close any last-minute movement could swing the election and deliver a majority.
What did the papers say?
"As with every other poll since the political crisis largely triggered by allegations of breach of trust, bribery and fraud against Netanyahu", said The Guardian, the vote on 1 November is a referendum on "whether the head of the right-wing Likud party is the right person to lead the country".
During a gruelling three-month campaign he has tapped into "themes that resonate with his supporters", said Daniel Estrin on NPR: "the rising cost of living, but also nationalism and security, the classic Israeli issue of Arabs versus Jews and who has the upper hand".
The fact he is currently standing trial on corruption charges "has alienated many of his traditional political allies and so he has turned to far-right parties in a bid to build a coalition", reported Sky News.
His prospects of forming Israel's next government therefore rely on the patronage of the ascendant ultra-nationalist Religious Zionism alliance, which "has galvanized the campaign" after years of deadlock and voter apathy, said Reuters.
Led by Bezalel Smotrich and the popular Itamar Ben-Gvir, the party is expected to emerge as the third largest faction in the new Israeli parliament. Religious Zionism has called for the dismantling of the independence of the judiciary, which could help Netanyahu be cleared in his corruption trial, as well as the expulsion of "disloyal" citizens, and establishing a ministry for encouraging "enemy" Arabs with Israeli passports to emigrate.
What next?
The final opinion polls from last week showed Netanyahu and his coalition just short of the 61 seats needed for a majority in the 120-seat Knesset, "opening the prospect of weeks of coalition wrangling and possibly new elections", warned Reuters.
If he does reach the number of seats required for a majority, he could look to deploy "a multidimensional strategy", wrote former aide Shalom Lipner in Foreign Policy. "The totality of its elements, he is hoping, will afford him the latitude to embrace the Religious Zionism alliance as a partner and emerge intact from the affair. He'll be using the same playbook that served him nominally well during his combined 15 years as premier."
Were Netanyahu to fail to secure a majority his fate would also lie with Israel's ultra-Orthodox Shas – which represents Sephardic Jews with roots in southern Europe and North Africa – and United Torah Judaism (UTJ), the party of Ashkenazi Jews of Eastern European descent, who have repeatedly propped up Netanyahu during his time in office.
"After four failures, there is a possibility that [the ultra-Orthodox] parties will abandon Netanyahu if he does not manage to form a coalition," Gilad Malach, from the Israel Democracy Institute think-tank, told AFP.
"Such a development would almost certainly prove fatal to Netanyahu's political career, as it appears impossible for him to form a government without [Shas and UTJ]," said The Times of Israel.
"Many on the Israeli centre and left – as well as rivals within the Likud – are hopeful that November's election will be the last in which Netanyahu stands," said The Guardian. Ultimately, though, "his personal and political futures are intertwined: becoming prime minister again is likely to be the easiest way to escape the consequences of his criminal trial".

Continue reading for free
We hope you're enjoying The Week's refreshingly open-minded journalism.
Subscribed to The Week? Register your account with the same email as your subscription.