Will the 'GPC files' attack on Tory expenses come back to bite Labour?
Opposition say new data highlights Conservatives' 'lavish spending' but critics warn accusations are overblown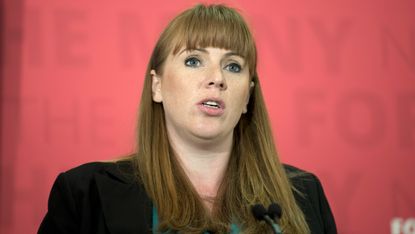 (Image credit: JUSTIN TALLIS/AFP/Getty Images)
Labour has accused the Conservatives of promoting a culture of "lavish spending" after an investigation into the use of government-issued credit cards in 2021 – but commentators have claimed the move could backfire.
According to the figures, 14 Whitehall departments spent at least £145.5m using taxpayer-funded "government procurement cards" (GPCs) in 2021 – a 71% increase on 2011. Labour hopes that the data dump, which it has dubbed "the GPC files", will "reopen questions of financial profligacy or worse over handling of public money by the Conservative government", said the Financial Times.
Among the most "eye-catching" of the revelations were Liz Truss and her Foreign Office officials "spending nearly £1,500 on lunch and dinner at two of Jakarta's most exclusive restaurants", said The Guardian as well as Rishi Sunak's Treasury department "spending more than £3,000 on photographs to hang on the walls when he was chancellor and £4,500 on hotel rooms in Venice".
Subscribe to The Week
Escape your echo chamber. Get the facts behind the news, plus analysis from multiple perspectives.
SUBSCRIBE & SAVE
Sign up for The Week's Free Newsletters
From our morning news briefing to a weekly Good News Newsletter, get the best of The Week delivered directly to your inbox.
From our morning news briefing to a weekly Good News Newsletter, get the best of The Week delivered directly to your inbox.
Angela Rayner, deputy Labour leader, said: "Rishi Sunak has failed to rein in the culture of lavish spending across Whitehall on his watch."
But the Conservatives hit back saying that the last Labour government had introduced the procurement cards and Rayner was "forced to defend" her own expenses after "putting hundreds of pounds of Apple electronics on expenses", said The Daily Telegraph. The Foreign Office has also defended its expenses, with a source telling The Guardian that serious diplomacy requires generous spending to "enhance and promote British interests".
'Waste for waste's sake'
In an interview with transport minister Richard Holden about the dossier, LBC's Nick Ferrari asked: "How do my listeners benefit from £3,000 worth of – I'm going to call it artwork – on the chancellor's walls?"
When Holden said he wasn't going to justify every piece of government spending, Ferrari then referred to the cost of living crisis and the ongoing strikes from public sector workers. Ferrari said: "We're all asking everyone, don't take a pay rise, nurses get back to work, rail workers go and drive your trains. Meanwhile, the chancellor had £3,000 on his wall."
That line of questioning hits home because "when more than half the country really doesn't have a clue how it's going to pay its bills", government departments are "very obviously indulging not just in a bit of occasionally justifiable largesse, but in waste for waste's sake", said the Independent's Tom Peck.
And while it would be "wrong to conclude that all government largesse is a waste of money… a lot of government largesse is, frankly, a waste of money", Peck said, citing the fact that for many departments spending "tended to increase towards the end of the financial year". For a very long time, Truss "flew all around the world, breathlessly announcing copy-and-paste trade deals that served no purpose beyond making her popular with Conservative Party members (and look how that ended)".
'Entirely unremarkable'
​Most of the entries, though, do "seem to be entirely unremarkable and obviously concerned with the machinery of government, from training courses to tea and coffee", said John Oxley in The New Statesman.
Labour's is an "attack which has missed the mark and may backfire", Oxley wrote, as it "invites a return level of scrutiny on their own small spending". Oxley also said that Labour's own spending plans in government may also be affected as "it's harder to argue for billions more of public money when you act like £500 can be scandalous".
A lack of trust in politics and politicians "cuts across party lines", agreed CapX's John Ashmore and the opposition are "kidding themselves if they think they'll be immune from exactly this kind of attack if they get into government", he added.
Even more grating than that, though, according to Ashmore, is the way the report "feeds into some of the worst tendencies in British politics", mainly the "fantasy that if only we clamp down on perks for politicians and civil servants, we'd be able to spend loads more on public services, state pensions or whatever." He continued: "Sure, we could slash the FCDO hospitality budget, but it would probably fund the NHS for all of two minutes – and all while making us look like skinflints to our international partners."

Continue reading for free
We hope you're enjoying The Week's refreshingly open-minded journalism.
Subscribed to The Week? Register your account with the same email as your subscription.