The 'concrete coffin': life in a Chinese internment camp
Sayragul Sauytbay spent five months in a 're-education' centre in Xinjiang. She tells Damian Whitworth what she witnessed inside, and how she escaped to Kazakhstan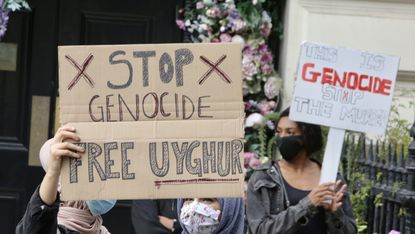 (Image credit: Hasan Esen/Anadolu Agency via Getty Images)
Sign up to our 10 Things You Need to Know Today newsletter
A free daily digest of the biggest news stories of the day - and the best features from our website
Thank you for signing up to TheWeek. You will receive a verification email shortly.
There was a problem. Please refresh the page and try again.
After two or three days at the internment camp, Sayragul Sauytbay heard the screams for the first time. She had been sent to work as a teacher in one of the centres where China "re-educates" Uighurs and other minority ethnic groups in the northwestern province of Xinjiang. Already she had seen that the "living dead" inmates, shaven-headed with black eyes and mutilated fingers, were chained together in packed, stinking cells.
The sounds of distress resonated through the halls of the "concrete coffin" in which they were housed. "I'd never heard anything like it in all my life. Screams like that aren't something you forget. The second you hear them, you know what kind of agony that person is experiencing," she wrote later. "They sounded like the raw cries of a dying animal." She learnt that the screams came from the "black room", a chamber with chains on the wall and no cameras, where prisoners were dragged by guards for supposed transgressions. Some inmates emerged covered in blood; others did not reappear.
Sauytbay knew if she showed dismay at what she heard, or put a foot out of line, she might end up there herself. Then one day, a new group of prisoners arrived, including an 84-year-old grandmother from a shepherding family in the mountains. Spotting Sauytbay – a fellow ethnic Kazakh – among a sea of Chinese faces, the trembling old woman threw her arms around her and appealed for help. Sauytbay thinks she may briefly have returned the embrace. The old woman was led off and Sauytbay, suspected of conspiracy, was whisked into the black room.
Subscribe to The Week
Escape your echo chamber. Get the facts behind the news, plus analysis from multiple perspectives.
SUBSCRIBE & SAVE
Sign up for The Week's Free Newsletters
From our morning news briefing to a weekly Good News Newsletter, get the best of The Week delivered directly to your inbox.
From our morning news briefing to a weekly Good News Newsletter, get the best of The Week delivered directly to your inbox.
Now she is telling the full story of her incarceration, the torture she says she experienced, the horrors she witnessed, and her escape from China. The UN estimates that more than one million Uighurs, Kazakhs (the second-largest ethnic group in the region) and other mostly Muslim minorities have been incarcerated in China. There are credible reports of slave labour and of the enforced sterilisation of women. China says the camps were set up to combat religious extremism and has denied any mistreatment. In 2019, an official claimed that all those detained had "graduated" and found stable employment, and attendance at the centres would in future be voluntary. British MPs voted last month to declare that China is committing genocide in Xinjiang. Sauytbay, for her part, describes the internment programme as the biggest since the Third Reich, and the indigenous peoples as "a colony of slaves". She calls the region East Turkestan and suggests it is "the largest open-air prison in the world".
One of nine children, Sauytbay, 44, was born to semi-nomadic herders close to the border with Kazakhstan. The family practised a moderate form of Islam. She trained as a doctor, learning to speak Chinese, then as a teacher. She taught Chinese to Kazakh children and ran five preschools. After marrying Uali, they had a daughter and son and set up a farm and clothes shops too. From the 1980s, China had begun settling the region, exploiting its natural resources, pushing the migration of Han Chinese and suppressing the culture of the indigenous peoples. Sauytbay's son had his mouth taped at school for speaking in his native language. Today, she is in Sweden and has published a book, The Chief Witness, about her ordeal. We are talking with a translator via video call. Some episodes are shocking, but she answers unemotionally and factually. Only occasionally, such as when she describes what her children have been through, does her face harden. The family considered emigrating to Kazakhstan, but as a public sector worker Sauytbay had been made to turn in her passport. In July 2016, her husband and children went ahead to Kazakhstan while she tried to get it back.
Chinese authorities began turning Xinjiang into a surveillance state with the arrival that summer of a new Party chief, Chen Quanguo. He reportedly told the security services to "round up everyone who should be rounded up". Communication with Kazakhstan was banned. Sauytbay could not speak to her family. She believes she was suspected of being married to a spy and was abducted and interrogated on several occasions; she realised she was being kept in China as a hostage. Under a new policy, indigenous people had to live with Chinese families for days or accept home visits. This meant doing chores for their hosts and many women had to sleep with Chinese men. She bribed the man she was supposed to live with to avoid staying the night. "The thing that is happening in East Turkestan with the native people is their bodies, their brains, their lives, their fates, do not belong to themselves, but to the Chinese Communist Party."
In November 2017 she was taken, with a hood over her head, to a camp and told she was to teach Chinese. Her contract said breaking rules would be punished with the death penalty. She was forbidden from talking to prisoners, to laugh, cry or answer questions. Her six square metre cell had cameras covering every angle. Later she learnt that prisoners – she estimates 2,500 – were allotted a single square metre and slept shackled to each other. Her students were identified by numbers and forced to sit ramrod straight while reciting, "I'm proud to be Chinese," and "I love Xi Jinping." Prisoners were told if they learnt well they would be released sooner, but in her five months at the camp she was not aware of any being freed. Muslim inmates were forced to eat pork and sing Party songs. If they insisted on their innocence, their families would be picked up, so people learned to "confess" in Chinese to visiting a relative in Kazakhstan or going to a mosque. Healthy young people vanished and she wondered if they were used for organ harvesting or forced labour. A nurse warned her not to swallow the prescribed medication, whispering that she would be unable to have any more children.
The day she was taken to the black room, she saw a table covered with tools and torture devices, including stun guns and iron rods to fix hands and feet in painful positions. The walls were hung with medieval-looking weaponry: an implement for removing finger nails; a spear; chairs with straps and ominous holes. She was placed in an electric chair and interrogated by two men about the shepherd woman. When she refused to admit her guilt they sent a current through her body and hit her head, laughing. She kept losing consciousness and, realising she had to tell them what they wanted to hear, confessed that she knew the woman from before. Her torturers eventually lost interest and she was taken to her cell. The shepherd lady, accused of being a spy, Sauytbay says, was taken to the black room where her fingernails were removed.
One day Sauytbay joined 100 prisoners who were summoned to a room where a woman of 20 or 21 was made to confess to texting good wishes to a friend on a religious holiday. She was thrown to the ground and gang-raped by three men. Guards watched inmates as the woman begged for help, and if prisoners stood up to protest, they were taken away. It was a test, Sauytbay says, to see who had been brought into line. She managed to stop herself from reacting to the horrific scene, but says she will never forget it and cannot come to terms with it. "It hurt me to see that other innocent people were tortured and the things they did to these innocent people have very much affected me negatively."
Former prisoners have also claimed women have been subjected to systematic mass rape. Sauytbay is convinced what she saw was not just the behaviour of a few bad people. "I believe that was part of the policy to wipe out the native people of East Turkestan, and the guards of that camp were given unlimited power to do whatever they want... It's more than 70 years since the Second World War. History is repeating itself." Two things kept her going: a hope that one day she would go for a walk with her children in Kazakhstan and a determination to tell the world about what was happening to prisoners. "Their eyes were begging for help. And they had a big hope in me. Their eyes taught me that somehow I need to help them."
A month later she was set free. "They wanted to make me accountable and punish me as a criminal. So that is the reason they released me," she says. Further interrogations followed and she was told she would be going back to a camp, this time as an inmate. Convinced she would not come out alive, she fled at midnight through her garden, evaded detection and hitched a lift to Khorgos, the free-trade zone on the border of China and Kazakhstan. She entered with a black-market permit but without a passport or plan for crossing the border. When a guard was distracted she ducked down below the window of a passport checkpoint and slipped into Kazakhstan.
There she was reunited with her husband and children after more than two years. But she knew China would bring pressure to bear on the Kazakh authorities. Within days, she was picked up by men she thinks were Kazakh secret police who beat her and said she would be deported to China. But while she was in a cell, a video about her plight went viral, putting pressure on officials. After more than a month in prison, she used her trial on charges of entering the country illegally to describe what was happening in the camps. Her account was reported around the world. Crowds celebrated her release. "I was saved by the international community, international organisations, journalists and the people of Kazakhstan," she says.
Her jubilation was cut short by news that her mother and sister had been arrested in China after the verdict. Strangers broke into her home in Kazakhstan, the family was harassed and she was told by secret police to stop talking to journalists. Eventually, in June 2019, she secured asylum in Sweden. She has testified about her time in the camp at the Swedish foreign ministry and the European Parliament. In March last year, she was given an International Women of Courage award by the US secretary of state, Mike Pompeo, who praised her for speaking out. A Chinese official said the award was "a travesty of human rights" and that she had misled the international media with her "lies".
State media reported that one of Sauytbay's sisters said she never worked in a camp. "They are under full surveillance. The Chinese government uses family members, one against another. If they want to shut the mouths of people who live abroad, they use their relatives who still live in China." Now she is unable to speak to her family, but has "indirect information" about them through others. "The Chinese Communist Party is the biggest danger to the democracy and future freedom of the world," she says, but she is encouraged that some countries are recognising that a genocide is taking place. "It's clearly showing that the world has a little bit slowly started waking up and speaking about the atrocities." She hopes people will consider not buying Chinese goods and that countries will boycott the Winter Olympics in Beijing in 2022.
In Sweden, she and her husband are studying Swedish and English and hope to start working soon. Their daughter, Ukilay, 16, and Ulagat, their 11-year-old son, are settling in. "We miss our homeland, but after all this hardship finally our family is united again. And we value every moment of our world right now together." Nevertheless, she remains haunted by what she experienced and the thought of what is happening to family and friends. "I cannot properly sleep; I cannot properly eat. And when I go to bed I have nightmares that I am back in the camp again. I take a lot of medications and I'm working with a psychologist."
Sometimes she finds herself literally looking over her shoulder, wondering if a Chinese agent is watching. But does she feel safe now in Sweden? "I cannot say that it is 100% safe. They have a lot of spies inside Europe." After interviews she receives calls telling her, "Just stop talking. Think of your children." "I still get these kinds of threats, but somehow I get used to them. And actually, it shows that my work is very meaningful and it's having the right results," she says. "Because if it wasn't, I wouldn't get such attention from them. So this kind of thing is inspiring me, giving me even more energy to keep fighting."
A longer version of this article appeared in The Times. © 2021 News UK
Continue reading for free
We hope you're enjoying The Week's refreshingly open-minded journalism.
Subscribed to The Week? Register your account with the same email as your subscription.
Sign up to our 10 Things You Need to Know Today newsletter
A free daily digest of the biggest news stories of the day - and the best features from our website