Timeline of the Ukraine war
Russia invaded Ukraine on 24 February 2022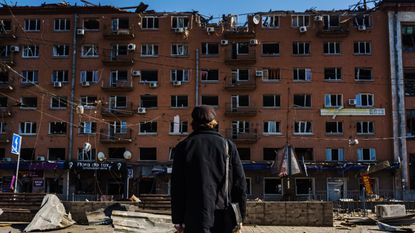 (Image credit: Marcus Yam/Getty Images)
This Friday marks one year since Russia invaded Ukraine, sparking the largest land war in Europe since the Second World War.
As Ukraine enters a second year of a conflict that has already claimed thousands of lives and forced millions to flee their homes, here are the key events leading up to 24 February 2022.
20 February 2014: the annexation of Crimea
Eight years before Russian armies marched on Kyiv, the Black Sea Peninsula was invaded and subsequently annexed by Moscow.
Subscribe to The Week
Escape your echo chamber. Get the facts behind the news, plus analysis from multiple perspectives.
SUBSCRIBE & SAVE
Sign up for The Week's Free Newsletters
From our morning news briefing to a weekly Good News Newsletter, get the best of The Week delivered directly to your inbox.
From our morning news briefing to a weekly Good News Newsletter, get the best of The Week delivered directly to your inbox.
Ukraine's Russian-backed president Viktor Yanukovych had recently been deposed after withstanding pressure to sign a Ukraine-EU agreement that would give the country closer ties to the bloc.
Yanukovych had instead opted to revive economic ties with Moscow, a decision that sparked mass rallies and protests in Kyiv. Thousands of people carrying Ukrainian and EU flags gathering in Independence Square, while a "smaller rally" was staged by pro-Russia demonstrators, the BBC reported at the time.
Dozens of protesters, most of them marching against Yanukovych, were shot dead and the nation appeared to be on the verge of civil war, with the autonomous Crimean parliament siding with the then president.
As the violence escalated, Yanukovych fled to Russia on 22 February 2014.
His departure "provoked immediate unrest" in eastern regions that border Russia and where "pro-Kremlin sentiments are higher", said the i news site. Vladimir Putin "took advantage" of the turmoil by ordering the mobilisation of Russian Special Forces into Crimea, a peninsula on Ukraine's Black Sea coast.
On 27 February, dozens of pro-Russian and Russian forces seized government buildings in Crimea, hoisting the Russian flag. Russia launched military exercises near its border with Ukraine a few days later, but downplayed their significance.
The then UK foreign secretary William Hague said that Moscow's actions posed a "potentially grave threat to the sovereignty, independence and territorial integrity of Ukraine".
11 May 2014: Donbas independence
Months after Russia annexed Crimea, separatists in the eastern Ukraine regions of Donetsk and Luhansk, known together as the Donbas, declared independence. "Self-rule" referendums were held in May 2014.
Pro-Russia separatists claimed that almost 90% voted in favour of breaking away from Ukraine in Donetsk, and around 96% in Luhansk.
But there were "no international observers, no up-to-date electoral lists, and the ballot papers were photocopies", The Guardian reported, amid clams that pro-Ukraine voters had been threatened.
Both the US and EU condemned the referendums, while Ukraine's interim president, Oleksandr Turchynov, described the votes as "a step towards the abyss".
Announcing the results, the head of the self-declared Donetsk People's Republic, Denis Pushilin, said that "for us, the history of Russia is our history".
However, Russia "signalled it had no intention of subsuming eastern Ukraine" as it had Crimea, reported Al Jazeera. Instead, Moscow was pushing to "include eastern regions in negotiations on Ukraine's future, suggesting that Russia prefers a political, not military, solution".
An immediate result of the Donbas separation was that the region refused to take part in wider Ukrainian general elections held days later.
A Pew Research poll at the time found that around 77% of all Ukrainians wanted to remain as one nation.
1 September 2021: Zelenskyy's pleas to join Nato
In 2021, as fighting continued in the Donbas region, Ukraine's President Volodymyr Zelenskyy began engaging in discussions with Nato and the US to join the transatlantic alliance.
With Russian troops moving along Ukraine's border, Zelenskyy argued that it was "the most important security point" for Ukraine to become a Nato member.
During a two-hour call in December between Joe Biden and Putin, the Russian president demanded a "legally fixed guarantee" that Nato would not expand eastwards or deploy "offensive strike weapons systems in states adjacent to Russia", the Kremin said.
But in subsequent talks with Zelenskyy, Biden assured his Ukrainian counterpart that "Kyiv's bid to join the Nato military alliance was in its own hands", Reuters reported.
Days later, the US Congress passed a defence bill that included $300m for Ukraine's military. With US-Russia relations at the lowest point since the Cold War, Biden made clear that Western allies would respond with strong measures in the event of a Russian military escalation in Ukraine.
Speaking to reporters after the Biden-Putin call, US National Security Advisor Jake Sullivan said there were "things we did not do in 2014 we are prepared to do now".
25 February 2022: Russia invades Ukraine
In the early morning on 25 February, Putin announced a "special military operation" which open source intelligence mapping showed involved Russian troops deployed from across the border in Belarus to the north of Kyiv, from Russia to the east of Kharkiv, through the separatist-controlled areas in Ukraine's east and from annexed Crimea in the south.
UK military sources told The Times' defence editor Larisa Brown that when it finally came, Putin's assault on Ukraine was "straight out of the Russian playbook".
The Kremlin swept across the border in three places opting for "for overwhelming force and a multi-axis invasion from land, sea, and air", Brown said. Forces launched assaults "from the north, south and east simultaneously attacking ten Ukrainian regions".
The Times said Ukraine's forces were "outgunned and outnumbered across land, sea and air" meaning that they "could be destroyed within 72 hours".
3 March 2022: Capture of Zaporizhzhia
Shortly before Russian forces withdrew from Kyiv, Moscow claimed control of Zaporizhzhia, a city in the southern Kherson region that is home to Europe's largest nuclear power plant.
The takeover of the plant by Russian forces was met with "increasing alarm" from the global community, said The Guardian, which reported that despite being built to Soviet specifications, "Russian engineers don't have the skills to operate it".
Energoatom, the state enterprise that runs Ukraine's nuclear power plants, reported that Ukrainian workers being held hostage at the plant had refused to train staff shipped in from the Kalinin nuclear plant in Russia's Tver Oblast. The Kyiv Independent reported last week that the Ukrainian workers have held firm "despite threats, torture, blackmail, and constant intimidation".
Earlier this month, the International Atomic Energy Agency (IAEA) announced that its director general, Rafael Grossi, had held talks with Russian officials about the need to implement a nuclear safety and security protection zone around the Zaporizhzhia plant.
29 March 2022: Russian withdrawal from Kyiv
"Many experts expected Kyiv to fall swiftly" following the invasion launch, said The New York Times, but Russian troops faced "ferocious resistance", incurring huge losses as Ukraine's military – outgunned but determined – pushed back against the invading force.
After weeks of fighting, the invading forces pulled back in late March, but "evidence of Russian atrocities emerged in the wake of the retreat".
The world was horrified by reports of civilians and prisoners of war being raped, tortured and executed in Bucha, a city in Ukraine's Kyiv Oblast. As evidence mounted, calls grew for the Russian forces accused of carrying out the atrocities to be prosecuted for possible war crimes.
9 June 2022: Putin orders food blockade
In June, Vladimir Putin was accused of "weaponising starvation" as the Russian fleet blocked the export of tonnes of Ukrainian grain, "with ominous consequences" for global food security, said the Financial Times.
"Putin's most powerful weapon is not in his military arsenal," Edward Lucas, a Russia expert at the Washington D.C.-based Center for European Policy Analysis, told the paper. "It is the threat of migration and unrest provoked by disrupting food supplies to Africa and the Middle East."
In a bid to head off disaster, the UN and Turkey's President Recep Erdoğan brokered an agreement between Ukraine and Russia to allow Ukrainian ships to leave Odessa.
The Black Sea grain deal ended the de-facto blockade of Ukraine's Black Sea ports, and was subsequently extended to stand until 19 March. But last week, Ukraine accused Moscow of once again using food as a weapon, by "extending the length of inspections for ships heading to and from its Black Sea ports", said Politico.
12 September 2022: Russia surrenders Kharkiv
The tide of war seemed to turn in Ukraine's favour in September, when a surprise counteroffensive in the Kharkiv region forced Russia to pull back.
The "remarkable advance" had "caught the Russians off guard" and led top Russian generals to question Moscow's military strategy, said the BBC.
But as Ukraine racked up further military successes, Moscow began targeting the country's infrastructure, with major cities including Kyiv facing blackouts as a result.
This week, Russian forces claimed to have made gains in Kharkiv, by taking the small village of Hryanykivka, near the key city of Kupiansk.
08 October 2022: Crimea Bridge blast
In a significant symbolic victory for Ukraine in October, a truck carrying explosives destroyed the Crimea Bridge that connected Russia to its illegally annexed territory.
The bridge had "strategic value" for Russia, as part of a key logistical supply line, and was also "a source of Russian pride", said France24. Putin had opened the bridge to "great fanfare" in 2018.
The BBC reported in December that the bridge had been "largely repaired", after Moscow was forced "to resort to a limited ferry service" to "keep its troops supplied".
11 November 2022: Russia pulls back from Kherson
In November, Russian forces retreated from the city of Kherson following a Ukrainian counteroffensive.
However, the Russian troops retreated just 800 metres away across the Dnieper River, and "have been bombarding Kherson from the opposite left bank" ever since, said The Guardian.
The city was braced for a renewed Russian offensive in the run-up to the first anniversary of the war. Last week, Nato Secretary-General Jens Stoltenberg said that the anticipated Russian offensive had already begun. Ukraine was expected to launch a counteroffensive in the coming weeks.

Continue reading for free
We hope you're enjoying The Week's refreshingly open-minded journalism.
Subscribed to The Week? Register your account with the same email as your subscription.