Democrats stage sit-in over US gun laws after Orlando shooting
Protesters sing songs and report proceedings over social media in their bid to tighten US firearms laws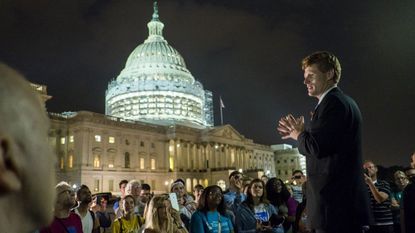 (Image credit: Pete Marovich/Getty Images)
Democrats have staged a sit-in at the US House of Representatives in an attempt to force a vote on gun control measures in the wake of the Orlando shooting.
The protest followed last week's 15-hour filibuster by the party in Congress, which failed to secure any tightening of the country's gun laws.
"Georgia congressman John Lewis deployed a strategy from his days as a civil rights activist and coupled it with social media to stage a dramatic sit-in," NBC reports.
Subscribe to The Week
Escape your echo chamber. Get the facts behind the news, plus analysis from multiple perspectives.
SUBSCRIBE & SAVE
Sign up for The Week's Free Newsletters
From our morning news briefing to a weekly Good News Newsletter, get the best of The Week delivered directly to your inbox.
From our morning news briefing to a weekly Good News Newsletter, get the best of The Week delivered directly to your inbox.
The Democrats sang 1960s protest songs and read out the names of the 49 victims killed when Omar Marteen, armed with a legally-held AR-15 assault rifle and handgun, as well as an explosive device, opened fire Orlando's Pulse nightclub on 12 June.
Republican speaker Paul Ryan criticised the protesters and said the sit-in was "nothing more than a publicity stunt" before calling a recess.
The suspension of government business meant all live video and audio coverage of the chamber was cut off, so the protesters turned to social media to broadcast their demonstration. Congressman Scott Peters provided coverage using the Periscope live-streaming service.
President Barack Obama and presidential hopeful Hillary Clinton both voiced their support for the protest.
"At one point a Republican, Louie Gohmert of Texas, stood toe to toe with Corrine Brown of Orlando in a confrontation that looked set to spiral out of control until Lewis and others intervened," says The Guardian.
He later told the newspaper the Orlando victims were being "disrespected", arguing that "radical Islam" was to blame, rather than guns.
Orlando shooting 911 call: 'I am an Islamic soldier,' says gunman
21 June
The gunman who killed 49 people at a gay nightclub in Orlando last week described himself as an "Islamic soldier" to police in phone calls made during the attack.
In a 911 call made by Omar Mateen at 2.35am, he told police: "I pledge allegiance to Abu Bakr al-Baghdadi of the Islamic State." Baghdadi is the group's leader.
Mateen made the calls "in three phases from 2.35am to 4.29am", says The Guardian, and "gave false information, including an empty threat of possessing explosive vests and a promise of vehicles rigged to detonate".
The Department of Justice had earlier been criticised for releasing an edited version of the transcript, in which there was no mention of IS or its leader.
US speaker Paul Ryan questioned why the document had been cut, saying: "We know the shooter was a radical Islamist extremist inspired by Isis. We also know he intentionally targeted the LGBT community."
He denounced the decision to cut parts of the transcript as "preposterous" and demanded the Obama administration released the complete version "so the public is clear-eyed about who did this, and why".
The full transcript of the first 911 call is below:
Orlando Police Dispatcher (OD)
Omar Mateen (OM)
OD: Emergency 911, this is being recorded.
OM: In the name of God the Merciful, the beneficent [Arabic]…
OD: What?
OM: Praise be to God, and prayers as well as peace be upon the prophet of God [Arabic]. I wanna let you know, I'm in Orlando and I did the shootings.
OD: What's your name?
OM: My name is I pledge allegiance to Abu Bakr al-Baghdadi of the Islamic State.
OD: Ok, What's your name?
OM: I pledge allegiance to Abu Bakr al-Baghdadi, may God protect him [Arabic], on behalf of the Islamic State.
OD: All right, where are you at?
OM: In Orlando.
OD: Where in Orlando?
Orlando shooting: Clinton blasts Trump's 'reckless' response
16 June
Hillary Clinton has joined the bipartisan chorus of voices condemning inflammatory comments made by Donald Trump in the wake of Sunday's massacre at an LGBT nightclub Orlando, Florida.
"Not one of Trump's reckless ideas would have saved a single life in Orlando," the presumptive Democratic nominee said during a security forum in Virginia yesterday.
"A ban on Muslims would not have stopped this attack," she added. "Neither would a wall."
Sunday's attack on Pulse nightclub, which left 49 people dead and dozens more injured, was carried out by Omar Mateen, a US citizen of Afghan descent. His exact motives remain unclear.
The tragedy prompted Trump to once again call for a complete ban on Muslims entering the US. He added that the victims should have had "guns strapped to their ankles" to be able to stop Mateen.
Trump caused further outrage by tweeting: "Appreciate the congrats for being right on radical Islamic terrorism" while many of the dead were still being identified and victims lay in hospital.
President Barack Obama promptly issued a passionate warning on how "dangerous" the Republican's rhetoric was, views that have been echoed by senior figures in Trump's own party.
In her speech, Clinton called for an end to "all the Twitter rants and conspiracy theories", saying it was "time for a substantive discussion about how we protect our country."
Meanwhile, in Washington, Democratic senators staged a marathon filibuster to try and force a vote on tougher gun control legislation.
"Senate Democrats led by Chris Murphy ground the Senate floor to a halt, vowing to speak as long as necessary to force the Senate to take action to address gun violence," reports USA Today.
The senator called for both sides to agree on legislation that would deny suspected terrorists the right to buy guns and require universal background checks.
Murphy tweeted a vote had been secured, "but there has been no confirmation", says the BBC.
Orlando shooting: Omar Mateen's wife 'knew of his plan'
15 June
Orlando gunman Omar Mateen's wife, Noor Zahi Salman, may face charges after reportedly telling the FBI she had tried to talk him out of his plan to attack gay nightclub Pulse.
Congressman Peter King, the chairman of the homeland security subcommittee on counter-intelligence and terrorism, said: "If it's true that she did know that it was going to happen and she tried to talk him out of it, then it's possible criminal action against her and again there might be more involvement by her, so all that has to be investigated".
Sunday's attack was the deadliest mass shooting in US history, with Mateen killing 49 people before being shot dead by police. He also wounded another 53 people during his three-hour rampage with an assault rifle and a handgun. Yesterday, 27 people were still in hospital, six of them in a critical condition.
According to Reuters, Salman could be charged today in connection with her husband's crimes.
Senator Angus King told CNN: "It appears she had some knowledge of what was going on. She definitely is, I guess you would say, a person of interest right now and appears to be cooperating and can provide us with some important information."
According to NBC News, Salman told the FBI she was with Mateen when he bought ammunition and a holster. She allegedly said she once drove him to Pulse because he wanted to "scope it out", the broadcaster says.
Congressman King said whether Mateen acted alone or received support from other individuals or groups is now central to the FBI inquiry, reports The Guardian. Mateen is known to have called emergency services during the attack to profess his allegiance to militant Islamist groups.
Mateen, who was 29, was a US citizen whose parents had immigrated to the country from Afghanistan. He had been married twice and was the father of a three-year-old boy. His first wife, Sitora Yusifiy, says he had been physically abusive towards her during their marriage, which ended in 2009.
Mateen's motives are the subject of speculation, with commentators divided over whether to describe the attack as principally an act of terrorism, homophobia, or both.
There have been suggestions Mateen may have struggled with his own sexuality. Witnesses have claimed he was a regular at an Orlando gay bar and used the gay hook-up app Grindr.
Survivors of the shooting say they heard him describe his motive as political and that he wanted the US to "stop bombing his country", says The Guardian.
Orlando shooting: Omar Mateen 'was on gay dating apps'
14 June
The gunman who killed 49 people and wounded 53 others at an LGBT nightclub in Orlando at the weekend had been on a gay dating app and visited the club "multiple times before", according to local media.
Omar Mateen was killed by police after he opened fire with an AR-15 rifle and a handgun at the Pulse nightclub. It was the US's deadliest mass shooting.
Mateen had pledged allegiance to Islamic State, although his father says his son was not motivated by religion and had become angry after seeing two men kissing in Miami months ago.
Acquaintances have since told various media outlets that the gunman may have been gay himself, offering "another dimension to the portrait emerging of the man behind the violent rampage", says the Washington Post.
A former classmate of Mateen's 2006 police academy class said Mateen had once asked him out.
"We went to a few gay bars with him, and I was not out at the time, so I declined his offer," he told the Palm Beach Post.
At least four regular customers of Pulse told the Orlando Sentinel they had seen him there before.
Mateen's father, Seddique, told the Palm Beach Post his son was not gay. "If he was gay, why would he do something like this?" he asked.
In a White House press conference, US President Barack Obama said Mateen was "inspired by various extremist information that was disseminated over the internet".
FBI director James Comey also said there were "strong indications of radicalisation" and of "potential inspiration by foreign terrorist organisations".
Despite claims from Islamic State that Mateen was one of its fighters, there is no evidence to suggest that a foreign group or network instructed him directly, he added.
Orlando shooting: What we know about the massacre
13 June
A New Yorker of Afghan descent who was twice interviewed by the FBI but deemed not to be a threat has killed 49 people and injured 53 in the most deadly mass shooting in US history.
Omar Mateen, 29, was armed with a legally held AR-15 assault rifle and handgun, as well as an explosive device, when he stormed a gay nightclub in Orlando, Florida, in the early hours of Sunday. US President Barack Obama has described the attack as "an act of terror and of hate".
What happened?
When police raided the building, they found "a panicked scene of unimaginable slaughter, the floors slicked with blood, the dead and the injured piled atop one another", says the New York Times. Mateen, holding up to 30 people hostage, was shot dead by officers. Some of the clubbers had fled.
Survivors trapped inside hid where they could and called 911 or sent messages to their relatives and friends. Families were forced to wait until the dead and injured were identified to learn of their loved ones' fate.
What were Mateen's motivations?
Officials say the attack was "likely to be ideologically motivated". The gunman reportedly "called 911 during the attack to pledge allegiance to Isis and mentioned the Boston Marathon bombers", says CNN.
Police confirmed the shooting was being considered an "act of domestic terrorism", but a "knowledgeable" US official told reporters the initial hypothesis regarding the shooter's motive "leaned closer to a hate crime than an act of terrorism".
Mateen's father, Mir Seddique, said the incident had nothing to do with religion and that his son had become angry when he saw a gay couple kissing in Miami.
"On Sunday afternoon, an Islamic State-affiliated Twitter account claimed responsibility for the attack," says the Miami Herald "But as of yet, no direct operational links to the radical Islamic terrorist group had been announced by the FBI."
What was Mateen's background?
Mateen was under investigation for an unrelated criminal act but is not thought to have been on a terrorism watch list. He "was interviewed by the FBI in 2013 and 2014 but was not found to be a threat", says CNN.
He had worked as an armed security officer for the firm G4S, according to the BBC, and was able to legally hold a state firearms licence.
Mateen's ex-wife, Sitora Yusufiy, who divorced him in 2011, claims he was violent and mentally unwell.
"He was not a stable person," she told the Washington Post. "He beat me. He would just come home and start beating me up because the laundry wasn't finished or something like that."
How has the world reacted?
Although the facts are still being gathered, the incident appears to involve a Muslim, firearms and a gay club – exposing so many of the US's fault lines, says The Guardian's Gary Younge.
Calls for greater gun control have already begun, as well as a row over the extent to which the incident concerns Islam and homophobia, although Younge points out that Mateen was born in the US, undermining immigration arguments.
"The truth is it is, most likely, about lots of things. And the bolder the claim that it is about any one thing, the more vulnerable it will be to contradiction and qualification," he says. "While the act of killing so many so quickly is crude, the underlying factors are complex."

Continue reading for free
We hope you're enjoying The Week's refreshingly open-minded journalism.
Subscribed to The Week? Register your account with the same email as your subscription.