Why everyone's talking about swine fever
Millions of pigs are culled as 'biggest animal disease ever' hits Southeast Asia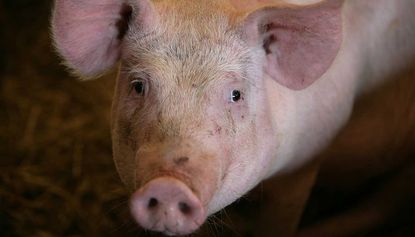 (Image credit: Christopher Furlong/Getty Images)
Southeast Asia has been hit by what experts say is the world's biggest ever animal disease outbreak – an epidemic of African swine fever.
There is no vaccination for the disease, known as "pig Ebola", which, though harmless to humans, is highly contagious and fatal for pigs.
"This is the biggest animal disease outbreak we've ever had on the planet," Dirk Pfeiffer, a veterinary epidemiologist at City University of Hong Kong, told The Guardian. "It makes the foot and mouth disease and BSE outbreaks pale in comparison to the damage that is being done. And we have no way to stop it from spreading."
Subscribe to The Week
Escape your echo chamber. Get the facts behind the news, plus analysis from multiple perspectives.
SUBSCRIBE & SAVE
Sign up for The Week's Free Newsletters
From our morning news briefing to a weekly Good News Newsletter, get the best of The Week delivered directly to your inbox.
From our morning news briefing to a weekly Good News Newsletter, get the best of The Week delivered directly to your inbox.
What happened?
African swine fever was discovered last August in China, where it has resulted in more than 1.2 million pigs being culled. China is home to almost half of the world's pigs "and the news sent the global price of pork soaring", says the Guardian.
The disease causes pigs to internally haemorrhage until they die, so killing contaminated animals is the only way to contain it.
North Korea, Cambodia, Hong Kong and Mongolia have all reported cases this year, along with Romania, Ukraine, Moldova and Russia.
Consumption of infected meat – the resilient disease can live for months in pork products like sausage – is a major contributor to its spread in China, "where many small farmers feed their pigs household garbage, although the government has now placed restrictions on swill feeding", says Time.
"It's spreading like wildfire in Asia because... the pig is the garbage truck of Asia," Simon Quilty, an independent meat and livestock analyst based in Australia, told Rfi.
The implications of the outbreak are already being felt beyond Asia. Global pork prices have risen by almost 40% and long term it is likely to lead to more pork imports from Europe and America to meet demand, with experts believing it will also push up global meat prices. Market analyst Rabobank told the Guardian that pork supplies across the globe could fall by 8%.
What's the response been?
Checkpoints, sniffer dogs and strict import bans in China have been deployed in a desperate bid to control the disease's spread. The stricter controls have also had a knock-on effect of curtailing "a black market meat trade that's normally worth about $2bn a year", says Bloomberg.
The disease has already hit most provinces in China, reducing pork production by 30% according to some estimates. Beijing's official statistics say around one million pigs have been killed since the first outbreak in August last year – but that is widely considered to be an underestimation with some suggesting up to 200 million animals may eventually be slaughtered.
South Korea, Japan and Taiwan have also all stepped up airport screening after swine fever was brought in by travellers carrying contaminated sausages, although no pigs have been infected so far.
All three countries have bumped up fines for smuggling in pork products – up to $8,400 in South Korea – and Japan has deployed sniffer dogs and quarantine stations at major airports.
"We're trying to crack down on all possible routes," an animal hygiene official at Japan's agriculture ministry told AFP.
South Korea has announced it is building fences and laying traps to try to stop North Korean wild boar infecting its pig farms.
The authorities in Pyongyang have "ignored pleas from South Korea to coooperate with quarantine measures after the announcement of an outbreak of swine fever close to North Korea's border with China", reports The Times.
What happens next?
The UN Food and Agriculture Organization (UNFAO) and regional experts fear that Myanmar, Philippines and Laos are highly susceptible to an outbreak owing to the struggle to control the movement of pigs and pig products across porous borders.
Spain's experience with the disease "suggests that a cull alone won't be enough to solve the problem", says Bloomberg. The country implemented strict sanitary measures and industrialised its hog production system "but it took 35 years and help from the European Union before the disease was eradicated in 1995", says the site.
Similarly, the Italian island of Sardinia has been trying unsuccessfully to get rid of the virus for four decades, and its pig population is much smaller than China's.
"When a virus becomes endemic like that, we're going to be living with this forever," Matthew Stone, deputy director-general at the World Organisation for Animal Health (OIE), told AFP.
That will hammer the pork industry and spin-off sectors such as the soybean business used for animal feed, Stone said, warning of "significant uncertainty" in global markets for years to come.
Currently the battle to contain the disease is being lost. "There are concerns that the disease will continue to spread across the countries in south-east Asia," said Dr Wantanee Kalpravidh, regional manager for UNFAO, in the Guardian. Kalpravidh said the swine fever cases being reported by governments in the region were "underestimates".

Continue reading for free
We hope you're enjoying The Week's refreshingly open-minded journalism.
Subscribed to The Week? Register your account with the same email as your subscription.