Is India becoming a dictatorship?
As his only serious rival resigns, does Narendra Modi's rule threaten to undermine the 'world's largest democracy'?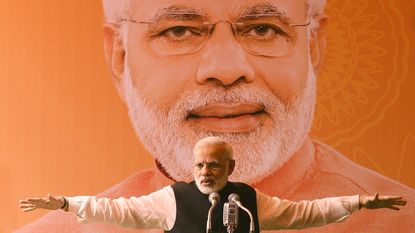 (Image credit: Getty Images)
Sign up to our 10 Things You Need to Know Today newsletter
A free daily digest of the biggest news stories of the day - and the best features from our website
Thank you for signing up to TheWeek. You will receive a verification email shortly.
There was a problem. Please refresh the page and try again.
Narendra Modi's Bharatiya Janata Party (BJP) secured a historic majority in India's lower house of parliament earlier this year - and now his only serious rival has resigned, raising questions about the future of the world's largest democracy.
Modi won 303 seats in May, 251 ahead of his rival Rahul Gandhi, president of the opposition Indian National Congress (INC).
Last week, Gandhi stood down, saying: "As president of the Congress party, I am responsible for the loss of the 2019 election," the FT reports.
Subscribe to The Week
Escape your echo chamber. Get the facts behind the news, plus analysis from multiple perspectives.
SUBSCRIBE & SAVE
Sign up for The Week's Free Newsletters
From our morning news briefing to a weekly Good News Newsletter, get the best of The Week delivered directly to your inbox.
From our morning news briefing to a weekly Good News Newsletter, get the best of The Week delivered directly to your inbox.
Despite admitting his own shortcomings as opposition leader, Gandhi also warned that Indian democracy may be under threat - but stopped short of using the word dictatorship.
He claimed that the BJP was "systematically crushing the voice of the Indian people" by undermining democratic institutions, and that Modi's re-election would result in "unimaginable levels of violence and pain for India", said AP.
"Our democracy has been fundamentally weakened. There is a real danger that from now on, elections will go from being a determinant of India's future to a mere ritual," he said.
But leaders of other opposition parties have been more forthright, citing the increase in hate crimes since Modi came to power in 2014 and his overreaching control of media outlets.
In March, Delhi's chief minister, Arvind Kejriwal, compared Modi to Adolf Hitler and claimed that "anyone who questions the Modi government is labelled an 'anti-national'". And former Karnataka chief minister Siddaramaiah claimed that a second term would see Modi "become a dictator and it is doubtful if there will be elections in the future".
Meanwhile, political analyst Pratap Bhanu Mehta told the BBC that "when people trust each other and distrust their leaders, you get democracy", but that "when people distrust each other and completely trust their leaders, you get dictatorship.
"I think we are at the second moment right now."
But is India - often heralded as the "world's largest democracy" - really on the brink of descending into a dictatorship in the hands of Modi? Or is he simply riding a populist wave?
What has Modi's premiership been like?
Modi, the son of a tea stall owner, has dragged Indian politics in a new direction for many in the country since his premiership began in 2014.
In an article for The Guardian, Kapil Komireddi writes that under Modi, India has "undergone the most total transformation since 1991", when the country suffered a devastating economic crisis and a spike in ethnically-charged violence, culminating in multiple terrorist attacks and the assassination of former PM Rajiv Gandhi - Rahul Gandhi's father.
But Modi's reign has been marked less by sweeping political or social reforms and more by a peculiar lack of them. Since taking power, few of the BJP's pre-election promises have been honoured.
Prior to the election Modi had pledged to put India at the forefront of the global smart cities movement, revolutionising waste management, green energy use and public transport, but according to Komireddi, "there is nothing of the sort in sight". He also failed to live up to a promise that he would clean up India's most famous river, the Ganges, after years of mismanagement has seen it blighted by pollution.
Most controversially, Modi had pledged to create 20 million jobs annually, but in January Al Jazeera reported that unemployment in India had risen to a 45-year high of 6.1%.
Then why is he popular?
Modi's unprecedented popularity lies not in his political achievements, but in his ability to reshape the narrative of any political issue. This is most evident in the "brawny patriotism" he has created in India, according to The New York Times, which has seen him recklessly stoke Hindu nationalist sentiments, often at the expense of marginalised groups in the country.
Modi is a "lifelong adherent of the Hindu nationalist movement" known as Hindutva, The Observer reports; a turn-of-century ideology which "envisages Hindus as a single nation with a sacred culture that should be emphasised above all others.
"Consigned to the margins, in this vision, are India's millions of minority citizens, including the almost 200-million-strong Muslim population," the paper adds.
Foreign Policy says the tone of Modi's 2019 re-election bid was indicative of his willingness to ride this unprecedented wave of Hindu nationalism in lieu of tangible achievements, describing his campaign as "light on development and heavy on ethno-religious dog whistles".
In what the magazine describes as a "notably nasty campaign", Modi and his followers "riled up their Hindu base, giving fiery speeches on the dangers posed" by the military of Muslim-majority Pakistan and Muslim migrants from Bangladesh; the latter group being described by one BJP official as "termites". Modi and his adherents appear to be of the theory that India is rightly a Hindu, not a multicultural, nation.
But his strongman image was cemented by his response to a suicide bombing in February that killed 40 Indian security personnel in the disputed region of Kashmir, a source of tension between India and neighbouring Pakistan.
To counter the attack, Modi ordered targeted airstrikes on what the government described as the training camp of a militant group in Pakistan, winning the plaudits of the nationalist Hindu voting bloc, many of whom cited the incident as a key reason for voting for him.
Does this make him a dictator?
It depends on our definition of dictator.
From an authoritarian policy perspective, many fear that the victorious Modi now has the opportunity to "seek far-reaching changes to India's constitutional order, partly to increase his own authority and partly to affirm Hinduism as a de facto state religion", Foreign Policy suggests.
"This then invites global comparisons to other notorious strongmen, many of whom began with the same moderate technocratic platforms that Modi offered in 2014, only to grow more autocratic in power."
According to Angana P. Chatterji, author of a recently published book on Modi titled Majoritarian State, his party is attempting to silence dissent entirely. "The BJP has made it clear that no other party should compete with it … reflect[ing] its views of competitors not as adversaries, but as enemies."
Another hallmark of a dictatorship is the cult of personality. Project Syndicate calls Modi's cult of personality the "most extraordinary" in modern Indian history, "buttressed by larger-than-life imagery, hundreds of thousands of social-media warriors, an intimidated mainstream media, ubiquitous cameramen, and a slick publicity machinery that was switched on 24/7".
The news organisation, along with writer and INC politician Kumar Ketkar, allege that Modi and the BJP have strong-armed the media into supporting him, both through money and coercion, with the latter claiming that Modi has "so brazenly brought the TV media and section of the print media under his fold" that "today, that whole Information wall acts like an intellectual concentration camp".
On this front, Modi and his party appear to be buying into their own hype. One of the more ludicrous stories around Modi's self-cultivated tough guy image centres on a "rather interesting pitch" during his 2014 election campaign in which he boasted that he had a chest that measured 56 inches, says English-language paper Scroll.in.
"It is unknown if this is literally true, but making pectoral size an election issue was an unmistakable metaphor: Modi was saying he is a strong leader," the paper adds.
Will this negatively affect his reign?
Almost certainly not. Among his supporters, none of this appears to matter. Ironically, the policies and beliefs which have facilitated Modi's extraordinary popularity among the electorate are the same set of policies that often see him accused of authoritarianism and encouraging bigotry.
Through his brash and hyper-aggressive approach to dissent - particularly with regard to Pakistan - Modi has "branded himself as a messiah and as a strong leader. So, while many realise that things are gloomy, they believe that he has the capability to make things better", says political analyst and former political journalist Prakash Bal.
The BJP appears to have successfully galvanised a huge portion of Indian voters into viewing themselves through the prism of their religious identity, fostering a political and cultural tribalism that will be extremely difficult to dismantle from the opposition seats of parliament, especially in a nation with an overwhelmingly Hindu majority.
Al Jazeera reports that enthusiasm for the prime minister has not changed in the BJP-ruled northern states like Haryana, Uttar Pradesh and Rajasthan, while Modi's popularity has been rising in southern India, while "at least nine-in-ten Indians in the southern states of Andhra Pradesh, Karnataka, Tamil Nadu and Telangana strongly believe the prime minister is doing a good job".
In fact, the ferocity of political discourse has so dramatically increased under Modi - much of this being Modi's doing - that certain terms and concepts once universally thought of as abhorrent are now deemed acceptable by the public.
A 2017 poll from Pew Research revealed that support for military or "autocratic" rule by a "strong leader" was higher in India (55%) than in any other country, including Vladimir Putin's Russia. At the same time, multiple think pieces have been published by pro-BJP news outlets with headlines such as "10 Reasons Why Dictatorship Is The Only Way Out For India" and "Parliamentary democracy has failed. India needs dictatorship".
In the latter of these pieces, the former chairman of the Press Council of India, Markandey Katju insists that "parliamentary democracy rests on a majority vote - but the vast majority of our people are intellectually backward".
"So, what is the alternative to parliamentary democracy?" he asks. "In my opinion, the answer is – a dictatorship of a small number of leaders with modern scientific minds who ruthlessly abolish and crush feudal laws, customs and practices and religious extremism, and rapidly industrialise and modernise the country, giving the people a high standard of living and decent lives."
Have we gone past the point of no return?
According to some, Modi's premiership has seen him join the ranks of leaders including Turkey's Recep Tayyip Erdogan and Rodrigo Duterte of the Philippines - two leaders often referred to by international media as authoritarian dictators.
"History says that every dictator first talks of nationalism and captivate the people," former INC leader Ashok Gehlot said after Modi's election, adding that he "has a perverted version of patriotism and has got down to exploit this term to win the election only by emotionally misleading the people, especially the youth."
The INC, described by The Economist as the BJP's "only national rival", was once seen by many as the potential saviour of India from Modi's authoritarian rule, as "at least it does not set Indians at one another's throats". But with the departure of a charismatic powerhouse in Rahul Gandhi, its future looks bleak.
To others, fears over Modi's descent into strongman territory is overblown and represents the growing global trend for populist nationalist leaders - a phenomenon some believe is merely temporary.
"India remains a federal nation, in which prime ministers in New Delhi face many constraints on their power, not least from other state governments," Foreign Policy says.
"The likely results [of his re-election] may be less bad socially than many fear, with plenty of limitations on the BJP's worst instincts. Whichever way you look at it, Modi's return to New Delhi is not going to be good for India's liberal traditions. At least for now, however, it won't be the end of them."
Continue reading for free
We hope you're enjoying The Week's refreshingly open-minded journalism.
Subscribed to The Week? Register your account with the same email as your subscription.
Sign up to our 10 Things You Need to Know Today newsletter
A free daily digest of the biggest news stories of the day - and the best features from our website