How Tesla made it to the top
Tesla has transformed the auto industry and made Elon Musk the richest man on the planet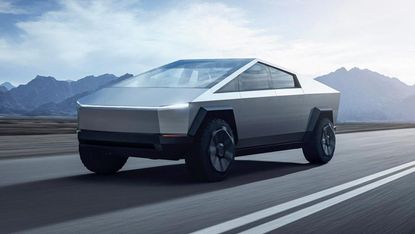 (Image credit: Tesla)
I had never before got behind the wheel of an electric vehicle (EV).
But jumping in at the deep end, I test drove the top-of-the-range Tesla Model S Performance and embarked on a 1,500-mile return journey to Switzerland for a two-week family holiday.
Before collecting the Model S, I made sure to do some homework on the route. I was totally ignorant on the realities of EV driving and nervous about range limitations and lengthy charging delays.
Subscribe to The Week
Escape your echo chamber. Get the facts behind the news, plus analysis from multiple perspectives.
SUBSCRIBE & SAVE
Sign up for The Week's Free Newsletters
From our morning news briefing to a weekly Good News Newsletter, get the best of The Week delivered directly to your inbox.
From our morning news briefing to a weekly Good News Newsletter, get the best of The Week delivered directly to your inbox.
I typed London to Davos into Tesla's slick routing software: it's 679 miles, with three charging stops at Tesla Supercharger stations, each for an average of just 40 minutes. I'm mightily impressed and it seems any apprehension was unnecessary.
One of these legs alone is around 260 miles, and with a six-month-old baby on board, we'd be needing a pit stop by then anyway. Plus, it tells me there is a £210 saving in petrol - double this for the return journey and that's also covered the Eurotunnel as well as some nice family meals out.
The Model S comes in two versions: Long Range Plus and Performance. The former starts at £77,980 and has an advertised range of 402 miles, with 0-60mph in 3.7 seconds. The Performance starts at £92,980, has a range of 348 miles and a jaw-dropping 2.3 seconds 0-60 time.
I'm in the Performance, and it's an all-singing, all-dancing version that'll cost £96,630, with some extras like 21" alloys (£4,400) and Full Self-Driving Capability (£6,800).
Interior
Hopping into the sleek white vegan leather seats, the interior is refreshingly simple - some patches of carbon fibre, but no buttons, knobs, handbrake, gear stick or even a starter button.
Instead, a huge 17-inch display built into the dash takes care of most functionality - navigated very intuitively - with the remainder mopped up by the steering wheel or its levers.
You can stream music from the car's Spotify account, or from your phone, watch Netflix or play games whilst you charge it. And there are some huge storage areas in the central compartment including an impressive four cup holders.
A notable absence are side pockets in the doors. However, this turned out to be a positive, as they tend to accumulate rubbish mostly anyway, and with ample storage elsewhere it wasn't a problem.
The baby seat fitted in the back with ease - plus there would still comfortably be room for two adults - and despite food being thrown all over the place, the white interior remained that way after a quick wipe.
Driving experience
For the first hour or so, it was a little like learning to drive again. Select drive, release the brake pedal, and nothing happens. Although peculiar at first, this turned out to be a feature I loved - particularly for city driving.
When stationary, there's no need to continually hold down the brake pedal - once you've come to a halt, take your foot off the brake and the car automatically holds itself, unlike other automatics I've driven which automatically idle along at a crawl.
Pulling away is an extraordinary experience. Without stating the obvious, it is almost entirely silent, but what's more remarkable is the instant application of power.
There is zero lag time from pressing the accelerator to pick up in speed, and select "Ludicrous" mode - yes that's its actual name - and it is astonishingly fast, like nothing I've ever experienced.
I didn't even get near testing this to its full capability, but even then it was jaw dropping. There was also that niggling, ever present thought in the back of my mind of being wary about conserving precious battery, so I quickly abandoned any boy racer tendencies and from then on proceeded to drive very smoothly the entire time.
Once in motion, taking your foot off the throttle for the first few times is, once again, a totally new experience. So much so, for a while I thought the handbrake was stuck on.
It turns out this is the rather smart regenerative braking, whereby the car's momentum is recaptured to charge the battery. The result is that the car doesn't coast and gradually slow as normal, rather it quite aggressively slows, indeed brakes, which is necessary for recharging to be effective.
While this was quite alarming at first, it was a feature I once again came to like, particularly as I knew it was helping my range.
One hears a lot about Tesla's self-driving capabilities. So I was excited to hit the open motorways of France to engage autopilot. However, it quickly became apparent this wasn't going to allow for a relaxing journey, as my wife, who was nodding off in the passenger seat, kept on being awoken by a warning noise or automatic sharp braking that was quite unnerving. So I quickly turned this off and took back control of the wheel and accelerator.
The navigation system on the central display tells you how far away the next charging station is. It also lets you know how much charge the battery would have on arrival, and how long you would need to charge for to get to the next station. It was most impressive and meant you didn't really have to engage your brain on this front.
What's the charging really like?
The charging experience as a whole was much less painful than I expected. It turns out, having access to Tesla's Supercharger network - which is exclusively for Tesla vehicles by the way - is, in my limited experience, what really sets Tesla ownership apart from other EV brands.
As the name suggests, they charge at a phenomenally quick rate when compared to conventional charging stations - plug in for just 30 minutes and you can gain around 70% power which will give a few hundred miles.
There are 63 of these sites in the UK and around 400 spread across Europe, and this is constantly being rolled out.
The charging locations are on or just minutes from main arterial roads - service stations, or in the corners of hotel car parks for example. We found by the time we had a much needed stretch of the legs, comfort break and coffee, it was more than enough time to get going again.
I used one other regular pay as you go charger on this trip, in a car park whilst we walked around a lake, and in an hour and a half the car gained around 25% battery.
Without the Superchargers, it'd be necessary to plan ahead and be much more cunning about battery usage, or you could come unstuck with some very long unscheduled stops.
Boot space
When it comes to carrying capacity, there is no denying the Model S is positively a tardis. With my wife and six-month-old baby in tow - and two weeks worth of holiday gear - we could fit everything we needed, and more. Several large bags, a huge pram, travel cot, paddleboard, two cool bags, and some boxes of glasses for the chalet we were staying at.
The boot is simply huge, plus there is the "frunk", a small-ish extra area under the front bonnet thanks to the absence of a huge engine. All told, there's 894L of storage, compared with the Land Rover Discovery Sport's 754L and BMW 5-series estate's 560L.
The car is long and wide which you will notice when going round tight inner corners or reversing into small parking spaces.
The verdict
Most of the concerns I had around the EV experience - largely the charging and range limitations - in reality didn't have an adverse affect on my two weeks living with the car.
If you're able to apply a modicum of planning, a smooth driving style and a little extra patience when charging, you'll be all set. Mind you, this is largely thanks to Tesla's vision in creating its own Supercharger network; it is a game changer and puts other EV brands at a significant disadvantage.
The Model S Performance is really well executed - so much boot space, very comfortable, brilliant 17" touchscreen display (a small point I know, but this is another Tesla masterstroke), smooth to drive and great looking.
If I was in the market for a top end EV, this car would likely be my top choice. Albeit the initial purchase price is unquestionably high, certainly when compared to regular cars (but don't forget the cost savings of EV ownership) if your pockets are deep enough, it's a fantastic option for environmentally conscientious and comfortable miles.

Continue reading for free
We hope you're enjoying The Week's refreshingly open-minded journalism.
Subscribed to The Week? Register your account with the same email as your subscription.