7 of the scariest spiders in existence
Eight-legged arachnids, like the Goliath bird-eater or the eyeless Kauai cave wolf spider, are some of the most feared critters on the planet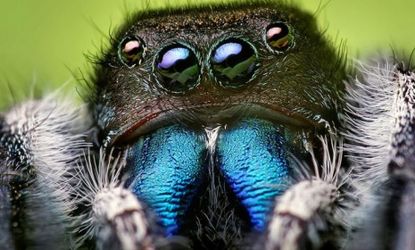 (Image credit: Wikimedia commons)
Spiders have an image problem. Though most are relatively harmless, the eight-legged creatures have the dubious distinction of being among the most feared critters on the planet. A recently discovered species of daddy longlegs, with creepily sprawling legs 13 inches in length, isn't helping matters. That said, this guy is hardly the only spider that gives people the heebie-jeebies. In the spirit of Halloween, here's an introduction to him and six more hair-raising arachnids:
1. The leggiest spider
Recently discovered in the Laotian province of Khammouan, this creature (pictured in full and in detail below) and its 13-inch limbs will "probably unnerve those... with hair-trigger squeamishness," says Cyriaque Lamar at io9, even though it doesn't pose a threat to humans. Researchers are having a hard time pinpointing its exact species level, but suspect it belongs to the genus Gagrella. Hopefully, "the arachnologist community will identify this species before this spindly demon develops a taste for human flesh."
Subscribe to The Week
Escape your echo chamber. Get the facts behind the news, plus analysis from multiple perspectives.
SUBSCRIBE & SAVE
Sign up for The Week's Free Newsletters
From our morning news briefing to a weekly Good News Newsletter, get the best of The Week delivered directly to your inbox.
From our morning news briefing to a weekly Good News Newsletter, get the best of The Week delivered directly to your inbox.
2. The giant camel spider
This fearsome arachnid, which can grow up to 12 inches in length, has more in common with scorpions than spiders. Its defining feature is a large, powerful jaw that allows it to easily snap through hair, feathers, skin, and shells. "Many tales have been told of camel spiders doing things such as killing family pets," says the Daily Herald, and even "jumping onto the bellies of camels and chewing through their stomachs." These stories are likely exaggerated... but they're still incredibly creepy.
3. Black widow
Female black widows, whose abdomens are adorned with red bow tie-like marks, have notoriously deadly venom. But they don't focus their destructive powers entirely on humans cleaning out attics; these females are known to feast on their smaller male counterparts shortly after sex. According to recent studies, their jittery male paramours gravitate to larger, more rotund females, apparently preferring mates who've already eaten and turned off by the prospect of becoming a meal.
4. Jumping spiders
Displaying bizarre behavior previously unseen in any arachnid, a swarm of mysterious jumping spiders (which may resemble the one pictured below) began attacking people in India during a Hindu festival in June 2012, says Esther Inglis-Arkell at io9. Two people died, apparently from the acrobatic spider's venom. Victims described the still-unidentified species as "large and hairy," leading researchers to speculate that it may be a previously unknown species of tarantula.
5. Six-eyed sand spider
Found in the deserts of southern Africa, the six-eyed sand spider has legs that can reach up to four inches in length. Sometimes it's affectionately called the six-eyed crab spider due to its low, flattened stance. Though the species rarely bites humans, experiments have shown that its venom is toxic enough to kill a rabbit within a few hours.
6. Goliath bird-eating spider
With massive fangs nearly as large as a cheetah's claws, the Goliath bird-eating spider has been observed feeding on not only birds, but rodents, lizards, and bats. It's apparently hard to miss — if you ever find yourself traversing the jungles of South America, look out for these gigantic arachnids, which can grow up to half-a-foot in size.
7. Eyeless Kauai cave wolf spider
Deep within the pitch-black caves of Hawaii lives a strange eight-legged creature with a unique adaptation: It's born without eyes. Instead, the Kauai cave wolf spider, which spends its entire life in darkness, feels out for food using "chemically-based senses."
Sources: io9 (2), Daily Herald, Daily Mail, Outdoor Life, Life's Little Mysteries, Tree Hugger

Continue reading for free
We hope you're enjoying The Week's refreshingly open-minded journalism.
Subscribed to The Week? Register your account with the same email as your subscription.