How to justify the war crime in Hiroshima
As President Obama visits Japan, an examination of our nation's crimes and their moral justifications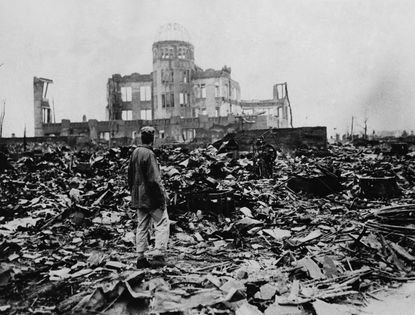 (Image credit: AP Photo)
On Friday, President Obama became the first sitting president of the United States to travel to Hiroshima. This is a highly symbolic event, and one that reignites the conversation around the moral status of the United States' bombing of Hiroshima and Nagasaki in 1945, which killed more than 200,000 people.
Let's not beat around the bush: Those bombings were war crimes. Yes, civilian deaths are inevitable in warfare, but there is a crucial difference between killing civilians unintentionally and doing so deliberately. And yet President Harry Truman was still probably right to drop the bombs.
This is an incredibly controversial opinion, around which arguments have been raging for decades. For example, in 1956, the University of Oxford proposed that President Truman receive an honorary degree from the school. But a faculty member, one of the sharpest and keenest moral philosophers of the 20th century, G.E.M. Anscombe, protested, on the grounds that Truman was a war criminal. The article she wrote to elaborate on her position remains a classic in moral philosophy.
Subscribe to The Week
Escape your echo chamber. Get the facts behind the news, plus analysis from multiple perspectives.
SUBSCRIBE & SAVE
Sign up for The Week's Free Newsletters
From our morning news briefing to a weekly Good News Newsletter, get the best of The Week delivered directly to your inbox.
From our morning news briefing to a weekly Good News Newsletter, get the best of The Week delivered directly to your inbox.
Anscombe based her position on a concept originating from Catholic philosophy, but also used in many moral philosophies, known as the doctrine of double effect. The doctrine of double effect answers a moral dilemma we all encounter in some form or another: We feel we have to do some harm to achieve a greater good. The doctrine says it's possible to do this harm, but only if it's an unintended side effect of the good we seek.
Saint Thomas Aquinas classically used the doctrine of double effect to justify killing in self-defense. If you kill in self-defense, you're not intending to kill another person. You are merely trying to save your own life, but it happens to be that saving your own life has the side effect of taking the life of another.
So how does this apply to the bombings in Hiroshima and Nagasaki? Tactical bombings that involve civilian casualties are permissible in war, because the goal is not to kill civilians, but to reach a military objective. "Collateral damage" is unavoidable.
However, the hundreds of thousands of civilians who died in Japan were not just collateral damage — their deaths were the goal. You don't need a degree in moral philosophy to recognize that deliberately murdering countless innocent civilians is a war crime.
What can be said to justify such an action? Many argue that the bombs probably spared a lot of lives and shortened the war. After all, if the bombs hadn't been dropped, the U.S. would have had to launch a grinding invasion of Japan, which would have killed many, many more people, civilians included. Plus, by becoming the first (and, let us pray, only) nation to use nuclear weapons, the U.S. established a credible deterrent that probably prevented World War III, and in a way, still undergirds global peace. I would stand by all those arguments.
One awful thing about our world is not the crimes we commit, but the fact that some of them are necessary. But perhaps the worst, and most unnecessary crime, is to compound a crime by pretending it's not a crime at all.
There is a very puzzling part of the New Testament where Jesus says the only sins that cannot be forgiven are "sins against the Spirit." What does that mean? In the Christian tradition, the "Spirit" is the Spirit of truth, the one that lets us know right from wrong. We commit a lot of sins, but the worst sin is to lie to ourselves, to convince ourselves that our wrong actions aren't so wrong. It's those lies that justify even greater sins and prevent recognition and healing.
Here's an analogy: The French writer Vladimir Volkoff served as an intelligence officer during the French War in Algeria. His refusal to use torture to collect intelligence ended his career, and he ended up leaving the military.
In his finest novel, set during the war, a young, idealistic French-Russian intelligence officer, an obvious stand-in for his younger self, refuses to torture for the same Christian reasons that Volkoff did: Torture is always and everywhere wrong. He cannot torture because in every victim of torture he sees the face of Christ.
"Well, what if there's a ticking bomb under a school bus?" an older, grizzled officer asks him.
The young officer demurs: That scenario never happens in real life, he insists. When his interlocutor presses, the young man thinks, gulps, and admits he would probably resort to torture — but then resign his commission and perhaps retire to a monastery.
That's the spirit with which we should understand Hiroshima.

Continue reading for free
We hope you're enjoying The Week's refreshingly open-minded journalism.
Subscribed to The Week? Register your account with the same email as your subscription.