Is Trump's wall working?
Republicans have proposed restarting construction on ex-President Trump's unfinished border wall. Is the wall effective?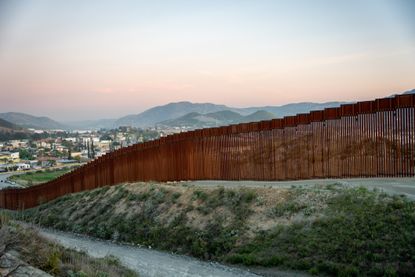 (Image credit: Joey Ingelhart | Gettyimages)
Sign up to our 10 Things You Need to Know Today newsletter
A free daily digest of the biggest news stories of the day - and the best features from our website
Thank you for signing up to TheWeek. You will receive a verification email shortly.
There was a problem. Please refresh the page and try again.
Republicans have proposed restarting construction on ex-President Trump's unfinished wall. Is the wall effective? Here's everything you need to know:
How much wall did Trump build?
At a recent CNN town hall, former President Donald Trump claimed that his administration finished building a wall along the 1,954-mile border separating the U.S. and Mexico. But according to a Customs and Border Protection report written two days after Trump left office in 2021, about 458 miles of the wall were completed under his administration, with another 280 miles identified for construction but never finished. Of those 458 miles, just 52 covered sections of the border that hadn't previously had a barrier. The other 406 replaced shorter barriers that already existed with a fence made of reinforced hollow steel bollards ranging from 18 to 33 feet high. In some sections, lights, cameras and sensors accompanied the new barriers; in others, a secondary fence was built to reinforce an existing one. The project cost an estimated $15 billion, with the money coming from Department of Defense funds and appropriations from Congress. Combined with fencing that pre-dated Trump's presidency, about 700 miles — mostly along public land in Arizona and New Mexico — now have a barrier. In May, House Republicans passed an immigration bill calling for resuming construction.
Is the new wall effective?
It does not seem to be deterring migrants from coming to or crossing the border. The number of crossings, as measured by apprehensions at the border, rose steeply during Trump's term, more than doubling from 2018 to 2019. The pandemic initially slowed migration, but by spring 2021, the number of unlawful border crossings and arrests — separate from those legally applying for asylum — had risen above the totals recorded in most months before Trump began building the wall. Border Patrol officials maintain, however, that the towering bollards have served a purpose. "There is a psychological reason," said Chief Patrol Agent Patricia McGurk-Daniel. "It's a high fence. You don't want to cross it, but it's also tall enough our agents can see through." Professional smugglers and determined migrants, however, have found myriad ways to get through and over the wall.
Subscribe to The Week
Escape your echo chamber. Get the facts behind the news, plus analysis from multiple perspectives.
SUBSCRIBE & SAVE
Sign up for The Week's Free Newsletters
From our morning news briefing to a weekly Good News Newsletter, get the best of The Week delivered directly to your inbox.
From our morning news briefing to a weekly Good News Newsletter, get the best of The Week delivered directly to your inbox.
How do they do that?
Saws and other inexpensive power tools were used to cut holes in the wall more than 3,200 times between 2019 and 2021, costing the government $2.6 million in repairs. From October 2021 to September 2022, the wall was breached 4,101 times, an average of about 11 breaches per day. Some smugglers have essentially created "doors" in the wall by disguising the holes they created in the bollards with tinted putty that they remove every time they want to help people cross. Smugglers have also dug tunnels or climbed over the barrier on ladders, or crossed at one of the wall's many gaps. Contractors working on the wall built new roads to reach remote border areas; those paths now guide migrants who make it across. "There are so many access roads that it's possible for someone to walk right up to places where the wall ends and have someone just pick them up," said conservationist Valer Clark, who is trying to preserve land along the border.
Is there a human cost?
The wall has made crossing the border more dangerous. Migrants circumventing the wall have drowned swimming across the Rio Grande and collapsed from heat exposure in the desert. Some of those climbing over it with ladders or by hand have fallen as much as 30 feet, suffering severe injuries — some fatal. From 2019 to 2021, the University of California at San Diego Medical Center recorded 375 patients admitted due to falls. In fiscal year 2022, at least 853 migrants died crossing the border, breaking the previous year's record of 546. Border Patrol also recorded about 22,000 rescues of distressed migrants in that time, up 72 percent from the previous year. The United Nations-affiliated International Organization for Migration calls the U.S.- Mexico border "the deadliest land crossing in the world."
What's changed under Biden?
As the clock ran out on Trump's presidency in 2020, construction crews tried in vain to finish the job. Instead, tens of thousands of heavy steel bollards worth $350 million were left unused, rusting in the southwest sun. President Biden, who campaigned on a promise not to build "another foot" of wall, allowed some construction to continue to honor existing contracts and filled some gaps in Arizona, Texas and California. "Some of the construction was going to have to be finished, or else it would create a legal risk," said a former White House senior official.
Why the talk of building more?
Last month, Biden ended Title 42, the Trump-era immigration policy that allowed authorities to turn back migrants without granting them the right to seek asylum. But it was replaced with a tougher asylum policy, and the predicted surge of migrants didn't materialize. Many migrants are choosing to wait in Mexico to get an official asylum appointment, to cross at a checkpoint, or to cross with the intent of seeking asylum once detained. Still, conservatives remain committed to the wall as a statement about the border, said Andrew Selee of the nonpartisan Migration Policy Institute. "This was always about a larger symbolism about walling off America from outside dangers," he said.
The environmental damage
To build his wall, Trump had to bulldoze, dig and tear through land along the border, waiv­ing over 50 environmental laws and regulations. The damage drew strong protests from envi­ronmentalists, native tribes and private land­ owners. Construction damaged streams and led to vegetation removal, creating rapid erosion. Near Arizona's San Bernardino National Wildlife Refuge, flash floods tore some of the wall's floodgates from their hinges last year. Rivers that flow south across the border into Mexico are now contaminated with rust from the wall, killing native fish. In Guadalupe Canyon, in southeast­ern Arizona, construction crews dynamite-blasted into the mountainside to erect a barrier, altering a critical habitat for endangered cross-­border species, including jaguars. "Animals have been migrating through this route for tens of thou­sands of years," said Myles Traphagen, a biolo­gist mapping the impact of the wall. "If we cut off this population, we're essentially altering the evolutionary history of North America."
This article was first published in the latest issue of The Week magazine. If you want to read more like it, you can try six risk-free issues of the magazine here.
Continue reading for free
We hope you're enjoying The Week's refreshingly open-minded journalism.
Subscribed to The Week? Register your account with the same email as your subscription.
Sign up to our 10 Things You Need to Know Today newsletter
A free daily digest of the biggest news stories of the day - and the best features from our website