Gerhard Schröder: the ex-German chancellor turned Vladimir Putin's man
Former leader refuses to quit roles with Russian energy companies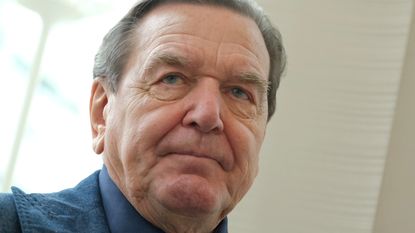 (Image credit: Sean Gallup/Getty Images)
Germany's largest political party has called on former chancellor Gerhard Schröder to hand in his membership card over his long-standing links to major Russian energy companies.
Since leaving office in 2005, the former leader of the centre-left Social Democratic Party (SPD) has held roles with a host of state-backed Russian companies. But as other former leaders rushed to cut ties with Moscow following the invasion of Ukraine, Schröder made clear he has no intention of following suit.
In a rare interview published by The New York Times (NYT), Schröder seemed "as defiant as ever", offering no criticism of Vladimir Putin, who he considers a personal friend, nor of his own conduct. He told the paper: "I don't do mea culpa, it's not my thing."
Subscribe to The Week
Escape your echo chamber. Get the facts behind the news, plus analysis from multiple perspectives.
SUBSCRIBE & SAVE
Sign up for The Week's Free Newsletters
From our morning news briefing to a weekly Good News Newsletter, get the best of The Week delivered directly to your inbox.
From our morning news briefing to a weekly Good News Newsletter, get the best of The Week delivered directly to your inbox.
Public condemnation
Speaking to the NYT, Schröder dismissed documented atrocities committed by Russian troops in Ukraine, arguing "that has to be investigated". He added that he did not think those orders would have come from Vladimir Putin directly, "but from a lower authority".
"I think this war was a mistake, and I've always said so," Schröder said. "What we have to do now is to create peace as quickly as possible."
In the country he used to lead, "public opinion has now largely crystallised against him", said The Independent. And even members of the SPD have strongly rebuked him.
Chancellor Olaf Scholz, also an SPD member, called for Schröder to step down from Russian state-backed energy companies in March, a week after Putin gave the green light for the invasion. And following Schröder's comments to the NYT, Saskia Esken, one of two co-leaders of the SPD, told Deutschlandfunk radio that his membership of the party was untenable.
"He has been acting for many years now only as a businessman, and we should stop seeing him as an elder statesman, as a former chancellor," Esken said. "He earns his money with work for Russian state companies."
Schröder's entire office staff resigned from their posts, the Financial Times (FT) reported, while he has been stripped of honorary citizenship of his home city of Hanover, "a punishment it last meted out, posthumously, to Adolf Hitler".
Putin's friend
Schröder took his first job with a Russian-backed company almost immediately after he lost the 2005 election to Angela Merkel. Just 17 days after leaving office he received a call on his mobile phone from "his friend" Putin, said the NYT.
The Russian president asked him to lead the shareholder committee of Nord Stream, the Russian-controlled company in charge of building the first undersea gas pipeline directly connecting Russia and Germany. Putin is said to have joked: "Are you afraid to work for us?"
And he "might well have been", said the paper, "given the appearance of possible impropriety – the pipeline he was now being asked to head had been agreed to in the final weeks of his chancellorship, with his strong support". As the NYT adds: "He took the job anyway."
Schröder "had spoken publicly of his desire to make money after leaving politics", said The Times, and added to his roster in 2017, becoming a part-time independent director of Russian oil company Rosneft. At the time, the company was under Western sanctions imposed on Russia for its annexation of Crimea.
Schröder's allies say his roles are "emblematic" of the SPD's "decades-long commitment to rapprochement with Russia", said the FT. The policy is known as Ostpolitik, meaning "eastern policy", and began under SPD chancellor Willy Brandt in the early 1970s.
But his motives are also "deeply personal", the paper continued. From his early days as chancellor, Schröder "struck up a friendship" with Putin "that endures to this day".
At that time, Schröder's "stilted English skills impeded close relationships with other world leaders". But Putin, an ex-KGB agent who had been based in East Germany, spoke fluent German. The pair quickly developed what one biographer called "a bit of Verbrüderung [fraternity]", the paper added.
The two men's families have previously spent Christmas together, and were pictured together on a sleigh ride in Moscow in 2001. Schröder also "notoriously" celebrated his 70th birthday with Putin in St Petersburg, The Times said, "just weeks after Russia's previous attack on Ukraine in 2014".
Keeping the lights on
Schröder's "entanglement" with Putin and Russian energy companies has overshadowed "all he achieved in seven years as chancellor", said the NYT.
During "a pivotal period of leadership", he gained plaudits for refusing to join the US in the Iraq war, giving immigrants a clear path to citizenship and implementing "far-reaching labour market overhauls that would pave the way for a decade of growth".
And while Schröder's conduct is now being criticised, Germany's dependence on Russian energy over the past two decades has "until now been largely unchallenged within the country", despite the fact that "America and its other allies repeatedly expressed their concern", said The Times.
When it came to using Russian gas, everyone in Germany was on board, Schröder claimed in his interview with the NYT. "They all went along with it for the last 30 years," he said. "But suddenly everyone knows better."

Continue reading for free
We hope you're enjoying The Week's refreshingly open-minded journalism.
Subscribed to The Week? Register your account with the same email as your subscription.