How Japan's military overhaul could tip Asia's balance of power
Tokyo to double arms spending to counter threat from Beijing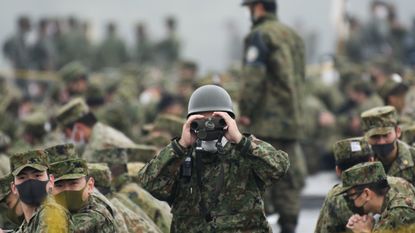 (Image credit: Akio Kon/Pool/Getty Images)
Japan is set to overturn constitutional restrictions on arms spending by doubling the national defence budget.
Japan has long "adopted a pacifist stance internationally but gradually loosened restrictions in the US-written constitution" imposed after the Second World War, said The Times. Those limits "denied it the right to maintain a military and allowed it to defend itself only under a direct attack".
But now, in a "historic move" that "will be welcomed by Washington", Tokyo plans to increase military spending to the Nato target of 2% of GDP, "as fears grow of threats from China and Russia".
Subscribe to The Week
Escape your echo chamber. Get the facts behind the news, plus analysis from multiple perspectives.
SUBSCRIBE & SAVE
Sign up for The Week's Free Newsletters
From our morning news briefing to a weekly Good News Newsletter, get the best of The Week delivered directly to your inbox.
From our morning news briefing to a weekly Good News Newsletter, get the best of The Week delivered directly to your inbox.
New Japan
Defence Minister Nobuo Kishi told reporters that Russia's invasion of Ukraine "can be called the biggest current crisis for the international community" and that "we must drastically strengthen Japan's defence capabilities" in response.
Mietek Boduszynski, a former US diplomat in Tokyo, told The Times that "the US will applaud this as a culmination of something they have been asking Japan for for a very long time".
Tokyo now appeared willing "to step up to the plate as part of the club of nations that wants to maintain a rules-based liberal world order", and "as the most important US ally in Asia", said Boduszynski, an associate professor of politics at Pomona College in California.
Japan signalled a shift in its neutrality last July, when former deputy prime minister Taro Aso announced plans for his country to join the US in defending Taiwan against the "existential threat" of Chinese invasion.
Speaking at a political fundraising event in Tokyo, Aso said that "if a major problem" occurred in Taiwan, "we need to consider seriously" that the neighbouring Japanese island of Okinawa "could be next" on Beijing's list of targets.
China reacted with anger after the former PM warned that "Japan and the US will have to work together to defend Taiwan".
Foreign Ministry spokesperson Zhao Lijian told reporters in Beijing that the intervention was "extremely wrong and dangerous" and that Japan had failed to learn from its "countless crimes of aggression against China".
"Today's China is not the China of the past," Zhao said. "We will never allow any country to meddle with Taiwan affairs in any way. No one should underestimate the strong determination, firm will and powerful ability of the Chinese people to defend national sovereignty."
The Independent said that in light of those threats, an attack on Taiwan could "pose a risk to Japan's survival". And "such a situation" would meet the "conditions that need to be met for Japan to exercise its right of collective self-defence, or coming to the aid of an ally under attack".
Superpower politics
For most of Taiwan's history as a self-governing nation, leaders in Beijing have argued "there is only one China, which they run, and that Taiwan is a rebellious part of it", said The Economist. US presidents have "nodded to the one China idea", while spending "70 years ensuring there are two" by propping up Taiwan, the paper added.
After Japan pledged to defend Taiwan's sovereignty, The Times' Asia editor Richard Lloyd Parry said that while the announcement marked "a dramatic ongoing shift" in security policy, "the idea of Japanese troops going into action, bombing Chinese ships or fighting on the beaches of Taiwan is a remote fantasy".
The Japan Self-Defence Forces (SDF) could "in theory" fight alongside US forces, following a change to the Constitution in 2015 to allow Japanese troops to serve in support of allies overseas, he said.
But "even if it did come to war over the island, Japanese public opinion and the capacities of its military are a long way from being equal to a full combat role", and the SDF "would almost certainly be limited" to supporting the US with "refuelling, logistics and the treatment and evacuation of casualties".
Forbes defence reporter David Axe said that "the geography of the Western Pacific Region essentially dictates the role Japan would play in an allied defence of Taiwan".
"It's quite clear that the US needs Japanese support in order to stand any chance of defeating a Chinese invasion attempt," Axe added. So "a clear willingness by Japan to send its troops into battle over Taiwan" could make an aggression by Beijing "unacceptably risky".
That risk could be heightened if Japan now ploughs more money into expanding and modernising its armed forces.
Tokyo "does not like to boast about its naval capabilities because of its requirement to maintain only self-defence forces", The Times said, "but step by step it has built a navy worthy of a growing military power". And similar investment is set to follow under the budget boost plan.
"This is something that publicly and privately will be very welcomed by the Biden administration," Isaac Stone Fish, author of America Second: How America's Elites Are Making China Stronger, told the paper.
"Japan has long justified its military spending because of North Korea, but it was always a wink-wink nudge-nudge towards China as well because China certainly poses a larger military threat to Japan than North Korea does," he added.
"Beijing is trying to contain the fallout from the Russia-Ukraine war but has to understand that the war is a good excuse for countries around the region that have contentious relationships with China, especially Japan, to up their own military spending."

Continue reading for free
We hope you're enjoying The Week's refreshingly open-minded journalism.
Subscribed to The Week? Register your account with the same email as your subscription.