Yemeni government rejects US ceasefire
Exiled foreign minister says deal represents a 'desire to scuttle peace efforts'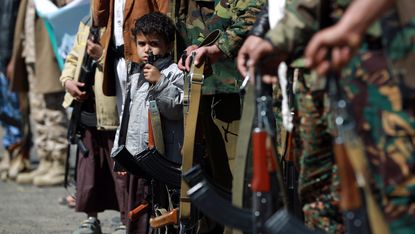 (Image credit: Mohammed Huwais)
Sign up to our 10 Things You Need to Know Today newsletter
A free daily digest of the biggest news stories of the day - and the best features from our website
Thank you for signing up to TheWeek. You will receive a verification email shortly.
There was a problem. Please refresh the page and try again.
Yemen crisis: famine looms amid ongoing conflict
20 August
Millions of people in Yemen are at risk of famine as fighting continues across the country, the UN World Food Programme (WFP) has warned.
Subscribe to The Week
Escape your echo chamber. Get the facts behind the news, plus analysis from multiple perspectives.
SUBSCRIBE & SAVE
Sign up for The Week's Free Newsletters
From our morning news briefing to a weekly Good News Newsletter, get the best of The Week delivered directly to your inbox.
From our morning news briefing to a weekly Good News Newsletter, get the best of The Week delivered directly to your inbox.
Aid agencies are unable to help those already suffering from hunger because food imports and aid deliveries are continuously disrupted by fighting.
Nearly 15 million people urgently require food aid, according to Abeer Etefa, a spokeswoman for the WFP. "People are not resilient enough to absorb any more shocks," she told Reuters.
The death toll stands at more than 3,000 people and nearly 1.5 million have been forced to flee their homes since the conflict began in March, with aid workers warning the situation is deteriorating by the day.
Yemen descended into chaos after President Abed Rabbo Mansour Hadi was ousted by the Houthi rebels earlier this year. Since then, they continue to clash with forces loyal to the president, backed by an international bombing campaign led by Saudi Arabia.
The ongoing fighting is having a devastating impact on the country, with aid workers already describing scenes similar to those witnessed in more drawn-out conflicts. "Yemen after five months looks like Syria after five years," said the head of the international Red Cross, Peter Maurer. "The images I have from Sanaa and Aden remind of what I have seen in Syria."
United Nations humanitarian chief Stephen O'Brien recently returned from the country and told the Security Council that "the scale of human suffering is almost incomprehensible".
He also said the Saudi-led bombing of the port of Hodeida was a breach of international humanitarian law, the BBC reports.
The UN has recorded serious human rights abuses during the conflict, with bombs targeting civilians at places of worship and UN buildings.
The violence on both sides has left a "bloody trail of civilian death", which could amount to war crimes, Amnesty International said a report earlier this year.
Yemen crisis: Saudi Arabia announces temporary ceasefire
07 May
Saudi Arabia has announced a five-day ceasefire in Yemen, where it is fighting Houthi rebels, to allow humanitarian aid to reach millions of civilians in need.
Air strikes will stop if the Iranian-backed Houthi rebels agree to the deal, Saudi Foreign Minister Adel al-Jubeir told the Associated Press. The kingdom has also pledged an additional $274 million in relief assistance.
His announcement follows talks with US Secretary of State John Kerry, who had been pushing for an urgent pause in the escalating conflict. Kerry said the ceasefire would begin as soon as aid agencies were ready to transport food, fuel and medicine around the country.
However, charities want more than just a "pause" and are instead demanding an immediate end to the conflict, warning that humanitarian work will not be able to resume unless land, sea and air routes are reopened permanently.
The talks came after Yemen's embattled government called on the UN Security Council to send troops to the country to help oust the Houthi militia and end the deepening civil war.
"We urge the international community to quickly intervene by land forces to save Yemen, especially [the cities of] Aden and Taiz," the Yemeni ambassador to the UN wrote in letter obtained by Al Jazeera. Khaled Alyemany also called on international human rights organisations to document and investigate "barbaric violations against a defenceless population".
Yemen's Houthi rebels have taken over the city of Taiz and launched an assault on a district of the port city of Aden, strengthening their hold on what is seen as the country's key battleground.
Meanwhile, Saudi Arabia has continued to support ousted president Abd-Rabbu Mansour Hadi by launching air strikes on Houthi strongholds, despite announcing an end to its military campaign in the country last month.
Yesterday's fighting killed 120 people, among them women and children. More than 640 people are believed to have been killed since Hadi fled to Saudi Arabia in March.
The international community and human rights organisations have expressed growing concern over the plight of the civilian populations caught in the fighting between the numerous warring factions, with Human Rights Watch accusing the Houthi rebels of war crimes.
Yemen crisis: Saudis end offensive, but what have they achieved?
22 April
The Saudi-led coalition fighting Houthi rebels in Yemen has declared an end to its month-long military offensive at the request of ousted president Abd-Rabbu Mansour Hadi.
The coalition said it had achieved its military goals by "removing the threat" to Saudi Arabia and neighbouring countries through the destruction of heavy weaponry and ballistic missiles, which had been seized by the Houthi rebels.
Saudi Arabia's ground and naval forces will, however, continue to guard its border with Yemen, and it has refused to rule out future air strikes.
And while 'Operation Decisive Storm' has ended, 'Operation Renewal of Hope', which the coalition says aims to protect civilians and prevent Houthi rebels from making further advances, will now begin.
Yemen has been teetering on the brink of civil war since President Hadi was ousted by rebels in January. Last month, a Saudi-led coalition began air strikes to protect the country's "legitimate government". It accused its rival Iran of funding and training the Houthi rebels, an allegation Tehran denies.
Hadi, who fled to Saudi Arabia last month, thanked the coalition forces for their support. "I extend on my behalf and on behalf of the Yemeni people sincere thanks and appreciation for the Arab and Muslim brothers and our partners in the coalition for supporting legitimacy," he said
At least 944 people have been killed and thousands more wounded in recent weeks, the majority of them civilians. Amnesty International has accused the Saudi-led coalition of failing to take precautions to prevent civilian deaths in the conflict, with air strikes deliberately targeting refugee camps.
Iran foreign minister Mohammad Javad Zarif has called for "urgent humanitarian assistance" in the country. His office said an "end to killing innocent and defenceless people is a step forward", but said a political solution was now urgently required, the BBC reports.
The coalition's official objective was to restore the internationally recognised Yemeni president and getting rid of the rebel group which overthrew him, says the BBC's Middle East editor Jeremy Bowen. But despite their claim of victory, "the Yemeni government has not been restored and the Houthi militia is still fighting supporters of the ousted government and still controls the capital," he says.
A change in international policy had been looming adds Al-Jazeera's Mohamed Vall. "Most likely Iran, Saudi Arabia and others have come to some kind of agreement on the conflict," he claims.
Yemen crisis: president flees to Saudi Arabia as bombs fall
27 March
Yemen's president Abd Rabbuh Mansour Hadi has fled to Saudi Arabia, as coalition airstrikes against Houthi rebels continue across his country.
President Hadi travelled to Riyadh and plans to continue his journey to Egypt to take part in a two-day Arab League Summit, Al Jazeera reports.
He had previously been in hiding in the southern port of Aden, where he was forced to flee after Houthi rebels stormed the capital earlier this year.
Saudi jets have been targeting Houthi rebel strongholds across the country, and the coalition of 10 Arab states has promised to do "whatever it takes" to protect the "legitimate government" of Yemen.
Saudi Arabia was responding to a request for military assistance from the embattled Yemeni government.
"I hope the Houthis listen to the sound of reason. With what is happening, they forced us into this," said Yemen's foreign minister Riad Yassin, according to the BBC.
At least six children were among 25 people killed by the latest Saudi-led airstrikes, according to Amnesty International. Thousands of people have taken to the streets in Yemen's capital, Sanaa, to protest against the military action.
The military operation will continue for "as long as necessary", a coalition spokesperson told Al Jazeera. Brigadier Ahmed al-Asiri said there were currently no plans to deploy ground forces, but troops are "ready for all the circumstances".
Washington says it "understands the concerns" of the Saudis and is "supportive of their effort". Iran meanwhile condemned the attacks as "a dangerous step" that violated "international responsibilities and national sovereignty".
The Houthis have warned that the airstrikes will lead to a wider war and have vowed to continue fighting. "What do they expect us to do, surrender, announce our defeat and act like cowards?" asked rebel leader Abdel-Malek al-Houthi
"Absolutely not. This is not how the honorable Yemeni people think. We will fight back. All 24 million Yemenis will stand united and face that despicable aggression."
Saudi Arabia and Arab allies launch airstrikes in Yemen
March 26
Saudi Arabia and its key regional allies have launched a major military operation against Houthi rebels in Yemen, killing at least 17 civilians.
"The operation is to defend and support the legitimate government of Yemen and prevent the radical Houthi movement from taking over the country," the Saudi ambassador to the US, Adel al-Jubair told Al Jazeera.
Houthi spokesman Mohammed Al Bukhaiti called the military operation a declaration of war, while Hakim Almasmari, editor of the Yemen Post, told the news station that many Yemenis feared for their lives. "People are very terrified," he said. "It's [bombing] not in any particular location in Sanaa, it's throughout the capital."
The coalition of ten Arab countries, including the Gulf Cooperation Council (GCC), says the airstrikes were launched at the request of President Abd-Rabbu Mansour Hadi's embattled government.
The country has been engulfed in months of political unrest and rebel fighting, reaching crisis point in February when Iranian-backed Shia Houthi rebels toppled the Sunni government in the Yemeni capital.
Saudi Arabia has promised to do "whatever it takes" to protect the "legitimate government of Yemen". At least 100 Saudi warplanes and 150,000 soldiers are taking part in the operation which has been dubbed "Decisive Storm", according to the Saudi-owned Al Arabiya TV channel.
"There is coordination ongoing now with Saudi Arabia and the brotherly Gulf countries about preparations to participate with an Egyptian air and naval forces and ground troops if necessary," Egypt's state news agency reports.
The US has authorised the provision of "logistical and intelligence support" but is not directly taking part in the military action, says Washington.
There are concerns that Iran, Saudi Arabia's key regional rival, could be directly drawn into the conflict. Iranian state television said the airstrikes were "US-backed aggression", denying claims that Tehran is funding and arming the Houthi rebels.
"Saudi has three regional powers on their side. It is just the start of a combined military operation. I expect a land invasion in the coming days," said Middle East political analyst Riad Kahwaji.
"They will also attempt to block any arms coming in from Iran," he added. "The people will finally see that that Arab giant (Saudi Arabia) has finally awakened."
Saudi Arabia moves weapons to Yemen border amid rising tensions
25 March
Saudi Arabia has begun moving military equipment including artillery to its border with Yemen, raising fears that it could be drawn into the country's escalating civil war.
The move comes as the Iranian-backed Houthis, the country's main rebel group who took control of Yemen's capital Sanaa last year, made a significant advancement south.
"The conflict risks spiralling into a proxy war," with Shiite Iran backing the Houthis, and Saudi Arabia and the other regional Sunni Muslim monarchies backing ousted president Abed Rabbo Mansour Hadi, reports Reuters.
Saudi Arabia says it will not allow Tehran to "sow sectarian strife in the region" and has vowed to support and protect Hadi.
Security sources in Washington say it is unclear whether the Saudi weapons are offensive or defensive. One source described the size of the military build-up as "significant" and said Saudi Arabia could launch airstrikes to defend Hadi if his stronghold in the southern city of Aden comes under attack.
"At its heart, the current conflict in Yemen is one between the rebels and what remains of the elected Yemeni government," explains the BBC's security correspondent Frank Gardner.
The situation has escalated so much that the US and UK closed their embassies and evacuated diplomatic staff from Sanaa last month.
There are many other internal players involved in the current conflict in Yemen including Sunni tribes, separatists, Al Qaeda and most recently Islamic State. "Put bluntly, Yemen is in enough trouble with the ongoing fight between its own citizens," says Gardner, without Iran and Saudi Arabia getting involved.
Continue reading for free
We hope you're enjoying The Week's refreshingly open-minded journalism.
Subscribed to The Week? Register your account with the same email as your subscription.
Sign up to our 10 Things You Need to Know Today newsletter
A free daily digest of the biggest news stories of the day - and the best features from our website