US and Russia spar over vetoed Syria sanctions
Anger as Moscow blocks UN sanctions over regime's use of chemical weapons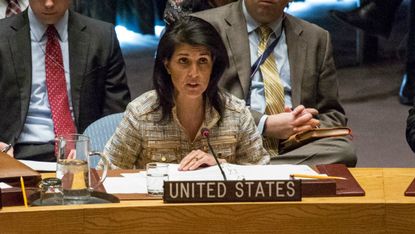 (Image credit: Kena Bentacur/Getty)
Sign up to our 10 Things You Need to Know Today newsletter
A free daily digest of the biggest news stories of the day - and the best features from our website
Thank you for signing up to TheWeek. You will receive a verification email shortly.
There was a problem. Please refresh the page and try again.
Syria: move to approve UK air strikes 'expected within weeks'
5 October 2015
British ministers are paving the way to extend air strikes against Islamic State fighters from Iraq into Syria.
Speaking at the Conservative Party Conference, days after Russia began bombing raids in Syria, Defence Secretary Michael Fallon warned that deadly plots against the UK were being devised in IS strongholds in the north of the war-torn country.Fallon said this was "no time for Britain to retreat from the world" and that the militant group, which recognises no borders, had to be confronted "wherever it roots".He added: "We should not leave it to French, Australian, or American aircraft to keep our own streets safe."David Cameron has also announced plans to double the number of unmanned drones flying over Syria and to expand SAS operations in the country. Despite intervention in Syria being voted down by parliament two years ago, Tory ministers are preparing to call another vote to authorise air strikes in Syria "within weeks", says The Independent.The 2013 vote was about action against Syrian President Bashar al-Assad's regime, while any new vote is likely to be centred on IS.Parliament last year authorised military action against IS in Iraq, but the Prime Minister is yet to propose another Syria vote.Labour's shadow chancellor John McDonnell said that any vote on military action in Syria should be made "on the basis of conscience".It comes as Russia began air strikes in Syria last week, targeting what it describes as IS and "other terrorists" opposed to Assad.Turkey complained that a Russian warplane violated its airspace near the Syrian border over the weekend, forcing the country's military to scramble two fighter jets to intercept it.Moscow claims its bombing has significantly weakened IS militants and has pledged to intensify its air strikes against them.
Subscribe to The Week
Escape your echo chamber. Get the facts behind the news, plus analysis from multiple perspectives.
SUBSCRIBE & SAVE
Sign up for The Week's Free Newsletters
From our morning news briefing to a weekly Good News Newsletter, get the best of The Week delivered directly to your inbox.
From our morning news briefing to a weekly Good News Newsletter, get the best of The Week delivered directly to your inbox.
Russia strikes in Syria: is there really a risk of World War 3?
2 October
Russia's first air strikes in Syria have prompted doomsday talk of World War 3, amid claims that Moscow is targeting US-backed rebels rather than Islamic State (IS) militants.
Tensions between the US and Russia were already running high over Ukraine and some now fear Russia's intervention in Syria could lead to a direct conflict between the two sides in the Middle East.
US Secretary of State John Kerry last week warned that intervention by Russia could "risk confrontation" with the anti-IS coalition, led by the US.
Russia has since launched dozens of strikes in co-ordination with the army of Syrian president Bashar al-Assad and it appears bombs are being directed at non-IS groups fighting Assad's regime – at least one of whom is said to be backed by the US.
A handful of conservative political commentators believe America is "on a collision course" with Russia, while Republican presidential frontrunner Donald Trump has accused his GOP opponents of wanting to "start World War 3 over Syria".
But everyone should "calm down", says Alex Thomson of Channel 4. Things should become "somewhat less chaotic and off-the-cuff" now that senior diplomats from the US and Russia have agreed to hold military talks "as soon as possible" to avoid clashing in Syrian airspace.
Thomson thinks Russia has no interest in getting deeper into the Syrian conflict, with "Afghanistan still etched into the Russian psyche" and Putin trying to avoid increased sanctions.
Nevertheless, he will have to start attacking targets in the IS caliphate soon or he will be unprotected against the argument that Russia is there to "prop up the butcher Assad and nothing more", says Thomson.
It is tempting to see the first Russian air strikes in Syria as an "old-style proxy conflict", says Mary Dejevsky in The Guardian, but "such an interpretation may be too simplistic".
Putin might want to maintain national dignity and show the world that Russia is an equal player with the US in the Middle East, but there are other motives at play too, says Dejevsky.
She points to Putin's speech at the UN General Assembly earlier this week, in which he urged world leaders to "join efforts" to create a "genuinely broad international coalition against terrorism", similar to the "anti-Hitler coalition" of the 1940s.
Obama also said the US was willing to work with any country, including Russia and Iran, to establish peace in the region and even hinted at some flexibility about the timing of Assad's departure.
"Those verbal nuances have been lost in the sudden outbreak of competitive air strikes," says Dejevsky. "It is just possible that the US-Russia military talks, now agreed, and the small hints of convergence over Assad could produce a cooperative approach. The alternative – the risk of a US-Russia military clash over Syria by accident – cannot be what either Moscow or Washington wants."
Russia begins fresh strikes on Syria as war reaches 'dangerous phase'
1 October
Russia's first air strikes in Syria have prompted fears of a "dangerous" new phase in the country's four-year conflict.
Moscow said it had conducted at least 30 air strikes, including fresh attacks today, in a bid to help Syrian President Bashar al-Assad combat Islamic State (IS) militants. The Kremlin said it had destroyed 12 IS targets in the first wave of raids, including a command centre.
However, there are concerns that the Russian warplanes are directing bombs at non-IS groups fighting Assad's regime. According to the New York Times, the targets included at least one group trained by the CIA, eliciting "angry protests" from American officials.
The newspaper said the bombing attack had plunged the complex sectarian war "into dangerous new territory".
US officials criticised Russia for giving them just one hour's warning to avoid Syrian airspace yesterday and said no effort was made to coordinate with American air operations in the region.
The Syrian Observatory for Human Rights said that at least 27 civilians had been killed yesterday, but Russia dismissed the reported death toll as part of an "information war".
The Kremlin did, however, admit that its air strikes were not restricted to IS, with targets including other well-known "terrorist" organisations.
The move marks the first time Russia has launched major military action outside the borders of the former Soviet Union since the end of the Cold War, says The Guardian.
The Times says it signals a "dangerous phase" in the conflict and has "raised the stakes in the power play between President Putin and the West". This confirms fears that Moscow's primary motive is to preserve the Assad regime and secure its own presence in the region.
The Independent's Patrick Cockburn agrees that the move "transforms the civil war" as Russia and the US will "no longer be on the side-lines of the conflict, but will be centre stage".
However, he believes the Russian military support means that IS is likely to lose against the Syrian regime, meaning the "war will be brought to an end earlier".
Cockburn appears less convinced that Russia targeted US-backed rebel groups. The "moderate" Syrian armed opposition has been a "negligible force" for more than a year in the areas bombed yesterday, with IS, Nusra and Ahrar al-Sham becoming more dominant, says Cockburn.
"As for Russia," he says, "the Syrian crisis has seen it reassert its position as a great power able to confront the US, though not on the scale of the Soviet Union. Having joined the war, Moscow must win it or lose its new-found status."
Russia conducts first air strike in Syria: but who is it targeting?
30 September
Russian warplanes appear to have launched their first air strike in Syria after President Vladimir Putin was authorised by parliament to use military force in the conflict.The upper house of the Russian parliament gave Putin approval this morning to use air force in Syria following a request by Syrian President Bashar al-Assad for military assistance.A US defence official, speaking on condition of anonymity, said: "A Russian official in Baghdad this morning informed US embassy personnel that Russian military aircraft would begin flying anti-Isil [Islamic State] missions today over Syria."However, an air strike subsequently hit a target near the western city of Homs – an area believed to be held not by Islamic State but by other anti-Assad rebels, reports CNN.Some reports suggest the air strikes hit al-Lataminah, Zaafrana and Talbisah, areas held by groups including the Western-backed Free Syrian Army (FSA) and Islamist groups such as the al-Qaeda-linked al-Nusra.Dozens of fatalities were reported, with footage showing injured children being treated in the FSA stronghold of Talbiseh, says The Independent.President Assad's Twitter account said he had invited Russian forces to fight "terrorism", although the Independent points out that the word is used by the regime to describe anyone opposing it, including non-Islamist rebels.The US-led coalition has launched thousands of air strikes in Syria over the past year, arming and training some of the anti-Assad rebels to target IS militants.A Russian official this morning requested that US aircraft avoid Syrian airspace during its missions, but gave no geographical information about where they planned to strike. US warplanes are said to be continuing their missions as normal.The unnamed US official criticised Russia's move, saying that it "only underscores the need to begin having meaningful de-confliction discussions very soon".
Russia began sending troops, tanks, combat jets and helicopters into Syria earlier this month in what the Washington Post describes as a speedy military and diplomatic effort to bolster the government of Assad.
Russia and US trade barbs in frosty debate over Syria
29 September
The leaders of the US and Russia traded criticisms over the war in Syria at the United Nations General Assembly yesterday, but later held a "very constructive" private meeting face to face.
Barack Obama chastised Russia for defending the regime of Syrian President Bashar al-Assad, which he said "drops barrel bombs to massacre innocent civilians".
In what the Financial Times describes as "the sort of rhetorical barbs not seen at the UN since the Cold War", Obama said Assad and his allies "cannot simply pacify the broad majority of a population who have been brutalised by chemical weapons and indiscriminate bombing".
Syria needs a "new leader and an inclusive government that recognises there must be an end to the chaos", said the US president.
Vladimir Putin did not arrive in time to hear Obama speak, but he later said it was an "enormous mistake" to refuse to cooperate with Assad's government.
The Russian president said that the Syrian armed forces needed international help in the fight against Islamic State extremists, but according to the New York Times, Assad's forces are for the most part fighting rebel groups dedicated to ousting the Syrian president rather than IS militants.
Nevertheless, Putin called for a "genuinely broad international coalition" to fight IS, including a Security Council resolution to "coordinate" military action, "similar to the anti-Hitler alliance" of the Second World War.
While neither leader showed much warmth in front of the cameras, Putin said that a private face-to-face meeting with Obama had been "very constructive and surprisingly frank", reports NBCNews.
The meeting, scheduled to last one hour, ran for 90 minutes and Putin told reporters they had "sound grounds to work on the points of concern together".
Any future negotiations are likely to centre on when Assad might be forced to step down. Prime Minister David Cameron has signalled that the Syrian president could be allowed to stay on in the short term while stability is sought in the war-torn country.
Syria: world leaders signal 'big shift' in position over Assad
28 September
As world leaders gather in New York for the UN General Assembly, there appears to be an emerging consensus that Syria's President Bashar al-Assad might have to play a role in any diplomatic solution to his country's civil war.
More than 250,000 lives have been lost and millions of people have been forced from their homes in the four-year conflict, which began with anti-government protests.
The US, UK and other countries have long been opposed to Assad playing a part in any transitional government, while Russia and Iran have supported Assad's regime.
However, Western powers are under mounting pressure to help bring stability to the region as Islamic State cements its domination over swathes of Syria and Iraq.
Prime Minister David Cameron yesterday signalled that Assad could be involved in a transition, although he is still adamant that the president – who has "butchered his own people" – could not be part of Syria's future in the long run.
James Robbins, BBC diplomatic correspondent, described it as a "very big shift" in Cameron's position, which could help end the "complete deadlock" with Russia.
"David Cameron's move – echoed by other nations, including the US – suggests there could be a way forward," says Robbins.
Russian President Vladimir Putin, who is believed to have moved troops, tanks, combat jets and helicopters into Syria last week to support Assad, is set to hold talks with US President Barack Obama on the side-lines of the UN Assembly.
Australia's foreign minister, Julie Bishop, told The Australian there was an "emerging view in some quarters that the only conceivable option would be a national unity government involving President Assad".
A number of countries fear that the removal or collapse of Assad's regime would create a vacuum that might be filled by "an even more diabolical presence", she said.
"The Assad regime has been diabolically bad for Syria," added Bishop. "However, we're dealing with reality and the fact is we need a political solution because a military solution will not be the only answer."
Putin 'preparing to sideline' long-time ally Assad
14 September
Russia may be preparing to sideline Syrian president Bashar al-Assad in an attempt to oust Islamic State and maintain influence in the region, officials in the US, Russia, Saudi Arabia and Syria reveal.
Negotiations aimed at easing Vladimir Putin's long-time ally out of power have been going on behind closed doors for months, Bloomberg reports. Washington and Moscow are reportedly considering a "transition plan", which would leave Assad powerless while remaining interim head of state.
In public, the two countries remain divided on how to end the conflict in Syria. Asked if Putin would accept Assad staying on in a purely ceremonial role, the Russian leader's spokesperson said that "only the Syrian people can decide the fate of Syria, not some outside countries".
Russia also continues to offer substantial military aid and personnel to the embattled government.
However, their views are slowly beginning to converge due to Islamic State's rise in Syria, say analysts. IS militants control as much as half of the country and Putin has reason to fear the rise of the jihadists, says Elena Suponina, a Moscow-based Middle East expert.
She estimates that there are at least 1,000 Russian speaking militants raising the risk of attack at home.
However, big questions remain, says Bloomberg. EU diplomats worry that Russia's continued military support for Assad would counter any incentives to consider a political solution to the war, while US officials question Putin's commitment to the plan to sideline Assad, and whether he can be persuaded to leave quietly.
It comes just days after German Chancellor Angela Merkel urged European powers to work alongside Russia and the US in an effort to end the conflict. There will be no resolution unless the former Cold War enemies agree to work together, she said.
Although all diplomatic efforts to resolve the crisis have so far failed, it would be folly to continue betting on a military solution to break the gridlock, says Germany's foreign minister Frank-Walter Steinmeier.
"Instead, now is the time to find a way to bring the parties to the negotiating table," he writes in the New York Times. "This must include preparatory talks with and among crucial regional actors like Saudi Arabia and Turkey, but also Iran."
Russia military 'is in Syria' - and the White House is concerned
04 September
The Pentagon has warned that any attempt by Moscow to help prop up Syrian President Bashar al-Assad's regime would be "destabilising and counterproductive" after growing rumours that Russian equipment and personnel are in Syria.
The Daily Telegraph says the White House is closely monitoring reports that Russia is carrying out military operations in Syria. A spokesman said: "We are aware of reports that Russia may have deployed military personnel and aircraft to Syria, and we are monitoring those reports quite closely.
"Any military support to the Assad regime for any purpose, whether it's in the form of military personnel, aircraft supplies, weapons or funding, is both destabilising and counterproductive."
Are the Russians really fighting in Syria?
Writing for the Daily Beast earlier this week, Michael Weiss said that at least some of the rumours can be verified. A Russian navy ship entered the Mediterranean with infantry fighting vehicles visible on deck late last month.
Another piece of evidence comes from Assad's own propaganda: a video put out by the National Defence Force shows what appears to be a newly-acquired Russian fighting vehicle in action and, most significantly, Russian could be heard being spoken in the background.
Moscow has long supported Assad. In May 2014, Russia and China were the only two UN security council members to veto a draft resolution calling for the Syrian crisis to be referred to the International Criminal Court.
In early 2012, says Weiss, Russia's then-defence minister Anatoly Serdyukov admitted his government had sent "military and technical advisers" to Syria. The question is now: is this mission creep?
Images said to show Russian drones and aircraft flying near Idlib province have appeared on a social media account linked to Syrian fighters, says the Telegraph. One possibility, the paper says, is that the Russians are attacking Islamic State (IS) positions in Syria.
The US now finds itself in the ticklish position of opposing both Assad and IS, even though IS are cutting swathes through Assad's loyalist forces. It may now find itself voicing opposition to Russian involvement, even though Russia is hitting the same targets in Syria as the US itself.
Continue reading for free
We hope you're enjoying The Week's refreshingly open-minded journalism.
Subscribed to The Week? Register your account with the same email as your subscription.
Sign up to our 10 Things You Need to Know Today newsletter
A free daily digest of the biggest news stories of the day - and the best features from our website