Quiz of The Week: 8 July - 14 July
Have you been paying attention to The Week's news?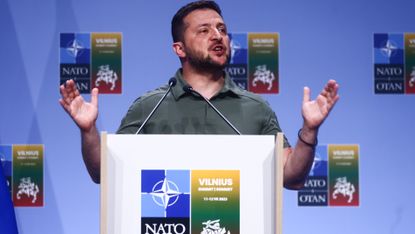 (Image credit: Beata Zawrzel/NurPhoto via Getty)
Sign up to our 10 Things You Need to Know Today newsletter
A free daily digest of the biggest news stories of the day - and the best features from our website
Thank you for signing up to TheWeek. You will receive a verification email shortly.
There was a problem. Please refresh the page and try again.
This week Nato ended up in an unfortunate – and very public – spat with Volodymyr Zelenskyy.
Although the Ukrainian president won "significant security victory" commitments at the summit in Lithuania this week, it was precious little consolation for the main prize. Despite assurances of good intentions, the group refused to commit to a clear timeframe for Ukraine's entry into the alliance.
The to-and-fro led some analysts to speculate that Nato was actually dangling the prospect of membership as a bargaining chip with Putin.
Subscribe to The Week
Escape your echo chamber. Get the facts behind the news, plus analysis from multiple perspectives.
SUBSCRIBE & SAVE
Sign up for The Week's Free Newsletters
From our morning news briefing to a weekly Good News Newsletter, get the best of The Week delivered directly to your inbox.
From our morning news briefing to a weekly Good News Newsletter, get the best of The Week delivered directly to your inbox.
Zelenskyy didn't mince his words, calling the demurring "unprecedented and absurd" in an undiplomatic Twitter rant.
In another galactic battle of a different kind, scientists from Harvard and authorities from Papua New Guinea are scrapping over fragments from a possible interstellar meteor.
Astrophysicist Avi Loeb recovered iron fragments he believes belong to a meteor that crashed into the Pacific in 2014, 260 miles north of the mainland of Papua New Guinea. The fragments, he speculated (sparking great controversy), could be artificial – in other words, the remnants of an alien craft.
But on a more human level, Papua New Guinea is in a state of "bafflement" and infuriated, claiming it wasn't even aware the team was in the country, much less what it was up to.
To find out how closely you've been paying attention to the latest developments in the news and other global events, put your knowledge to the test with our Quiz of The Week.
1. A judge ruled that the use of which emoji constituted a "binding signature" in a contractual dispute?
2. What percentage of British adults reportedly has an unfavourable view of campaign group Just Stop Oil?
3. Taylor Swift has retrospectively changed the lyrics to which of her songs?
"Cruel Summer"
"Better Than Revenge"
"Blank Space"
"Anti-Hero"
4. Tourists will need to pay a €5 entrance fee to see which world-famous site in Rome?
The Pantheon
Trevi Fountain
Spanish Steps
Roman Forum
5. A California sea otter keeps stealing what, according to reports?
Weed
Surfboards
Shoes
Beach towels
6. Vladimir Putin's luxury "ghost train" reportedly carries what kind of machines?
Anti-ageing
Jet-pack engine
Robot butler
Ice-cream maker
7. The Dutch prime minister Mark Rutte unexpectedly announced he would be stepping down after how many years in power?
8. It emerged this week that Boris Johnson notably forgot what?
His child's due date
His phone passcode
The name of the king
His dog Dilyn
9. Sweden is building the world's largest what?
Fishing boat
Sauna
IKEA
Wooden city
10. Japan has infuriated neighbours with its plans to release what into the ocean?
Untreated sewage
Radioactive water
Diseased dolphins
Crude oil

1. 👍
In a significant legal ruling, a Canadian judge has declared that the "thumbs-up" emoji carries the same legal weight as a traditional signature. The judge argued that courts must embrace the evolving communication methods of the "new reality" as he passed a verdict demanding a farmer pay C$82,000 (£47,648) for an unfulfilled contract with a grain buyer.
2. 66%
The figure is up 15 points from 51% in April, according to polling from YouGov. Only 17% of British adults have a favourable view of the group Just Stop Oil, which has disrupted several major sporting events this summer.
3. "Better Than Revenge"
Global star Taylor Swift has re-released her 2010 album "Speak Now" as part of an ongoing re-recording project. But fans are divided over changes to the lyrics of the album's tenth track, "Better Than Revenge". In the original version, Swift accuses a girl who has stolen her love interest of being "better known for the things that she does / On the mattress."
4. The Pantheon
Italy's ministry of culture says the new €5 entrance fee will go towards maintaining the Pantheon, but there are concerns over the new ticketing system which has proved difficult to access. Tourists have struggled at other sites where a fee has been introduced, such as the Colosseum, partly because tour operators buy up tickets in bulk.
5. Surfboards
A sea otter keeps pinching surfers' boards in California, according to The Telegraph. The five-year-old animal, known as Otter 841, has been jumping onto boards and nudging their owners out of the way, so she can have a bask. For more odd and unexpected news, sign up to the Tall Tales newsletter.
6. Anti-ageing
London-based Russian investigations group the Dossier Center offered a rare glimpse into the private life of Vladimir Putin, obtaining photos of his lavish 22-carriage "ghost train", equipped with what appear to be "anti-ageing machines". Other features include a fully equipped Turkish bath steam room and a massage parlour.
7. 13
Mark Rutte, the longest-serving Dutch prime minister in history, will stand down after 13 years in power. Nicknamed "Teflon Mark" for his ability to withstand political crises, Rutte unexpectedly announced he would leave politics after the autumn general election. In the 27-nation EU, only Hungary's Viktor Orban has been in charge for longer.
8. His phone passcode
The government missed Monday's deadline to hand over Boris Johnson's WhatsApp messages, because the former prime minister was said to have forgotten the passcode for his old phone. A spokesperson for the former prime minister said Johnson wishes to cooperate with the inquiry. Andrew Whaley, an expert in cybersecurity, dismissed Johnson's passcode claim, telling Sky News it was a "pretty lame excuse" and that "accessing the data would take minutes".
9. Wooden city
The "world's largest urban construction project in wood" will be built in Stockholm, announced Sweden, which could pave the way for similar structures in the future. Although the plan could be more sustainable than traditional construction, there are concerns about potential fire hazards. Find out more with The Week Unwrapped podcast.
10. Radioactive water
Ever since the 2011 tsunami destroyed the Fukushima nuclear plant, Japan has been pumping water into the site to cool the reactor's fuel rods – contaminating 130,000 litres a day. Now, the government plans to release a million metric tons of this treated radioactive water into the ocean, "enough to fill 500 Olympic-size swimming pools", to intense opposition from China and many Pacific islands.
Continue reading for free
We hope you're enjoying The Week's refreshingly open-minded journalism.
Subscribed to The Week? Register your account with the same email as your subscription.