Sir Philip Green's Arcadia agrees £30m deal in BHS legal battle
Payment relates to a charge that had been set aside to repay a loan used to fund 2015 buyout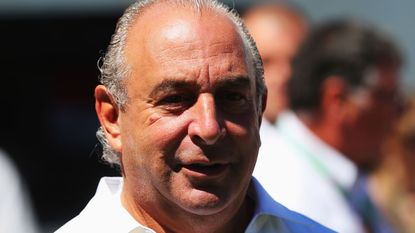 (Image credit: Bryn Lennon/Getty Images)
Sign up to our 10 Things You Need to Know Today newsletter
A free daily digest of the biggest news stories of the day - and the best features from our website
Thank you for signing up to TheWeek. You will receive a verification email shortly.
There was a problem. Please refresh the page and try again.
BHS: Sir Philip Green attacks 'incorrect' regulator
12 May
Sir Philip Green is not taking the public relations pasting he has endured since the collapse of BHS lying down.
The boss of retail consolidator Arcadia, which owned BHS for 15 years, before selling it for a nominal £1 in March 2015, has written a letter to MPs on a joint business and work and pensions committee accusing the chief of the Pensions Regulator of giving "incorrect" evidence during a hearing earlier this week.
Subscribe to The Week
Escape your echo chamber. Get the facts behind the news, plus analysis from multiple perspectives.
SUBSCRIBE & SAVE
Sign up for The Week's Free Newsletters
From our morning news briefing to a weekly Good News Newsletter, get the best of The Week delivered directly to your inbox.
From our morning news briefing to a weekly Good News Newsletter, get the best of The Week delivered directly to your inbox.
Lesley Titcomb had told the group the watchdog only learnt of the sale of BHS to Retail Acquisitions by reading the newspaper.
The deal involved a controversial 23-year plan to fill the company's then £200m pension deficit, a scheme described by the Pension Protection Fund as "ambitious".
However, Green has dismissed the claims. The BBC says his letter cites an email sent to the Pension Regulator on 6 February 2015 indicating BHS was being put up for sale, while later that month, the terms of the eventual buyout were passed on to trustees of the pension scheme who the billionaire businessman "understood" then held discussions with the watchdog.
He adds that he himself met with the regulator on 4 March, after it sought an urgent meeting to discuss how the disposal would affect the funds. The company was sold on 11 March.
A spokesman for the Pension Regulator said: "When addressing the Work and Pensions Select Committee, Lesley Titcomb said that we were not informed of the confirmation of the actual sale of BHS to Retail Acquisitions Ltd until March 11."
"She explained that we were engaged with the trustees and the employer in the weeks leading up to the sale, and that we were aware a sale was a possibility."
Green also hit back at media reports of hundreds of millions of pounds being taken out of the business, telling the MPS that £423m was paid to directors in the three years to 2004, when the business was profitable, and that no money had been paid out in the subsequent 12 years.
Green is due to appear before the committee next week. He has previously demanded work and pensions committee chair Frank Field step down over public remarks that there could be a case for stripping the knighthood from the billionaire, a comment Green claimed reflected a prejudice before evidence had been heard.
Separately, the Financial Times reports that industry experts have expressed doubts a rescue deal for the whole of BHS will be forthcoming. It says a piecemeal sale of store locations by a range of rivals is more likely and adds Ikea has denied media reports of its own interest and has ruled out launching any bid.
BHS rescue bid submitted by its former owner
11 May
Administrators of stricken department store chain BHS have confirmed there are a number of prospective rescue bids for the business, bolstering "hopes that some of the 164 shops and almost 11,000 jobs currently at risk can be saved", reports the BBC.
Among those reported to have expressed an interest in buying the retailer outright are Sports Direct, Edinburgh Woollen Mills and Preston-based millionaire property owner Yousuf Bhailok. Swedish furniture chain Ikea and discount retailer B&M are among those said to be seeking to buy parts of the business.
Perhaps most eye-catchingly, The Guardian claims that Retail Acquisitions, the buyout vehicle that has owned BHS since last year and which oversaw its collapse into administration, has submitted a bid to re-acquire the company.
Controlled by former racing driver Dominic Chappell, Retail Acquisitions bought BHS for a nominal £1 from Sir Philip Green's Arcadia group. In the process, it took on a sizeable debt burden and responsibility for a pension deficit now estimated to have been in excess of £200m at the time.
A 23-year turnaround plan to return the pensions scheme to surplus has become a source of embarrassment for the Pensions Regulator, after a grilling for its chief in front on MPs earlier this week.
Chappell's consortium had recently secured a deal with creditors to reduce rents at some of its worst performing stores and was in the process of seeking to raise £100m to fund a turnaround plan. Buying the business back out of administration could put these plans back on track, but the Guardian notes it is "not known how [it] plans to fund its bid".
The paper also criticises the former owner for taking £5m in proceeds from last August's £15m sale of BHS's main distribution centre in Warwickshire to repay buyout loans that were secured against the site.
"Although there is nothing illegal suggested about the transactions, they raise questions about why money raised from the sale of BHS assets was diverted to Retail Acquisitions when the retailer was struggling," it argues.
Elsewhere, Preston millionaire Bhailok told the Daily Telegraph he would commit not to extract any money from the retailer for three years if he succeeds in buying it.
His plans include introducing more concessions in its stores, boosting online operations and opening Middle East franchises.
The Telegraph says he has already written to the government "to secure a loan guarantee to support the estimated £80m annual operating costs of running BHS".
BHS pensions blame lands at regulator's door
10 May
The fallout from the collapse of department store BHS has spread to the Pensions Regulator, which was savaged by MPs at a hearing on Monday amid calls for an overhaul of its intervention powers.
Lesley Titcomb, chief executive of the watchdog, endured a terse encounter during a joint session of the work and pensions and business select committees, during which she admitted the organisation only learnt of Sir Philip Green selling the retailer for a nominal £1 last year from newspapers.
If this was embarrassing, then perhaps even more so was the revelation that the regulator signed off on a plan by the buyers to turn around a pension scheme deficit running at more than £200m over 23 years.
This was described in a separate evidence session by Alan Rubenstein, the head of the Pension Protection Fund, as "ambitious".
Rubenstein said the Pensions Regulator should have more powers to step in and block buyouts that do not make adequate provision for pension scheme deficits, reports the BBC. He added there should be time limits on rescue plans and said the average length of time set out to return a scheme to surplus is nine years.
Once the deal was formally announced, the Pensions Regulator did launch an anti-avoidance inquiry which "has still not reached any conclusions", Nils Pratley writes in The Guardian.
"How did Sir Philip Green manage to give away BHS, complete with a huge deficit in its pension fund, to a bunch of retailing amateurs ill-equipped to revitalise the chain of department stores?" the journalist asks.
"The short answer is the Pensions Regulator did not think it was its job to stop him – and, indeed, it may have been unable to do anything even if it had wanted to stick its nose in."
He adds: "It seems the Pensions Regulator's role is to wait until things go wrong and then launch a leisurely inquiry."
Sir Philip has been criticised for allegedly taking up to £1bn out of BHS and for apparently removing guarantees for the pension scheme in 2012.
He has hit back at his critics, calling for the works and pensions committee chairman, Frank Field, to step down, and has pledged to pay up to £80m into the funds. The Pension Protection Fund has said it could have to spend £275m to bail out the schemes.
Sir Philip will appear before the committees next week.
BHS files for administration, putting 11,000 jobs at risk
25 April
High street retailer BHS is expected to enter administration today, putting 11,000 jobs across the UK at risk.
The chain is in debt to the tune of £1.3bn, including a £571m pension fund deficit.
David Gill, of the shopworkers' union, NASDAW, said he was "very concerned" about the situation.
He added: "We are seeking urgent clarification from the company and urging them to change their attitude to trade unions and begin a dialogue with us at this difficult and worrying time for staff.
"We also urge the company to comply with the law, consult staff and USDAW as the union for BHS workers on the future of the business.
"I am writing to members working in BHS to reassure them that we will provide the support, advice and representation they require," he added.
The clothing and furnishing chain has been struggling to modernise since it was bought in 2000 by Sir Philip Green, who sold out last year for £1. New owners Retail Acquisitions - "a group of little-known financiers", says Mark Kleinman ofSky News – aimed to raise £160m in funds to turn around BHS's fortunes, but have failed to do so.
"A few weeks back it looked like they had secured a urgent lifeline by getting approval from landlords and other creditors to reduce its rent bill at its more than 160 stores," Kleinman said. "But a separate £60m loan that the company required has failed to materialise."
The BBC says Retail Acquisitions planned to raise an additional £100m through property transactions. The group sold their Oxford Street lease in London for £30m, far less than expected.
It had been hoped that Sports Direct owner Mike Ashley, who bought the lease on BHS's Sunderland store for £2m, might take over at least part of the chain. He is said to have been reluctant to take on the pensions debt, however.
Retail analyst Phil Dorrell told the BBC the likelihood is that BHS will now be sold off "store by store", meaning the brand will disappear from high streets, although the shops won't all "close today".
BHS creditors back rescue plan but now it needs £100m
24 March
Creditors of the troubled high street retailer, BHS, have overwhelmingly backed a last-ditch rescue plan submitted to the High Court.
At a vote on Wednesday, 95 per cent of the company's suppliers, landlords and other creditors backed a managed insolvency process that includes rents at around half of BHS's stores being slashed by as much as 75 per cent.
Some 40 shops may still close after a period of ten months, while hundreds of staff are being cut to reduce costs.
"We are delighted that we have the support of landlords and creditors but we are under no illusions," Darren Topp, the chief executive of BHS, told The Guardian. "This is the start. Me and my team now have to roll our sleeves up."
In particular, the BBC says BHS has "warned that it needs extra funding to trade beyond 25 March and it is trying to raise £100m". This money would fund a revamp of its business, including the launch of a premium clothes brand and food departments in stores.
Another major headache is the company's pension schemes, which if acquired would have a deficit of more than £570m.
The company insists it continues to meet its obligations, but in the creditors voluntary agreement signed by the landlords, bosses were "clearly hoping that the two pension schemes would be transferred" to the industry rescue scheme, the Pension Protection Fund, adds the BBC.
If the fund decides the company, or its current or former bosses, are not doing enough, it could demand that the costs it has shelled out are repaid - a burden that might be enough to sink the company's hopes of revival.
Continue reading for free
We hope you're enjoying The Week's refreshingly open-minded journalism.
Subscribed to The Week? Register your account with the same email as your subscription.