Sir Philip Green's Arcadia agrees £30m deal in BHS legal battle
Payment relates to a charge that had been set aside to repay a loan used to fund 2015 buyout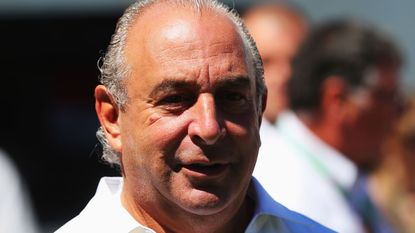 (Image credit: Bryn Lennon/Getty Images)
Sign up to our 10 Things You Need to Know Today newsletter
A free daily digest of the biggest news stories of the day - and the best features from our website
Thank you for signing up to TheWeek. You will receive a verification email shortly.
There was a problem. Please refresh the page and try again.
SFO 'steps up' inquiry into BHS ownership
29 September
The UK's top fraud investigation unit has "stepped up" its review of the circumstances surrounding the collapse of BHS, says The Guardian.
Detectives at the Serious Fraud Office (SFO) are understood to have "contacted individuals involved in running BHS before it fell into administration in April, and the administrators themselves, and asked for a series of documents".
Subscribe to The Week
Escape your echo chamber. Get the facts behind the news, plus analysis from multiple perspectives.
SUBSCRIBE & SAVE
Sign up for The Week's Free Newsletters
From our morning news briefing to a weekly Good News Newsletter, get the best of The Week delivered directly to your inbox.
From our morning news briefing to a weekly Good News Newsletter, get the best of The Week delivered directly to your inbox.
A spokesperson told the paper: "The SFO confirms it is reviewing material in its possession. If the director considers there are reasonable grounds to suspect serious or complex fraud which meets his criteria, he will open a criminal investigation."
The Guardian adds the review is "particularly interested in the dealings of Chappell and his consortium, Retail Acquisitions, during the 13 months it owned the retailer".
Chappell, a twice-bankrupt former racing driver, bought BHS for a nominal £1 in March 2015. Until then, it had been owned for 13 years by controversial billionaire Sir Philip Green's Arcadia Group.
This summer, MP Frank Field, the head of the parliamentary pensions committee, called on the SFO to investigate the sale, particularly allegations that Green himself provided funding to facilitate the deal.
"He was both sides of the deal," a report co-authored by Field claimed.
The politician asked the SFO to examine whether money was "moved in such a way as to attempt to mislead people into believing… Chappell was a credible buyer".
Both of the former owners are accused of profiting from the business while its profitability withered.
Green asserts that he and his colleagues pumped in at least as much as the nearly £600m they are said to have taken from the business, while Chappell has said his "conscience is very clear" over the £2.6m he took in wages and fees.
According to documents he himself put together, Chappell owes more than £500,000 in VAT and corporation tax on his BHS earnings through a company he has placed in liquidation.
BHS brand to relaunch in UK as online retailer
26 September
BHS will relaunch as an online-only venture in the UK, a month after the last of its 164 high street stores closed its doors.
A new website, which goes live this week, will feature the company's most popular items, including lighting and home furnishings. "The site will not have as wide a range of products, but will focus on best-sellers," says The Guardian.
It is being run by Qatari group Al Mana, which the Financial Times says acquired both the online and international businesses from administrators at the end of June.
These operations were still profitable at the time of the chain's collapse. Former owner Dominic Chappell had tried to "untether" them from the UK parent and keep hold of them, but failed to secure finance.
Retail expert Richard Hyman told the Daily Telegraph the plan to focus solely on UK web sales "is sensible and allows them to manage costs more tightly".
The new business will employ just 84 people, a tiny proportion of the 11,000 who lost their jobs when BHS went into administration in April, 13 months after it was sold to Chappell by Sir Philip Green's Arcadia for £1.
"We are nimble and efficient, but with a great brand, strong customer base and a proven and dedicated team," said David Anderson, the managing director of the online operation.
Anderson is one of three former BHS executives hired to run the revamped venture, alongside Sara Bradley, the buying director, and creative head Dave West.
BHS went into administration with a £571m pension fund black hole. Parliamentarians are still piling pressure on Green to deal with the shortfall, with threats that he could lose his knighthood.
MPs to debate stripping Sir Philip Green of knighthood
15 September
Retail tycoon Sir Philip Green is still firmly in the crosshairs of MPs angry about the demise of the department store BHS.
The Daily Telegraph reports that veteran Labour MP Frank Field, the parliamentary pensions committee chairman, is pushing for a debate next week into whether the billionaire should be stripped of his knighthood.
Conservative MP Richard Fuller, who sits on the business select committee that along with Field's own panel co-investigated the collapse of BHS, has separately called for a Commons vote on Green's honour.
If the vote goes against him, it could be highly embarrassing for the billionaire businessman, but it would not result in him losing his title – at least not yet.
This can only be reccomended by the Honours Forfeiture Committee, an ad hoc panel that convenes at the request of the prime minister and makes proposals to the Queen.
The removal of honours is rare and tends to only happen when an individual is convicted of a serious crime or struck off by a regulatory body.
Other cases that bring the honours system into "disrepute" are occasionally considered. The committee previously stripped former Royal Bank of Scotland boss Fred Goodwin of his knighthood for reckless management of the bailed-out bank.
Green is accused of lining his own pocket with hundreds of millions of pounds in dividends during a 15-year ownership of BHS, before selling it to former bankrupt Dominic Chappell a year before the store fell into administration.
The pensions and business select committees produced a report earlier this year that laid the ultimate blame for the failure of BHS at Green's door.
The tycoon has also been repeatedly criticised for failing – as yet – to honour a pledge to make good the "mess" in the BHS pension scheme, which could affect current and future payouts to 20,000 former employees.
For his own part, Green maintains that he and his partners put more into BHS than they took out. Earlier this month, he told The Guardian that he was working "daily" to resolve the pension issue.
He said: "I would like to apologise sincerely to all the BHS people involved in this sorry affair. Contrary to all the [media] coverage I have been working on this issue on a daily basis, and will continue to do so with my best efforts to achieve a satisfactory outcome for all involved as soon as possible."
Thousands of BHS workers get redundancy 'reprieve'
17 August
Thousands of staff at collapsed retailer BHS have been handed a temporary "reprieve" on their impending redundancy, says Sky News.
Administrators at Duff & Phelps and FRP Advisory have reportedly delayed closing dates for the 57 stores still trading in a "last-ditch bid to maximise returns" by selling remaining stock.
The new date for closure is said to be 28 August, but this "could be pushed back even further".
Sky News says this is good news for workers facing unemployment, as it guarantees "a little extra pay… before they are made redundant".
However, the Daily Telegraph has a very different view. It says some BHS workers have accused liquidators Hilco of "holding them to ransom" by keeping them on short-term notices.
The paper reports staff in Bromley are on just three days' notice, but have been warned they could lose redundancy pay if they leave early or fail to stay for two days after closure to dismantle stores.
"Most of us are trying to find new jobs but we can't tell our employers when we can start. I don't want to leave with nothing, but it's stopping me from getting another job," one worker said.
"I believe it is a way of saving on redundancy pay, but they are holding us to ransom."
It is also claimed Hilco is using the stores as an outlet for non-BHS products made by Denby, which it owns separately after buying the pottery manufacturer out of administration in 2009.
Hilco and Duff & Phelps both declined to comment.
At present, 107 BHS stores, including its flagship Oxford Street outlet, have closed. The Telegraph says Duff & Phelps is still holding discussions with the likes of Sports Direct over the remaining shops, which may yet lead to a buyout deal.
Pension regulator could get takeover veto power after BHS crisis
12 August
Stars appear to be aligning for a regulatory shake-up in the wake of the BHS collapse, which could see the pension watchdog handed takeover veto powers.
Lesley Titcomb, the chief executive of the Pensions Regulator, said having the power to block deals in certain cases could "better protect the 11 million members of final salary schemes in the private sector", reports the Financial Times.
She urged the government to "act quickly to tackle weaknesses in the system", the paper adds.
While giving too many regulators too much of a say in takeovers could "gum up the system", the new veto would apply in "a limited set of circumstances, perhaps where there is underfunding" of the pension scheme, she argued.
Under the current system, obtaining clearance from the pension watchdog is voluntary and in most cases is not sought – it wasn't when Sir Philip Green sold BHS to former bankrupt Dominic Chappell for £1 last year.
Regulators do have retrospective powers to examine whether or not an owner has failed to fulfil its duties to adequately fund a scheme and can force them to backfill funding black holes. It is in the process of an investigation into Green that could run for years.
The proposal appears to have strong backing. Earlier this month, Lady Barbara Judge, the former chair of the Pension Protection Fund, spoke out to support such reforms and similarly tell the government to act quickly.
The Confederation of British Industry is also in favour, saying that where pension funds are underfunded and companies collapse, the cost often falls on industry lifeboat the Pension Protection Fund, which is funded by businesses more widely.
"Businesses… support this and look forward to seeing the details of any proposed expansion to the regulator's remit," it said.
A spokesman for the Department for Works and Pensions said: "While we do not want to prejudice the ongoing investigation into BHS, we agree with the Pensions Regulator that now is the time to ask what we can learn and to see what additional powers, if any, are needed."
Continue reading for free
We hope you're enjoying The Week's refreshingly open-minded journalism.
Subscribed to The Week? Register your account with the same email as your subscription.
Sign up to our 10 Things You Need to Know Today newsletter
A free daily digest of the biggest news stories of the day - and the best features from our website