Sir Philip Green's Arcadia agrees £30m deal in BHS legal battle
Payment relates to a charge that had been set aside to repay a loan used to fund 2015 buyout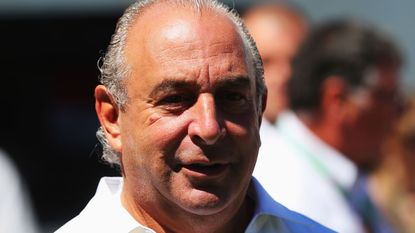 (Image credit: Bryn Lennon/Getty Images)
Sign up to our 10 Things You Need to Know Today newsletter
A free daily digest of the biggest news stories of the day - and the best features from our website
Thank you for signing up to TheWeek. You will receive a verification email shortly.
There was a problem. Please refresh the page and try again.
BHS inquiry MPs call for Mike Ashley to give evidence
10 June
Sports Direct founder Mike Ashley has been asked by MPs to give evidence at the parliamentary inquiry into the collapse of BHS.
It is something of a role change for the businessman. Earlier this week, he played the potential villain of the piece at an unrelated business select committee hearing on working practices at his company.
Subscribe to The Week
Escape your echo chamber. Get the facts behind the news, plus analysis from multiple perspectives.
SUBSCRIBE & SAVE
Sign up for The Week's Free Newsletters
From our morning news briefing to a weekly Good News Newsletter, get the best of The Week delivered directly to your inbox.
From our morning news briefing to a weekly Good News Newsletter, get the best of The Week delivered directly to your inbox.
At that time, he was forced to admit Sports Direct had breached national minimum wage law, which could lead to HMRC charges, and that staff face "unfair" disciplinary processes.
Now he is to give evidence to a joint business and pensions committee investigation on BHS, the BBC notes, after being cast as a white knight rescue bidder who was scuppered by the apparent prejudice of the company's one-time owner Sir Philip Green.
On Wednesday, former BHS boss Dominic Chappell testified to MPS that, when told the Sports Direct founder was in advanced talks regarding a takeover, Green "went absolutely crazy, screaming and shouting… that he didn't want to get involved with Mike Ashley".
He added that the Topshop tycoon immediately called in his £35m charge on BHS to deliberately trigger its fall into administration.
Green, who is to face the committees himself next week, has directly contradicted the claims and said he was "unaware of any bid interest" from Ashley.
For his part, during his own hearing – and, the BBC says, "against the advice of his PR man" - Ashley said he "100 per cent" wanted to buy BHS.
Reports indicate the MPs' inquiry is honing in on Green, whose 15-year ownership of BHS through his Arcadia empire is dogged by accusations he stripped more than £500m from the business.
The businessman will in particular face questions over the decision to sell to Chappell, a former racing driver with two bankruptcies to his name and no retail experience, amid claims that he failed to perform his statutory duty to promote the success of the company.
A senior source on the committees told the Daily Telegraph that unless "Sir Philip turns up next week and showers us with his wealth, throws £600m on the table and all the pensions are saved", he will face calls, led by a group of Tory backbenchers, for his knighthood to be removed.
BHS collapsed in April with £1.1bn in outstanding debts, including a deficit of £571m in the pension fund if it were to be acquired by a private insurer.
BHS collapse to cost taxpayers £35m
09 June
Winding down BHS could result in a £35.5m cost to the public purse, The Guardian reports.
The total comprises an unpaid VAT debt of £15.5m and £20m in "residual employee claims", including redundancy costs that will have to be picked up by the government's Redundancy Payments Service.
Liquidator Hilco has been brought it to sell BHS's stores, intellectual property and other assets to raise money to repay creditors.
Under insolvency laws, the company is first obliged to repay "secured" creditors which provided lower-cost business loans to the firm, followed by a wider range of unsecured creditors, including HMRC and the outstanding staff claims.
This means that the £35m owed to Sir Philip Green's Arcadia group, which owned BHS until last year, ranks ahead of the similar sum that will need to be covered by taxpayers.
In a report, administrators Duff & Phelps said it expects secured creditors to be paid in full, but others could receive as little as 3p in the pound. In total, BHS collapsed owing £1.1bn, including a £571m pension deficit, £358m to landlords and £48.5m to suppliers.
Green's debt was brought up during a parliamentary hearing into the company's collapse yesterday as MPs questioned Dominic Chappell, the twice-bankrupt former racing driver who bought BHS for £1 last year and oversaw its demise.
Chappell said that the Arcadia boss, who had owned BHS for 15 years, scuppered a rescue deal with Mike Ashley's Sports Direct by calling in his charge just as the Pension Protection Fund asked for more time to work on a solution to the pension deficit.
This is one of the key questions that the Guardian reckons Green will face when he is questioned by MPs next week.
The businessman is also expected to have to respond to claims yesterday that he blocked Chappell from speaking to the Pension Regulator before his takeover and that he reneged on a promise to secure credit insurance for suppliers.
Elsewhere, the Daily Telegraph reports that Arcadia recorded a £28m loss for the financial year ending April 2015 as a direct result of the BHS sale, which saw it write off an inter-company loan worth £216.8m, transfer £6.5m in cash and incur advisory costs of £2.3m.
BHS: Death threats, 'crazy' rants and a scuppered Sports Direct rescue bid
08 June
An increasingly bitter BHS blame game has seen one former owner accused today of issuing a death threat and another of deliberately triggering the firm's administration after a "crazy rant".
It was always going to be a headline-making day in the ongoing parliamentary inquiry into the chain's collapse, with the owner who oversaw its failure due to appear before the business and pension select committees.
But even before twice-bankrupt former racing driver Dominic Chappell took his place in the hot seat, he was the subject of some eyebrow-raising allegations.
Firstly, there was a letter sent by nine managers of the chain to its 11,000 staff - and the BBC – in which they alleged Chappell's Retail Acquisitions consortium had not raised "sufficient funds to keep the business going".
They also claimed the group caused costs to spiral by failing to "give confidence" to credit insurers and suppliers.
That was followed by the testimony of former BHS chief executive Darren Topp, who told MPs that Chappell "threatened to kill him in a row over company money", says the BBC.
He added that despite promises to invest millions into BHS, the store's former owner was "a liar" who had his "hands in the till", a reference to the millions of pounds in fees Chappell and his firm took during their 13-month ownership.
Fellow former executive Michael Hitchcock then told the politicians he had been "duped" by Chappell. "I think the technical term is a mythomaniac. The layperson's term is he was a premier league liar and a Sunday pub league retailer. At best," he said.
Chappell hit back in the extended evidence session that followed and laid the blame for BHS's collapse squarely at the door of its previous owner Sir Philip Green, whose Arcadia group controlled the retailer for 15 years.
MPs were told the Topshop tycoon had deliberately scuppered a rescue deal by Sports Direct's Mike Ashley by triggering a £35m charge just as the Pension Protection Fund asked for more time to work on a way to insulate the putative buyer from the huge pension deficit.
"Philip went absolutely crazy, screaming and shouting down the phone that he didn't want to get involved with Mike Ashley," Chappell said.
Green, who will face the committees next week, has faced criticism that he and his fellow directors took £581m from the store before selling it for £1 last year.
In other revealing admissions, Chappell admitted he had made an undisclosed profit on BHS despite its failure and said he was unaware of the pension deficit until the day he bought the firm.
MPs and IoD demand regulatory inquiry into BHS collapse
07 June
A parliamentary committee chair and the director general of the Institute of Directors (IoD) have demanded a regulatory inquiry into Sir Philip Green's role in the collapse of BHS.
Iain Wright, the Labour MP who chairs the business select committee jointly investigating the department store's demise, questioned in an interview with the Daily Telegraph why the Financial Reporting Council (FRC) "has still not committed to investigate BHS, six weeks after it fell into administration".
Meanwhile, "fresh from lambasting the 'lamentable behaviour' of [Green] in the sale of BHS", IoD director general Simon Walker has written to the council to "strongly urge" it investigates the board of Green's Arcadia group, which owned the defunct retailer for 15 years, says The Times.
Arcadia has faced claims it was irresponsible in agreeing to sell BHS for a nominal sum last year to a consortium led by Dominic Chappell, a twice-bankrupt former racing driver with no retail experience.
Green and his fellow directors have also been criticised for taking as much as £580m out of a business that ended up with a pension scheme deficit in the hundreds of millions of pounds.
In his letter, Walker referred to a statutory duty, introduced in the Companies Act 2006, requiring all directors to act in good faith to "promote the success of a company". He intimated that the Arcadia board had failed in this duty.
However in response to an earlier letter from Richard Fuller, a Conservative MP on the business committee, FRC chief executive Stephen Haddrill cautioned that its remit applies only to "accountants, auditors and actuaries that are members of a professional body" and not in general to company directors.
He added that council was "liaising closely" with "other regulators and law enforcement agencies [that] have powers to investigate directors". There have been reports that the Serious Fraud Office is looking into the matter to assess if there are any criminal charges to answer.
Walker separately stated that the regulator should probe the advice given to Chappell's Retail Acquisitions group by Grant Thornton and legal firm Olswang, while Wright told the Telegraph that the FPC's remit should be extended to include company directors.
Green is set to face the joint business and work and pensions committee later this month, but has already been the subject of intense criticism in parliament.
SNP Treasury spokesman Roger Mullin described the Topshop owner at the "unacceptable face of capitalism" and "little better than a corporate crook" while speaking in a Commons debate yesterday, reports The Independent.
Labour MP Jim McMahon, meanwhile, told MPs Green was "not fit to lick the boots" of the 11,000 BHS staff now set to lose their jobs, "let alone be a knight of the realm".
Sir Philip Green could be planning a BHS pension rescue plan
6 June
There are rumours that Sir Philip Green, the retail tycoon at the centre of the storm over the recent collapse of BHS, is planning a last-ditch rescue of the collapsed firm's pension schemes.
BHS, which has a pensions black hole stretching into the millions of pounds, went into administration in April and a bailout by the Pension Protection Fund (PPF) seemed inevitable following the news last week that the company was to be wound down.
If the PPF does come into force, then all payouts to members who have not yet reached retirement age, including members who took early retirement and are already in receipt of a pension, will be cut by ten per cent.
However, the Daily Telegraph says Green was rumoured to have approached regulators with his own rescue plan that would secure a better deal for members.
"One option is said to be similar to the 'Project Thor' plan that Sir Philip considered in 2014," the paper says.
This would see Green invest a one-off sum of £80m and members with small pots encouraged to withdraw their savings as a lump sum. Other payouts would be uprated annually at a lower level of inflation in order to cut liabilities.
But both the PPF and the Pensions Regulator say they have not yet received any proposal. A source close to the PPF also insists that as it would cost £275m for it to bail out the funds, at least this amount would need to be invested to improve payout prospects for members.
In addition, the source "expressed scepticism at the suggestion Green would produce a credible restructuring plan" and suggested the Topshop billionaire might be trying to improve his reputation ahead of a grilling before the joint business and pensions select committee next week.
This could prove to be a fiery affair – and it will come after this Wednesday's questioning of Dominic Chappell, the twice-bankrupt former racing driver who bought BHS for a nominal £1 last year. The Guardian notes Green and Chappell "have both blamed the other for the demise of BHS" in what has become an increasingly "acrimonious" dispute.
The latest accusations have emerged in documents sent to MPs by Green's Arcadia which state that Chappell's consortium pledged to use all funds from sales of properties and repayment of loans for the day-to-day running of BHS until its pension problems were resolved.
The Guardian says this could raise questions over the £25m paid to the consortium in management fees, wages, legal and professional fees and interest payments.
Green has already faced criticism over the £580m he and his fellow shareholders took out of BHS during their 15-year tenure in charge of the chain.
Continue reading for free
We hope you're enjoying The Week's refreshingly open-minded journalism.
Subscribed to The Week? Register your account with the same email as your subscription.
Sign up to our 10 Things You Need to Know Today newsletter
A free daily digest of the biggest news stories of the day - and the best features from our website