Sir Philip Green's Arcadia agrees £30m deal in BHS legal battle
Payment relates to a charge that had been set aside to repay a loan used to fund 2015 buyout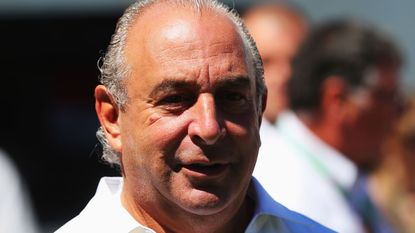 (Image credit: Bryn Lennon/Getty Images)
Sign up to our 10 Things You Need to Know Today newsletter
A free daily digest of the biggest news stories of the day - and the best features from our website
Thank you for signing up to TheWeek. You will receive a verification email shortly.
There was a problem. Please refresh the page and try again.
BHS pension deficit now above £700m, say experts
08 August
BHS's pension scheme black hole will have ballooned in the past week after Bank of England cut interest rates to 0.25 per cent, say industry experts.
Consultancy Hymans Robertson says the bank's move, together with the decision to up the purchase of government corporate bonds, could have added £70bn to the total deficit of all final salary pension funds in the UK, taking the amount to £945bn.
Subscribe to The Week
Escape your echo chamber. Get the facts behind the news, plus analysis from multiple perspectives.
SUBSCRIBE & SAVE
Sign up for The Week's Free Newsletters
From our morning news briefing to a weekly Good News Newsletter, get the best of The Week delivered directly to your inbox.
From our morning news briefing to a weekly Good News Newsletter, get the best of The Week delivered directly to your inbox.
BHS's scheme, previously estimated to have a £571m shortfall on a worst-case "buyout" basis, will have ballooned to £717m, reports Retail Gazette.
Pension schemes rely on the income fixed-rate investments such as bonds to provide a long-term return and meet future payout obligations. Cuts to the base rate and bulk bond purchases drive up the price of these assets and reduce the yield, hitting the return.
Former BHS owner Sir Philip Green has pledged to "fix" the pension scheme to prevent any of its 22,000 members from losing out.
At one end of the scale, this could mean covering the £275m cash shortfall estimated by the Pension Protection Fund, although Hyman Roberts believes that will have grown by £50m.
Another option, involving handing a single payment to savers with smaller pots, would cost around £400m, experts say.
MPs on the pension and business select committees have demanded Green cover the full buyout deficit or face losing his knighthood.
The chair of the business committee, Labour MP Iain Wright, repeated to The Guardian that the businessman should "do the right thing" and get "his cheque book out".
Wright admitted that while his committee has little power to force the issue, the Pension Regulator could demand Green pay to fill the deficit if it deems he has previously shirked his employer responsibilities.
The Daily Telegraph reports the watchdog has extended its investigation into BHS back to 2000, when Green's Arcadia Group first acquired the store and the pension scheme was in surplus.
If it finds evidence, as has been alleged, that Arcadia did not provide sufficient funding for the schemes, it could force Green to personally plug any gap.
Sir Phillip Green branded 'evil' over his role in BHS demise
01 August
The war of words between the chairman of the parliamentary pensions select committee and former BHS owner Sir Philip Green has continued to escalate.
This weekend, in an interview with the BBC, Frank Field MP called the controversial billionaire "evil" over his handling of the chain store's collapse.
The Labour veteran said Green's attacks on the pensions and business select committees' joint inquiry into BHS's demise were "displacement therapy" as he "faces up to the evil he has done in destroying BHS".
"This is the man that's responsible for the destruction of 11,000 jobs, putting 22,000 pensions at risk," said Field. "He said he was going to 'fix it, fix it, fix it', when he was with us. He hasn't done so."
The MPs' report into the failure of BHS, published last week, lays the blame squarely at Green's door, describing him as the "unacceptable face of capitalism".
It continues that the tycoon and his colleagues took £580m from the business in a "systematic plunder" and alleges he was on "both sides" of the deal to sell the retailer for £1 to twice-bankrupt former racing driver Dominic Chappell last year.
Green claimed the report was "predetermined and inaccurate", going further on Saturday to say Field had been prejudiced against him from the outset and had presided over a "kangaroo court".
He added that a deal to rescue the BHS pension fund was going through a "cumbersome and slow" regulatory process and that Field's demands for him to simply "write a cheque" were "disingenuous".
"If you continue to seek to usurp the Pension Regulator's role with your characteristically unfathomable statements and hurl daily abuse at us, any failure to arrive at a pensions solution will be down to you," he said.
Frank Field calls for fraud office inquiry into BHS sale
28 July
Parliamentary pensions committee chairman Frank Field has stepped up his feud with billionaire Sir Philip Green.
Having already compared the former BHS owner to disgraced businessman Robert Maxwell, prompting a call for him to apologise or face legal action, the veteran Labour MP has demanded a criminal investigation into Green's handover of the business.
After 15 years in charge of the retailer, in the early years of which the tycoon and his colleagues are thought to have taken hundreds of millions of pounds out of the business, Green's Arcadia Group sold BHS for a nominal £1 in March 2015.
The buyer, two-times bankrupt former racing driver Dominic Chappell, oversaw the firm for 13 months, during which he took £2.6m in fees and wages, before it fell into administration in April.
In a highly critical report published last week following a joint hearing of the parliamentary business and pensions committees, Field and his fellow MPs laid the blame for the failure at the door of Green, who they brand the "unacceptable face of capitalism".
They also criticised the sale of BHS to a retail novice who was "manifestly unsuitable" and took issue with the extent of control Green had over the process.
In particular, they said the businessman had facilitated £25m of financing for Chappell's Retail Acquisitions consortium and arranged complex property-related loans worth £10m. "He was both sides of the deal," the report claimed.
Now Field has written to the Serious Fraud Office to ask that it examine whether money was "moved in such a way as to attempt to mislead people into believing… Chappell was a credible buyer", reports The Guardian.
Added to that, in an interview with Sky News, the MP demanded regulators be given new corporate governance powers specifically to tackle the suitability private-company directors.
At present, only listed companies are subject to the UK corporate code, which demands certain standards from company directors and allows them to be held accountable to shareholders if breaches occur.
"The question must now be asked whether [Green] can be trusted at the tiller of Arcadia, another private company with thousands of employees, a massive pension deficit and a near identical cast of yes-men on the board," said Field.
"Would you trust him with your pension? Your job?" he added.
Green has declined to comment. Earlier this week, he dismissed the MPs' report as "predetermined and inaccurate", saying he reinvested more into BHS than he took out during his tenure.
BHS: Sir Philip Green threatens to sue Frank Field
26 July
Sir Philip Green has come out fighting after being heavily criticised in a parliamentary report over the collapse of retailer BHS.
The retail tycoon has sent a legal letter to the chairman of the pensions select committee, Frank Field, threatening to sue over his comments about Green's running of the high street chain.
In the letter, which the MP revealed to the BBC himself, legal firm Shillings demand an "immediate and full apology" within 24 hours and state that "other remedies to which our client is clearly entitled will very much depend on form and manner of your response".
The lawyers refer to an interview Field gave on Radio Four following the publication of the committee's report during which he compared Green to disgraced media mogul Robert Maxwell, who stole millions for the Mirror Group's pension scheme.
"I've always thought Maxwell meant to pay the money back. He was just going all over the place borrowing money to keep his companies going. When the music stopped, he had no money," Field said.
"Sir Philip Green has a huge amount of money, unlike Robert Maxwell. If he wishes now to make good the pension deficit to those 22,000 pensioners he could do it. He keeps talking about it, but doesn't do it."
Shillings letter said the comparison was "highly defamatory and completely false."
It said: "Our client has never stolen any money from BHS, Arcadia or the pension funds and you know that. In particular, there is nothing in the recent [report] to support your allegation.
"Clearly an allegation that our client is a thief is likely to cause serious harm."
Field's report concluded that Green and his colleagues had extracted hundreds of millions of pounds from BHS rather than investing in the business, leaving it on "life support" and the pension fund £571m in the red. It does not suggest Green has done anything illegal.
The MP for Birkenhead was unapologetic over his remarks, saying: "Instead of writing a big cheque, [Green] is firing off lawyers' letters. He needs to stop messing around and write a big cheque."
Green has repeatedly stated his intention to bring forward a rescue plan for the pension scheme, but more than a month after appearing before MPs, nothing has yet been forthcoming.
Anything less than an injection of £571m to make good the full estimated funding shortfall should see the retail veteran stripped of his knighthood, Field has suggested.
Green has also issued a statement dismissing as "biased and unfair" the wider MPs' report, which lays the blame for BHS's failure firmly at his door for allegedly stripping the company and then offloading it to an unsuitable buyer.
Sir Philip Green told to pay up or lose knighthood
25 July
Sir Philip Green has been told to inject "at least" £571m to make up a shortfall in the BHS pension scheme or face losing his knighthood.
The demand comes from Frank Field, the Labour MP who chairs the parliamentary pension select committee that, along with the business select committee, today published a report blaming the retail tycoon for the collapse of BHS and branding him the "unacceptable face of capitalism".
Green pledged to make good the "mess" in the BHS pension fund during his appearance at a joint inquiry by the committees into the collapse of the high street store,.
The Pension Protection Fund says it will take a hit of £275m, while experts believe a plan to buy out some pensioners and top up the fund for those who remain would cost £400m.
But Field told the BBC that the full amount of the funding black hole, estimated at £571m, should be made up if the retail tycoon is not to be stripped of his honour.
The Cabinet Office confirmed last weekend that Green's knighthood is "under review". An independent panel of civil servants will make a final judgement if it is recommended that the honour be removed.
One influential voice could be that of Theresa May, who last week pledged to get "tough on irresponsible behaviour in big business".
The MPs' report today begins by quoting these words and stating that its findings are delivered in "the same spirit". This is "a clear hint to the Prime Minister to demonstrate that she is on the side of the victims of the BHS scandal, not those who pocketed millions", says The Independent.
The report adds that Green and his colleagues took huge sums from BHS during their 15 years in charge, leaving it on "life support", before orchestrating a "hurried" sale to Dominic Chappell, a twice-bankrupt former racing driver who they say was "manifestly unsuitable".
Advisers on that deal, including Goldman Sachs, law firm Olswang and accountancy firm Grant Thornton, as well as Chappell himself, are also criticised.
But it is Green, who the MPs call a "Napoleonic figure" who ran BHS like "his personal fiefdom", who is deemed ultimately responsible. He and his fellow directors are said to have extracted up to £600m from the firm during their tenure in charge, but he claims he put back even more in investments and loans.
Focusing minds on the BHS blame game is the announcement at the weekend that there will be no rescue sale of BHS's remaining store estate. That means all 164 shops will be shut down, says The Guardian, putting more than 10,000 jobs at risk.
Continue reading for free
We hope you're enjoying The Week's refreshingly open-minded journalism.
Subscribed to The Week? Register your account with the same email as your subscription.
Sign up to our 10 Things You Need to Know Today newsletter
A free daily digest of the biggest news stories of the day - and the best features from our website