Sir Philip Green's Arcadia agrees £30m deal in BHS legal battle
Payment relates to a charge that had been set aside to repay a loan used to fund 2015 buyout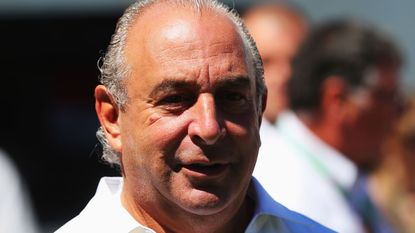 (Image credit: Bryn Lennon/Getty Images)
Sign up to our 10 Things You Need to Know Today newsletter
A free daily digest of the biggest news stories of the day - and the best features from our website
Thank you for signing up to TheWeek. You will receive a verification email shortly.
There was a problem. Please refresh the page and try again.
BHS plot thickens as new rescue bid emerges
24 May
The plot thickens on both last year's controversial sale of BHS and a prospective rescue buyout of the stricken chain.
Subscribe to The Week
Escape your echo chamber. Get the facts behind the news, plus analysis from multiple perspectives.
SUBSCRIBE & SAVE
Sign up for The Week's Free Newsletters
From our morning news briefing to a weekly Good News Newsletter, get the best of The Week delivered directly to your inbox.
From our morning news briefing to a weekly Good News Newsletter, get the best of The Week delivered directly to your inbox.
A deadline for final offers for the business passed last week. Since then, sources have indicated that several interested parties, including Sports Direct founder Mike Ashley as well as the owner who oversaw the company's collapse, Dominic Chappell, had dropped out of the race and that a bid from Matalan founder John Hargreaves was in the lead.
According to The Guardian, that deal, which would be carried out in partnership with Turkish discount fashion entrepreneur Cafer Mahiroglu, is worth "somewhere between £60m and £75m… [including] an estimated £40m to £50m of unsold stock".
However, an offer from a "mystery European bidder" is also in the frame. Assumed to be a private equity buyer, a report on Sky News instead seems to suggest it is from an entity connected with a "super-rich family" on the continent.
Who the family is remains unknown and the rumours that have emerged are confused. One source believes the bidding entity is "affiliated to Isabel dos Santos, the daughter of Angola's president, which has interests in the Portuguese banking and energy sectors". Another points to a "namesake - but unrelated - Dos Santos family in Portugal, which has interests in food distribution and retailing in Portugal, Poland and Colombia".
Sky News adds that administrators at Duff & Phelps are "continuing to work with several potential buyers" on a deal to rescue the entire business, which comprises 164 stores and 11,000 staff. An announcement is expected in the next 48 hours.
Meanwhile, the parliamentary inquiry into the £1 sale of BHS by Sir Philip Green's Arcadia group to a consortium led by former racing driver Chappell continues, with a welter of executives and advisers undergoing questions yesterday.
Most eye-catching was the evidence of Goldman Sachs banker Anthony Gutman, who, says the BBC, confirmed the bank was not paid to provide advice as the deal was too small, although he did inform Arcadia of Chappell's "history of bankruptcy and lack of retail experience".
MPs will decide whether Arcadia was irresponsible in offloading the business and could recommend the company - or Green personally - provides more than the £80m offered so far to help fill a black hole in the company's pension schemes of hundreds of millions of pounds.
BHS directors and advisers to appear before MPs
23 May
A rescue deal for BHS could be announced today – just as a major inquiry into the sale said to have set the retailer on its path to collapse moves up a gear.
"Negotiations with possible buyers have been taking place over the last few days and a deal is expected imminently," says the Daily Mail, with one source suggesting it could be signed on Monday.
It is thought three bids are still in the running, from Poundstretcher owner Aziz Tayub, Matalan founder John Hargreaves and a mystery European investment house or retailer.
Administrators Duff & Phelps dismissed claims a liquidation was now likely due to offers coming in low. Commenting on reports last week that restructuring firms had been called in to value the remaining assets and stock, Phil Duffy said: "We always have to have things valued".
Any announcement could be overshadowed by the next phase of joint select committee hearings by the departments of business and work and pensions into the failure of BHS, which landed its pension fund in the industry lifeboat scheme the Pension Protection Fund.
Having already grilled the chief executive of the Pension Regulator, MPs will today hear from advisers and stakeholders on the £1 sale of BHS by Sir Philip Green's Arcadia to Dominic Chappell's Retail Acquisitions consortium last March.
Evidence will be taken from Arcadia chairman Lord Grabiner and his cousin, Ian Grabiner, the company's chief executive. City bigwigs including a former Goldman Sachs banker, representatives of Retail Acquisitions and, finally, Green himself will appear over the next month.
"The mudslinging between a colourful cast of characters has only just started," says BBC business editor Simon Jack.
"The next few weeks of joint select committee investigations may at times seem like a game of Cluedo. Was it the former racing driver, twice-bankrupt yacht enthusiast with no retail experience [Chappell]? Was it the straight-talking flamboyant billionaire retail tycoon and his glamorous Monaco-based wife [Sir Philip]?"
Ultimately, MPs hope to come up with recommendations to bolster the pensions watchdog's powers and prevent such a situation happening again. BHS ran up a pension deficit of hundreds of millions of pounds.
Works and pensions committee chair Frank Field even offered an "olive branch" to Green, The Guardian reports, by suggesting he could help in shaping a "mega pension bill".
The MP drew fierce criticism from the billionaire after suggesting he should forfeit his knighthood if he failed to contribute sufficiently to eliminating the BHS pension deficit.
BHS could still be liquidated as rescue bids 'fall short'
20 May
Stricken department store chain BHS could still disappear from the high street in an ignominious liquidation as rescue bids "fell below what administrators Duff & Phelps were hoping for", says the Daily Telegraph.
The paper says "restructuring firms Alteri, Hilco and Gordon Brothers, experts in high street liquidations, have been asked to assess how much BHS would be worth if all its assets including existing stock were sold-off piecemeal". It adds that "turnaround firms have begun circling the retailer in the hope of snapping up its assets on the cheap and selling off chunks of the business".
Such an option is seen as a "last stop", the Telegraph adds, but it is becoming more likely as bidders drop out and due diligence being carried out by those still in the running drags on.
According to The Guardian, "the field of buyers has narrowed to a couple of serious contenders as the administrators… consider only bids for the whole business in the hope of saving as many jobs as possible". BHS employs 11,000 staff.
In first place is an offer from Matalan founder John Hargreaves and Turkish retail entrepreneur Cafer Mahiroglu, thought to be worth "somewhere between £60m and £75m… [including] an estimated £40m to £50m of unsold stock". The consortium is expected to "pore over BHS's books" until at least next week.
Several previously interested parties, including the owner who oversaw the company's fall into administration, Dominic Chappell, and Preston property tycoon Yousuf Bhailok, have pulled out because of their reluctance to take on all 164 stores, including 40 currently operating at a loss.
Others like Sports Direct's Mike Ashley and Edinburgh Cotton Mill owner Philip Day are thought to have been unwilling to meet the asking price for the whole business and have "now turned their attention to Austin Reed, which also crumbled into administration last month," says the Telegraph.
Aziz Tayub, who owns Poundstretcher, is another buyer still thought to be involved in talks, while the Guardian reckons a "well-funded European investor" is Hargreaves and Mahiroglu's "only real rival".
Of interest to any buyer will be the fate of the company's pension schemes, which are hundreds of millions of pounds in deficit and the subject of an ongoing inquiry by MPs. Former owner Sir Philip Green has said he will inject £80m into the funds and is due to appear at a hearing in Westminster to discuss his firm Arcadia's sale of BHS last year.
Mike Ashley's 'low-ball' bid for BHS 'outbid'
19 May
Just one day after the Daily Mail cited sources suggesting that sportswear tycoon Mike Ashley was the frontrunner in the race to buy BHS out of administration, widespread reports are now saying he is completely out of the running.
The Guardian says the controversial Sports Direct founder put in a "low-ball offer" for the business that was consequently "outbid". Ashley had said he was committed to taking on all the BHS store estate and protecting almost all the 11,000 jobs, thereby boosting his Mega Value discount retailer.
Administrators at Duff & Phelps are instead thought to be "leaning towards" a rival offer put forward by Matalan founder John Hargreaves and the Turkish entrepreneur Cafer Mahiroglu, who rescued the bargain fashion brand Select Retail. "Hargreaves spent several hours on Tuesday meeting senior management and staff at BHS," said the Guardian.
Other bidders thought to be still in contention include "Edinburgh Woollen Mill owner Philip Day and a mystery fourth bidder – which some believe to be a European retailer and others a finance house".
The Daily Telegraph reports there may have been a last-minute new offer from Aziz Tayub, the multi-millionaire owner of the Poundstretcher discount chain. Other previously interested parties are said to have dropped out over the administrators' insistence that a buyer take on the business as a whole. These include under-fire former owner Dominic Chappell and Preston property tycoon Yousuf Bhailok.
In the meantime, MPs on the business and work and pensions select committees are continuing to probe the previous buyout of BHS by Chappell's Retail Acquisitions as they seek answers on how its pension schemes came to be burdened with a deficit amounting to hundreds of millions of pounds.
The BBC reports that Frank Field, chairman of the Work and Pensions Committee, has written to Lesley Titcomb, chief executive of the Pensions Regulator, amid claims the watchdog rejected a rescue plan for the schemes in 2014 that would have seen an £80m cash injection from former BHS owner Sir Philip Green.
The plan was not mentioned by Titcomb when she gave evidence to the committee earlier this month. She was grilled on the regulator's tacit approval for a later turnaround plan by Retail Acquisitions that would have taken 23 years to come to fruition and was described as "ambitious".
Mike Ashley 'favourite' to win BHS buyout race
18 May
Controversial billionaire Mike Ashley, founder of Sports Direct, is "ranked by many as the favourite bidder for BHS", according to the Daily Mail.
Ashley, who also owns football club Newcastle United, has recently been making headlines for a protracted spat with MPs over his refusal to attend a public parliamentary hearing. The sportswear tycoon would apparently buy the department store chain to "expand his Mega Value business".
Mega Value is part of Ashley's Sports Direct empire. It sells a wide range of bargain products and the Mail says it is "described as a modern-day Woolworths".
The billionaire is reportedly up against Matalan founder John Hargreaves, who has teamed up with Cafer Mahiroglu, the Turkish entrepreneur who led a rescue of the budget fashion label Select Fashions in 2008 and has since turned around its fortunes.
The duo would be set to buy BHS for £10m and to invest a further £80m to "restock the stores, cover staff pay and help relaunch the brand". Over time it is likely that a network of factories owned by Mahiroglu across Turkey, Romania and Vietnam would be used to supply BHS and drive down costs, as has happened with Select Fashions.
Other offers are thought to come from Philip Day, owner of Edinburgh Woollen Mill and Peacocks, and a "mystery European bidder, thought to be representing [a] private equity [fund] or a major retailer".
Some potential white knights dropped out of the race before yesterday's 5pm deadline, the Daily Telegraph notes. These include Preston property millionaire Yousuf Bhailok, who pulled out "after administrators told buyers they would have to purchase all 164 of BHS's shops".
A final decision by the administrator Duff & Phelps is expected by the end of this week. By then there may be more light shed on the fate of BHS's stricken pension funds, which have become the subject of rancorous debate and an MPs' inquiry over a deficit of as much as £571m.
BHS failure fallout ensnares top City firms
16 May
A blame game over the collapse of the high street department store BHS has engulfed senior figures in the City after a Goldman Sachs banker was the latest to be called to give evidence to MPs.
Anthony Gutman will appear before a joint hearing of the business and work and pensions select committees to give evidence on advice he gave "informally" to Sir Philip Green before his firm, Arcadia, offloaded BHS for £1 last year.
"Goldman insists that it had no formal mandate and that it did not receive payment for the work," notes The Times, but "it will face awkward questions over its role".
'Questionable' sale
MPs are scrutinising the nominal-sum sale in March 2015 to Retail Acquisitions, the holding company for a consortium led by "three-times-bankrupt former racing driver" Dominic Chappell. They are questioning why "a business with 11,000 employees and a big pension shortfall was entrusted to a buyer with so little retail experience and a questionable track record".
This in turn has brought fresh criticism for Sir Philip Green, who along with his associates took more than £400m in dividends out of the business during his 15-year ownership. He has hit back – calling for the works and pensions committee chair Frank Field to step down – and will give evidence himself this week.
The Pension Regulator has been subjected to a grilling over its apparently relaxed approach to the deal and an "ambitious" 23-year turnaround plan the new owners put forward for a pension scheme with a then £200m deficit. On a buyout basis that shortfall is now £571m and it could cost the industry rescue fund as much as £275m.
Pre-empting opprobrium that could yet come their way, two law firms that formally advised both sides on last year's takeover have also become embroiled in a war of words. Olswang, which earned a share of more than £10m in fees for advising the buyers, has refuted the claims of Linklaters, which advised Sir Philip, that it performed a background check on and vouched for Chappell.
A source close to Sir Philip said: "If Chappell hadn't been represented by people like Grant Thornton and Olswang, he would never have been let through the door."
Improved offers
Behind all the rancour, the fate of the thousands of employees still hangs in the balance. The Financial Times says that the five bidders in the running for some kind of rescue deal have been given until the end of Tuesday to come up with improved offers, in one case of as much as "tens of millions of pounds".
It remains unclear whether or not the company is likely to be sold piecemeal or whether it will be bought outright and run as a going concern. One interested party, controversial Sports Direct founder Mike Ashley, has said he "would keep all 164 stores and 11,000 staff if he won control of the chain".
Chappell has submitted a bid to buy BHS back out of administration. He has said the criticism aimed at him has been "too harsh" and that the company had made good progress under his ownership, with a plan in place that would have returned it to profit by September 2017 only scuppered by a lack of financing.
Chappell lays the blame for this in large part at the door of the regulator. The BBC cites his claim that "he was badly affected by the decision… to launch an inquiry into the takeover of BHS", which he says made it impossible to get credit from frontline banks and forced him to take out loans at interest rates as high as 15 per cent.
Continue reading for free
We hope you're enjoying The Week's refreshingly open-minded journalism.
Subscribed to The Week? Register your account with the same email as your subscription.
Sign up to our 10 Things You Need to Know Today newsletter
A free daily digest of the biggest news stories of the day - and the best features from our website