Sir Philip Green's Arcadia agrees £30m deal in BHS legal battle
Payment relates to a charge that had been set aside to repay a loan used to fund 2015 buyout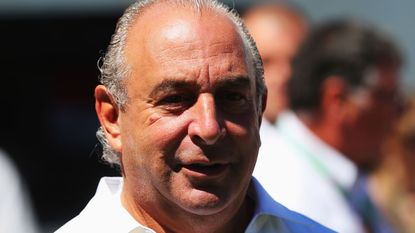 (Image credit: Bryn Lennon/Getty Images)
Sign up to our 10 Things You Need to Know Today newsletter
A free daily digest of the biggest news stories of the day - and the best features from our website
Thank you for signing up to TheWeek. You will receive a verification email shortly.
There was a problem. Please refresh the page and try again.
Row over spiralling costs for BHS administration
19 January
BHS administrators Duff & Phelps is facing questions from MPs over its spiralling fee and a controversial £35m "floating charge" owed to the store's former owner, Sir Philip Green.
When they were appointed last April, initially at the behest of Green and then approved by the BHS board, the company estimated its costs would be around £3.5m, says the Daily Telegraph.
Subscribe to The Week
Escape your echo chamber. Get the facts behind the news, plus analysis from multiple perspectives.
SUBSCRIBE & SAVE
Sign up for The Week's Free Newsletters
From our morning news briefing to a weekly Good News Newsletter, get the best of The Week delivered directly to your inbox.
From our morning news briefing to a weekly Good News Newsletter, get the best of The Week delivered directly to your inbox.
But managing director Phil Duffy said this week that was now "likely to be in the region of £4.03m".
He added: "Just to put these fees into context, BHS was the highest-profile retail administration since Comet and Woolworths. The fees charged by the administrators of Woolworths were over £11m and on Comet the fees were over £10m."
Duffy's announcement provoked an angry reaction from Labour MP Frank Field, the chairman of the work and pensions select committee, who complained BHS's costs "continue to spiral".
He said: "Duff & Phelps, who were appointed by Sir Philip, have left with half a million more than they expected for doing substantially less of the administration than they expected."
Field was referring to the fact that two months into the process, one of BHS's largest creditors, the Pension Protection Fund, appointed a second firm, FRP, to co-manage the administration.
Field also raised questions over £35m owed to Green's Arcadia Group, which Duff & Phelps paid to his lawyers last October and FRP later demanded be returned.
The PPF and other creditors expect to recoup just two to eight per cent of their own debts, but Duff & Phelps said its legal advice was that Green's took prominence.
Field said: "If it was such a completely standard move, as Duff & Phelps claim, one wonders why it was reversed by the co-administrators as one of their first acts upon being appointed."
FTAdviser says the debt relates to a loan of £40m paid by Green's Arcadia business to Retail Acquisitions, the buyout vehicle of Dominic Chappell, which acquired BHS for a nominal £1 in March 2015.
At one time, Green was said to have offered to put the entire amount into the BHS pension scheme, but he later revised that offer down to £5m, leaving the £35m charge outstanding.
Why Sir Philip Green could face a £1bn BHS fine
21 December
Sir Philip Green "may have to pay £1bn to resolve the problems facing the BHS pension scheme under proposals tabled by MPs," says The Guardian.
Politicians have called for new power for the Pensions Regulator to impose a "nuclear deterrent" fine of three times the amount an individual is thought to have underfunded a pension scheme.
In Green's case, the regulator is thought to be seeking £350m, meaning a fine could be worth more than £1bn.
The plan is one of several recommendations made by the parliamentary pensions committee to the government, which has said it will publish a paper on the issue in the New Year. Any new powers would have to be subject to legislation, so it would be some time before they came into force.
The Pensions Regulator has launched legal action against Green to recover funds, which experts say could take years to conclude.
The two are also locked in negotiations over a rescue plan that Green has repeatedly promised to bring forward. Reports suggest he has offered around £100m less than is being demanded.
"It is difficult to imagine [the regulator] would still be having to negotiate with Sir Philip Green if he had been facing a bill of £1bn, rather than £350m," said Frank Field, the chairman of the pension committee. "He would have sorted the pension scheme long ago."
Other proposed powers include the regulator approving every "major" corporate transaction and refusing all but the most "exceptional" pension scheme funding plans lasting more than ten years.
These measures are also directed specifically at Green - in 2012, he had a 23-year funding plan for the BHS pension fund approved but then sold the business in 2014 for a nominal sum to the twice-bankrupt retail novice Dominic Chappell.
"It is… inconceivable that [Green's] deal to dispose of BHS and its giant pension deficit for £1 to a dismally unqualified man, with no plan for the pension schemes and no means of financing one, would have… passed any mandatory clearance scheme," said Field.
Ex-BHS owner arrested over £560,000 of unpaid taxes
14 November
The twice-bankrupt businessman who oversaw the collapse of BHS has been arrested in relation to £560,000 of unpaid taxes on earnings he made from the department store.
Dominic Chappell bought BHS for a nominal £1 from controversial tycoon Sir Philip Green in March 2015. As a result of the deal, his company, Swiss Rock, was paid at least £1.6m by the retailer, says The Guardian.
BHS was placed in administration in April of this year – and was liquidated in the summer. Swiss Rock went into liquidation in September.
Before Chappell appointed the liquidators David Ruben and Partners, HMRC began legal action to wind up the company and recover outstanding tax bills, including £365,000 in unpaid VAT and £196,306 in corporation tax.
Chappell, a former racing driver, has made no public comment on the matter. But when HMRC started legal proceedings against him, he did hint to the Guardian that the sums were simply the result of an administration error.
He said: "There was a return that was made in error; they [HMRC] have acted upon it and we are rectifying that as we speak."
The case focuses on the money that was extracted from BHS by its former owners. Chappell admitted to the BBC he took £2.6m from the company, but insisted this is not the reason that the business ultimately failed.
Green has also faced intense scrutiny over claims he took £600m from BHS. His refusal to offer £350m in compensation for his actions in order to fill the hole in the store's pension scheme has also been heavily criticised.
The billionaire has always insisted that he put back more into the business than he ever took out.
Chappell has confirmed to ITV News that he has been arrested. HMRC simply states that on 2 November they arrested a "49-year-old businessman".
This is not the only crisis Chappell is facing this week. The Daily Telegraph points to a deadline today for him to provide evidence to the High Court "about why £6m is missing from BHS's balance sheet".
BHS administrators Duff & Phelps found that Retail Acquisitions took an £8.4m loan from the store, only £2.4m of which was ever repaid.
It is arguing that Chappell's company, Retail Acquisitions, is in breach of the loan terms and wants to place it into administration, which will allow investigators to pore over its finances. Chappell was given 14 days to gather evidence to prevent the action.
Sir Philip Green '£100m short' on BHS pension offer
4 November
Sir Philip Green attempted a "cut-price" rescue deal for the BHS pension scheme, says the Daily Telegraph, offering a figure "£100m short" of the amount regulators deem appropriate.
The Pensions Regulator, after a lengthy investigation, yesterday served Green with an enforcement notice that could result in him, along with other former BHS owners, being hit with a demand to fill the black hole in the scheme.
The tycoon insisted he had made "a credible and substantial proposal, with evidence and bank confirmation of cash availability". However, Lesley Titcomb, the regulator's chief executive, said his plans did not constitute a "sufficiently credible and comprehensive offer".
According to the Telegraph and the BBC, the regulator believes a sum of £350m is needed to shore up the scheme and prevent it falling into the Pension Protection Fund, which would limit future payouts to members.
Instead, Green is reported to have made a first offer of £250. The BBC says he has since upped that to £300m, but it appears there will be no deal unless he meets the regulatory demand in full. The businessman had told a parliamentary hearing in June he would "sort" the BHS pension "mess".
Ros Altmann, the former pensions minister, told the Telegraph Green had attempted to strike a deal previously with her and "believed it was up to him to tell The Pensions Regulator how much he was willing to pay".
She added: "He believed [Titcomb] was being unreasonable, but it is simply not up to him to decide this."
The BBC says sources believe a deal could finally be struck before Christmas, but that it is possible Green "could still walk away and instead embrace a lengthy legal battle".
Pension expert John Ralfe told the Telegraph regulators should "bite Philip's arm off" if he made an offer of around £300m to avoid a tough, lengthy legal battle. The only two previous enforcement cases are not close to being resolved after more than three years, he added.
Green still faces the prospect of losing his knighthood over the debacle. MPs voted unanimously to strip him of the honour last month, but the decision rests with the Honours Forfeiture Committee.
Pensions Regulator launches legal action against Green
3 November
Sir Philip Green, along with the fellow directors in his retail empire and Dominic Chappell, his successor as owner of BHS, has been served an enforcement notice by the Pensions Regulator.
This could culminate in them being collectively ordered "to fill the £571m deficit in the BHS pension scheme" at the time the store fell into administration in April, says The Guardian.
With BHS now having been liquidated, the pension scheme faces entering the industry lifeboat, the Pension Protection Fund, which would see payouts to those not yet at retirement age cut by ten per cent and subject to a £30,000 cap.
Lesley Titcomb, the regulator's chief executive, told the BBC the 300-page notices mark "an important milestone in our work to attain redress for the thousands of members of BHS schemes who have been placed in this position through no fault of their own".
Green acknowledged receipt of the notice, but said he had "provided the regulator with what I believe to be a credible and substantial proposal, with evidence and bank confirmation of cash availability".
His plan would "prevent the scheme from entering the Pension Protection Fund… in order to achieve a better outcome for the BHS pensioners", he said, adding it has the backing of the pension scheme's trustees.
However, Titcomb said the regulator is yet to receive "sufficiently credible and comprehensive offer" to bail out the BHS pension scheme.
She added that the "door remained open for an improved offer", says the BBC's Simon Jack. If a better offer is not forthcoming, the regulator's evidence will be passed to an independent panel to decide whether Green and others should pay "and determine how much".
Green promised MPs at a hearing nearly five months ago that he would sort the BHS pension "mess", but has never confirmed how much he was willing to spend.
Frank Field, who co-chaired a parliamentary inquiry into the collapse of BHS, said: "We are not surprised that the Pensions Regulator has, like all the rest of us, lost patience with Sir Philip Green's excuses and empty promises."
Continue reading for free
We hope you're enjoying The Week's refreshingly open-minded journalism.
Subscribed to The Week? Register your account with the same email as your subscription.
Sign up to our 10 Things You Need to Know Today newsletter
A free daily digest of the biggest news stories of the day - and the best features from our website