The best horror franchises of all time
From Freddy to Jason to Michael Myers, who has the greatest horror series of them all?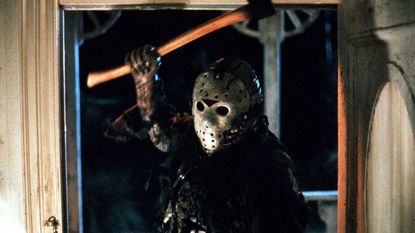 (Image credit: Paramount Pictures / AA Film Archive)
The Halloween season belongs to horror icons like Jason Voorhees, Freddy Krueger, and Michael Myers. But which of these characters has the superior series? In honor of spooky season, not to mention Friday the 13th, let's pit these horror franchises head-to-head to determine the greatest of all time.
10. 'V/H/S'
The "V/H/S" anthology franchise offers a delightful box of chocolates every time, mixing together several found-footage shorts from exciting horror directors. There can be duds, but the highs are high, and the lack of a continuing storyline means there's no reason the tradition of releasing a new sequel every October can't go on indefinitely. Here's hoping.
9. 'Friday the 13th'
Jason Voorhees is a horror icon, and every "Friday the 13th" provides a baseline level of enjoyment. If you're simply looking to laugh along as teens get slaughtered, virtually every entry in this oeuvre satisfies. But there is also a ceiling to the franchise's quality. Many of the movies are packed with filler and dreadful characters, and "Friday" has yet to produce a genuine horror masterpiece.
Subscribe to The Week
Escape your echo chamber. Get the facts behind the news, plus analysis from multiple perspectives.
SUBSCRIBE & SAVE
Sign up for The Week's Free Newsletters
From our morning news briefing to a weekly Good News Newsletter, get the best of The Week delivered directly to your inbox.
From our morning news briefing to a weekly Good News Newsletter, get the best of The Week delivered directly to your inbox.
8. 'A Nightmare on Elm Street'
The hook of "A Nightmare on Elm Street" — that Freddy Krueger murders teens in a dream world — has allowed for infinite creative ideas, whereas other slasher franchises eventually struggle to come up with inventive new deaths. It's a hugely entertaining bit of ingenuity, particularly in "New Nightmare," which was ahead of its time with a meta storyline two years before "Scream."
7. 'Halloween'
Of all the classic horror franchises, "Halloween" had the best original movie — and the unknowable force that is Michael Myers is the spookiest of the major slashers. Unfortunately, the series went off the rails several times as it tried to explain too much about the killer. Still, while "Friday" and "Nightmare" struggled to settle on a compelling recurring protagonist, "Halloween" was elevated by the greatest final girl ever, Laurie Strode, and her epic feud with Michael.
6. 'Saw'
Most horror franchises don't really feel like one continuous story, as characters abruptly disappear and plot threads are abandoned. But that's not the case with "Saw," which functions like a long-running TV series. The amount of continuity between entries is impressive and rewarding for longtime fans. If "Twin Peaks: The Return" can be classified as a movie, why can't "Saw" be classified as a show?
5. 'The Conjuring Universe'
Outside of the MCU, the most well-realized cinematic universe is "The Conjuring," whose mainline installments introduced haunted artifacts or demons that can carry their own spinoffs. Almost every entry is filled with masterful scares, and the series is refreshing for its optimistic worldview and focus on lovable, purely good characters.
4. 'Child's Play'
Nearly every ongoing horror franchise has been forced to reboot at some point. But not "Child's Play," which deserves props for maintaining the same storyline from its first film through its current TV show and for incorporating every sequel into the canon (not counting the 2019 remake made without the series creator's approval). "Child's Play" has its lows, but there's something to be said for a franchise that can acknowledge its stumbles and course correct, rather than pretend they never happened.
3. 'Evil Dead'
"Evil Dead" is one of the only horror franchises that has been around for years but has yet to release a film that's anything less than excellent. Sometimes the tone is deadly serious, sometimes it's a slapstick comedy, and sometimes it's somewhere in between. But it's always bloody good fun, and this year's "Evil Dead Rise" is no exception.
2. 'Final Destination'
The fact that "Final Destination" has been dormant for years is baffling, as it has one of the most evergreen formulas of any horror franchise. The villain isn't a person, but death itself. This removes the biggest issue most slasher series encounter: the need to repeatedly, and implausibly, revive the killer. The franchise also has some of the genre's most unique deaths, which play out like Rube Goldberg machines. Any series that leaves us fearing everyday objects is doing something right.
1. 'Scream'
The most recent two entries in its line-up have pushed "Scream" past "Final Destination" as the gold standard of horror franchises. Like "Final Destination," "Scream" is fairly evergreen in that Ghostface is always a different person, allowing every sequel to explore a fresh motive and mystery. It is also the rare slasher series where well-written protagonists, from Sidney Prescott to Sam Carpenter, are as much of a draw as the killer. Any successful horror franchise will continue forever, but unlike most, "Scream" actually should.

Continue reading for free
We hope you're enjoying The Week's refreshingly open-minded journalism.
Subscribed to The Week? Register your account with the same email as your subscription.