Jeremy Corbyn is a 'disaster', says Stephen Hawking
World-renowned physicist calls for Labour Leader to step down 'for the sake of the party'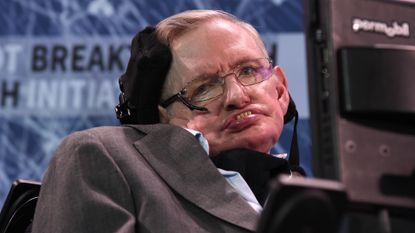 (Image credit: Bryan Bedder/Getty Images for Breakthrough Prize Foundation)
Sign up to our 10 Things You Need to Know Today newsletter
A free daily digest of the biggest news stories of the day - and the best features from our website
Thank you for signing up to TheWeek. You will receive a verification email shortly.
There was a problem. Please refresh the page and try again.
Jeremy Corbyn's Labour in disarray over fiscal U-turn
13 October
Labour backbenchers are said to be "gobsmacked" and "incredulous" after the shadow chancellor, John McDonnell, announced a U-turn on the party's support for the Tories' fiscal charter, which commits the government to operating a budget surplus.
Only 18 days after surprising commentators by signing up to the fiscal charter in a bid to restore the party's credibility on the economy, McDonnell told Labour MPs last night that economic circumstances in the past fortnight had forced him to reverse his decision.
Subscribe to The Week
Escape your echo chamber. Get the facts behind the news, plus analysis from multiple perspectives.
SUBSCRIBE & SAVE
Sign up for The Week's Free Newsletters
From our morning news briefing to a weekly Good News Newsletter, get the best of The Week delivered directly to your inbox.
From our morning news briefing to a weekly Good News Newsletter, get the best of The Week delivered directly to your inbox.
"The debate has moved on and I think we need to change our attitude," he told the weekly meeting of the Parliamentary Labour Party. The party would now vote against the fiscal charter in tomorrow's Commons debate, leaving it open to new charges of fiscal irresponsibility.
Former Labour culture secretary Ben Bradshaw walked out of the PLP meeting saying the party's economic policy was now "a total f***ing shambles".
What McDonnell said on September 25
The shadow chancellor told The Guardian during the weekend of the Labour conference that, despite Jeremy Corbyn having been elected on an anti-austerity ticket, Labour would back the Tories' fiscal charter. No one could accuse the new leadership of being "deficit deniers".
The charter requires the government to run a budget surplus within three years during "normal times" when there is no economic crisis.
As the Guardian reports today, "McDonnell said he was committed to balancing the books even though he did not agree with many of the charter's specific objectives."
What McDonnell says now
"I think our tone has to change and our attitude has to change – we have to be the anti-austerity party," the shadow chancellor told a shocked PLP last night. "The debate has moved on and I think we need to change our attitude."
He cited a series of reports in the past fortnight highlighting "the economic challenges facing the global economy as a result of the slowdown in emerging markets... So I believe that we need to underline our position as an anti-austerity party by voting against the charter on Wednesday."
McDonnell said he had consulted members of his economic advisory council … "and the general view is the same". He promised to set out Labour's thinking in a new statement on budget responsibility.
How Labour MPs reacted
Some Labour backbenchers will have been delighted by McDonnell's volte-face, because, as the Guardian reports, they were "openly planning to rebel and vote against the charter".
But the majority of today's reports are all about the fury of those who don't want the Labour party to be seen as "deficit deniers" and/or believe that McDonnell's sudden change of mind denotes "shambles".
The Daily Mail describes "furious scenes" last night, quoting one MP saying it was "the worst PLP meeting I have ever attended", worse even than in the dark days of the Iraq war when the party was deeply split.
The BBC's assistant political editor, Norman Smith, told Radio 4's Today listeners that Labour backbenchers had been left "gobsmacked" by McDonnell's announcement.
The Times says Corbyn "sought to soothe tensions by telling the room that it was time for rebuilding the party". But the meeting descended into fury with Corbyn's supporters and detractors clashing over other issues "while the leader sat in silence through most of it".
Former shadow chancellor Chris Leslie reportedly said there were finely-balanced arguments on either side of the Tories' fiscal charter but McDonnell had "lost credibility" by advancing both sides in the space of the three weeks.
John Mann, the MP for Bassetlaw, described the U-turn as a "huge joke" and "shambolic politics".
Mann also accused the Labour leadership of making a decision that "does not have any aspect of democratic politics". That's because there was no shadow cabinet meeting to discuss this major change in economic policy: McDonnell informed fellow frontbenchers by telephone.
The Conservative reaction
"Labour's economic policy has lurched from chaos to incredibility," the Daily Telegraph reports George Osborne saying last night.
"Two weeks ago, they said they were going to vote for a surplus – now we know they want to keep on borrowing forever. That would be a grave threat to the economic security of working people."
Jeremy Corbyn 'stripped of Right Honourable status'
12 October
Buckingham Palace has got its own back on Jeremy Corbyn, with the Queen's advisers ordering that he be stripped of his 'Right Honourable' status, the Daily Telegraph reports.
The handle is awarded to members of the 600-strong Privy Council. But the Labour leader failed to turn up last week to be sworn into the club, preferring to take a short walking holiday with friends near Ben Nevis than kneel before the Queen.
David Cameron addressed Corbyn as "my Right Honourable friend" at the one and only session of Prime Minister's Questions the two men have enjoyed together since the Labour leader's election.
Now, says the paper, the Queen's advisers – in the form of the Office of the Privy Council – have ordered the title be removed from his page on the Parliament website. He will be accorded the status if and when he eventually gets inducted.
Which could only be a month away. A Labour source blamed an "administrative error" for Corbyn being in Scotland on the day of the Privy Council's October meeting. And a spokesman for the party insists he will be joining the council, and that it was "far from unusual" to miss the first meeting due to other commitments. Cameron himself waited three months before attending a Privy Council after he became Opposition leader in 2005.
Corbyn's spokespeople have also been busy dealing with a Sunday Telegraph report alleging his and shadow chancellor John McDonnell's "close links" to the IRA.
The paper produced archive evidence that Corbyn had attended several events supporting the IRA in the 1980s and 1990s, and that he was general secretary of the left-wing magazine Labour Briefing when it "controversially sympathised with the Brighton bombing" in 1984.
A spokesman for Corbyn told The Independent that he would not be commenting on "historic stories". He added: "Jeremy has always and still does oppose violence."
The contentious Labour Briefing editorial said "the British only sit up and take notice when they are bombed into it".
But the Independent points out that while the editorial stated sympathy for the Irish republican movement, it went on: "… though we may not always agree with all their tactics or policies".
Nor did the editorial specifically condone the terror attack on Brighton during the 1984 Tory party conference – nor offer express support to the IRA.
At least Corbyn has made it past the "benchmark" of one month as Labour leader, Patrick Wintour writes in The Guardian.
The question now is what happens in seven months' time when a string of elections – for London mayor, English local government, the Welsh assembly and the Scottish parliament – could determine whether Labour moderates decide to challenge his leadership.
"Corbyn's critics say he has had a shaky start to his leadership; wavered on a set of second-string issues and has been slow to provide a coherent alternative political agenda," writes Wintour.
"Labour moderates have made it clear that if his performance has not improved by next spring, and if his first contact with the electorate takes the party further away from power, then moves to persuade the party membership to consider a new leader will start in earnest."
Team Corbyn will be hoping Labour candidate Sadiq Khan can beat Zac Goldsmith to wrest back London after two Tory terms under Boris Johnson.
They will also be hoping that their leader's leftist politics can put them on the long road to winning back Scotland. "Scrutiny of the SNP record is growing," says Wintour, "and Scotland could be the litmus test of whether Corbyn's politics can make an impact."
Whatever happens in these elections – which will include the second set of police and crime commissioners – "the appeal of Corbynism will be tested," Wintour concludes, "and the debate about his electability will no longer be a matter of opinion, but a matter of evidence."
Jeremy Corbyn 'snubs' Queen citing private diary clash
8 October
Jeremy Corbyn has been accused of snubbing the Queen after apparently finding a loophole which enables him to become a Privy Council member without even meeting the monarch.
The new Labour leader, a lifelong republican, is already in trouble with critics for declining to sing the National Anthem at a recent Battle of Britain service at St Paul's. And he has made it clear he has reservations about kneeling in front of the Queen and kissing her hand, all part of the normal ritual of joining the Privy Council.
Now the Daily Telegraph reports that not only has he dodged today's Privy Council meeting with the Queen by claiming a prior private engagement, but that he could avoid ever having to humble himself before Her Majesty by using a mechanism called an Order in Council, by which a new member can be appointed without being present in person.
"For that to happen," says the Telegraph, "Mr Corbyn, who has never met the Queen, would still have to confirm that he had taken the oath, but would avoid kneeling before the sovereign."
It is not certain Corbyn will employ the device, normally used by newly appointed Privy Council members who are based abroad, such as Commonwealth prime ministers. The Daily Mail reports: "It is understood his team has not decided whether he will kneel before the Queen".
The paper quotes a Labour spokesman saying only that Corbyn was unable to come today due to a prior commitment, and that he is going to be offered an invitation "on another day".
What today's private engagement is, no one is saying. But for Corbyn's critics, it's a sorry excuse.
"Firstly it is deeply insulting and secondly it is not grown up – not to go to see the monarch is just extraordinary," an anonymous member of the council told the Telegraph.
"I am sure that what they would have done is not make him kneel. But what this really means is that he is not prepared to put himself in the position of a serious leader who can be trusted."
Sir Alan Duncan, a Conservative MP and Privy Council member, said: "The Queen has always put herself above politics, but Jeremy Corbyn seems to want to put his politics above the Queen."
The Privy Council, which dates back to Norman times, has more than 600 members, including government ministers, bishops and judges, though only a handful usually attend its monthly meetings with the Queen.
The key privilege members enjoy is access to national secrets – and another Tory MP, Keith Simpson, believes this might be the reason for Corbyn's reticence.
"Once you are sworn in as a Privy Councillor then you can be told certain things in confidence and as far as the Leader of the Opposition is told you are told things that are serious.
"If you are not sworn in, you can't be told. It may be that he does not want to be constrained by being told things that involve national security.
Whatever the reason, Corbyn's non-appearance comes after David Cameron used his speech to the Tory party conference yesterday to launch a vicious personal attack on the Labour leader.
"Thousands of words have been written about the new Labour leader. But you only really need to know one thing: he thinks the death of Osama bin Laden was a 'tragedy'," said Cameron.
"My friends – we cannot let that man inflict his security-threatening, terrorist-sympathising, Britain-hating ideology on the country we love."
Rafael Behr of The Guardian comments: "There are many ways in which Cameron could attack Corbyn, but presenting him as soft on Bin Laden and insufficiently sympathetic to 9/11 victims is brutal...
"He wants to portray Corbyn, and by extension, Labour as sinking into a moral quagmire – alienating themselves from all right-thinking people and ultimately ruling themselves out of power."
The Daily Mirror points out that Corbyn has rejected making personal attacks on fellow politicians. Using his Manchester speech to attack Jeremy was "a sure sign" the Prime Minister is "rattled", a Labour spokesman told the paper.
Labour's Adonis takes government role: a blow to Jeremy Corbyn?
05 October
George Osborne has "poached" the former Blairite Labour minister Lord Adonis to head a new National Infrastructure Commission designed to "shake Britain out of its inertia" and help drive through major building projects such as nuclear power stations, roads and railway lines.
But is it a "significant blow" to Jeremy Corbyn, as some papers are suggesting this morning, or is it flattering to the Labour leadership that the Chancellor has stolen yet another Labour idea and invited a Labour grandee to, in effect, write government policy?
A 'blow' to Corbyn
Both the Daily Telegraph and the The Times have mistakenly reported in their early editions today that Lord Adonis has "quit" the Labour party in order to take up the position.
"His decision to quit Labour will be seen as a tacit criticism of Mr Corbyn [and] his left-wing programme of reforms," reports the Daily Telegraph.
In fact, Adonis has not quit the party: he has only resigned the Labour whip in the House of Lords to become a crossbench peer.
But as Isabel Hardman of The Spectator comments, "This is as close to a Blairite defection from Jeremy Corbyn's Labour as you can get: Adonis was a passionate member of the policy-making team for Ed Miliband in the last Parliament. He has clearly decided that the better game in town is the one led by the Chancellor."
Or is it such a 'blow'?
The infrastructure commission was originally a Labour idea – and in pinching it Osborne has made his "most audacious theft yet of Labour's programme", according to The Times.
Ed Miliband said on the eve of the general election in May: "We will set up an independent national infrastructure commission to assess how best to meet Britain's infrastructure needs. It will make recommendations to government, monitor their implementation, and hold government to account."
At that stage, the commission was being championed by Ed Balls, then shadow chancellor, and by Adonis in the Lords.
"Throughout, Osborne showed no interest, even when Miliband was trying to make it a cross-party idea," writes Fraser Nelson, editor of The Spectator. "Just as with the £8 minimum wage, he [Miliband] lost the election but won the argument."
And if Osborne promises to heed the Adonis commission's recommendations, writes Nelson, "then this means that a Labour Party member will be writing significant chunks of government policy. So it is as much a coup for Labour as for the Tories."
Never mind the politics, what's the commission's purpose?
George Osborne will tell the Tory party conference today that the Adonis commission is needed to "shake Britain out of its inertia on the projects that matter most". Aides to the Chancellor have made it clear, The Times reports, that the commission will not fight shy of the "not in my backyard" brigade in the Tory shires.
The Chancellor will say: "Where would Britain be if we had never built railways or runways, power stations or new homes? Where will we be in the future if we stop building them now?"
The commission, which will begin work immediately, will make recommendations on which major projects are in the "national interest". It will not have the power to force its recommendations on ministers – but it will have the authority to hold the "government's feet to the fire if it fails to deliver", Osborne will say.
The issue of Heathrow's third runway has been specifically excluded from the commission's remit.
The perfect project for Adonis
Adonis's decision to take up Osborne's offer will doubtless be seen by the Corbynite left as the first betrayal by the Blairites, writes Patrick Wintour of The Guardian. But it would be wrong to see it that way or to assume this is the first of a series of defections.
Adonis is a special case, his politics marked by "a determination to get things done, irrespective of party politics, acting as a catalyst for change, constantly challenging the forces in Whitehall and local government that prefer the quiet life and the deferred decision".
And he is no Tory. "Although he has always been willing to work on a cross-party basis," says Wintour, "he has his tribal loyalties. His book Five days in May, an account of the abortive coalition talks in 2010, demonstrates he worked harder than anyone to form a Labour-Liberal Democrat coalition to keep the Tories out."
Accepting his new role, Adonis said: "Major infrastructure projects like Crossrail and building new power stations span governments and parliaments. I hope that it will be possible to forge a wide measure of agreement, across society and politics, on key infrastructure requirements for the next 20 to 30 years."
Jeremy Corbyn: will he do 'a Nick Clegg' on students?
02 October
Jeremy Corbyn risks disappointing thousands of his young supporters after it emerged overnight that his personal pledge to scrap university fees must go before the Labour party for consultation.
And because many senior Labour figures are unconvinced about reducing student fees, it might never make it through the policymaking process, whatever the personal wishes of the party leader.
The Financial Times says the long and complicated process "risks diluting the radical programme he set out in the summer leadership race".
The Daily Telegraph asks: could Corbyn be forced to "do a Nick Clegg?" The paper reminds readers that it was the former Lib Dem leader's decision to abandon his pledge to scrap tuition fees that led to his party's general election "wipeout".
It is only 11 weeks since The Guardian and others reported Corbyn's campaign pledge to remove all student fees and restore student maintenance grants.
He was specific: the £10bn cost would be met by either a 2.5 per cent rise in corporation tax or a seven per cent increase in national insurance for those earning more than £50,000 a year or by slowing the pace at which the national deficit is reduced.
And he took the opportunity to apologise on behalf of the Labour party to "the last generation of students" hit by previous Labour governments' imposition of fees, top-up fees and the replacement of grants with loans.
"It was his first major policy statement," says the FT, "and helped build support among young left-wingers."
Now the paper quotes a member of the shadow cabinet saying: "It's like everything else from Jeremy's leadership campaign, it doesn't automatically become policy."
The Times reports another shadow cabinet member saying there would be "competing demands for extra cash for students". For example, further education colleges face drastic cuts under the Tory government's latest austerity measures.
The paper also makes the point that when Ed Miliband made his pre-election pledge to reduce fees by £3,000 to £6,000 a year – which remains party policy until Corbyn's position is resolved – many senior Labour figures, including Ed Balls, were against it.
"They argued that reducing tuition fees subsidised those from better off families and did little to encourage the less advantaged to go to university," says The Times.
A spokesman for Corbyn has acknowledged that "all policy is up for discussion and there is a review of how we will set policy in the future."
The FT comments: "Labour's back and forth approach to fees highlights the gulf between Mr Corbyn's rhetoric during the leadership campaign and the reality of life as leader of the opposition."
University debt joins a growing list of issues on which Corbyn has had to backtrack:
Europe: Having been ambivalent about Britain's continued membership, suggesting at one stage that he could end up campaigning with the anti-Europeans, peer pressure has forced Corbyn to confirm that Labour will be committed to remaining in the EU.
Energy costs: The party is committed to his plan to re-nationalise the railways – popular with the public if not with all economists – but he has had to ditch plans to nationalise the 'big six' energy providers.
Trident: Like student fees, his proposal to scrap the £100 billion renewal of Trident was central to his campaign agenda. But he has been unable to persuade the Labour party to adopt his position. He was forced to admit yesterday that there was "no guarantee" that Labour would resolve the issue in time for the Scottish Parliament elections next May, when the SNP – which is against renewing Trident – will seek to exploit Labour divisions.
Meanwhile, a YouGov poll for The Sun has given Corbyn the worst popularity rating of any opposition leader on record. The 66-year-old left-winger scored minus 8. Both Labour's Michael Foot (1980) and the Tories' Iain Duncan Smith (2001) managed a zero. Ed Miliband (2010) scored plus 26.
The survey is Britain's first verdict on Corbyn since his conference speech address on Tuesday, says The Sun, and suggests "he has not convinced sceptical voters with his 'kinder politics' and left-wing vision".
Continue reading for free
We hope you're enjoying The Week's refreshingly open-minded journalism.
Subscribed to The Week? Register your account with the same email as your subscription.