Jeremy Corbyn is a 'disaster', says Stephen Hawking
World-renowned physicist calls for Labour Leader to step down 'for the sake of the party'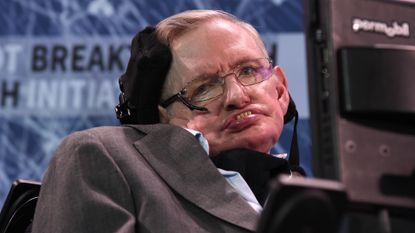 (Image credit: Bryan Bedder/Getty Images for Breakthrough Prize Foundation)
Sign up to our 10 Things You Need to Know Today newsletter
A free daily digest of the biggest news stories of the day - and the best features from our website
Thank you for signing up to TheWeek. You will receive a verification email shortly.
There was a problem. Please refresh the page and try again.
Jeremy Corbyn: Labour MPs expected to challenge leadership
29 June
Jeremy Corbyn is expected to face a formal leadership challenge after Labour MPs passed a motion of no confidence in him.
The party's deputy leader, Tom Watson, and the former shadow business secretary, Angela Eagle, have been named as possible candidates to stand.
Subscribe to The Week
Escape your echo chamber. Get the facts behind the news, plus analysis from multiple perspectives.
SUBSCRIBE & SAVE
Sign up for The Week's Free Newsletters
From our morning news briefing to a weekly Good News Newsletter, get the best of The Week delivered directly to your inbox.
From our morning news briefing to a weekly Good News Newsletter, get the best of The Week delivered directly to your inbox.
The vote was passed by 172 votes to 40, three-quarters of the parliamentary party, following mass resignations from the shadow cabinet. However, it is non-binding and Corbyn has so far refused to quit.
"I was democratically elected leader of our party for a new kind of politics by 60 per cent of Labour members and supporters and I will not betray them by resigning," he said.
The next step for MPs is to formally trigger a leadership race by putting 50 signatures next to a single candidate and submitting the letter to Labour's general secretary, Iain McNicol.
"Other leadership hopefuls including Dan Jarvis, Chuka Umunna and Tristram Hunt agreed to put their ambitions on hold as moderates plotted the coup via WhatsApp messages on their smartphones," reports the Daily Telegraph.
An editorial in The Guardian has also called into question Corbyn's ability to lead the fractured party.
"The question is thus no longer whether Mr Corbyn should continue to lead, but whether he is in fact any longer leading at all. The unavoidable answer is that he has ceased to do so, in any ordinary sense," the paper says.
The Scottish National Party has announced it is prepared to make a bid to become the official opposition in parliament. "The official opposition must be 'prepared to assume office'. Labour can't anymore," MP Peter Wishart said.
Labour leadership crisis: Will Jeremy Corbyn survive?
28 June
Jeremy Corbyn has this evening lost a vote of no confidence in his leadership following dramatic scenes at a meeting of the parliamentary Labour party yesterday.
The motion passed by a margin of 176 to 40. While non-binding, it is likely to pave the way for a leadership contest, which will be triggered if a challenger is backed by at least 51 MPs.
Deputy leader Tom Watson and Angela Eagle, the former shadow business secretary, are meeting to "decide which one of them will go forward with the nomination", says the Daily Telegraph.
Last night the Labour leader was confronted by MPs including Chris Bryant, Yvette Cooper and Jess Phillips "begging him to reconsider his position", reports The Guardian, while the Daily Telegraph says backbenchers "openly mocked him" as he attempted to claim he could win a general election.
At a separate meeting, deputy leader Tom Watson reportedly told him he had "no authority" among MPs and "faced the prospect of a leadership challenge", says the BBC.
But Corbyn remains defiant and says he will resist any attempt to remove him.
Addressing a rally of supporters from the left-wing Momentum campaign group last night, the Labour chief called for calm and told them to "to stand up for the causes they believed in – including social justice, economic equality and human rights".
He said: "Don't let the media divide us. Don't let those people who wish us ill divide us. Stay together, strong and united, for the kind of world we want to live in."
New shadow justice secretary Richard Burgon said he was disappointed that Labour MPs are attacking Corbyn rather than their political opponents. "I just think it's wrong. I think it's a distraction and it's letting the Conservatives off the hook," he said.
In total, 41 shadow ministers have resigned since Hilary Benn, the shadow foreign secretary, was sacked late on Saturday night.
At least 150 MPs, 70 per cent of the parliamentary party, will have voted with the motion of no confidence when polling closes at 4pm, says the Telegraph. The measure is non-binding and, unless Corbyn resigns, his opponents will have to gather signatures from 51 MPs or MEPs to initiate a leadership challenge.
"Several Labour MPs have cited the possibility of a general election in the next six months – following on from the election of a new Conservative leader – as the reason why Mr Corbyn must now consider his position," the BBC says.
Labour leadership crisis: Who might replace Jeremy Corbyn?
27 June
Labour deputy leader Tom Watson has warned his boss to expect a leadership challenge, after more than half the shadow cabinet quit in protest at his handling of the EU referendum.
So who might replace Jeremy Corbyn as next leader of the Labour Party? One possibility is - Jeremy Corbyn. The Labour leader has refused to resign and pledged to stand again if he is challenged to a fight.
He would be supported by shadow chancellor John McDonnell, who yesterday ruled himself out of the running but promised to chair Corbyn's campaign if he has to stand again.
However, senior figures in the party want an "avowedly pro-EU" leader to push to keep the UK as close to the bloc as possible during the upcoming Brexit negotiations, says the Daily Telegraph.
Could that be Corbyn's own deputy? Watson campaigned for Remain, although in the run-up to the vote, he told the BBC that freedom of movement for workers might have to be reconsidered in the future.
According to Total Politics, Watson was "waiting in the wings" on Sunday, while this morning, reports the BBC, he warned Corbyn he had "no authority" and to expect a leadership challenge.
In a statement made yesterday, the politician "seemed to position himself as a caretaker leader who could prepare Labour to fight an imminent general election", said the broadcaster.
Watson had spent the weekend at Glastonbury and was photographed in muddy boots and shorts, transfixed by his mobile phone, waiting for a train back to London after "partying into the night", the Daily Mail said.
He is at least one major bookmaker's current favourite, says the Daily Express, with William Hill offering odds of 7/2 in his favour. Others in the running are: former foreign secretary Hilary Benn, fired by Corbyn at the weekend; former shadow business secretary Chuka Umunna, and former British Army major Dan Jarvis. Both Jarvis and Umunna dropped out of the race last time because of family reasons.
According to a rival bookmaker, however, the next Labour leader could be a woman.
Star Sports told Business Insider that a lot of money has been wagered on two candidates - both female - and it has radically shortened the odds it is offering for them as a result.
"The interesting money we've seen this morning is for Jess Phillips and Caroline Flint, who we had both priced at 40/1," said the firm's head of politics, Jamie Loughead.
"I've since heard from contacts at other bookmakers that they've seen similar interest. We've now chopped odds on both to 25/1 from 40/1."
Birmingham MP Phillips was parliamentary private secretary to the shadow education minister until her resignation this morning, while Flint, an MP since 1997, served in the shadow cabinet under Ed Miliband.
Despite the bets, Loughead admitted the leadership contest is still "wide open" - and those looking to the bookmakers to predict the next Labour leader would do well to remember how badly they got the referendum result wrong.
Jeremy Corbyn unveils new shadow cabinet as leadership crisis grows
27 June
Labour is in deep crisis this morning following the resignation of nearly half the shadow cabinet and a growing revolt against the leadership of Jeremy Corbyn.
Party supporters and MPs are angry at what they see as Corbyn's lacklustre contribution to the failed campaign to keep Britain in the EU. Many also believe he will not be able to connect with traditional working class Labour voters at the next general election, which could come as soon as November.
Outgoing shadow culture secretary Chris Bryant, the 12th member of the shadow cabinet to resign yesterday, said Corbyn must now resign or go down in history as "the man who broke the Labour Party". MPs are due to discuss a no confidence motion against their leader today.
However, Corbyn remains defiant and has pledged to stand in any new leadership election. "I am not going to betray the trust of those who voted for me - or the millions of supporters across the country who need Labour to represent them," he said.
Resignations
Attempts to remove Corbyn began after Hillary Benn, the shadow foreign secretary, was sacked early Sunday morning for telling the Labour leader he had lost confidence in his ability.
As the news broke, other members of the shadow cabinet announced their resignations, with shadow health secretary Heidi Alexander leading the revolt, followed by:
Ian Murray, shadow Scottish secretary and the only Labour MP in Scotland
Gloria de Piero, shadow minister for young people and voter registration
Lucy Powell, shadow education secretary
Lilian Greenwood, shadow transport secretary
Kerry McCarthy, shadow environment secretary
Seema Malhotra, shadow chief secretary to the Treasury
Vernon Coaker, shadow Northern Ireland secretary
Lord Falconer, shadow justice secretary
Karl Turner, shadow attorney general
Chris Bryant, shadow culture secretary
Diana Johnson, shadow foreign minister
Anna Turley, shadow civil society minister
Toby Perkins, shadow defence minister
Wayne David, the shadow Cabinet Office, Scotland and justice minister
Yvonne Fovargue, shadow consumer affairs and science minister
Stephen Kinnock, parliamentary private secretary to the shadow business secretary
Promotions
Emily Thornberry, the shadow defence secretary who yesterday gave her backing to Corbyn, has now replaced Benn as shadow foreign secretary, while Diane Abbott has been promoted from shadow international development secretary to shadow health secretary.
Other appointments include:
Pat Glass, shadow education secretary
Andy McDonald, shadow transport secretary
Clive Lewis, shadow defence secretary
Rebecca Long-Bailey, shadow chief secretary to the Treasury
Kate Osamor, shadow international development secretary
Rachel Maskell, shadow environment food and rural affairs secretary
Cat Smith, shadow voter engagement and youth affairs minister
Dave Anderson, shadow Northern Ireland secretary.
Jeremy Corbyn sacks Hilary Benn: Labour leadership challenge begins
26 June
Jeremy Corbyn is facing the first organised challenge to his leadership of the Labour party, with more than half the shadow cabinet expected to resign today.
"Loyal members of shadow cabinet told The Guardian they were writing their resignation letters after Heidi Alexander, the shadow health secretary, stepped down on Sunday morning," the paper reports. It says 11 more will follow her lead.
Alexander, the shadow health secretary, was followed out the door by Ian Murray, the shadow Scottish secretary and the only MP from Scotland in the shadow cabinet, and Gloria de Piero, the shadow minister for young people and voter registration.
By lunchtime, Lucy Powell had resigned as shadow education secretary and Lilian Greenwood, the shadow transport secretary, had also announced their resignations.
The revolt was sparked when Hilary Benn, the shadow foreign secretary, was sacked late last night after telling Corbyn that he had "lost confidence in his ability to lead the party".
"We need strong and effective leadership of the Labour party," he told Sky News this morning.
Later, on the BBC's Andrew Marr show, he said there was little confidence in the party that Corbyn could lead Labour into government. But he said he would not stand in the leadership race.
An early general election has become more likely in the wake of the vote to leave the EU in Thursday's referendum, and David Cameron's resignation.
"Many Labour MPs think now, given that there is going to be a new prime minister soon, there is the real prospect of a general election sooner rather than later," says the BBC's Chris Mason.
The Guardian reports "leaked internal Labour party polling of people who voted for Labour in 2015 [which] reveals that nearly a third (29%) would support a different party if a general election was held today."
Allies of the Labour leader said he would not resign if his leadership is formally challenged. "Jeremy Corbyn is the democratically elected leader of the Labour party and will remain so," a party spokesman said.
Diane Abbott, a key Corbyn supporter, said Labour MPs unhappy with the leadership should leave the party and set up a new one, raising the prospect of a civil war among the parliamentary party.
The Sunday Telegraph says Dan Jarvis, Chuka Umunna, Tom Watson and John McDonnell are the favourites to succeed Corbyn.
Jeremy Corbyn: Labour MPs call for resignation after 'embarrassingly amateur' EU campaign
24 June
Labour leader Jeremy Corbyn is facing mounting pressure to resign from within his own party, with many pro-EU MPs blaming him for the outcome of the referendum.
Critics say Corbyn's failure to launch a resounding campaign for Remain led to the party's traditional voters joining the Leave camp and tipping the balance.
Labour's EU supporters held a crisis meeting during the campaign to demand the party leader argue more vigorously in favour of staying in the bloc, reports Sky News.
And a survey suggesting half of Labour supporters didn't know the party's position saw anxiety rocket.
Corbyn's key speech on the issue fell short of a ringing endorsement of the EU. "You cannot build a better world unless you engage with the world, build allies and deliver change," he said. "The EU, warts and all, has proved itself to be a crucial international framework to do that."He was also accused by senior colleagues of "sabotage" for criticising what he described as scaremongering Treasury forecasts.Labour MPs were queuing up to slam Corbyn this morning, with one calling his efforts "embarrassingly amateur".
One told the Financial Times: "Scotland will go, Corbyn will hopefully go."
A further critic said: "He could have fought hard for an In vote and instead he prevaricated from the sidelines," while another added: "This campaign has shown that he is even more useless than some of us thought."
A party briefing was circulated to MPs today telling them to insist, during interviews, that Corbyn was right to put a "critical case for both Remain and reform".
The script said: "In making this argument Labour showed that it is far closer to the centre of gravity of the British public than other political parties... Jeremy is uniquely placed as a critical Remainer."
So why did the Labour leader pull his punches? It is believed that Corbyn wanted to avoid alienating many white working-class voters opposed to the EU and widespread immigration – and his historical Euroscepticism may have been a factor, too.
Corbyn and Khan poised for battle over City tax
23 June
Jeremy Corbyn used his last speech of the EU referendum campaign to highlight his support for reform of the bloc – and in the process drew a battle line with his party's London Mayor.
After delivering a rousing call for supporters to vote Remain today, the historically Eurosceptic Labour leader went on to discuss his desire for far-reaching reforms, including the introduction of a so-called "Robin Hood tax" on the City.
Awkwardly for Labour, Corbyn was sharing a platform with Sadiq Khan, a popular figure in the party whose stock is high after he secured a record personal mandate in terms of voter numbers to win the London mayoralty last month - and who fiercely opposes a transactions tax, which he says would damage investment and jobs.
Sky News says Khan was "clearly irked" by his leader's comments.
Speaking to the channel after the rally, he told the programme his opposition to the levy was "quite clear".
"I do not want a unilateral tax on businesses in our City," he said. "I am in favour of jobs, I am in favour of trade and investment."
Corbyn was equally robust when questioned on the apparent discord.
"Sadiq and I will be having some very interesting discussions about it," he said. "I am sure he will come round to the idea. His whole campaign is about equality in London... It's about equality and justice and is about people paying their share."
A transactions tax on investments in the likes of shares and bonds was first proposed by the European Commission in 2011. It was blocked by the UK, among others, although the French government is one of its most vocal supporters.
It was later agreed that 11 countries would go ahead with the levy under "enhanced co-operation powers".
However, the Financial Times notes that even this accord is under threat. Estonia pulled out late last year and "Belgium and Slovenia have… wobbled in their commitment".
Cooperation powers can only be used with a minimum of nine countries – and the UK continues to threaten a legal challenge if the City is not adequately ring-fenced from the tax's implementation.
Within the wider Labour movement, Khan has been criticised for sharing a platform with David Cameron during the referendum campaign, but Corbyn has faced equally strident complaints from the parliamentary party over his lukewarm support for Remain, which was emphasised by the qualified arguments he made in his final speech.
"Having agreed to make a case for the EU, Corbyn was only ever going to do so in his own way," says George Eaton in the New Statesman. "Labour, a Europhile party led by a Eurosceptic, can now only wait to find out whether it has been enough."
Continue reading for free
We hope you're enjoying The Week's refreshingly open-minded journalism.
Subscribed to The Week? Register your account with the same email as your subscription.
Sign up to our 10 Things You Need to Know Today newsletter
A free daily digest of the biggest news stories of the day - and the best features from our website