Jeremy Corbyn is a 'disaster', says Stephen Hawking
World-renowned physicist calls for Labour Leader to step down 'for the sake of the party'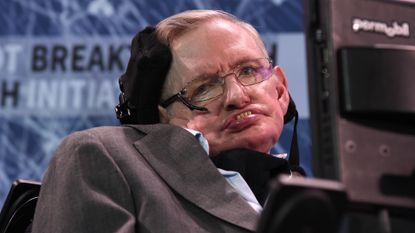 (Image credit: Bryan Bedder/Getty Images for Breakthrough Prize Foundation)
Sign up to our 10 Things You Need to Know Today newsletter
A free daily digest of the biggest news stories of the day - and the best features from our website
Thank you for signing up to TheWeek. You will receive a verification email shortly.
There was a problem. Please refresh the page and try again.
Jeremy Corbyn: could May elections spark leadership challenge?
2 February
Jeremy Corbyn's allies are preparing for a possible leadership challenge if Labour underperforms in the London mayoral and local elections in May.
Subscribe to The Week
Escape your echo chamber. Get the facts behind the news, plus analysis from multiple perspectives.
SUBSCRIBE & SAVE
Sign up for The Week's Free Newsletters
From our morning news briefing to a weekly Good News Newsletter, get the best of The Week delivered directly to your inbox.
From our morning news briefing to a weekly Good News Newsletter, get the best of The Week delivered directly to your inbox.
"We have got to be in a position to be able to run another leadership campaign," party activist Jon Lansman told a meeting of Momentum, the pro-Corbyn campaign group.
He added that the London mayoral contest would prove to be "crucial" to the party's future - Labour candidate Sadiq Khan is currently the bookmakers' favourite to replace Boris Johnson.
But Lansman acknowledged that members were not "under any illusions" that the party would do well in the Holyrood elections north of the border. "We are going to lose more seats in Scotland," he said, according to Politics Home.
Meanwhile, former shadow culture secretary Michael Dugher, who was fired by Corbyn last month, warned that heavy losses in May could force the Labour leader out.
"Don't let anyone tell you winning elections doesn't matter," he told the Daily Mail. "It's the only thing that matters."
Winning the London mayoral election would "not be enough", he added, saying Labour needs to gain up to 300 seats in English town halls, hold on to power in Wales and challenge the SNP.
Asked if Corbyn could be ousted, Dugher replied: "There's nothing any of us wouldn't do to get Labour back in touch and in power."
But Labour was able to prove critics wrong last year with its success in the Oldham by-election.
Some had predicted a major upset, but Corbyn comfortably passed his first electoral test as leader and the party held on to the Oldham West and Royton seat with an increased share of the vote.
Corbyn, who hailed the result as a "vote of confidence" in Labour, will be hoping for a repeat performance in May.
Jeremy Corbyn has same satisfaction ratings as Nigel Farage
29 January
Nearly half of all Britons surveyed in a recent poll believe the Conservatives have a better leadership team than Labour, in the latest blow to Jeremy Corbyn and his party.
When it comes to individual satisfaction ratings, the Labour leader is currently tied with his Ukip counterpart, Nigel Farage.
Research conducted by Ipsos Mori for the London Evening Standard shows that 43 per cent think the Tories have the best team of leaders to deal with the country's problems, while a mere 16 per cent chose Labour.
This represents a rise of nine points for the Conservatives - giving them their biggest lead since records began - and a fall of seven points for Labour since June 2014.
"Labour starts 2016 with big challenges ahead," said Gideon Skinner, the head of political research at Ipsos Mori.
David Cameron continues to have the highest individual satisfaction rating out of all party leaders, with 42 per cent satisfied with his performance and 52 per cent dissatisfied.
Corbyn, meanwhile, has a 31 per cent satisfaction rate, with 49 per cent dissatisfied - on par with Farage.
In terms of policy, the vast majority of Britons are opposed to plans to scrap the Trident nuclear programme – an issue that continues to divide the Labour party.
"The findings might be unsurprising but should nonetheless send an important message to Labour as the party debates its policy on the renewal of Trident," says the Standard.
"The message from voters is clear: Britain's defence is too important to risk and a Labour Party that does this will be unelectable."
But not all of Corbyn's policies proved unpopular. Two in three people back his plans to ban companies from paying their shareholders dividends unless their staff earn the living wage.
But "the overall figure, however, slightly drops to three in five when the question wording attributes the policy to Jeremy Corbyn", says the pollster.
New: try our free iPhone app, The WeekDay, for all the news that matters and nothing more. Click here for twice-daily digests distilled from the best of the British and international media
Jeremy Corbyn: election report offers key lessons for Labour leader
20 January
An internal review into Labour's election defeat has highlighted the challenges new leader Jeremy Corbyn must overcome if it hopes to seriously contest the next general election.
In her 25-page report, former deputy leader Margaret Beckett says the party failed to tackle the myth it was to blame for the 2008 financial crash and was unable to appeal to older voters.
The veteran politician also pointed the finger at Labour's inability to connect with voters on immigration and welfare, concerns about former leader Ed Miliband and the crushing loss of support in Scotland.
Appealing to a wider demographic will prove key in 2020, with Beckett warning that Britain's ageing population will hand the Conservatives an extra 570,000 voters.
"With the wisdom of hindsight, it is plain to see that despite our support among younger voters, it was the older voters wot won it," Labour MP Caroline Flint writes in The Guardian. "Not only did older voters win this election, they will be decisive in 2020."
Clarity is also incredibly important after Miliband, argues The Independent's Steve Richards. "Currently Jeremy Corbyn is stronger than his internal opponents because... he knows what he stands for while his enemies huff and puff vaguely."
Does Beckett think Corbyn can learn from these lessons? "I think he performed an unexpected political miracle in the scale of the votes that he got in the Labour party and the way in which he inspired people," she said. "And if he can do that with the British people, we'll be doing all right."
Corbyn fans raise £2,000 to buy his dream bike
14 January
Jeremy Corbyn supporters have been raising funds to help him buy his dream bicycle.
In a column for Stylist magazine, the Labour leader revealed that his "dearest wish" was to own a new £475 Raleigh Criterium, although he added wistfully: "I'm a big believer in repairing rather than replacing. I suspect I will have my own long after my leadership."
The Daily Telegraph swiftly launched a poll asking "Can a true socialist covet an expensive bicycle?" (It also points out that SNP leader Nicola Sturgeon has been spotted wearing "expensive outerwear", including £130 Hunter wellies "which cost rather more than David Cameron's carefully selected £12.99 pair".)
In response, Labour activist Tom Jordan has set up a crowdfunding campaign to "annoy the right-wing press" and "get Jez his dream bike" in time for his birthday on 26 May. It gained more than 1,000 backers overnight, raising in excess of £2,000 - four times the cost of the bike. Jordan has suggested that the extra funds go to a charity of Corbyn's choice.
The Labour leader has long been a keen cycler, although he tells Stylist: "I use my bike less frequently now that I'm leader of the Labour Party, but I still prefer to cycle whenever I can."
He adds: "Not only is it free, environmentally friendly and often the fastest way to travel, but it also gives the snappers outside my house a bit of variety."
Meanwhile, Cycling Weekly points out that Corbyn's coveted bike is one of the cheapest in the Raleigh range. "Lucky that JezCo didn't choose a £7,000 superbike as his dream machine," says the magazine, "or he'd have been hounded out of Westminster."
Jeremy Corbyn: hacked account tweets 'davey cameron is a pie'
11 January
Labour leader Jeremy Corbyn's Twitter account appeared to have been hacked last night, with several expletive-laden messages being posted to his 384,000 followers.
One Tweet poking fun at the Prime Minister read: "davey cameron is a pie," while another mocked Corbyn's opposition to the Trident nuclear programme. The four messages were swiftly deleted.
In a difficult start to the week for Corbyn, Labour has also been forced to contend with a leaked document revealing a significant loss in funding under new trade union rules as well as the resignation of Catherine McKinnell.
The shadow attorney general stood down this morning citing "concerns about the direction and internal conflict within the Labour Party" along with personal reasons.
In her resignation letter, McKinnell said she had initially shared Corbyn's "optimism for the 'new kind of politics'" but now feared the party was being led down an "increasingly negative path".
Meanwhile, Labour expects to lose as much as £6m in annual funding under changes to trade unions proposed by the government, according to an internal party document leaked to The Guardian.
The changes "will make it impossible for the party to maintain its current structure, staffing or offices", writes Patrick Wintour.
Corbyn has described the bill, which is being debated in the House of Lords today, as a direct attack on his party.
"By cutting public… support for opposition parties' research, [the Tories] are deliberately setting out to enfeeble democratic accountability of their own administration," he wrote in The Observer on Sunday.
Despite several resignations in the wake of last week's cabinet reshuffle, Corbyn insists the shake-up had "made us a stronger, more diverse and more coherent leadership team".
Labour reshuffle: Benn denies being 'muzzled' by Corbyn
06 January
Hilary Benn has denied being "muzzled" by Labour leader Jeremy Corbyn after being allowed to keep his position as shadow foreign secretary in one of the longest reshuffles in history.
It was reported yesterday that the MP – who spoke in parliament in favour of airstrikes on Syria, in opposition to Corbyn - was staying on condition that the big decisions would be made by his boss. Shadow chancellor John McDonnell suggested Benn had agreed not to disagree in public.
But the shadow foreign secretary told the BBC this morning he would be carrying on with his job "exactly as before" - while a "friend" told the Huffington Post that Benn had not agreed to "any new conditions".
Why was Benn up for the chop?
Many commentators predicted the Labour leader would fire Benn because of his impassioned speech in favour of extending airstrikes on Islamic State to Syria and for voting with the government. Corbyn is firmly opposed to military action.
Why did he keep his job?
Writing for the New Statesman, Stephen Bush says the politician owes his survival to pressure from his colleagues, "many of whom would have walked out if Benn had been fired".
Does keeping Benn spell disaster for Corbyn?
No, says Bush. By compromising on Benn and accepting that former Labour leader hopeful Andy Burnham was "immovable" as shadow home secretary, Corbyn secured a "bigger prize": Emily Thornberry, now the first defence shadow since 1988 to want Trident scrapped. Corbyn has been a nuclear disarmament unilateralist for his entire parliamentary career. Thornberry's predecessor, Angela Eagle, who favoured retaining Britain's nuclear deterrent, becomes shadow culture secretary.
What next on Trident?
With Thornberry's support, says Bush, Corbyn will push for a policy change at next year's Labour Party conference, undoing the "apostasy" of Neil Kinnock's days, when Labour dropped its anti-nuclear stance.
So who did lose their jobs?
Michael Dugher is out as shadow culture secretary and returns to the backbenches in the company of Europe minister Pat McFadden. Labour sources told the media both men were fired for being "disloyal". However, speaking on the BBC this morning, McDonnell condemned their attacks on Corbyn as being "personal".
Why were they sacked?
Dugher had warned the Labour leader he would seem "petty and vindictive" if he fired people who opposed his views on Syria. Yesterday, the MP said he had "paid the price" for speaking out. It has been suggested that McFadden went because he had challenged the Stop The War coalition's view that Western actions encourage terrorism - Corbyn used to chair the anti-war group.
Who has resigned and why?
Shadow rail minister Jonathan Reynolds and shadow foreign office minister Stephen Doughty both stepped down from Corbyn's team this morning in protest at the sackings, Doughty doing so on live TV. The Daily Mail says Reynolds supported McFadden in his resignation letter and also said he wanted to be free to voice his dissent from the party leadership from the backbenches.
What other reaction is there from the Labour party?
The Daily Telegraph says three other minor ministers may resign in protest. MPs including Wes Streeting, John Woodcock and Jamie Reed have used Twitter to criticise Corbyn for sacking McFadden. Labour MP Ian Austin wrote that the decision was "vindictive and stupid".
What is the gender balance?
When Corbyn announced his frontbench after being elected leader last year, he faced criticism because the biggest jobs were all filled by men, even though the cabinet actually contained a majority of women. The big four are still male - Corbyn, Benn, Burnham and McDonnell - and there are now 17 women to 14 men in the full cabinet.
Why did the reshuffle take so long?
The whole process took 36 hours, says Sky News - though the Daily Telegraph seems to think it is still ongoing, judging by its reshuffle timer. According to a senior Labour source who spoke to Sky, it took so long because Corbyn is not a "dictatorial" leader and wanted "to engage in genuine debate and consultation".
Who ate all the takeaways?
The reshuffle was "fuelled by takeaways", says Sky, which spotted the Labour leader and his colleagues with "armfuls" of takeway food boxes. "Vegetarian for Jeremy, obviously," says the broadcaster.
Jeremy Corbyn scales back reshuffle plans
05 January
Jeremy Corbyn's first cabinet reshuffle as Labour leader has been scaled back amid warnings from shadow ministers that removing key figures from his front bench just four months into his leadership would be "divisive" and "petty".
The reshuffle is expected to be finalised before today's shadow cabinet meeting after a series of face-to face meetings between Corbyn and his cabinet members last night.
Shadow Foreign Secretary Hilary Benn is expected to keep his job despite his dissenting speech in the House of Commons during the Syrian air strikes debate.
The BBC's political editor Laura Kuenssberg reports one shadow cabinet member describing the reshuffle as, "it was all on, and then it was all off again".
Kuenssberg also quotes a 'senior Labour figure' who claims that Jeremy Corbyn has "backed down" over Benn, and the shadow foreign secretary is "absolutely safe in his job".
One person Corbyn has definitely sacked though is Shadow Culture Secretary Michael Dugher. Dugher ran Andy Burnham's leadership election campaign and told Channel 4 News' Cathy Newman that he was sacked because he criticised the conduct of some of Jeremy Corbyn's aides.
It had been thought that Corbyn would remove all the dissenting voices from his shadow cabinet with his allies saying the Labour party needed a unified voice on matters of defence and foreign affairs in particular.
Yesterday one such ally, former Mayor of London Ken Livingstone, called for shadow foreign secretary Hilary Benn to be "moved on", saying the row over Syria had proved "counterproductive".
Speaking to the BBC, Livingstone called for Benn to be given a brief on which his views would not directly clash with Corbyn's.
But it appears Corbyn has listened to those party members who warned that a major reshuffle, would not be wise for the health of the party.
Speaking on BBC Radio 4's The Westminster Hour, shadow Europe minister Pat McFadden warned that, given Corbyn's own record as a serial rebel who has defied the whip more than 450 times, it would be dangerous to carry out a reshuffle as "punishment for shadow ministers who disagree with him".
Tony Blair's former adviser John McTernan insisted that Corbyn is still looking to purge moderates from his front bench as he consolidates his position.
"Tom Watson's involvement now is all that can prevent a reshuffle being a purge," he said.
Anne Perkins in The Guardian, disagrees saying that Corbyn's refusal to remove dissenters from his party up until now shows that he sees the benefit of a disunited shadow cabinet.
"A leader with a range of opinion at his disposal helps build support among the party and the electorate," she wrote.
Corbyn warned against 'petty and divisive revenge reshuffle'
4 January
Labour leader Jeremy Corbyn has been warned he risks appearing "petty and divisive" if he reshuffles his cabinet so its members are more in line with his own views on foreign policy.
Pat McFadden, the shadow minister for Europe, cautioned Corbyn against a "revenge reshuffle", telling BBC Radio 4's Westminster Hour last night that his party leader "has talked of an open, pluralist kind of politics" in the past.
McFadden said: "A reshuffle as a punishment for shadow ministers who disagree with him … could end looking more petty and divisive than open and pluralist."
In December, 11 of the 28 shadow cabinet members voted in favour of extending airstrikes on Islamic State into Syria, a position strongly opposed by Corbyn. The Labour leader is said to have spent Sunday working out a new shadow cabinet line-up.
The Daily Telegraph says "left-wing MP" Clive Lewis is tipped to replace Hilary Benn as shadow foreign secretary. Shadow defence secretary Maria Eagle will also lose her position, it adds.
According to The Guardian, shadow culture secretary Michael Dugher, who also voted in favour of airstrikes, is tipped to be removed from his position.
However, Dugher told the newspaper yesterday he didn't believe the "big reshuffle" would happen as it would be "inconsistent with what Jeremy has talked about since he got the leadership, which is about … having debate".
The Guardian says rumours suggest Benn could be replaced by former shadow attorney general Emily Thornberry, whose north London constituency borders Corbyn's and who was forced to resign from the shadow cabinet by Ed Miliband in November 2014.
Thornberry was accused of snobbery after she tweeted a picture of a house displaying England flags during the Rochester and Strood by-election campaign.
Another rumour suggests Corbyn may swap Benn for Andy Burnham, currently shadow home secretary. This would leave both men in positions where their views were more in keeping with Corbyn's.
Jeremy Corbyn's first 100 days: the highs and lows
22 December
Yesterday marked Jeremy Corbyn's 100th day as Labour leader, during which time he has presided over one of the most tumultuous periods in the party's recent history.
To mark the day, the JeremyCorbyn4PM group encouraged Twitter users to share their favourite moments of his leadership with the hashtag '#jez100'. Like many a hashtag campaign before it, #jez100 was immediately seized upon by critics and jokesters, who used it to remind Corbynistas of moments they might rather forget.
However, it hasn't all been doom and gloom for the veteran backbencher, who was unexpectedly propelled into the spotlight in September. Here are the best and worst moments of Corbyn's leadership to date:
Highs:
Corbynmania
A long-serving backbench MP with little national profile, Corbyn entered the Labour leadership campaign as a rank outsider. Almost at once, his old-school Labour policies and straightforward attitude – unusual for Westminster – attracted attention, and he finally swept to power in September on a tide of 'Corbynmania'.
Party conference
All eyes were on Corbyn for his first Labour party conference as leader in September, and the general consensus was that he pulled it off in style. Attendee John Prescott called it the "most buzzing and united conference" in years due to the influx of new young members inspired by Corbyn. The man himself, often accused of wooden and uninspired delivery, for once came across as "pleasant and personable", according to the Daily Telegraph's Michael Deacon.
First PMQs
No one was sure what to expect for Corbyn's first Prime Minister's Questions and, when the time came, he surprised onlookers by reading out questions sent in by members of the public. The format lent itself easily to ridicule, with some comparing it to a daytime TV phone-in, but supporters praised him for directly engaging with the electorate rather than indulging in parliamentary theatrics.
Cabinet reshuffle
Conscious of a large rebellious faction within his own party, Corbyn has used his first months in power to tighten his tenuous grip on the reins. Promoting his closest allies – Mao-quoting shadow chancellor John McDonnell is considered particularly dangerous by moderates – combined with the exit of some anti-Labour party members, means Corbyn is now "the strongest he's ever been", one ally told the New Statesman.
Lows:
National anthem
In his first major public engagement as Labour leader, Corbyn ran afoul of patriots by remaining silent during the singing of the national anthem at an event commemorating the Battle of Britain. After the furore showed no signs of abating, Labour sources said that long-time republican Corbyn will sing the anthem in future.
Remembrance Day bow
At the annual Remembrance Sunday commemorations, Corbyn was accused of giving a measly nod instead of a real bow at the Cenotaph. Corbyn's supporters hurried to point out that the Labour leader stayed behind after the ceremony to talk to veterans, but the right-leaning papers had already got their licks in.
Syria air strikes test
Corbyn's decision to give his querulous MPs a free vote on Syria air strikes allowed 66 Labour MPs to break rank to vote with the government in favour of widening bombing raids into Syrian territory – a move that upset some of his anti-war supporters. Corbyn, who found his hands tied on the issue, put forth his strongest case against the air strikes, but it was one of his own – Hilary Benn – who carried the day, with a passionate pro-bombing speech that electrified the House.
Poll numbers
Most polls are putting the Conservatives on a double-digit lead – no mean feat after six years in power. Labour's inability to climb in the polls has been attributed to their leader, whose grassroots popularity is offset by a wider public unimpressed by the internal bickering that has plagued the party since Corbyn's controversial election.
Corbyn's first 100 days: Blair ally says Labour must now 'split to survive'
21 December
The Labour Party may have to split to survive a former advisor to Tony Blair has warned, as Jeremy Corbyn marked 100 days as the party's leader.
Writing in The Observer, Blair's former strategist and speechwriter Peter Hyman said Labour now consisted of "two strands" – Corbynites and centrists – that will never be able to co-exist and form a government.
He wrote: "This is the biggest existential moment in Labour's history. Labour may not survive.
"Either the current Corbyn party will need some home outside the Labour party or the mainstream of the Labour party will need to make common cause with others to forge a new party."
He said the Liberal Democrats could be included in a new moderate alliance, which would fill the "gaping hole in the centre and centre-left of British politics".
Hyman, now a headteacher in a London comprehensive school, said the problem must be addressed with urgency. "Those who think it is enough to bide their time, find a more palatable candidate and stage a coup are deluding themselves," he warned.
However, as Corbyn approaches his 100th day as Labour leader, he told the Sunday Times he was "not going anywhere".
Addressing his critics within the Labour Party, he added: "I would encourage them to share their talents with all of us, not keep it to themselves. Some people are more difficult to reach than others. They shouldn't obsess about me."
A new Opinium poll to mark the 100-day milestone found 56% of all voters believe the Labour leader "sticks to his principles rather than just saying what people want to hear". Only 34% felt the same statement was true of David Cameron.
Jeremy Corbyn wins 'solid victory' in last PMQs of 2015
17 December
Jeremy Corbyn and David Cameron locked horns yesterday in the final Prime Minister's Questions of 2015.
The weekly exchange began with characteristic barbed humour. After Corbyn wished a happy Christmas to astronaut Major Tim Peake, "currently not on the planet", Tory MPs shouted, "Neither are you!"
However, once the serious stuff got underway, the Labour leader impressed the sketch writers.
The Guardian's Andrew Sparrow hailed "a comfortable win" for Corbyn. "[He] was well beyond competent. His questions were sharp and relevant, he used humour well and he responded graciously to a jibe from Cameron about his supposedly not being able to wish people happy Christmas (he did)."
Sparrow's colleague John Crace explained the importance of Corbyn's festive clarification: "Being seen to enjoy Christmas is now a recognised political sport, with the loser officially deemed to be a threat to the fabric of British society."
Health was at the heart of the debate. The Labour leader raised a series of issues including cuts, hospital discharging rates and the government's cancellation of the publication of NHS performance data this winter.
Corbyn asked the prime minister if he was withholding the publication because the number of people "being kept waiting on trolleys in A&E has gone up more than fourfold".
While many pundits felt Cameron held his ground here by quoting robust data, the Daily Mirror's political editor Jason Beattie was less impressed. He observed: "The problem with trading numbers is they miss the human stories behind them."
The Independent's Liam Young described the session as "a restrained but solid victory for Corbyn", noting that the Labour leader has "appeared consistently competent in debate with the Prime Minister".
He added that "transforming PMQs into People's Questions has been one of his greatest moves".
Politics.co.uk wrote of "another easy win for Jeremy Corbyn," while the New Statesman observed that "Corbyn remains unerringly calm, preferring dry humour to Cameron's blunt insults".
However, this week's PMQs was not regarded as a particularly remarkable episode. The Daily Mirror described it as a "mainly turgid, stodgy pudding of a Prime Minister's questions", while The Spectator said: "The last PMQs before Christmas will not live long in the memory."
Jeremy Corbyn mocked over official Christmas card
15 December
It may be the season of goodwill, but Jeremy Corbyn is receiving precious little as commentators react to his official 2015 Christmas card. The cover image, which consists of a rack of bikes covered in snow next to a red phone box, has been ridiculed as glum and un-festive.
The Daily Telegraph was unimpressed by the "seven-year-old stock image" chosen by the Labour leader, noting ominously that the Getty photo actually depicted "transport chaos" in London caused by snow in 2009.
The Spectator joined in, saying that the card "isn't the most cheery effort", but acknowledging that it did reflect the bike-loving leader's green credentials.
Even members of Corbyn's inner circle were dubious about the choice of card, The Independent reports.
One member of the shadow cabinet apparently exclaimed "What the f**k!" upon seeing the design, while another joked that they were "relieved it wasn't a picture of Albanian dictator Enver Hoxha and Chairman Mao sitting around a Christmas tree".
But it wasn't all doom and gloom for Corbyn's seasonal offering. One surprising voice in favour is Labour MP John Woodcock, one of the new leader's most outspoken critics.
"I think it's a lovely card," Woodcock argued, adding: "I wonder whether I'm still on his list."
Corbyn's supporters hit back against accusations that the veteran parliamentarian was a Grinch, unearthing footage of him dressed up as Santa and handing out mince pies on an archive episode of The Daily Politics.
Notably absent from Corbyn's festive missive is the Labour leader himself - he has shied away from the traditional portrait style popular among politicians.
Not so David Cameron, whose official Christmas card depicts him with his wife Samantha outside the door of No 10 Downing Street in the wake of the Conservatives' general election victory in May.
Continue reading for free
We hope you're enjoying The Week's refreshingly open-minded journalism.
Subscribed to The Week? Register your account with the same email as your subscription.
Sign up to our 10 Things You Need to Know Today newsletter
A free daily digest of the biggest news stories of the day - and the best features from our website