Jeremy Corbyn is a 'disaster', says Stephen Hawking
World-renowned physicist calls for Labour Leader to step down 'for the sake of the party'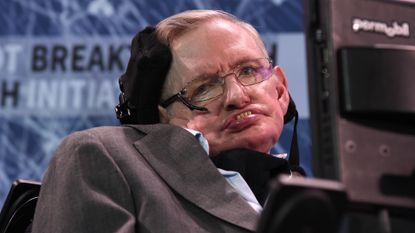 (Image credit: Bryan Bedder/Getty Images for Breakthrough Prize Foundation)
Sign up to our 10 Things You Need to Know Today newsletter
A free daily digest of the biggest news stories of the day - and the best features from our website
Thank you for signing up to TheWeek. You will receive a verification email shortly.
There was a problem. Please refresh the page and try again.
Corbyn makes 'jaw-dropping' gaffe over police shooting
26 January
Jeremy Corbyn yesterday offered his condolences to the family of a police officer who "lost his life" in a shooting in Belfast at the weekend – despite the fact that the man is alive.
The unnamed PSNI officer, who is in his 20s, is recovering in hospital after being hit two or three times in the arm.
Subscribe to The Week
Escape your echo chamber. Get the facts behind the news, plus analysis from multiple perspectives.
SUBSCRIBE & SAVE
Sign up for The Week's Free Newsletters
From our morning news briefing to a weekly Good News Newsletter, get the best of The Week delivered directly to your inbox.
From our morning news briefing to a weekly Good News Newsletter, get the best of The Week delivered directly to your inbox.
The Labour leader was following Theresa May's lead in Prime Minister's Questions, after she said her thoughts were with the police officer.
Addressing the House, Corbyn said: "I join the Prime Minister in expressing condolences, I'm sure of the whole House, to the family of the police officer who lost his life over the weekend in Northern Ireland."
He was corrected by the DUP MP for Belfast North, Nigel Dodds.
Mark Lindsay, chairman of the Police Federation for Northern Ireland, said it was a "jaw-dropping gaffe", while the DUP's Ian Paisley demanded a formal correction.
Ulster Unionist MP Tom Elliot said it showed Labour's lack of interest in the political crisis in Northern Ireland, reports The Independent.
Speaker John Bercow said it was a mistake and did not require further correction, while a spokesman for Corbyn later said: "He meant to say 'nearly died'. Obviously, the last thing that was intended was any offence."
Shadow defence secretary livid over Corbyn's stance on Nato
12 January
Nia Griffith, the shadow defence secretary, is reportedly "furious" after Jeremy Corbyn's spokesman appeared to undermine Labour's commitment to Nato.
A Westminster source said the MP was "absolutely livid" after the spokesman questioned the group's role in eastern Europe, The Independent reports.
Four RAF Typhoon jets are currently stationed in Estonia as part of a larger taskforce to protect the former Soviet state. Around 800 British troops will join the mission this spring.
Corbyn's spokesman declined to say whether the party supported the mission but told journalists the party was in favour of a "wind down" rather than a "build-up" of tensions between the west and Russia.
He added: "Jeremy has expressed concerns about [the deployment] being one of the escalations of tensions that have taken place."
He also declined to say whether a Corbyn government would fulfil its obligations as a member of the military group to come to Estonia's aid in the event of a Russian invasion.
He said: "Article 5 [of the Nato treaty] means that if there is an attack on another Nato state there has to be a response by Nato members. It doesn't define what that response should be."
His comments were at odds with remarks made by Griffith just "hours earlier", the Daily Mirror reports, when she reaffirmed the need to stand together in the face of Russian militarism.
Speaking on Forces TV, Griffith stressed Labour's commitment to protecting fellow Nato members in eastern Europe in light of Russia's annexation of Crimea and Moscow's increasingly sabre-rattling foreign policy.
She said: "I think it's very important for Nato to be absolutely clear, following what has happened in Ukraine, that we are standing together as Nato nations and there is no way that we would tolerate any attack on any one of our member states."
Labour to 'rebrand Jeremy Corbyn as a populist'
16 December
Labour officials are reportedly planning a media drive to present Jeremy Corbyn as the voice of left-wing populism, in an attempt to harness the global trend towards anti-establishment politics which resulted in the vote for Brexit and the rise of Donald Trump.
"A newly bolstered team of advisers are said to be working to develop flagship policies to highlight his willingness to lead a revolt against vested interests," The Independent reports.
The new strategy will also counter one of the most frequent criticisms levelled against Corbyn – that he has a low media profile – with a ramped-up schedule of TV appearances.
Jon Trickett, Labour's election coordinator, told The Guardian there was "a great deal of analytical work going on behind the scenes". He also hinted that a grassroots movement would be the frontline of the new offensive.
"The kind of ground war we're going to run would be something on a scale this country hasn't seen before," he said.
Often portrayed by his adversaries as an Old Labour throwback preoccupied with niche interests, Corbyn's senior advisers believe he can be "rebranded" as a straight-talking man of the people.
His flair-free rhetoric and taste for flat caps and threadbare blazers have attracted mockery, but they also serve to distance him from primped and polished politicians who seem to be rapidly falling out of fashion.
Corbyn will aim to emulate the success of US senator Bernie Sanders, the socialist firebrand who shook up the Democratic Party with a platform calling for a radical reorganisation of the country's institutions.
Like the Labour leader, Sanders had impeccable outsider credentials and it was this perceived authenticity that invigorated the sometimes politically inert millennials, winning him 70 per cent of the under-30 vote in the party primaries.
Sanders might have ultimately lost the Democratic nomination to Hillary Clinton, but his campaign proved left-wing populism has the potential to light the same fire under voters as the right-wing brand that has carried Trump and his ilk to victory.
Jeremy Corbyn refuses to promise immigration cutback
28 September
Jeremy Corbyn will use his keynote speech at the Labour conference today to tell his party he will not "sow division" by pledging to cut immigration.
He is expected to tell his party: "A Labour government will not offer false promises. We will not sow division or fan the flames of fear. We will instead tackle the real issues of immigration – and make the changes that are needed."
His position puts him at odds with some of his MPs, who say the Brexit vote showed many Labour supporters want curbs on freedom of movement.
"He hasn't even made his speech yet but Jeremy Corbyn's comments on immigration have sparked fury with Labour MPs," says the Daily Telegraph.
Corbyn's spokesman told reporters they were "not concerned about numbers" and it was not their "objective to reduce the numbers, to reduce immigration". Rather than seeking to limit immigration, Labour would plan for a "migrant impact fund" to lessen the effect of immigration on low-paid workers, he added.
Home Secretary Amber Rudd accused the opposition leader of wanting "unlimited immigration".
Prominent Labour backbenchers including Chuka Umunna, Stephen Kinnock and Rachel Reeves have called for the debate on freedom of movement to be re-opened.
Reeves, the MP for Leeds West, warned a conference fringe meeting yesterday that voters' concerns about immigration could "explode" on to the streets if they remain unaddressed, reports The Guardian.
The Times says deputy leader Tom Watson also disagrees with Corbyn on the issue.
The problem, says Isabel Hardman in her blog for The Spectator, is that Labour members like Corbyn but his MPs do not - and as long as this continues, the party's "deep-seated problems", which include the issue of immigration, are getting worse and worse.
Lib Dems urge Labour MPs to abandon Jeremy Corbyn
21 September
Liberal Democrats leader Tim Farron has made a passionate pitch to centrist Labour voters, saying the country faces 25 years of Conservative majority rule unless they join his party.
Delivering his keynote address at the Lib Dem conference yesterday, Farron said his party could take advantage of the infighting currently engulfing Labour to recover from its devastating loss at the general election last year.
He also paid tribute to former Labour leader and prime minister Tony Blair, praising many of his policies and his determination to win elections, but launched a blistering attack against current leader Jeremy Corbyn, accusing him of "betraying" voters.
However, it "remains to be seen how Farron's praise of Blair will be received by his own party", says The Guardian. "On the Monday night at the Lib Dems' annual unofficial glee club, members lustily sang: 'Tony Blair can f*** off and die' to the tune of Don McLean's American Pie," the paper adds.
Farron repeated his demand for a second referendum on a Brexit deal and said the Lib Dems would consider raising taxes to ensure the NHS is better funded.
Citing the success of Canadian Prime Minister Justin Trudeau, whose liberal party overtook the official opposition to beat out the country's conservatives last year, he vowed to take his party "from a handful of seats to dozens of seats, from the fringe to the centre, from irrelevance to importance" - "although Trudeau is better looking than me and he's got a tattoo".
Political commentators praised Farron's fiery speech, but doubted it would have much impact. The party's poll ratings having changed little since last year, although its membership has almost doubled.
The Times journalist Matt Chorley described the address as a "passionate, articulate, bold" pitch from Farron who was "desperately" reaching out to the disillusioned Labour voter. "But is anyone listening?" he asks.
Corbyn remains defiant about 'abuse' list of Labour MPs
15 September
Labour leader Jeremy Corbyn failed to back down last night when challenged about a list of "disloyal" MPs issued by his campaign team. Questioned about the list by his leadership rival Owen Smith in a TV debate, he simply insisted on its accuracy.
The names, which were released to journalists by Corbyn's campaign team yesterday, comprise 14 Labour MPs, including deputy leader Tom Watson, who are accused of abusing the leader or his allies.
The list highlights the behaviour of MPs including Jess Phillips, who told Corbyn's ally Diane Abbott to "f*** off" and Tristram Hunt who reportedly said Labour was "in the s***".
Watson was included for calling Corbyn's grassroots Momentum campaign a "rabble", while John Woodcock was listed for dismissing Corbyn as a "f***ing disaster" as a leader.
The team claim the list was released by mistake by a junior member of staff, but Woodcock said this was the "oldest trick in the book" and insisted the list "shabbily" targeted MPs.
Smith asked Corbyn about the list as the two held their final TV hustings on Sky last night, calling it a "deselection list".
He said: "You talk about trying to unite the party, but I find that quite hard to reconcile with something your campaign did just this evening, which was to publish a list, a deselection list if you like, of … MPs including the deputy leader of our party, Tom Watson, who your campaign think transgressed against you in criticising you. That isn't unifying. That is deeply divisive."
Corbyn's response was to affirm the accuracy of the list. He said: "There was information put out there, which is statements made by colleagues on the record and is all out there in the public domain."
Corbyn added that he would rather Watson had not referred to Momentum activists as a "rabble", before trying to move the debate to policy issues and the need for unity.
The other listed MPs are Ian Austin, Neil Coyle, Ben Bradshaw, Frank Field, Anna Turley, Jamie Reed, Karl Turner, Stephen Kinnock and Tom Blenkinsop. According to The Guardian, a bullying complaint has been made about the list to Labour's chief whip.
Coyle, who is the MP for Bermondsey, has even threatened to sue Corbyn over the "ridiculous, petty, student politics list". He told the BBC: "This is defamation. I've been accused of abuse. That is completely unacceptable and it's so unprofessional."
Jeremy Corbyn's seat at risk in boundary shake-up
13 September
Labour leader Jeremy Corbyn and former chancellor George Osborne could be among the MPs to lose their seats in a shake-up of Westminster constituencies announced today.
Revealing the details, the Evening Standard said the changes would transfer large chunks of Corbyn's Islington North into constituencies held by two of his closest allies, Diane Abbott, the shadow health secretary, and Emily Thornberry, the shadow foreign secretary.
Both would have a strong claim to run again in the revised constituencies of Islington South and Hackney Central as they are largely similar to their existing seats, "potentially leaving Corbyn out in the cold at the next election", says the Daily Mail.
A source close to the Labour leader insisted there was "every chance to believe Jeremy will have a seat to contest" in 2020.
Recommendations by the Boundary Commission, which has been given the task of cutting the number of MPs from 650 to 600, include wide-ranging changes to English constituency boundaries to ensure seats contain roughly the same number of voters.
The cull is expected to hit Labour the hardest, with some research suggesting it could increase the current Conservative majority in parliament by 30 seats.
The changes are due to be implemented before the next general election in 2020, "but their full impact will not be known until experts have been able to analyse the commission's revised proposals in early 2018", says the Daily Telegraph.
Chris Skidmore, minister for the constitution, has defended the controversial review saying it was needed to stop a return to "rotten boroughs" and "to promote fairness and restore integrity to our electoral system".
However, there are concerns about the data being used by the commission, after it emerged that the team will rely on the December 2015 electoral roll, compiled before two million people registered to vote in the EU referendum.
"It makes sense to have a regular review of parliamentary constituencies," says the Daily Mirror, "but the Tories have done everything they can to ensure this boundary review disadvantages Labour."
The paper adds that "anyone who cares about democracy should be scandalised by this decision".
Continue reading for free
We hope you're enjoying The Week's refreshingly open-minded journalism.
Subscribed to The Week? Register your account with the same email as your subscription.
Sign up to our 10 Things You Need to Know Today newsletter
A free daily digest of the biggest news stories of the day - and the best features from our website