Jeremy Corbyn is a 'disaster', says Stephen Hawking
World-renowned physicist calls for Labour Leader to step down 'for the sake of the party'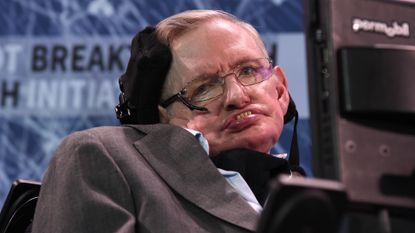 (Image credit: Bryan Bedder/Getty Images for Breakthrough Prize Foundation)
Sign up to our 10 Things You Need to Know Today newsletter
A free daily digest of the biggest news stories of the day - and the best features from our website
Thank you for signing up to TheWeek. You will receive a verification email shortly.
There was a problem. Please refresh the page and try again.
Jeremy Corbyn: Leaked list ranks Labour MPs' loyalty
23 March
Jeremy Corbyn's allies have drawn up a list showing which MPs are most and least loyal to the Labour leadership, according to a document leaked to The Times.
The spreadsheet divides Labour's 230 MPs into five categories, ranging from "Core", the 19 in Corbyn's inner circle, to "Hostile", made up of 36 politicians presumably deemed least likely to support the leadership.
Subscribe to The Week
Escape your echo chamber. Get the facts behind the news, plus analysis from multiple perspectives.
SUBSCRIBE & SAVE
Sign up for The Week's Free Newsletters
From our morning news briefing to a weekly Good News Newsletter, get the best of The Week delivered directly to your inbox.
From our morning news briefing to a weekly Good News Newsletter, get the best of The Week delivered directly to your inbox.
The majority of Labour MPs fall into three middling categories: "Core Group Plus", "Neutral But Not Hostile" and "Core Group Negative".
Listed under "Hostile" are several well-known politicians: London mayoral candidate Sadiq Khan and chief whip Rosie Winterton, as well as high-profile former ministers such as Harriet Harman, Chuka Umunna and Yvette Cooper, Corbyn's rival in the leadership election.
The "Core" group includes shadow chancellor John McDonnell, shadow development secretary Diane Abbott and veteran left-winger Dennis Skinner.
Corbyn's predecessor, Ed Miliband, is listed in "Core Group Negative" alongside shadow cabinet members Hilary Benn and Lucy Powell and potential Labour leadership contender Dan Jarvis.
The list has prompted reactions ranging from anger to bemusement. One MP told The Times: "At a time when every focus should be on crafting a message to win supporters in the country… it is absolutely extraordinary to find that an 'enemies' list is being drawn up."
Birmingham Yardley MP Jess Phillips, who is in "Core Group Negative", was dismissive. "The list has not lost me any sleep, to be honest," she told the Daily Mirror. "[I] just think it is a real shame that we would poke ourselves in the eye like this."
The Labour MP for Ilford North, Wes Streeting, listed among 72 "Neutral But Not Hostile" members, told The Sun he was dismayed by the document. "We're weeks away from a key set of elections across the country… 100 per cent of our focus should be on fighting those elections and that especially applies to those at the top of our party," he said
MP Mike Gapes simply responded with "lol" when asked if he felt he belonged to the "Neutral But Not Hostile" category. "I'm not neutral about anything," he told The Sun.
A spokesman for Corbyn said of the document: "It doesn't come from this office and we have no knowledge of it."
Is Dan Jarvis a threat to Jeremy Corbyn's leadership?
10 March
Dan Jarvis has outlined his vision for the future of the Labour Party amid growing speculation he is being groomed to replace Jeremy Corbyn as leader.
Giving a keynote speech on economic policy at the think-tank Demos, the Barnsley Central MP criticised the party of the past for failing to tackle inequality and unemployment.
"Let's be frank, New Labour's approach wasn't enough. It didn't get at the root causes," he said.
He went on to call for Labour to be more "radical" than it had been under Tony Blair, Gordon Brown or Ed Miliband – but failed to mention the current leader by name.
His speech will be widely regarded as "firing the starting gun" on a bid for the leadership, says The Guardian.
Rumours that Jarvis was heading for the top spot were reignited last week, when The Times reported he had received a flurry of payments from private party donors.
The former paratrooper, who served in Kosovo, Sierra Leone, Iraq and Afghanistan, ruled himself out of the leadership race last year, saying he wanted to put his children before his political career.
Asked last month by The Guardian if he regretted his decision, he said: "I'm not a great one for regretting anything, but what I do regret is that I didn't give it more thought beforehand."
A former shadow justice minister under Miliband, Jarvis "has been ignored by Corbyn", says the newspaper, adding: "It's no secret he doesn't share Corbyn's uncompromising left-wing politics."
The politician himself has quipped: "Jeremy and I are not on each other's speed dials."
The Daily Telegraph's James Kirkup has noted in the past that Jarvis is widely respected in Westminster, even among Conservatives. "How would the CCHQ attack machine approach a Labour leader who served his country in two wars? A man who is raising two children… after losing his wife to cancer?" he asked.
Writing in the Yorkshire Post last week, Jarvis said Labour needed to undergo "fundamental change" to have any chance of winning the next election.
"Having suffered two devastating election defeats, it is clear that we will never form a Labour government again unless we respond to what the public think about us," he argued.
The newspaper said his analysis would be regarded by some as the basis of "a manifesto for a potential challenge if Mr Corbyn's fortunes do not improve in May's local elections".
But Stephen Bush of the New Statesman argues it's too early for to be talking about the politician being a serious leadership contender "and not just because there is no vacancy at present".
"It may be that Jarvis is, eventually, the answer to Labour's problems," he says. But "he's not ready. Of course he's not ready."
Jeremy Corbyn teams up with Yanis Varoufakis: what you need to know
1 March
Labour leader Jeremy Corbyn has confirmed that former Greek politician Yanis Varoufakis has been appointed as the party's economic adviser.
Who is Varoufakis?
He is the 54-year-old former finance minister of Greece, who resigned from his position in the anti-austerity Syriza party at the height of the eurozone crisis last year. Defiant and outspoken, Varoufakis was well known for his colourful rhetoric, once describing austerity as "trying to extract milk from a sick cow by whipping it".
His refusal to wear a tie and a love of leather jackets – not to mention his shiny Yamaha motorbike – earned him legions of fans, with one of his colleagues calling him "the George Clooney of the Greek government".
However, the self-described "erratic Marxist" was deeply unpopular among eurozone politicians, especially after he compared Greece's creditors to terrorists.
Varoufakis was educated in the UK but "Margaret Thatcher's third election victory in 1987 proved too much to bear for Mr Varoufakis, who started to 'plan his escape' from Britain", says the BBC.
Why is he joining Team Corbyn?
The Labour leader told his local newspaper that Varoufakis would advise the party "in some capacity" and had already held a meeting with shadow chancellor John McDonnell.
He also suggested the former politician's role in debt negotiating with the European Union meant he was well-placed to advise the party on fighting austerity.
"Varoufakis is interesting because he has obviously been through all the negotiations," Corbyn told the Islington Tribune. "I think the way Greece has been treated is terrible and we should reach out to them."
The admiration appears to be mutual. Varoufakis has previously said the Labour leader shares "many" of his economic views and that the pair probably attended the same anti-Thatcher protests in the 1970s.
After Corbyn swept to victory last year, the economist said the British people "must feel quite lucky... now Jeremy has been elected Labour leader".
Does Jeremy Corbyn really hold power in the EU referendum debate?
23 February
Jeremy Corbyn's influence in the debate on Britain staying in the European Union has been questioned after he was heckled in the House of Commons yesterday.
The Labour leader told MPs his party was "overwhelmingly" in favour of staying in, although he has criticised David Cameron's reform deal.
Writing in The Observer at the weekend, Corbyn said the Prime Minister's agreement was a "sideshow", arguing that the changes were "largely irrelevant to the problems most people in Britain face".
Cameron's "overblown tinkering" ignored key issues, including the steel industry, low pay and insecure jobs, migration and TTIP, he said. Nevertheless, Labour will campaign for Britain to stay in Europe.
But as the Labour leader spoke in the Commons yesterday, Conservative MPs chanted: "Who are you?"
As the Tory front bench erupted into laughter, even shadow home secretary Andy Burnham "fought off a smile", says the Huffington Post.
Dan Hodges of the Daily Telegraph says Corbyn's position on the matter is "irrelevant" and that his statement to the Commons was "utter gibberish, but it didn't matter because no-one was paying attention".
He adds: "You have to take your hat off to Corbyn. It's a work of pure and evil genius to be able to say virtually nothing, but speak in such volumes."
The Independent's John Rentoul says he cannot think of a "worse speech delivered by a party leader from the despatch box" and invites readers to "imagine how effective a Labour leader who was genuinely committed to Britain's membership of the EU could be in exploiting Conservative divisions".
Even The Guardian's Michael White was unimpressed. Corbyn's position on Europe is "not very coherent or persuasive", he writes, and he may find it "wise to be quieter" until he has a more crafted message.
He adds: "Even in our crazy 24/7 world silence can be golden, as every great stage actor knows."
But The Sun points out that politics has been turned on its head ahead of the EU referendum and suggests Corbyn has at least been useful for Cameron, who is seeking to align himself with the Labour leader to "try to defeat attacks that the Remain campaign is an establishment stitch up".
Infographic by www.statista.com for TheWeek.co.uk.
Is Bernie Sanders as progressive as Jeremy Corbyn?
11 February
It's a comparison pundits on both sides of the Atlantic have been making for months - but is Bernie Sanders really the US's answer to Jeremy Corbyn?
The Democratic presidential hopeful unarguably has a lot in common with the Labour leader. They are both veteran socialists with a deep and vocal distrust of the political establishment and each of them owes much of their sudden political success to the swathes of young supporters drawn in by anti-austerity policies, no-nonsense rhetoric and the promise of a fairer society.
"Sanders and Corbyn supporters both want the real left-wing deal, believe they've found it and are willing to reject any alternatives," says Buzzfeed's Jim Waterson.
Despite drawing in huge crowds, the two politicians have been dismissed by much of the mainstream media and the political elite. "In the UK, that changed when it was realised that the enormous rallies and social media backing were actually turning into real support at the polls," says Waterson.
They are both pushing for a new brand of politics. The Labour leader has vowed to end "throwing clubhouse theatrical abuse across the floor of parliament" and the Democrat has sworn off advertising attacks against his opponents, a common theme in US primaries.
They also happen to be one another's biggest fans. Sanders said he was "delighted" when Corbyn was elected party chief last year. "Whether it's the UK or here in the US, people are sick and tired of a politics in which people continue to represent the rich and powerful," he said.
Corbyn, meanwhile, has said he is following the senator's campaign "with great interest", adding: "Indeed, we are exchanging leaflets and badges and things like that. It's great."
But is that where the similarities end? Some political pundits think so – especially when it comes to foreign policy.
The New Statesman's Henry Zeffman points out that while Corbyn is vehemently anti-war, Sanders backed the conflict in Afghanistan and supports the maintenance of a US military presence there. "It's clear that Sanders is no Corbynite peacenik, even if he is doveish by American standards," says the journalist.
Meanwhile, the senator's key domestic policies – universal healthcare, higher minimum wage and subsidised higher education – are hardly radical by British standards, writes the BBC's Brian Wheeler.
As for defence: "Sanders has expressed doubt over the need for America to have thousands of new nuclear warheads but, unlike Corbyn, he is no unilateralist. That really would be political suicide for a would-be American president and commander-in-chief."
Continue reading for free
We hope you're enjoying The Week's refreshingly open-minded journalism.
Subscribed to The Week? Register your account with the same email as your subscription.
Sign up to our 10 Things You Need to Know Today newsletter
A free daily digest of the biggest news stories of the day - and the best features from our website