Jeremy Corbyn is a 'disaster', says Stephen Hawking
World-renowned physicist calls for Labour Leader to step down 'for the sake of the party'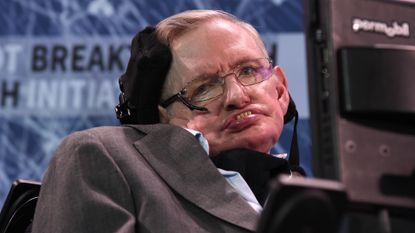 (Image credit: Bryan Bedder/Getty Images for Breakthrough Prize Foundation)
Sign up to our 10 Things You Need to Know Today newsletter
A free daily digest of the biggest news stories of the day - and the best features from our website
Thank you for signing up to TheWeek. You will receive a verification email shortly.
There was a problem. Please refresh the page and try again.
Labour leader: poll surge for Jeremy Corbyn as ballots go out
14 August
Labour's leadership election race enters its final stage today when 600,000-plus ballot papers are sent out to voters, a third of whom only joined the party this week. The result will be announced on September 12.
Jeremy Corbyn, the 66-year-old left-wing MP for Islington North, is the clear favourite. This week's YouGov poll gave him 53 per cent and the chance to win outright, without the need for second and third preferences to be counted.
Subscribe to The Week
Escape your echo chamber. Get the facts behind the news, plus analysis from multiple perspectives.
SUBSCRIBE & SAVE
Sign up for The Week's Free Newsletters
From our morning news briefing to a weekly Good News Newsletter, get the best of The Week delivered directly to your inbox.
From our morning news briefing to a weekly Good News Newsletter, get the best of The Week delivered directly to your inbox.
But today The Times claims he could do even better: YouGov has recalculated his chances in the light of the late arrival of 220,000 new members and supporters, a disproportionate number of whom are thought to be Corbyn backers.
It's now estimated that he could take 57 per cent of the vote, with Andy Burnham slipping to 20 per cent, Yvette Cooper dropping to 16 per cent and Liz Kendall way behind on seven per cent.
Here's how the land lies for the four contenders:
Jeremy Corbyn
Corbyn launches a ten-point policy plan today – copies of which will be sent to all 600,000 voters – promising "a new kind of politics" if he wins the election and is able to lead Labour back into power in 2020.
The policies include a commitment to "growth not austerity", the re-nationalisation of both the railways and the energy providers, and the scrapping of the Trident replacement as part of a programme of nuclear disarmament.
He says he wants a "fairer, kinder Britain based on innovation, decent jobs and decent public services".
Few commentators believe he can ever achieve this: they say his views are too left-wing to get anyone who voted Conservative in this year's general election to return to the party for the 2020 election. And without those "returnees", Labour will not have sufficient numbers to win the election.
"In the short term the left will probably feel buoyed if Corbyn wins, says polling expert Keiran Pedley at Labour List."There will likely be more strikes, protests and raucous scenes outside Conservative Party conferences. Politics will be noisier, perhaps even more fun.
"However, in the longer term, the Conservatives will quietly continue to shape the country in their own image, moving ever rightwards because Labour is unelectable."
Andy Burnham
Burnham is the only one of the three other candidates who has said he would be prepared to join a Corbyn-led shadow cabinet, which goes to the core of his problem, say his critics: he wants too much to be liked and has flip-flopped on policy.
However, he's won the backing of the Daily Mirror today. The largest-circulation Labour-supporting newspaper says he is the "only Prime Minister-in-waiting" in the contest, and "must" be the next leader of the party.
"We believe Andy Burnham is the leader who will unite his party and deliver for the people who need Labour most," says the Mirror editorial. "He combines proven experience with passion and principle.
"The boy from an ordinary working class background who went to Cambridge, he understands the everyday issues facing Mirror readers."
Yvette Cooper
She finally decided to tackle Corbyn head-on yesterday, saying: "The truth is Jeremy is offering old solutions to old problems not new answers to the problems of today."
His policies "aren't radical and they aren't credible", she told an audience in Manchester. "They won't change the world, they will keep us out of power and stop us changing the world."
She gets the backing of The Guardian today, which praises her for refusing to concede "the nonsense" that Labour overspending caused the 2008 crash, and also believes her gender could help Labour back to power.
"She would disconcert a prime minister whose clumsy and occasionally patronising tone towards women has proved a vulnerability," The Guardian says.
"Ms Cooper's down-to-earth feminism defines her politics – she knows that those hardest hit by austerity are women – so her victory would be more than symbolic."
But Michael Deacon of the Daily Telegraph, watching Cooper's performance in Manchester, said: "She sounds serious. She sounds efficient. Brisk, busy, businesslike, her voice snip-snip-snipping away like a little pair of scissors. But what, ultimately, does she have to say?
"Like Andy Burnham and Liz Kendall, the other two candidates upended by Mr Corbyn, she's perpetually informing her party that it needs 'new ideas' – without ever disclosing what they are."
Liz Kendall
Lagging behind the other three, with only seven per cent of voters backing her according to YouGov, Kendall is embarking today on a 72-hour whistle-stop tour of Britain in a bid to "revive her campaign", as ITN News puts it. Manchester, Edinburgh and Newcastle are her first stops.
Although she doesn't like to be labeled a 'Blairite', Kendall "too often appears to be reopening the Blair playbook", says The Guardian.
She has urged anyone backing her not to give their second preference to Corbyn. However, few observers believe that anyone voting for Kendall would consider making the left-winger their back-up choice.
She looks destined to be the first to go under Labour's alternative vote procedure – though if Corbyn does as well as YouGov predicts, all three challengers will fall at the first fence.
Labour leader: under Jeremy Corbyn we'll be annihilated, says Blair
13 August
Should Tony Blair shut up and get used to the idea that his brand of Labour politics is no longer popular and that the left-winger Jeremy Corbyn holds the key to the party's immediate future?
Blair, who led Labour to three general election victories on the trot, has intervened again in the leadership race, saying his party faces "annihilation" if Corbyn wins.
In an article for The Guardian, he said it was "laughable" to say that Corbyn was offering anything new and compared him unfavourably with two of the party's most famous left-wingers, Michael Foot and Tony Benn.
Foot may have proved a poor leader, but at least he was a "towering figure", said Blair, while Benn was "a huge political character with a long experience of government".
"If Jeremy Corbyn becomes leader," Blair wrote, "it won't be a defeat like 1983 [Thatcher's landslide] or 2015 [Cameron's surprise majority] at the next election. It will mean rout, possibly annihilation."
He would say that, wouldn't he?
As we reported here yesterday (see below), panic is mounting in some quarters of the Labour party following the latest YouGov poll suggesting Corbyn could enjoy a knockout victory in the first round of the leadership election.
There is also the fear that the majority of the new Labour members and supporters signing up to vote are Corbyn fans. (In 24 hours alone, leading up to yesterday's deadline, Labour attracted 17,755 new full members, 99,703 new affiliated trade union members and 51,295 new registered supporters, according to the New Statesman.)
But that is to look at the situation from the Blairites' viewpoint: the left of the party could hardly be in a more jubilant mood. They believe the tide has turned against the 'Tory lite' policies of the past 20 years; that New Labour is being "dismantled" by popular demand and that Blair just doesn't get it.
"It is the biggest non-revolutionary upturning of the social order in modern British politics," Michael Meacher, a former Labour environment minister who supports Corbyn, told The Guardian.
"The Blairite coup of the mid-1990s hijacked the party to the Tory ideology of 'leave it all to the markets and let the state get out of the way', and when asked what was her greatest achievement, Mrs Thatcher triumphantly replied, 'New Labour'.
"After 20 years of swashbuckling capitalism, the people of Britain have said enough, and Labour is finally regaining its real principles and values," said Meacher, whom the Daily Telegraph predicts will become shadow chancellor if Corbyn wins.
Ken Livingstone, the former London mayor and an old friend of Corbyn's, said it was clear Blair had not read Corbyn's manifesto. If he had, he'd realise that Corbyn was not trying "to go back to the 1980s" but was looking at ways to get rid of the deficit and modernise the economy.
"He's looking to the future," said Livingstone, and that's why there's been "huge influx" of mainly young people signing up to vote in the leadership election. Corbyn is promoting policies that "will give the next generation the same quality of life we've enjoyed".
Or is Corbynmania just a spasm?
Not so fast, the commentators are warning: 'Corbynmania' will not survive the test of time. It is a blip – or a spasm – following the trauma of the general election result in May.
Labour always lurches to the left after losing an election, argues Roger Philpot at The Spectator, and Corbyn's rise was "eminently predictable".
When Labour lost power in 1951, 1970 and 1979, on each occasion the party engaged in "vicious internal warfare" and then moved sharply to the left. "In each of these fights, the left has trotted out its hackneyed narrative about the 'great betrayal' supposedly committed during Labour's time in office."
Steve Richards in The Independent also understands Corbynmania but argues that it cannot last.
"Those who cheer him… have ached for a voice that questions the stifling consensus in England about economics and the role of the state, orthodoxies that terrify Labour leaders into submission," he says. "But the ecstatic cheers of Corbyn's fans are largely cathartic."
Corbyn himself points out that Labour is a broad church, adds Richards. But, to keep the broad church intact, Corbyn would have to "disappoint those cheering now or preside over some form of schism".
So, what happens now?
There's been talk of an "instant coup" to oust Corbyn: but one Labour insider told The Week that to overturn such a high-profile democratic election result would make the party a laughing-stock – and who would they find instead at short notice, given that neither Andy Burnham, Yvette Cooper nor Liz Kendall has set the electorate alight?
Better to let Corbyn takes his place at the head of the shadow cabinet, enjoy – hopefully – his performances opposite David Cameron at Prime Minister's Questions, and allow time for Corbynmania to run its course and for a new unifying candidate to emerge.
A year of two from now – well in time for the 2020 election – the realities of a more left-wing Labour agenda will have been tested in local elections and we will know whether Corbyn can fulfill his own desire to emulate John Smith and lead a broad church, or whether – more likely, according to the mass of critics – he's been found out.
Labour leader: new call to halt election as panic rises
12 August
There is growing anxiety in Labour circles over the status of tens of thousands of people who have been signing up before today's midday deadline to vote in the party's leadership election.
Another Labour MP, Simon Danczuk, has joined the calls for the election to be halted, while The Guardian reports that a meeting held yesterday at Labour HQ to discuss the vetting process "raised more questions than it answered".
A member of one of the four campaign teams who attended the meeting told the paper there was "no level of confidence we could take" from the party's assurances.
What is not totally clear is whether the complaints are legitimate - or represent a last-ditch attempt to stop the left-winger Jeremy Corbyn becoming leader.
A genuine worry?
Party officials called in representatives of all four campaign teams yesterday – Corbyn, Burnham, Cooper and Kendall – to reassure them that no "entryists" from other parties, be they left or right, would be allowed to infiltrate the process.
Already, 1,200 phoneys had been spotted and refused the right to become "registered supporters", including the Tory-supporting journalist Toby Young and Conservative MP Tim Loughton, and another 800 are being investigated.
The party says this proves its vetting procedure is "very robust".
But it's not just the huge number of registered supporters – up from 35,000 a week ago to 70,000 now – that worries Corbyn's rivals: it's the 90,000 new affiliated union members.
As The Guardian reports, the campaign teams do not yet have access to the names of these affiliate members because the party still has 70,000 applications to check before sending out ballot papers.
Corbyn's rivals fear the names could be given to Team Corbyn directly by the trade unions involved, thus giving the left-winger an advantage.
A Labour spokesman denied that the campaign teams were asked at yesterday's meeting to stop criticising the election process publicly. He said the party wanted to ensure it was not "undermined by misunderstandings".
Or a desperate ploy?
If it was up to Labour MPs alone to vote for Ed Miliband's replacement as party leader, Corbyn wouldn't get a look-in.
Simon Danczuk, for example, while questioning the election procedure, went on to say that if Corbyn wins he will find it difficult to maintain discipline because so few MPs would vote for "crazy left-wing stuff", the BBC reports.
Danczuk offered only anecdotal evidence of "infiltration", saying he believed that at least a quarter of those applying to join his constituency party – Rochdale – should not be entitled to vote in the leadership election
The Daily Telegraph claims the lack of support in the Commons is so serious that Corbyn would find it impossible to fill all the shadow ministerial roles needed to provide an effective opposition. The paper says he might fill only 30, leaving two-thirds unfilled.
The level of panic rises as Corbyn fleshes out his personal "vision for Britain".
Latest proposals include the resurrection of a Ministry for Labour to deal with workers' rights. As the Financial Times reports, this would be "another challenge to the legacy of Tony Blair" who scrapped its successor – the Department for Education and Employment — in 2001.
Also bound to rile Corbyn's enemies in the Commons is the revelation that in an interview earlier this summer with the propaganda TV station Russia Today, Corbyn hinted that he would favour closer ties between Britain and Putin's Russia.
As The Times reports, the interview "underlines the unusual relationship between Russia Today and Mr Corbyn. In April 2011, he tweeted: 'Try Russia Today. Free of royal wedding and more objective on Libya than most'."
As a result, Fyodor Lukyanov, editor of the journal Russia in Global Affairs and known to be "very close" to the foreign ministry in Moscow, said of Corbyn: "I think Russia would certainly be pleased to see such a person as the head of either major party. But my intuition tells me it is not very likely."
Has Lukyanov seen evidence the rest of us are not privy to? YouGov's poll, reported here yesterday, has Corbyn on 53 per cent and set to win the election outright, whether his colleagues in the Commons like it or not.
Labour leader: Jeremy Corbyn set for knockout win, says poll
11 August
Jeremy Corbyn has almost doubled his lead over Andy Burnham in three weeks and looks set to become the new Labour party leader, according to a YouGov poll for The Times.
Alastair Campbell has joined the chorus of senior Labour figures urging the party to get real and vote for "Anyone But Corbyn". But it could be too late: the 66-year-old MP for Islington North, who has never held a Labour front-bench post, is so far ahead he could win on the first round of voting.
With ballot papers going out this Friday, and the result due on September 12, the YouGov survey shows Corbyn getting 53 per cent of first-preference votes, up ten points since the last YouGov poll was published on July 21.
Burnham is on 21 per cent (down five points), Yvette Cooper is on 18 (down two) and Liz Kendall lags on eight per cent (down three).
The YouGov poll in detail
YouGov polled 1,411 people, made up of three categories of voter: ordinary party members, new "registered supporters" and trade union affiliates.
Among the poll's findings:
Almost a third are unsure Corbyn will be able to lead Labour to victory in 2020 - but plan to vote for him anyway;
He's more popular among women than men: 61 per cent of the women polled picked him Corbyn, against 48 per cent of the men;
Trade unionists like him best: among trade union affiliates he got 67 per cent of the vote: among the new registered supporters he's on 55 per cent; among full Labour party members he gets 49 per cent;
The poll supports Team Corbyn's claim that it is young people who are especially attracted to his anti-austerity campaign: he is most popular with voters aged 25-39;
Tom Watson is on course to win the deputy leadership, being more than 20 points clear of his rivals Stella Creasy, Caroline Flint, Angela Eagle and Ben Bradshaw.
Can the poll be trusted?
YouGov is one of the pollsters who took "a battering" in the words of the Financial Times after failing to predict a Conservative majority victory in this year's general election.
But the election story was about two men – David Cameron and Ed Miliband – running neck-and-neck for months: this, apparently, is about one man pulling so far ahead that he's uncatchable.
Peter Kellner, YouGov's president, told The Times: "I would personally be astonished if Mr Corbyn does not end up Labour's leader." Though he added: "I have seldom released a poll with as much trepidation as I have done this time."
The Big If…
If YouGov are accurate in putting Corbyn on more than 50 per cent, then voters' second preferences won't even need to be counted: he'll win the leadership outright.
But if it turns out that fewer than 50 per cent vote for him in the first round, then the chances of him being knocked out in subsequent voting rounds are much greater, with either Burnham or Cooper coming through to win.
Burnham is the number-crunchers' favourite because after Liz Kendall falls out and her votes are shared between the others, Burnham should still be ahead of Cooper. In the next round, her supporters' second preferences are likely to go to Burnham and could be enough to allow him to leap-frog Corbyn.
What will make it more interesting is if the Kendall supporters' second preferences go to Cooper, not Burnham. This is possible: many of Kendall's backers don't just want her because she's the most 'Blairite' of the candidates: they feel it's time Labour was led by a woman. How many of them will give Cooper their second preference vote for that reason alone?
The controversial new voters
If Corbyn does win outright, there is bound to be a backlash concerning the huge influx since May of 190,000 new members and supporters entitled to vote for Ed Miliband's replacement.
Most are fully fledged Labour party members paying a standard £3.88 month for the privilege. But according to The Guardian, 70,000 are from affiliated trade unions (£1.98 a month), and some 50,000 have paid a flat fee of £3 to sign up as "registered supporters".
The YouGov poll shows that for every ten new Corbyn backers since July 21, four are switchers from one of the other candidates, while six are members of the "new cohort" of members and supporters.
Despite scare stories of Communists and other far-left types using the registered supporter system to "infiltrate" the party – not to mention Conservatives eager to see the "unelectable" Corbyn win the race – Labour's vetting procedure has led to the barring of only 1,000 dodgy voters.
Alastair Campbell's intervention
The party must see sense and vote for "Anyone But Corbyn" - or Labour could be finished, says Tony Blair's old spin-doctor, Alastair Campbell.
Having said previously that he would not intervene in the contest, Campbell has blogged a lengthy warning that, under Corbyn, Labour risks becoming a mere party of protest.
He says he cannot predict with any certainty that a party led by Andy Burnham, Yvette Cooper or Liz Kendall will win the 2020 election, but "I think I can say with absolute certainty that a Corbyn-Tom Watson led Labour party will not".
Continue reading for free
We hope you're enjoying The Week's refreshingly open-minded journalism.
Subscribed to The Week? Register your account with the same email as your subscription.
Sign up to our 10 Things You Need to Know Today newsletter
A free daily digest of the biggest news stories of the day - and the best features from our website