Jeremy Corbyn is a 'disaster', says Stephen Hawking
World-renowned physicist calls for Labour Leader to step down 'for the sake of the party'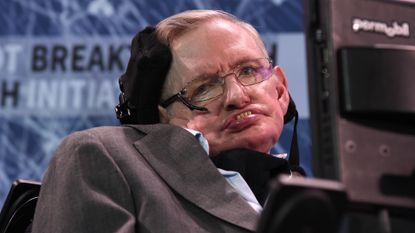 (Image credit: Bryan Bedder/Getty Images for Breakthrough Prize Foundation)
Sign up to our 10 Things You Need to Know Today newsletter
A free daily digest of the biggest news stories of the day - and the best features from our website
Thank you for signing up to TheWeek. You will receive a verification email shortly.
There was a problem. Please refresh the page and try again.
Jeremy Corbyn: U-turn on Europe signals victory for Labour moderates
18 September
To the delight of Labour moderates and the relief of many business leaders, Jeremy Corbyn has confirmed – finally and unequivocally – that his party will campaign to keep Britain in the EU.
However, the City of London will be concerned that one of Corbyn's key reasons for backing continued EU membership is to sign Britain up to the dreaded financial transaction tax – variously known as the Tobin tax or Robin Hood tax – if he can lead Labour to victory at the 2020 election.
Subscribe to The Week
Escape your echo chamber. Get the facts behind the news, plus analysis from multiple perspectives.
SUBSCRIBE & SAVE
Sign up for The Week's Free Newsletters
From our morning news briefing to a weekly Good News Newsletter, get the best of The Week delivered directly to your inbox.
From our morning news briefing to a weekly Good News Newsletter, get the best of The Week delivered directly to your inbox.
What Corbyn now says about Europe
After days of confusion, Corbyn yesterday issued a joint statement with shadow foreign secretary Hilary Benn, saying Labour will definitely campaign to stay in Europe when the in/out referendum is called.
If David Cameron's renegotiation of Britain's membership terms leads to weaker employment rights for workers, then rather than campaigning to quit the EU, Labour will fight to keep Britain in the club and work to reverse Cameron's changes if it can win the 2020 general election.
Corbyn backed up the statement with an article in the Financial Times – thought to be a 'first' for the long-time Morning Star contributor.
"Our shadow cabinet," writes Corbyn, is "clear that the answer to any damaging changes that Mr Cameron brings back from his renegotiation is not to leave the EU but to pledge to reverse those changes with a Labour government elected in 2020.
"Workplace protections are vital to protect both migrant workers from being exploited and British workers from being undercut.
"Stronger employment rights also help good employers, who would otherwise face unfair competition from less scrupulous businesses. We will be in Europe to negotiate better protection for people and businesses, not to negotiate them away."
What made Corbyn 'blink first'?
With only ten per cent of Labour backbenchers having voted for Corbyn to lead them, and with the huge majority of Labour MPs – including Hilary Benn – being pro-European, many observers felt it was only a matter of time before Corbyn would "cave" on this issue.
The Times sees it as "the first significant victory" for the Labour moderates, while The Guardian claims Labour pro-Europeans are "delighted" that Corbyn blinked first and Benn "showed spine".
Stephen Bush at the New Statesman identifies these moderates as an emerging 'soft right' in Labour politics. "These are politicians who are far more moderate than Corbyn," writes Bush, "but who believe, in the words of one: 'We're going to have to try to make this work'."
The 'soft right' faction in the shadow cabinet is led by Benn and Tom Watson (deputy leader) and includes Lord Falconer (justice), Lucy Powell (education), Michael Dugher (culture), Rosie Winterton (chief whip) and Gloria De Piero (young people).
Whatever you call them, they've drawn the first blood and exposed what Guardian columnist Martin Kettle calls "a hitherto extremely well concealed streak of pragmatism in the seemingly ascetic Corbyn".
Kettle explains: "As late as Monday night, when he addressed Labour MPs at Westminster, Corbyn refused to rule out campaigning for withdrawal… So if Corbyn is indeed now committed to Europe, he stands accused either of deviousness for concealing the fact during the Labour leadership campaign, or of indecisiveness for giving such contradictory messages."
What now for the financial transaction tax?
Chancellor George Osborne's fierce opposition to the financial transaction tax, and Britain's refusal to sign up to it, has stalled its implementation across Europe. That's because other capitals fear their financial operators will simply decamp to London to avoid paying the levy, the Financial Times explains.
If Britain, under a Labour government, were to back the tax, its implementation across Europe could be virtually guaranteed, raising an estimated £50 billion a year in revenues.
The FT calls the financial transactions tax "the most ambitious attempt ever made to create a pan-European levy on the financial sector… hitting almost all EU bond, share and derivative transactions."
Germany, France and Italy are among 11 Eurozone countries signed up to the idea of the tax. But after what the FT calls "several years of meandering discussions", they remain undecided about how exactly it should be implemented. "The participation of Britain could break that deadlock."
Jeremy Corbyn: will 'people's' PMQs last longer than 'brief fling' with Diane Abbott?
17 September
In a series of television interviews, Jeremy Corbyn sought yesterday to clarify his positions on Europe and his attitude to the monarchy. Yet the only thing we can be 100 per cent sure about this morning is that he and Diane Abbott, shadow international development minister, were lovers back in the 1970s. Otherwise, questions remain…
Will he back the stay-in-Europe campaign?
Corbyn came close to saying 'yes', but left himself wiggle-room, telling the BBC he could not envisage the circumstances in which Labour would campaign against Britain staying in the EU, even if David Cameron is unable to negotiate a better membership deal.
"No, I don't see that position because I think we are going to be working with trade unions and social groups all across Europe as well as social groups in this country."
However, he told the BBC that party policy was still "developing".
"Basically, on the question of Europe, I want to see a social Europe, a cohesive Europe, a coherent Europe, not a free market Europe.
"That is a developing position. It is not a problem, we have had that discussion, we are continuing that discussion, there will be very clear statements coming out in the very near future."
Will he respect the monarchy?
Still not clear. Responding to complaints that he had not joined in the singing of God Save the Queen at the Battle of Britain memorial service on Tuesday, he said that he would attend many similar events in the future where he would "take part fully".
Corbyn's aides took this to mean that he will sing the national anthem from now on, The Guardian reports.
But that's not what he promised. And his response to another 'royal' question suggests his aides might be expecting too much.
Asked by the BBC's political editor Laura Kuenssberg whether, as a long-standing republican, he was prepared to kneel before the Queen and kiss her hand when he is appointed to the Privy Council, he claimed he "didn't know that was involved" and said he needed to discuss the matter with colleagues.
Will he stick to the new PMQs format?
Debatable. The idea of asking questions invited from the public got a mixed response, as we reported yesterday (see below). Some liked seeing "democracy in action", others thought he made it too easy for Cameron, because he asked no follow-up questions.
It has been suggested that Corbyn will "mix it up", using the people's questions some weeks, handing over to others on his team on other occasions.
Liam Young of The Independent thought Corbyn had "triumphed" by exposing the Tories' weakness on day-to-day issues concerning ordinary people.
"Cameron's lack of compassion and stark inhumanity was obvious from the outset," Young said. "His detachment from the reality of food banks and employment insecurity across modern Britain was more apparent than ever. Cameron's responses were scripted and rehearsed, while Corbyn's questions were plainly sincere."
But Dan Hodges of the Daily Telegraph thought the "phone a friend" strategy would end up as a permanent reminder of the weaknesses of Corbyn, just as the Ed Stone saga symbolised the failures of Ed Miliband.
Tory peer Lord Ashcroft thought Corbyn's performance at PMQs was "a good deal more competent than many expected".
But what will concern many Labour MPs is what Cameron told George Osborne at the end of yesterday's session. According to The Spectator, he turned to the Chancellor and said: "Well, that was a lot less stressful."
And finally… the affair
The news that Jeremy Corbyn and Diana Abbott are former lovers emerged yesterday after backbenchers complained that Corbyn did nothing to intervene when Abbott "verbally attacked" a fellow female MP at the end of the Parliamentary Labour Party meeting on Monday night.
Jess Phillips, MP for Birmingham Yardley, concerned about the lack of women given top jobs in the shadow cabinet, questioned Corbyn's commitment to sexual equality. Abbott lambasted her for asking such a "sanctimonious" question, adding: "You are not the only feminist in the PLP". Phillips later told The Times: "It's a shame there was not more sorority. We women need to stick together."
The Times comments: "The revelation of Mr Corbyn's relationship with Ms Abbott, which is not well-known among MPs, will fuel concerns about how he will control members of the shadow cabinet."
Corbyn was separated from his first wife, Jane Chapman, when he and Abbott began their relationship in the late 1970s.
A source close to Corbyn told The Times there had been a "brief fling" with Abbott, which included them taking a holiday together.
Jeremy Corbyn at PMQs: from Punch & Judy to dull but worthy
16 September
We now know two more things about Jeremy Corbyn, leader of Her Majesty's Opposition.
First, he owns at least two ties – a plain red one worn to the Commons on Monday and a mustard-coloured one chosen for Prime Minister's Questions at mid-day today.
Second, the idea of using PMQs to ask questions of David Cameron 'crowd-sourced' from members of the public – in an effort to make the weekly exchange more "grown-up" and less of a Punch & Judy encounter – does not make great television.
Corbyn began with a question "from a woman called Marie … What does the government intend to do about the chronic lack of affordable housing and the extortionate rents charged by some private sector landlords in this country?"
Cameron responded by saying that his government had delivered more affordable housing – 260,000 units, to be precise – in the last parliament, though he admitted: "I recognise much more needs to be done."
As subsequent questions came courtesy of 'Stephen', 'Paul', Claire' etc, Cameron began name-checking them. "What I want to say to Stephen is…" or "What I would say to Angela is … "
"No prime minister has ever had such an easy ride," said Ben Nelson, one of 11 Guardian readers asked to offer a verdict at the end of Corbyn's first PMQs.
"Corbyn reduced one of our great constitutional conventions to the status of a daytime radio phone-in… He's abrogated his responsibility to lead and he looks weak."
Another Guardian reader was similarly underwhelmed. "The session did not have the feel of a government being held to account on points of detail," said Stuart Smith, "and there was no proper follow-up on most of Cameron's answers."
This point was made by several political commentators.
"Is it really that impressive to subcontract the leadership of the opposition to the public?" tweeted Tim Shipman of the Sunday Times. "Last watchable bit of Westminster at an end."
"By crowd-sourcing the questions, Corbyn forfeited the right to a follow-up," said Andrew Sparrow of The Guardian. "And, as any interviewer knows, the follow-up questions are always the most important.
"Corbyn did not challenge Cameron about the answers he was giving and so the net result was just to give Cameron… a platform to promote government policy. He gets a lot more out of this format than Corbyn does. And that's why I can't see it lasting."
The Daily Mail felt that following three days "dominated by blunders, mis-steps and self-inflicted wounds" Corbyn's debut at the despatch box will at least have "calmed the nerves of some in the party, although privately Labour MPs complained that the leader needs to think for himself."
As for the Prime Minister, he seemed happy to play along with the new laidback approach to PMQs, saying that if the weekly sessions were to be less confrontational then "no one would be more happy than me".
Some of the Guardian readers asked for their response felt the same way. "I liked the idea of a calmer PMQs and taking questions from the public, especially on mental health support," said teacher Stephanie Pomfrett.
"If reading messages from the public had come from anyone else it would have seemed gimmicky," said student Augustus Carter, "but from Corbyn it could only be sincere."
But they are not cynical politicians. Cameron's calculation is clear, says Ben Riley-Smith of the Daily Telegraph. "With Labour descending into civil war there is little political advantage to be seen sticking the boot in."
Continue reading for free
We hope you're enjoying The Week's refreshingly open-minded journalism.
Subscribed to The Week? Register your account with the same email as your subscription.
Sign up to our 10 Things You Need to Know Today newsletter
A free daily digest of the biggest news stories of the day - and the best features from our website