Jeremy Corbyn is a 'disaster', says Stephen Hawking
World-renowned physicist calls for Labour Leader to step down 'for the sake of the party'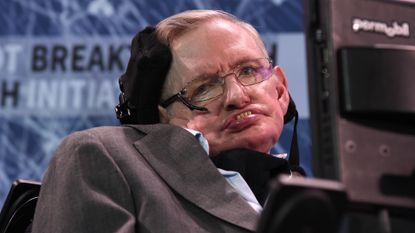 (Image credit: Bryan Bedder/Getty Images for Breakthrough Prize Foundation)
Sign up to our 10 Things You Need to Know Today newsletter
A free daily digest of the biggest news stories of the day - and the best features from our website
Thank you for signing up to TheWeek. You will receive a verification email shortly.
There was a problem. Please refresh the page and try again.
Labour leader: Corbyn and the Osama Bin Laden 'tragedy'
01 September
With the deadline for returning Labour ballot papers only nine days away, there's been no let-up in the Anyone But Corbyn campaign.
Footage has emerged of the Labour frontrunner telling Iranian television in 2011 that it was a "tragedy" that US forces had hunted down and killed Osama bin Laden, adding that he should have been captured and tried in court, while Tony Blair has made yet another appeal to voters not to pick Corbyn, who he accuses of creating a "politics of parallel reality".
Subscribe to The Week
Escape your echo chamber. Get the facts behind the news, plus analysis from multiple perspectives.
SUBSCRIBE & SAVE
Sign up for The Week's Free Newsletters
From our morning news briefing to a weekly Good News Newsletter, get the best of The Week delivered directly to your inbox.
From our morning news briefing to a weekly Good News Newsletter, get the best of The Week delivered directly to your inbox.
The left-winger has also called for the Queen's powers to be reduced, while a Ukrainian human rights activist says he's been so "blinded" by his disapproval of Nato and US foreign policy that he has ignored evidence of human rights abuses by Russian-backed militias.
None of this appears to be 'sticking' however, and even Blair admits that the warnings from him and other elder statesmen of the party are likely to fall on deaf ears.
One punter is so sure of the Islington North MP seeing it to the finishing line that he has laid £4,500 on a Corbyn victory, at odds of only 1/7, which means laying out £7 to make a profit of £1.
"Whatever odds we offer, political punters are snapping them up as though they are buying money at a no risk discount price," said a spokesman for William Hill, the bookmaker.
The Osama Bin Laden 'tragedy'
Corbyn made the comment in 2011 on Press TV, the Iranian English-language network, a few weeks after US Navy SEALs killed Osama Bin Laden at his hideout in Pakistan. "There was no attempt whatsoever that I can see to arrest him and put him on trial, to go through that process," Corbyn said. "This was an assassination attempt, and is yet another tragedy, upon a tragedy, upon a tragedy."
Corbyn went on: "The World Trade Centre was a tragedy, the attack on Afghanistan was a tragedy, the war in Iraq was a tragedy. Tens of thousands of people have died. Torture has come back on to the world stage, been canonised virtually into law by Guantanamo and Bagram.
"Can't we learn some lessons over this?" Corbyn disapproved of the "sort of medieval triumphalism" that greeted OBL's death and attacked the "gung-ho" reaction of governments around the world. In the House of Commons, "Cameron was as bad as Obama… saying, 'We've got him, we've killed him', when it was absolutely nothing to do with Britain whatsoever."
The Daily Mail quotes Jack Straw, former Labour foreign secretary, saying that Corbyn's comments raise questions about his suitability to run the country.
A Team Corbyn spokesman said the remarks had been "taken completely out of context" and that the candidate was "a total opponent of Al-Qaeda, all it stands for".
Reducing the Queen's powers
In what would be an unprecedented "assault on the monarchy", Corbyn apparently wants the Royal Prerogative to be subject to parliamentary vote, and veto if necessary. He made the suggestion during a leadership hustings last week, but it was only reported by the Daily Telegraph last night.
The Royal Prerogative allows the Queen to hand over powers to the Prime Minister, who can then take decisions – like going to war – without consulting Parliament. Corbyn wants that to stop.
"It's hard to know what would be left of the monarchy," said the historian Anthony Seldon. "The fact that Jeremy Corbyn is saying that would be seen as an assault on the monarchy. It would be crossing the Rubicon. He would be the first Labour leader who started talking about a reduction in the role of the monarchy."
Turning a blind eye in Ukraine
Corbyn is so "blinded" by his opposition to Nato and US foreign policy that he is ignoring mounting evidence of human rights abuses conducted by Russian-backed militias in Ukraine. The accusation is made by Halya Coynash, a Ukrainian human rights activist.
The Times reports Coynash saying that Corbyn is forgetting that Russia breached international law by invading Crimea and by supporting militias that seized control in east Ukraine.
"It is obvious why Russia Today ignores or denies the mounting evidence of human rights abuse," said Coynash. "It is unclear and disturbing why Corbyn is following suit."
A Corbyn spokesman said: "Jeremy condemned all acts of aggression in the Ukraine and sent his support to peace campaigners across the region."
Tony Blair's latest intervention
I don't get Corbyn's popularity, but I'm trying hard to understand it, says Tony Blair in an article for The Observer. He also acknowledges that Corbyn supporters are most likely to "roll their eyes" when he and two other former party leaders – Neil Kinnock and Gordon Brown – warn against voting for a man they see as unelectable.
Nevertheless, he accuses Corbyn of creating a "politics of parallel reality", where "reason is an irritation, evidence a distraction, emotional impact is king and the only thing that counts is feeling good about it all".
Blair's key message is that only in power can Labour affect real change. "If you're angry about [Tory] welfare cuts, then two things are obvious: those are cuts to programmes Labour introduced, and we only introduced them by being in power.
"So it is completely illogical to oppose them without understanding how best to get back into power, since in opposition we can do nothing."
Labour leader: I am the moderniser, says Corbyn, as Mandelson attacks
28 August
Labour faces "mortal danger" if it elects Jeremy Corbyn leader because his policies – "printing money, state ownership of major industries, unilateral disarmament and quitting Nato" – would make the party unelectable at the 2020 general election, claims Lord [Peter] Mandelson, one of the founders with Tony Blair of New Labour.
What Labour needs is policies for the modern world, Mandelson writes in the Financial Times. "We have to reforge Labour's tools for creating prosperity and sharing it more widely."
But that is exactly what I am advocating, says Jeremy Corbyn, writing in The Times.
Quoting "eminent economists", Corbyn says Britain desperately needs a positive vision for a dynamic innovation economy. "My campaign is about modernising the Labour party to be the vehicle to make that change happen."
Taken together, the two articles map a clear fork in the road for Labour:
Mandelson's complaint
"It would be a sad and possibly final chapter in the British Labour party's history," claims Mandelson in his FT article, if Corbyn were to lead it into the next general election.
The Corbyn insurgency, he argues, "owes little to what a potential majority of voters think or want. It is fuelled by a mixture of idealism, frustration, naivety and trade union bank balances."
Electoral recovery, he says, will be hard. "It means winning people back to our side. Like Britain itself, we need to be global and liberal in our economic and social outlook, while still attaching importance to acting against inequality."
The Tories are being given "a free ride in coming to terms with this modern world", he argues. "We have to reforge Labour's tools for creating prosperity and sharing it more widely."
As the FT acknowledges, Lord Mandelson is "a controversial character in his own party because of his right-wing, pro-business instincts".
Interestingly, he now appears to accept some blame for the situation his party finds itself in. "The Labour party's modernisers, who led the party's reinvention in the 1990s, have also been at fault," writes Mandelson.
"In failing to acknowledge past mistakes and define what New Labour should mean for new times, we have allowed critics within the party to create a caricature of modernisation as a sectarian creed alien to the party's values and history.
"It is the opposite: a politics [based] firmly in the party's historical mainstream of standing up for the many not the few in today's world." But as a result of this caricature gaining momentum, "modernisers no longer carry Labour's middle ground".
Mandelson gives his blessing to a new pressure group launched earlier this month by Tristram Hunt and Chuka Umunna – two Labour frontbenchers who chose not to enter the leadership race – called Labour for the Common Good.
Hunt and Umunna have written to Labour MPs inviting them to attend an LCG meeting on September 8, four days before the election result is announced. It's "the start of guerrilla warfare for Labour's soul", reports the Evening Standard.
Welcoming the new initiative, Mandelson said it will need to "reach out beyond parliament and invigorate all those in the party, including those engaging for the first time, who want to join the battle for the modernisation of the Labour party".
Corbyn's defence
Despite a "barrage of attacks, hysteria and deliberate misrepresentation", Team Corbyn's message is resonating, the Labour frontrunner claims in his Times article.
What is "extreme" in British politics today is not the "popular proposals" he is putting forward, but the government's austerity programme.
Opposition to austerity is now "mainstream economics, and even supported by the IMF", he argues. It was only ever a political choice of the Tories, not an economic necessity: in short, "a cynical attempt to pay for a crisis on the backs of the poorest and most vulnerable".
Corbyn's campaign is instead "guided by ideas of social justice and prosperity for all rather than a select few". He wants "a strategic approach in which business, the state and the population work co-operatively to create wealth; and for that wealth to reach all sections of society and all regions and nations of our country".
Labour did not lose the last general election because the party was not "aspirational" enough: "we lost because we failed to articulate a convincing enough vision of how those aspirations would be achieved".
Defending state investment, Corbyn quotes the economists Ha-Joon Chang and Mariana Mazzucato, who have argued that "revolutions in all the key sectors such as biotech, nanotech, the internet and the emerging green industries of the future have been dependent on strategic public-sector investment, which is able to fund the biggest risks and uncertainty before the private sector is willing to enter".
As Mazzucato says, what is desperately needed is a positive vision for a dynamic innovation economy. "My campaign is about modernising the Labour party to be the vehicle to make that change happen," says Corbyn.
In the short term, boosted by the growing party membership, Labour will be more aggressive in opposition, Corbyn promises. "We will not sit and watch as the government continues with the most sustained attack on our welfare state and public institutions in a generation. We will oppose them at every stage.
"Using every conceivable parliamentary device, we will prevent or delay the Conservatives' programme of cuts, rip-off privatisations and pay-freezes. We will proudly defend the welfare state not just for its intrinsic value but for its historical role in boosting our economy by increasing education and training opportunities for all."
Continue reading for free
We hope you're enjoying The Week's refreshingly open-minded journalism.
Subscribed to The Week? Register your account with the same email as your subscription.
Sign up to our 10 Things You Need to Know Today newsletter
A free daily digest of the biggest news stories of the day - and the best features from our website