Jeremy Corbyn is a 'disaster', says Stephen Hawking
World-renowned physicist calls for Labour Leader to step down 'for the sake of the party'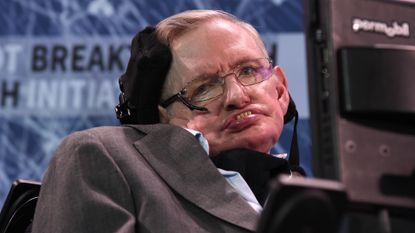 (Image credit: Bryan Bedder/Getty Images for Breakthrough Prize Foundation)
Sign up to our 10 Things You Need to Know Today newsletter
A free daily digest of the biggest news stories of the day - and the best features from our website
Thank you for signing up to TheWeek. You will receive a verification email shortly.
There was a problem. Please refresh the page and try again.
Can Jeremy Corbyn make peace with British Jews?
4 November
Jeremy Corbyn has taken a step towards improving his standing among Labour's Jewish supporters by condemning as "unacceptable and deeply regrettable" remarks made by the veteran Labour MP Sir Gerald Kaufman. But is it enough?
Kaufman, a member of the Jewish Labour movement, was hauled in by Labour's chief whip yesterday – at Corbyn's request – to be given a dressing-down for comments he made at a pro-Palestine event in Westminster a week ago.
Subscribe to The Week
Escape your echo chamber. Get the facts behind the news, plus analysis from multiple perspectives.
SUBSCRIBE & SAVE
Sign up for The Week's Free Newsletters
From our morning news briefing to a weekly Good News Newsletter, get the best of The Week delivered directly to your inbox.
From our morning news briefing to a weekly Good News Newsletter, get the best of The Week delivered directly to your inbox.
As The Independent reports, Kaufman said "Jewish money" was influencing the Conservative government.
"It's Jewish money, Jewish donations to the Conservative party – as in the general election in May – support from the Jewish Chronicle … all of those things bias the Conservatives," Kaufman said.
"There is now a big group of Conservative members of parliament who are pro-Israel whatever government does… They're not interested in the fact that Palestinians are living a repressed life, and are liable to be shot at any time."
The Jewish Chronicle reports how Kaufman then told his audience that the recently reported spate of stabbings of Israelis by Palestinians had been partly invented by the Israeli government to allow it to "execute Palestinians".
Only 45 people attended the Palestine Return Centre event to hear Kaufman speak – but the reverberations have been felt across the Jewish community.
Despite a long history of criticisng Israeli governments – he's described the blockade of Gaza as "evil" and called senior Israeli politicians "war criminals" – the 85-year-old MP for Manchester Gorton is accused of going too far this time and there have been calls for him to be disciplined by Labour beyond having the riot act read to him by chief whip Rosie Winterton.
The Manchester Evening News says the Labour party is yet to confirm what action might be taken. But both the Board of Deputies of British Jews and the Jewish Leadership Council have welcomed Corbyn's condemnation of Kaufman.
"Such remarks are damaging to community relations, and also do nothing to benefit the Palestinian cause," said Corbyn in a statement issued yesterday. "I have always implacably opposed all forms of racism, antisemitism and Islamophobia and will continue to do so. At my request, the chief whip has met Sir Gerald and expressed my deep concern."
Until now, Corbyn's relations with the Jewish community have been uneasy to say the least. A veteran pro-Palestinian campaigner, he has had to defend himself against accusations of sharing platforms with controversial speakers who have turned out to be antisemites and Holocaust-deniers.
Corbyn has continually dismissed as "ludicrous and wrong" any suggestions he would knowingly have associated with such people but many Jewish Labour supporters have argued that he needs to do more to persuade them.
Among them is Keith Khan-Harris who argued in The Guardian recently that it was vital Corbyn build bridges with Britain's 300,000 Jews.
Corbyn's victory in the Labour leadership election was received "with shock and even horror by substantial sections of British Jewry", said Khan-Harris, because of his perceived pro-Palestinian bias.
But for a potential national leader of a multicultural nation to be alienated from a majority of any British minority is not a good idea, he said. "A prospective party of government must at the very least be able to have a dialogue with all minorities and listen seriously to their concerns.
"In short, it's probably too much to ask that most British Jews will ever be Corbynites, and that Corbyn will in return find Zionism to be anything other than problematic. But it shouldn't be too much to ask for cordial and businesslike relations to be established with Jewish groups."
Corbyn's condemnation of Kaufman is a start – though Gideon Falter, chairman of the Campaign Against Antisemitism, told the Jewish News yesterday that Corbyn's statement was "a week late and far short of what is warranted".
Nothing less than firm disciplinary action would do, Falter said, if Jewish people were to have any faith that Corbyn's "implacable opposition" to antisemitism was "anything more than a soundbite".
Jeremy Corbyn is told Labour 'must work with business to make a fairer society'
03 November
A mixed bag for Jeremy Corbyn today. On the plus side, the pacifist Labour leader has got his way for the time being on Syria, with the Prime Minister giving up his quest for a Commons mandate to send in the bombers.
And it's David Cameron, not Corbyn, who's in poppy trouble today. The Daily Mail reports how the PM is being "ridiculed" on social media after Number Ten was caught Photoshopping a red poppy onto Cameron's official Facebook picture.
But there's a minus: Corbyn is facing a very public challenge to his economic policies from one of Labour's most senior backbenchers, former Treasury Secretary Liam Byrne.
In a speech just delivered at the Policy Network think-tank in London, Byrne laid out his reasons for believing 'Corbynomics' – "printing money, nationalising things, and spiralling public spending" – will inevitably fail.
Byrne argued that Labour needs to work with big business - not against it – to make society fairer. Corbyn's "class war" is not the answer, he says: nor, presumably, is the Labour leader's decision – reported by the Financial Times – to "snub" business leaders by refusing to address the CBI next week.
Byrne wants the Bank of England to be given the task of cutting unemployment, not just keeping inflation low. And he wants "long term investors" to have more control over companies, reducing the power of short-term opportunists. He also wants every school to teach children how to start and run a business.
But most of all he wants Labour to work with sympathetic business leaders to help reduce the growing gap between the rich and the poor.
"The richest five families in Britain now own more than the poorest 12 million of their fellow citizens. Since the crash, the number of billionaires here in Britain has doubled – while queues at the food bank are one million people long."
Byrne's solution is, in effect, to introduce "a new Clause IV" – one that "puts the fight against inequalities of power centre stage".
As the Policy Network website puts it, "in place of the top-down solutions of the past", Byrne is arguing for "a 21st century 'opportunity state' with a radical new approach to harnessing innovation and entrepreneurialism to increase people's economic, social and political power".
(Clause IV of Labour's constitution, which had committed Labour since the early 20th century to nationalisation or "common ownership", was famously thrown out by New Labour in 1995, two years ahead of Tony Blair's first election victory. As The Guardian reports, for those on the left of the party, it "confirmed how willing Labour was to abandon its socialist past to get elected".)
Byrne's challenge to Corbynomics is interesting because it contains no personal attack on Corbyn himself. Indeed, Byrne told Radio 4's Today programme ahead of his address that he admires the party leader's passion and idealism – he just thinks "there's a better, safer, faster way to challenge the inequality we both hate".
Laura Kuenssberg, the BBC's political editor, tweeted that Byrne was "trying to show there's life outside Team Corbyn".
The Birmingham Mail credits its local MP (he represents Birmingham Hodge Hill) with more than that: Byrne, says the paper, is "launching a battle for the soul of the Labour Party".
Jeremy Corbyn 'stuns' Labour MPs over Trident
02 November
Jeremy Corbyn has "stunned" his opponents within Labour by cheering Scottish party members who voted yesterday to scrap Trident, The Times reports.
Through a spokesman, Corbyn appeared to suggest that party members' views on the issue south of the border should now be given more weight than those of Labour MPs at Westminster who generally back Britain retaining its nuclear deterrent.
The Scottish vote was "a clear sign that Labour's democracy has opened up" and voting members' views would be taken into account in a defence policy review, the spokesman said.
As The Times puts it, Corbyn "is likely to use the vote to isolate members of the parliamentary party". It is, the paper says, "the first concrete sign that voting members will turn out in large numbers to back his [Corbyn's] positions".
Seventy per cent of delegates to the Scottish Labour conference in Perth voted yesterday against the renewal of Trident. It followed the Scottish branch of Unite's decision to ignore the wishes of Len McCluskey, the union's London-based general secretary, and back the scrapping of Trident, despite the threat of job losses.
Given that many of Corbyn's most senior colleagues – including deputy leader Tom Watson, shadow foreign secretary Hilary Benn and shadow defence secretary Maria Eagle – are pro-Trident, yesterday's vote represents the "biggest setback" to Labour moderates since Corbyn was elected party leader, The Times says.
Labour MPs have to decide whether to back the scrapping of Trident before an important Commons 'gateway' vote on the issue. The vote was not expected until next summer, but there has been talk of the Conservative government pulling it forward to December in order to exploit Labour's deep divisions on the issue.
Labour moderates have another worry – that Ukip could exploit Corbyn's perceived weaknesses and steal the safe Labour seat of Oldham West and Royton in the upcoming by-election caused by the death of Michael Meacher.
"This is the first test of Jeremy Corbyn's leadership on a national stage," Ukip leader Nigel Farage told the BBC's Andrew Marr Show yesterday, "and I think there is a genuine question of: is he patriotic? Does he actually believe in the country?
"We know he's a republican; we know he wants to give the Falkland Islands to Argentina... The question that I'm asking is: is he perceived by patriotic, Old Labour, working-class voters… to be for them? For the country?
"And is he prepared to lift a finger to deal with the issue of immigration because this constituency has been through very rapid demographic change in the last few years."
As a Ukip spokesman put it to The Spectator last month: "The Corbynista politics do not appeal to the core vote in Oldham. He might have an appeal in certain parts of the world but [Oldham] isn't made up of students and Hampstead socialists."
Meacher held on to the seat in the May general election with a whopping 14,000-plus majority: even Farage felt bound to admit it was one of the safest Labour seats in the country.
However, Ukip's tail is up because it came very close - only 617 votes short – to winning last October's by-election in the neighbouring constituency of Heywood and Middleton, caused by the death of another northern Labour MP, Jim Dobbin.
The Ukip candidate in that by-election was John Bickley, and some observers expect him to be chosen to represent the Faragists in Oldham. A party source told The Spectator that Bickley would be an "absolutely superb candidate".
Labour have yet to choose their candidate – they are interviewing today and will make their decision on Thursday - but the Daily Telegraph says there are concerns that Corbyn "and his hard-Left backers" are trying to rig the selection process to ensure a Corbynista gets the seat.
These fears are increased, says the paper, by the news from Oldham that Kate Godfrey, a Corbyn critic who hoped to be included on the shortlist of candidates, has been blocked from running after trade unions allegedly "vetoed" her candidacy.
However, the strong favourite to win selection this week is Jim McMahon, the young leader of Oldham council, and he is seen as a moderate.
According to The Observer, Labour will move the writ today for the by-election, which is likely to be held very swiftly, on Thursday December 3, to give Ukip as little time as possible to campaign.
It's an important moment for Corbyn says the Observer, because he claimed during his leadership campaign to be able to win back Labour votes from Ukip.
Jeremy Corbyn slumps in poll despite PMQs victory
29 october
Jeremy Corbyn's personal popularity among voters, already at a record low for a new Labour leader, has slipped further, according to a new YouGov poll. Meanwhile his lack of popularity among his own MPs is not helped by two controversial appointments to his inner circle.
YouGov poll
Corbyn's approval rating, which opened at a miserable minus 8, has fallen to minus 20. In short, 30 per cent say he is doing well in his job, while 50 per cent say he is doing badly.
There is evidence, The Times says, that previously undecided voters have been turning against Corbyn.
"The proportion who 'didn't know' how well they thought he was doing fell from 30 per cent five weeks ago to 20 per cent," the paper reports. "The proportion who thought he was doing badly increased by 11 percentage points."
It is worth noting that the fieldwork for the YouGov poll was conducted before the latest headlines giving Corbyn a victory over David Cameron at Prime Minister's Questions yesterday.
Also, Cameron's own approval rating has dropped, according to the same poll. He has fallen from plus 3 to minus 4.
And The Times reminds readers that Corbyn still has some way to go before reaching personal ratings as low as those eventually suffered by his predecessor. Ed Miliband hit minus 56 last November after 'forgetting' to mention either the national deficit or immigration in his party conference speech.
Problematic aide No 1: Andrew Fisher
The appointments of two senior aides – head of policy Andrew Fisher and director of communications Seumas Milne – are causing Corbyn a headache and encouraging his critics within Labour.
Corbyn dislikes confrontation, says Kevin Maguire in the New Statesman, but was forced to complain to staff recently, pleading that they be "more professional".
Corbyn has been put on the spot by a demand that Fisher be expelled from the party because at the general election – well before he joined Team Corbyn – he urged voters in Croydon South to back an anarchist from Class War rather than Emily Benn, the official Labour candidate.
The problem for Corbyn is that the request for his expulsion comes from Emily Benn herself – and she is no ordinary failed candidate: she is the niece of his shadow foreign secretary, Hilary Benn, and the granddaughter of his hero Tony Benn.
Labour party rules forbid members supporting an opposition candidate. The party's National Executive Committee is reported to be considering Emily's complaint: in the meantime, Corbyn needs Fisher to button his lip.
Problematic aide No 2: Seumas Milne
Corbyn's decision to appoint the 57-year-old left-wing Guardian columnist as his director of strategy and communications – the role held by Alastair Campbell in Tony Blair's early years - continues to cause ructions.
The "millionaire son" of the last BBC director-general Alasdair Milne, Seumas was educated at Winchester and Balliol College, Oxford, and, says the Daily Telegraph, holds left-wing views "even more extreme" than Corbyn's.
Milne has bemoaned the fall of the Berlin Wall, described Iraqis who helped the US try to rebuild their country as "quislings", and suggested the murder of Drummer Lee Rigby "wasn't terrorism in the normal sense" because he had fought in Afghanistan.
One of Milne's – and Corbyn's – fiercest critics is Kate Godfrey, who has worked for the UN in several conflict zones and stood unsuccessfully for Labour in Stafford in the May general election.
In an open letter to Jeremy Corbyn posted last week, she wrote: "You say that you want to listen to us, the people; and then you pick Seumas Milne – the one journalist who always knows better than the people who were there.
"You pick a man who never heard an opinion that he didn't filter; a truth that he didn't dismiss as an orthodoxy, or a story of pain on which he didn't have superior information."
She concluded: "The decision to appoint Seumas Milne devalues everything that Labour stands for, and everything that Labour is. It is morally and ethically wrong."
Godfrey is not letting this go: The Guardian reports that she is now challenging Labour to put her on the shortlist of candidates to fight the upcoming by-election in Oldham West and Royton, caused by the death of Labour's Michael Meacher.
Meacher by-election test
No date has yet been set for the Oldham West and Royton by-election but it's expected to take place before Christmas and could prove a trial of strength between the Corbynistas and the Labour leader's moderate opponents.
Kate Godfrey (see above) says "I don't think there are enough people like me in the Labour party" and plans to publish her application online.
"If anyone turns around and says you're not the right type of Labour, and they have rejected a disabled, working class woman candidate who has in the past depended on benefits, that would be a remarkable statement about the people who matter to the Labour party now," Godfrey tells the Guardian.
The frontrunner is likely to be local hero Jim McMahon, the young leader of Oldham council and a member of Labour's national executive committee.
However, as the Manchester Evening News reports, "Moderate party members will be watching closely to see whether a left-wing candidate from outside the area is imposed by Labour HQ, amid fears that a purge of those in the centre of the party could be on the cards."
Jeremy Corbyn 'wins' tax credits clash with PM
28 October
Jeremy Corbyn and David Cameron clashed today at Prime Minister's Questions over tax credits. The Labour leader asked the Prime Minister six times whether anyone on tax credits would lose out next April – and got no direct response.
Cameron accused Labour of relying on the Lords to stymie George Osborne's plans, poking fun at "a new alliance - the unelected and the unelectable". It was a "smart" line of Cameron's, said Andrew Sparrow of The Guardian, "but it fell flat when it came up against Corbyn's dour but high-minded seriousness".
The Labour leader refuted the Tory argument that what happened in the Lords on Monday represented a constitutional crisis – it was, he said, a crisis for three million people who look set to lose tax credits.
The word in Westminster was that it was Corbyn's "strongest performance yet" at PMQs, said Andrew Neil, host of the BBC's Daily Politics show. On the Twittersphere, most commentators agreed.
Tim Shipman, political editor of the Sunday Times, tweeted: "Any fair analysis would score that 5-1 for Corbyn. But Cameron wasn't actually uncomfortable. He stuck calmly enough to his line."
Corbyn did not "crowd-source" all his questions on this occasion: instead, he adopted the Jeremy Paxman technique of repeatedly asking the same question, acting a little more impatient each time.
He only brought in a member of the public for his sixth and final question – would "Karen", who gets tax credits to make up her low salary, lose out next April?
Again Cameron resorted to his blunt defence of the Tories' economic competence, accusing Corbyn of having opposed every proposed cut to welfare.
So 'Karen' got no assurance from the PM – only the promise that George Osborne's decision on how to respond to the Lords' rebuff will be laid out in the Autumn Statement at the end of November.
Incidentally, Jeremy Corbyn DID wear a red poppy today (his deputy Tom Watson did not). This does not necessarily mean that the republican Labour leader has become a stickler for establishment etiquette overnight. The Spectator reveals that at last week's banquet for President Xi, Corbyn was seen using his mobile telephone under the table.
"Let's just say, Corbyn's time on his phone did not go unnoticed," the Spectator's mole confided. "It was the talk of the party."
The same mole brings a new dimension to Corbyn's remark – allegedly made the next day to Labour MP Simon Danczuk - that the banquet had been "one of the most boring nights" he'd ever spent.
It turns out Corbyn was sitting next to the Bank of England governor, Mark Carney, at the Buckingham Palace do. It would appear, the Spectator ventures, that the two men "failed to hit it off".
Jeremy Corbyn 'slow-minded' and 'humourless,' says Martin Amis
26 October
Not a wonderful weekend for Jeremy Corbyn (notwithstanding Arsenal's 2-1 victory against Everton): Martin Amis called him "under-educated", "slow-minded" and "humourless", Lord Warner said there were "four or five other" peers like him who are ready to resign the Labour whip, while Simon Danczuk, the noisy MP for Rochdale, is threatening to stand as a "stalking-horse candidate" against Corbyn if Labour fares badly in the May elections.
On the other hand, the Labour leader will not lose much sleep over an attack by the Saudi ambassador to London who accuses him of a lack of respect for his part in "scuppering" the consultancy deal under which Britain was going to advise Saudi Arabia on how to run its prisons.
Martin Amis lets rip
The novelist feels entitled to have a pop at Corbyn because the Labour leader is just the sort of leftie – "weedy, nervy and thrifty" – he came across while working for the New Statesman as a young journalist in the 1970s.
"There were identikit Corbyns everywhere – right down to the ginger beard, the plump fountain pen in the top pocket and the visible undervest, slightly discoloured in the family wash," Amis writes in an article for the Sunday Times.
And then he gives the knife a twist: not only is Corbyn "under-educated," having left school with two A-levels – E-grade at that – and dropped out of North London Poly after only a year, but he "gives the impression of slow-minded rigidity" and has not "the slightest grasp of the national character".
Worst of all, he is humourless – "an extremely grave accusation, imputing as it does a want of elementary nous ... To put it crassly, the humourless man is a joke – and a joke he will never get."
As for his legacy, Corbyn will leave Labour "hopelessly retrograde, self-absorbed, self-pitying, and self-righteous," Amis argues, as well as "increasingly hostile to democracy, and in any sane view undeserving of a single vote".
Lord Warner on the warpath
Lord Warner, a former Labour health minister, announced last week that he was resigning the party whip because Labour under Jeremy Corbyn was "no longer a credible party of government in waiting". By the end of the week Lord Grabiner, Master of Clare College, Cambridge, had also resigned the Labour whip. "I have nothing in common whatever with Mr Corbyn and I don't believe we are ever going to win an election," the BBC quotes him as saying.
Now, in an interview with the Sunday Times, Warner has said there are others in the Lords ready to follow them. "I won't name names . . . I certainly know of four or five people who are thinking seriously about their position.
"People come up to me and have said, 'I'm really concerned, I don't like what's going on, I probably have to think about my position.' All I can say is that I think that some people are wrestling with this. Genuinely."
Warner "jumped ship" because he believes Team Corbyn and its "statist, Stalinist, control-freakish way of running the Labour party" will be impossible to get rid of before it has destroyed Labour.
"By the time we get to 2020 they may well take the Labour party to a point where it can never rebuild."
If that happens, the former Labour minister predicts "an SDP moment" in which the "soft centre left" will desert and form a new social democratic party "rather like the SPD in Germany".
Danczuk's 'stalking horse' threat
Jeremy Corbyn faces a "stalking horse" leadership challenge next year from backbencher Simon Danczuk if Labour performs poorly at May's Scottish, Welsh and London elections, the Independent on Sunday reports.
Under Labour rules, anyone challenging the leader needs the backing of 20 per cent of the party's MPs – which means 47.
Danczuk would not hope to win the resulting leadership election himself. Instead, he would hope "his candidacy would open up a contest so that another, emerging talent with an interesting background, such as former Army major Dan Jarvis, could mount a challenge without being tainted by accusations of stabbing the leader in the back".
Danczuk told the Independent: "I wouldn't rule it [standing as a stalking horse] out. It's no secret that I think we need a more moderate leader if we're to win in 2020."
Danczuk made his feelings for Corbyn clear in an article for the Mail on Sunday in which he recounted being called in to the leader's modest office last week for a face-to-face.
Danczuk says he told Corbyn that while his hard-left politics – especially his relaxed view on immigration – might go down well in "the trendy salons" of Islington, north London, "they go down like a lead balloon" in Rochdale. (Corbyn, in turn, apparently confided in Danczuk that the Buckingham Palace banquet for President Xi had been "one of the most boring nights I have ever had.")
"There's no question Jeremy is a decent bloke and I admire him for having the courage to listen to my criticisms," Danczuk concluded. He is "warm, well-meaning and sincere" and "it's not hard to see why he won the leadership contest: there's a refreshing openness about him".
Unfortunately, Danczuk writes, "politics is about much more than that. And as someone who desperately wants a Labour government, we need a leader who can win a general election, not parliamentary beard of the year.
Saudi ambassador's attack
The Saudi ambassador to London has taken the "unusual step" of publicly denouncing Corbyn in an article today for the Daily Telegraph.
Prince Mohammed bin Nawaf bin Abdulaziz Al Saud, a half-nephew of the Saudi king, says Corbyn breached the "mutual respect" between Britain and Saudi Arabia when he claimed to have convinced David Cameron to cancel a prison consultancy contract with the Saudis. The ambassador said it could have "serious repercussions".
Michael Gove, the Justice Secretary, gave no reason for the decision to cancel the contract, the Telegraph reports, but it is believed to have been a response to the campaign, supported by Corbyn, against the beheading and crucifixion of Ali Mohammed al-Nimr, who took part in protests by the minority Shia community against the ruling Sunni royal family three years ago.
Prince Mohammed describes the recent upsurge in anti-Saudi feeling in Britain as "alarming". He says the Saudi justice system is based on Sharia law and Britons should respect that, just as Saudis respect British customs, laws and religion.
"We will not be lectured to by anyone," the ambassador added.
Jeremy Corbyn: white tie and tales of treachery
21 October
Jeremy Corbyn finally bowed to convention and donned white tie and tails for last night's state banquet at Buckingham Palace. "Mr Corbyn's suit was rather too large, and his tie askew, but for once he toed the line," the Daily Telegraph reports.
The banquet for President Xi of China gave the Labour leader his first chance to meet the Queen. They shook hands away from the cameras and neither the Palace nor Team Corbyn would say whether he bowed to the monarch.
Nor for that matter do we know whether, as Arsenal fans, the two traded pleasantries about their team's chances against Bayern Munich at Highbury last night (the Gunners won 2-0).
The threat that Corbyn might bring up China's human rights record at the banquet table was averted by giving him a one-on-one meeting with President Xi ahead of the dinner. Corbyn used it to praise "China's strongman" for his country's "remarkable achievement" in lifting 600 million people out of poverty, the Daily Mail reports, but challenged him over human rights and the dumping of cheap steel.
A Labour spokesman called the talks "cordial and constructive" – neither of which adjectives can be applied to Corbyn's head of policy, Andrew Fisher, whose hostile remarks about the previous Labour leadership have infuriated Labour backbenchers.
They want to know why Corbyn has given such an important role to a man who welcomed the news that Ed Balls had lost his seat in the May general election by tweeting that it was "fitting that the architect of Labour's miserable austerity-lite economic policies should lose".
Fisher is also on record for describing Ed Miliband's shadow cabinet as "the most abject collection of complete shite", accusing Yvette Cooper of following policies worse than the British National Party and, in February, calling Jack Straw "a vile git that has got his comeuppance".
The Guardian reports that at the regular Monday night meeting of the Parliamentary Labour Party, backbenchers clapped after Siobhain McDonagh, MP for Mitcham and Morden, reminded her colleagues that Balls had worked "incredibly hard" to get Labour MPs elected.
Fisher is a former policy officer for the PCS union and author of The Failed Experiment, which claims that over the last 35 years "politicians of all parties in government ceded power over fundamental sectors of our economy to a new oligarchy of corporations".
The Independent says Fisher has also used Twitter to "vent his republican sympathies", describing the Royal Family as "bastards" and calling Prince Andrew a "parasite". What Fisher makes of his leader appearing in white tie at Buckingham Palace he might be wise to keep to himself.
Jeremy Corbyn: just how likely is a military coup?
19 October
One in four voters can imagine a situation in which they would support a military coup in Britain, according to polling released by YouGov over the weekend. But among Ukip voters, the number jumps from 25 to 44 per cent.
The polling was conducted in the light of the controversial claim by a serving British Army general that a Jeremy Corbyn-led Labour government could see a "mutiny" from the armed forces if it tried to scrap Trident, or take Britain out of Nato or announce any plans to emasculate the size of the armed forces.
"The Army just wouldn't stand for it," the anonymous general told the Sunday Times last month. "You can't put a maverick in charge of a country's security."
As YouGov reports, the general's provocative remarks brought to mind the plot of A Very British Coup, written by the journalist – and later Labour MP – Chris Mullin.
In the 1982 novel, left-wing Labour leader Harry Perkins – modeled on Mullin's friend Tony Benn rather than Jeremy Corbyn, who became an MP the following year – comes to power in a landslide victory but is soon brought down by the army and establishment.
"The prospect is not so far-fetched for some British voters," says YouGov.
The scenario most likely to get public backing would be the dismantling of the armed forces, by whatever government: 56 per cent of those respondents who can imagine supporting a coup said they would back one in these circumstances, while 37 per cent would be opposed.
Other scenarios offered by YouGov were: the government abolishing the monarchy (41% for, 48% against); the government disarming our nuclear weapons (39% for, 47% against); the government withdrawing from Nato (31% for, 44% against) and Jeremy Corbyn becoming PM (34% for, 52% against).
Actually, Corbyn has little to fear according to The Independent. It extrapolates from the YouGov findings the fact that if only 25 per cent of voters support the idea of a coup in general, and only 34 per cent of them would back a coup in the event of Corbyn's election, then that means only nine per cent of the voting population would be sympathetic to the coup.
The resulting Independent headline – 'Almost nobody would support a military coup against Jeremy Corbyn, poll finds' – joins 'Small earthquake in Chile, not many dead' in the pantheon of non-headlines.
But whoever said the military would wait for public support before toppling an elected leader? This might be a good topic of conversation at tomorrow night's Buckingham House banquet for President Xi, when those sitting next to Jeremy Corbyn are searching for alternative topics to avoid him bringing up China's human rights record.
Blow to Jeremy Corbyn's 'kinder politics' as bullies step in
16 October
A difficult week for Jeremy Corbyn comes to a close with evidence of aggressive tactics – on both sides – ruining the Labour leader's dream of a "kinder, gentler" sort of politics.
The Conservatives and the Scottish Nationalists are both keen to exploit his "misery" and push for a vote on Trident six months earlier than planned, while Corbyn's own supporters are accused of bullying the moderate Labour MPs who refused to vote against the Tories' fiscal charter on Wednesday.
Twenty-one Labour MPs, including former shadow cabinet ministers Tristram Hunt, Liz Kendall and Chris Leslie, directly defied Corbyn's wishes and chose to abstain on Wednesday.
As a result, the Daily Telegraph quotes an anonymous shadow cabinet member saying Corbyn has lost control of his party, while The Times says left-wing Corbynistas are now piling on the pressure to have his detractors de-selected.
Corbyn's lack of authority
Corbyn had threatened to sack any shadow cabinet minister who failed to follow the new party line (after shadow chancellor John McDonnell's now infamous U-turn) and vote against the Tories' fiscal charter, the Daily Telegraph reports. In the event, when the scale of the rebellion became clear, 16 Labour MPs – including four members of the shadow cabinet – were given permission to be absent because they were "on other business". But the 21 others had no such permission.
"He has got no control over his party but he doesn't seem to care," said one of the shadow cabinet members allowed to avoid the vote. "It is only a matter of time before there's a resignation, it's inevitable… This isn't just about politics, it's about his competence."
The big hurdle on Corbyn's horizon is the 'maingate vote' on renewing Trident. The vote had not been expected until next June – giving Corbyn time to try to reconcile his own personal desire to scrap the nuclear deterrent and the wider view, held by most Labour MPs, that Trident should be retained, not least because of the jobs involved.
But the New Statesman reports that the Conservatives are considering bringing the vote forward to December in order "to exploit Labour's divisions".
Also, the Scottish Nationalists are keen to embarrass Corbyn for their own purposes and plan to use one of their opposition day debates at Westminster to trigger a vote on the issue.
"Can I just say to Jeremy Corbyn that one U-turn that he can't consider is ditching his principled career-long opposition to Trident," said Angus Robertson, leader of the SNP bloc at Westminster, addressing his party conference in Aberdeen this week.
"We will have to decide shortly at Westminster on Trident, and the SNP will resolutely oppose the renewal of weapons of mass destruction and the enormous waste of £100bn pounds."
As Isabel Hardman writes for The Spectator, the SNP is thoroughly enjoying Labour's "misery". Robertson concluded by saying he was "happy to help Jeremy Corbyn and ensure that there is an early debate and vote at Westminster aimed at opposing Trident renewal".
If there is an early vote on Trident, it seems clear Corbyn will have to offer senior colleagues a free vote – or permission to disappear on the night – inviting further accusations that he is "not in control" of his party.
Hard left threat to Labour moderates
The 21 MPs who defied the party line and abstained on Wednesday night have been deluged since with complaints and abuse from hard-left activists, The Times reports.
The attacks follow the unprecedented decision by the Labour whips' office to "name and shame" the abstainers by publishing their names – a decision, says The Times, that is understood to have been agreed by Corbyn's office, despite the Labour leader's promise of a "kinder politics".
The 21 have been told that their behaviour was "disgraceful" and they are "on a par with the Tories" and should all resign.
Some – including Tristram Hunt and Liz Kendall – were singled out on social media and criticised for being "Tory lites" and a "waste of space".
One of the rebel MPs said: "I've never seen the whips' office behave like this. They put our names up in lights on social media, effectively telling the Corbynistas to come and get us – they have duly obliged."
The Labour whips have apparently taken no action against the 21 other than publishing their names, leading to suggestions, says the Times, that Labour under Corbyn is "effectively outsourcing party discipline to a social media mob".
A Labour spokeswoman insisted the names were only published in order to "help the media" work out which of those who abstained had done so because of an agreed prior engagement.
Inevitably, the issue of de-selection has come up again. Labour Young Socialists, an online forum, has called on constituency Labour parties to de-select the 21, while there are growing fears among Corbyn's enemies that the grassroots Momentum pressure group, launched a week ago, will similarly target the 21.
As Patrick Wintour of The Guardian wrote when Momentum was launched, the advertised purpose of the group is to back Corbyn's ideas and politics – but critics sees it is an attempt to "mobilise factionally, leading to the deselection of moderate MPs and councillors who are not judged politically correct".
White flag – or white tie?
All of which has raises the question only five weeks into Corbyn's leadership – just how long before he gives up or is pushed out?
In the short term, there's another 'lese-majeste' issue pending. The Telegraph claims Corbyn is "undecided" over whether or not to wear 'white tie' to next week's state banquet in honour of Chinese President Xi Jinping hosted by the Queen.
Mrs Corbyn – aka Laura Alvarez – has declined to attend. But the Labour leader has promised to be there – and, what's more, to tackle the Chinese leader over his country's human rights record.
Jeremy Corbyn's day of reckoning
14 October
Labour leader Jeremy Corbyn faces a testing day in Parliament: his second session of Prime Minister's Questions, at which David Cameron is likely to make the most of Labour's "shambolic" U-turn on the fiscal charter, and then the Commons vote on the charter, when he faces the first backbench rebellion of his leadership.
Corbyn's day of reckoning follows the extraordinary volte-face by shadow chancellor John McDonnell on his support for the Tories' fiscal charter, reported here yesterday (see below).
Little more than a fortnight ago, McDonnell was in favour of the charter which commits the government to operating a budget surplus. On Monday, he announced he had changed his mind and that Labour MPs should vote against it today.
Many backbenchers reacted furiously, denouncing the new leadership for conducting "student politics". Former shadow cabinet member Ben Bradshaw called the party's economic policy "a total f***ing shambles".
Yesterday, McDonnell tried to explain himself: "I have changed my mind," he said, "but I haven't changed my mind on the principles of what the charter is standing for, which is we need to tackle the deficit and we will tackle the deficit. Labour will tackle the deficit – we are not deficit deniers, I haven't changed my mind on that.
"But I have changed my mind on the parliamentary tactics. Originally what I said to people was 'Look, that charter is a political stunt, it's a political trap by George Osborne, it is virtually meaningless – he ignores it himself time and time again. He never meets his targets. So this is just a stunt and let's ridicule it in the debate and vote for it because it's a meaningless vote.'"
McDonnell told Sky News his change of heart followed a visit to Redcar at the weekend, where the closure of the SSI steelworks means 2,200 jobs are being lost. It "brought home" to him that he didn't want the Labour party associated with the restrictive fiscal charter, stunt or not.
McDonnell's explanation did little to stop the complaints from Labour backbenchers who fear the U-turn exposes their party's lack of economic credibility.
Mike Gapes, Labour MP for Ilford South, said: "There is now no collective shadow cabinet responsibility in our party, no clarity on economic policy and no credible leadership."
John Mann, Labour MP for Bassetlaw and a member of the Treasury select committee, said the U-turn was a sign that McDonnell was "very inexperienced" and had "had his fingers badly burnt". The Guardian quotes an anonymous shadow cabinet minister saying of the party leadership: "They are finding it is not as easy as it looks."
The Times reports that Corbyn was "confronted" by shadow cabinet colleagues yesterday who warned him that he risks repeating Ed Miliband's "worst mistake" – failing to prove to voters that Labour can be trusted on the economy.
"They've not made any effort to make the case [for their economic plans]," the frontbencher told the Times. "It was the same with Ed.
"Ed failed to address the deficit overhang from the Labour years and refused right to the end to give an explanation, except in the last days of the election campaign. The consequence of that was we never had a story to tell. I'm afraid that's where we nearly are now."
Chancellor George Osborne continues to exploit Labour's divisions. "A fortnight ago, Labour told voters they were ready to back our plans," he said yesterday. "But now, they have confirmed they want to go on borrowing forever – loading debts onto our children that they can never hope to repay. This is not socialist compassion – it's economic cruelty."
Osborne called on "all moderate, progressive Labour MPs" to defy their leadership and join the Tories to vote for "economic sanity". Failing that, he said, they should at least follow the advice of former shadow chancellor Chris Leslie who has said he will abstain.
So, how many Labour MPs will abstain in this evening's vote? The Daily Telegraph predicts "dozens". The Guardian believes that despite the anger at McDonnell "most of the party's MPs will fall into line".
Continue reading for free
We hope you're enjoying The Week's refreshingly open-minded journalism.
Subscribed to The Week? Register your account with the same email as your subscription.
Sign up to our 10 Things You Need to Know Today newsletter
A free daily digest of the biggest news stories of the day - and the best features from our website